« Introduction and Packaging
|
Bundled Software and UEFI Overview »
A Closer Look at the Gigabyte AB350N-Gaming WIFI Motherboard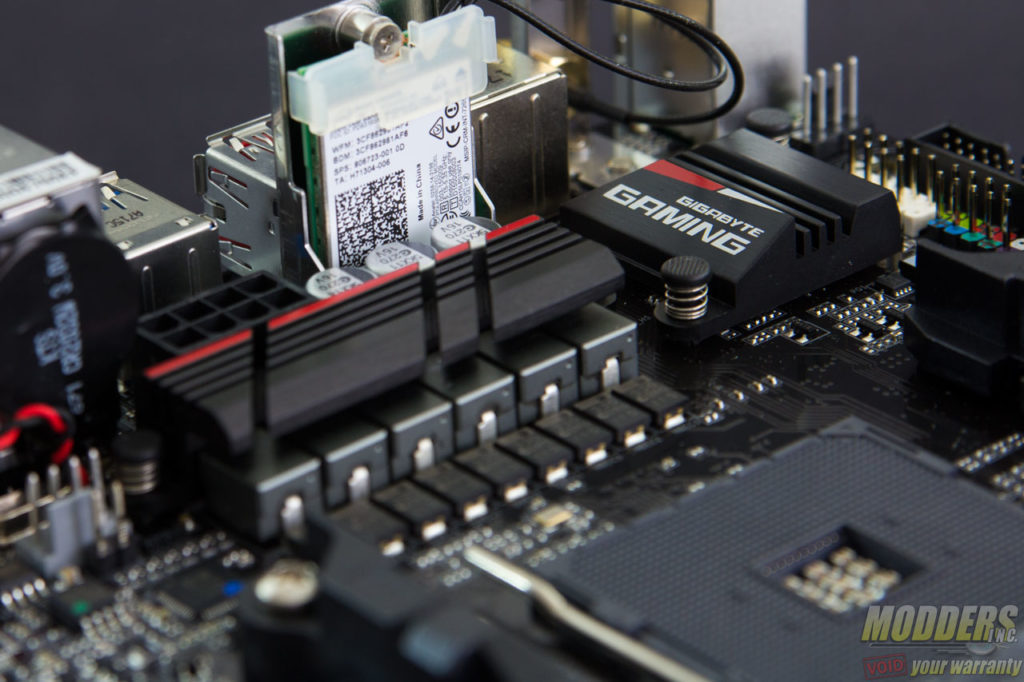 The GA-AB350N-Gaming WIFI supports AMD Ryzen AM4 CPUs and have a standard two-piece heatsink mounting design for the CPU VRM and chipset. The mainboard's color scheme is mostly black and red with the RGB LEDs defaulting to red colors out of the box.
Clearance and Heatsinks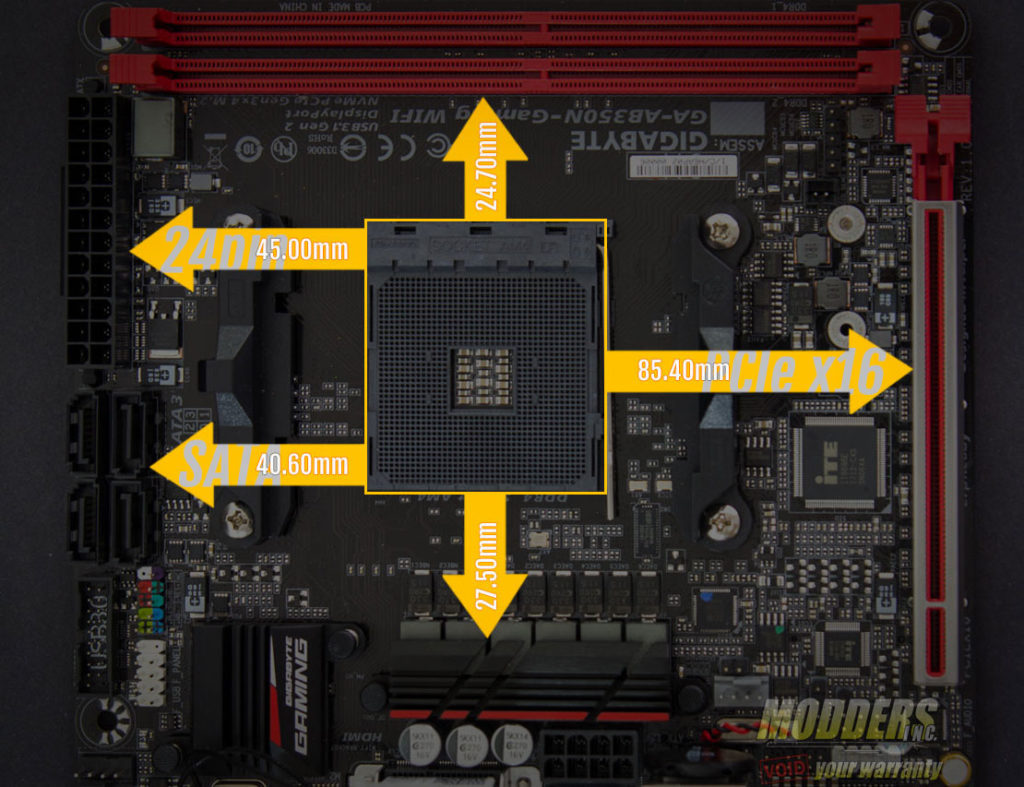 Both the VRM heatsink and the chipset heatsink are held in place by push-pins. They are quite adorable actually. They are also very light at 15 grams each. When installed, the VRM heatsink only stands 14.10mm tall while the chipset heatsink is at 11.10mm, so they are quite compact and slight.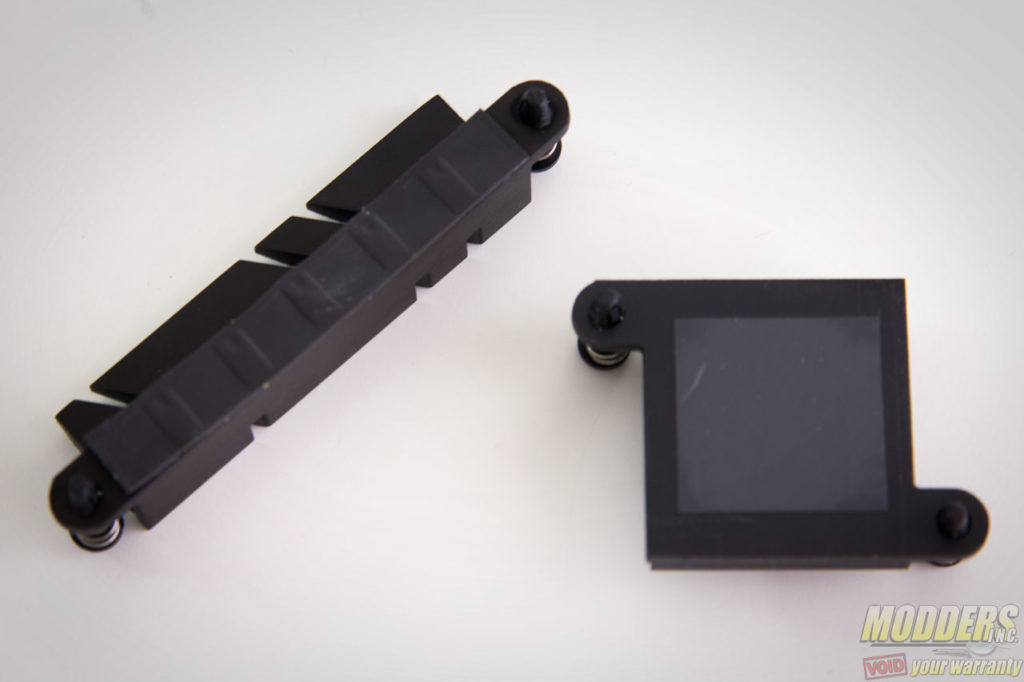 The heatsinks are not particularly large, since they are designed not to occupy too much space. For this reason, a downward blowing cooler (such as the ones bundled by AMD) are recommended. Or at least have active ventilation flowing to keep VRM temperatures in check. Thankfully, Ryzen is not a powerhog equivalent to AMD's FX series, but in case overclocking a 95W 1800X, keep expectations within reason since this is a mini-ITX, non high-end overclocking motherboard.
VRM Overview
As with AMD's AM3+ mainboards, the voltage plane for the CPU is dedicated to the main CPU voltage and the CPU NB, now called SoC. The RAM is separate as well as the chipset.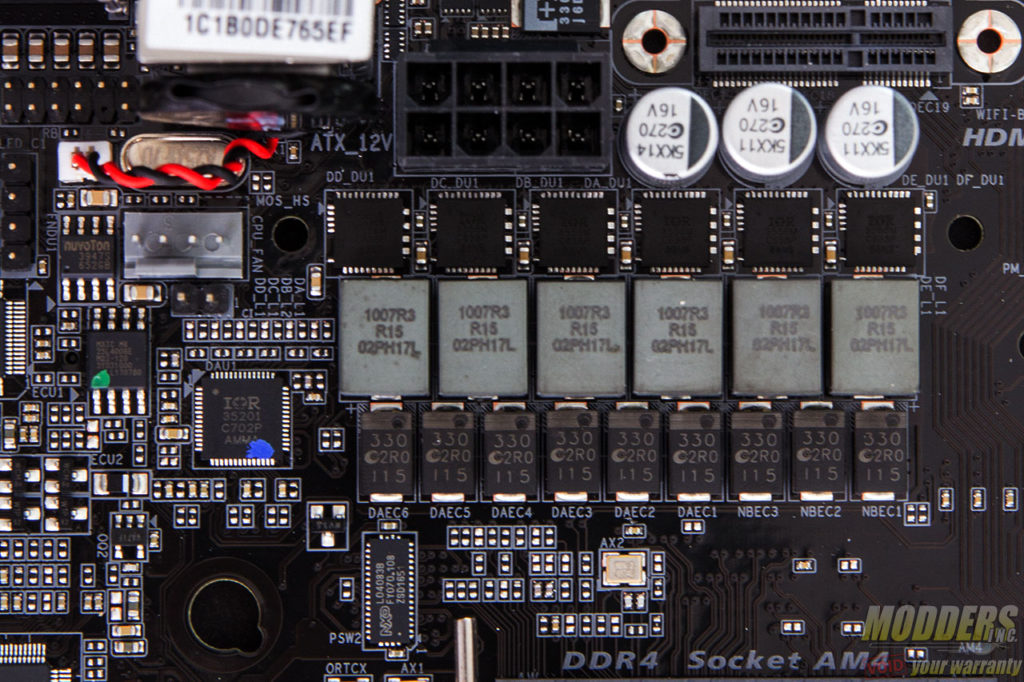 On the Gigabyte AB350N-Gaming WIFI, the main PWM controller is an International Rectifier IR35021 which is a dual-output PWM that can be configured for up to 8+0, 7+1 or 6+2 phases. Four phases are used for the main CPU and two are for the CPU SoC. Each phase uses an IR3555M which are highly efficient 60A power stages which lets Gigabyte save on the real estate. Similarly, Gigabyte also uses tantalum capacitors for the output because of the smaller foot print. These naturally add to the cost of the build, however, Gigabyte uses Taiwanese AP-Con capacitors (including some solid caps on the input side) instead of the Japanese FPcap brand they use on higher-end models. The audio subsystem is an exception as well, using Japanese Nippon Chemicon audio-grade capacitors.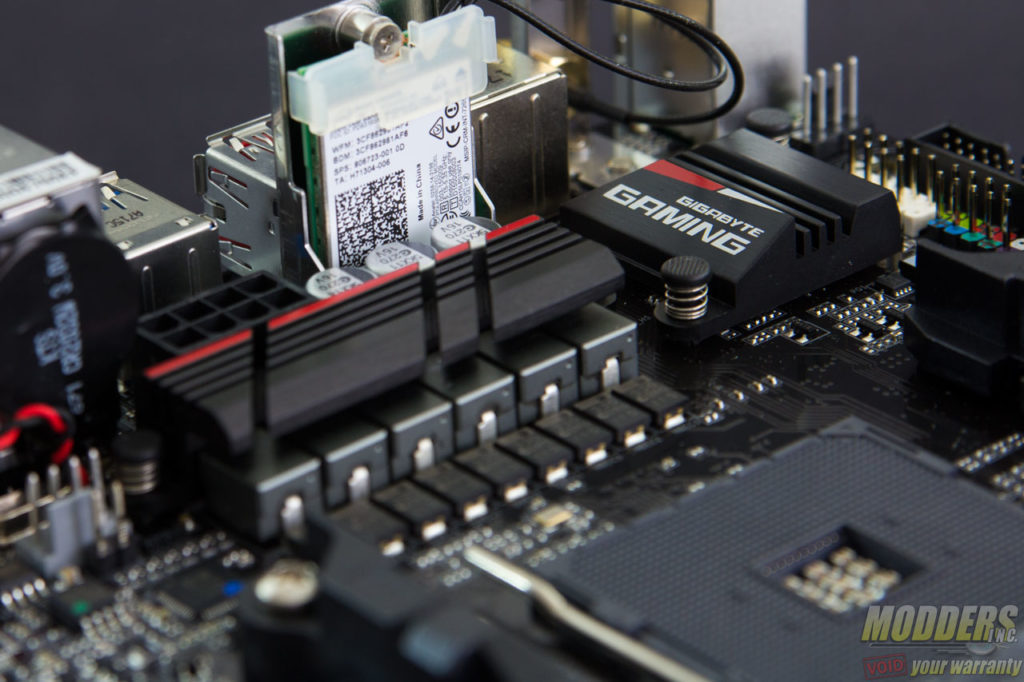 The 8-pin EPS12V CPU power connector is is a tight fit, especially with a large heatsink installed. It is highly advised to plug in the cables first before installing a CPU cooler. Due to the limited space, only two DDR4 DIMM slots are available and on the top part latches down. A Richtek RT8120D single-phase buck handles the memory power.
Fan Control Options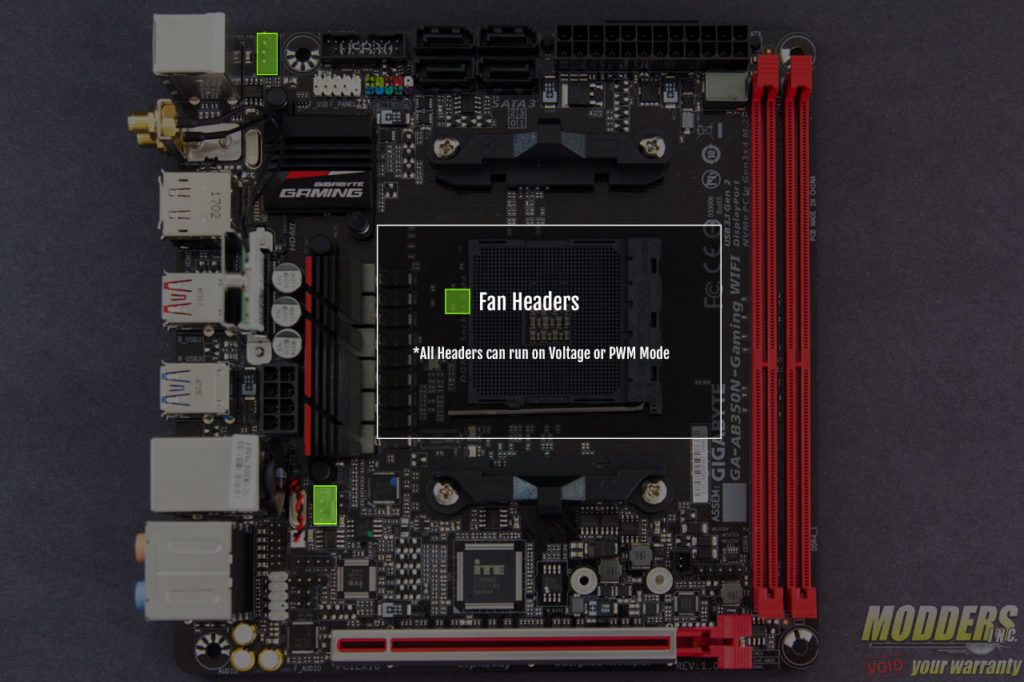 Two 4-pin fan headers are available on the GA-AB350N-Gaming WIFI and they are all configurable for either PWM or Voltage mode control via the UEFI or via the Gigabyte SIV (System information viewer) software. The ITE8686E SuperIO is partnered up with an ITE IT8792E for improved sensing and control. Each header is also equipped with a Nuvoton 3947S IC, supporting up to 12V/2A per header and provides advanced further smart fan control for 3-pin DC fans. Coupled with the embedded per-zone monitoring features, the GA-AB0350N-Gaming WIFI's cooling system can be completely tailored up to the user's needs.
RGB LED Options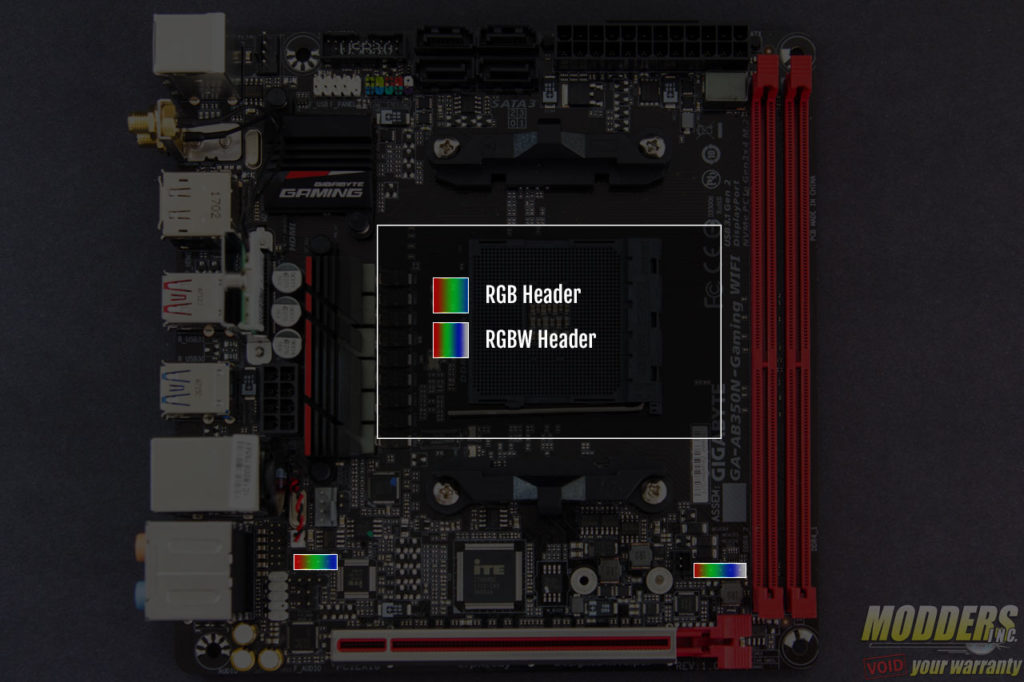 As for the RGB LED features, embedded LEDs on the back of the right side edge default to red but can be configured into any RGB color via UEFI or via the Gigabyte RGB Fusion desktop software, or even remotely via the new mobile app. An RGB header is available nearby the CPU socket on the left which can be used Ryzen R7 bundled heatsinks that have RGB LEDs.
An extra 5-pin RGB header for RGB/W or RGB/UV LED strips is available at the bottom edge of the motherboard as well. This RGBW header can be calibrated so as to match the user's LED strip pinout just in case it does not match the default lineup. This header at the bottom is +12V, G, R, B, W by default so users with a strip that has +12V, R, G, B, W chronologically can still use theirs after calibration via desktop software.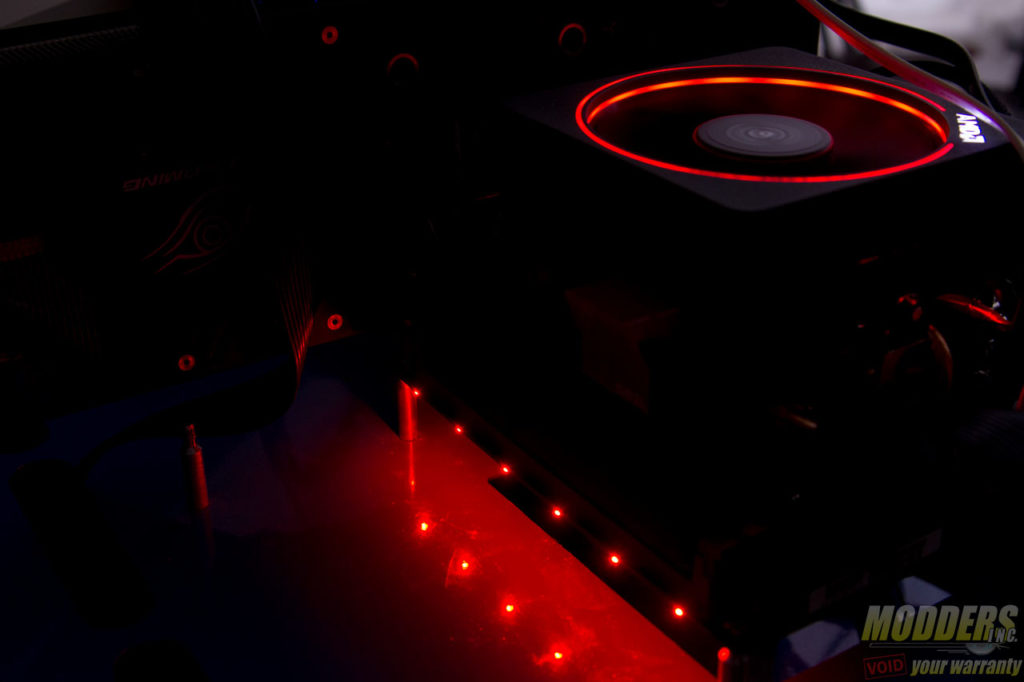 Storage Options
Four SATA3 6G ports are available at the top edge, natively from the B350 chipset. These are not angled and are positioned right above the CPU socket and right beside the 24-pin power connector. Beside it is a 19-pin USB 3.0 header as well as a 9-pin USB 2.0 header (colored white) above the chipset heatsink.  The header beside it is the front panel header which is color coded so that users are not confused which is for storage and which is for the IO.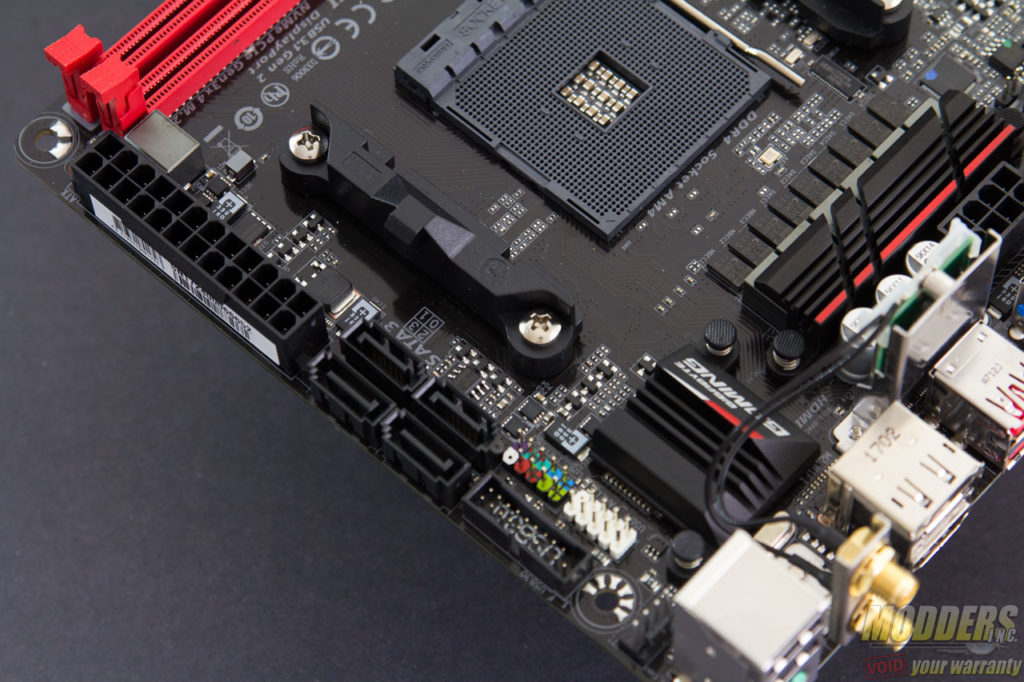 The M.2 slot is located at the back. This provides full support for PCIe x4 NVMe SSDs up to 2280 form factor.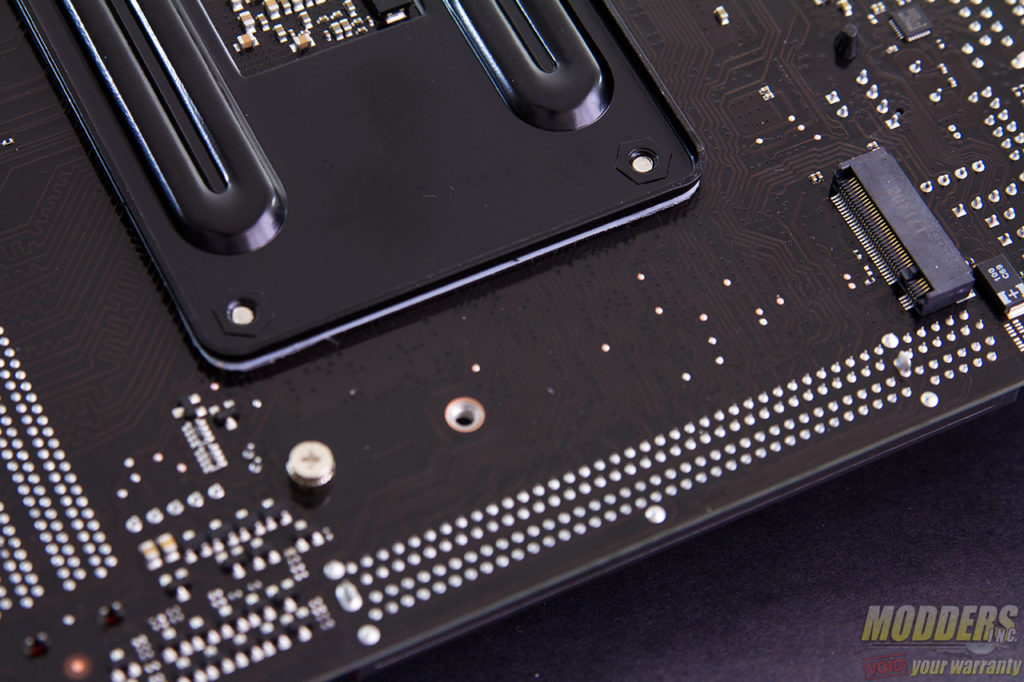 Eight more USB ports are available in the rear IO. Two are USB 2.0 ports colored in black, while the four blue ports are USB 3.0 ports providing up to 5Gbps and the two red Type-A ports are USB 3.1 Gen 2 ports capable of 10Gbps.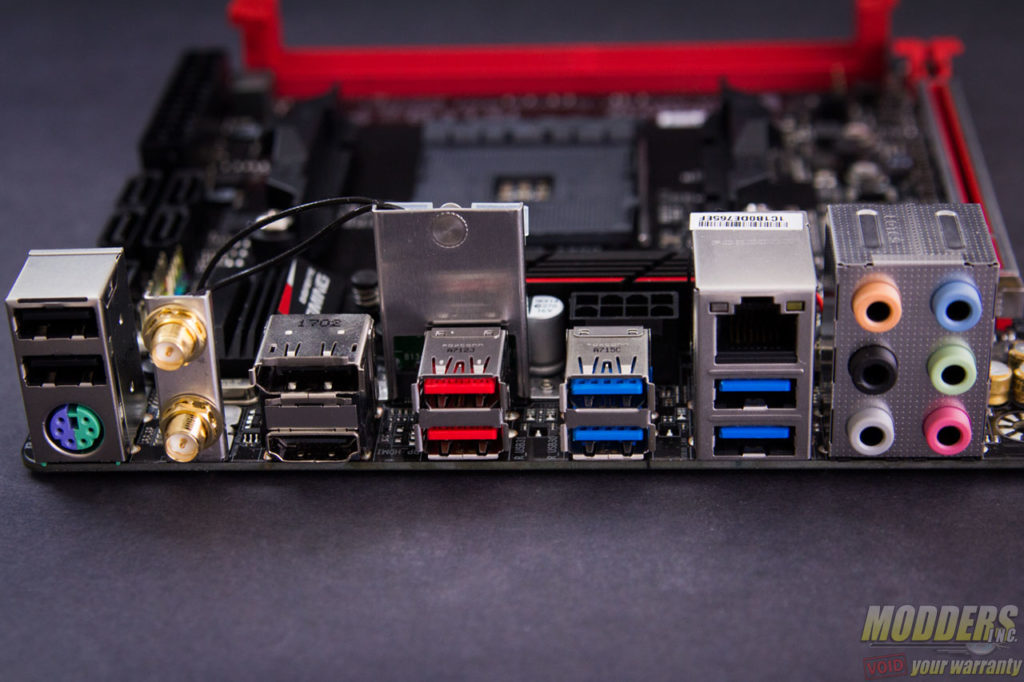 Other On-board Headers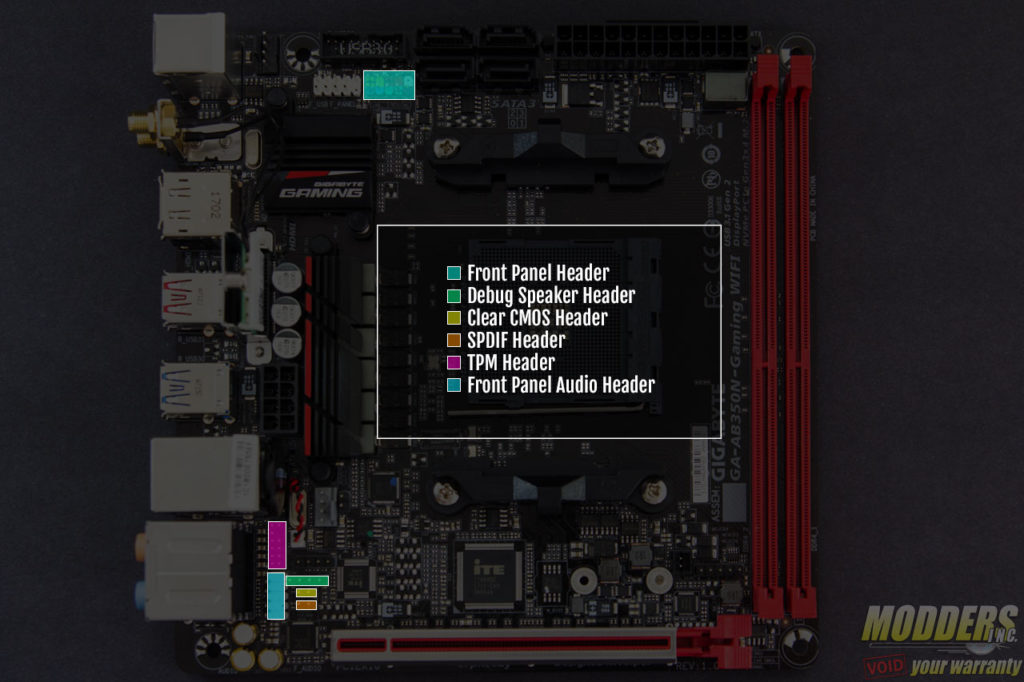 PCIe Lane Distribution
Unlike the X370 chipset, the B350 chipset has no PCIe x16 bifurcation capability so there is no GeForce SLI support. Since the AB350N-Gaming WiFi only has a single PCIe x16 3.0 slot for graphics, obviously Radeon Crossfire is also not supported. The AB350N-Gaming WIFI motherboard's PCIe slot is reinforced with soldered-through shielding. This prevents the motherboard from getting damaged just in case something heavy drops on your video card that dislodges it.
Rear IO, Audio and WiFi Subsystem
The audio subsystem utilizes the latest Realtek ALC1220 HD audio codec with a soldered in EMI cover and utilizes Nippon Chemicon electrolytic audio capacitors. This boasts the highest SNR on a Realtek onboard solution yet with 120dB and includes a built-in headphone amp driver without the need for an external solution like in previous generation Gigabyte mainboards that use a Realtek ALC1150.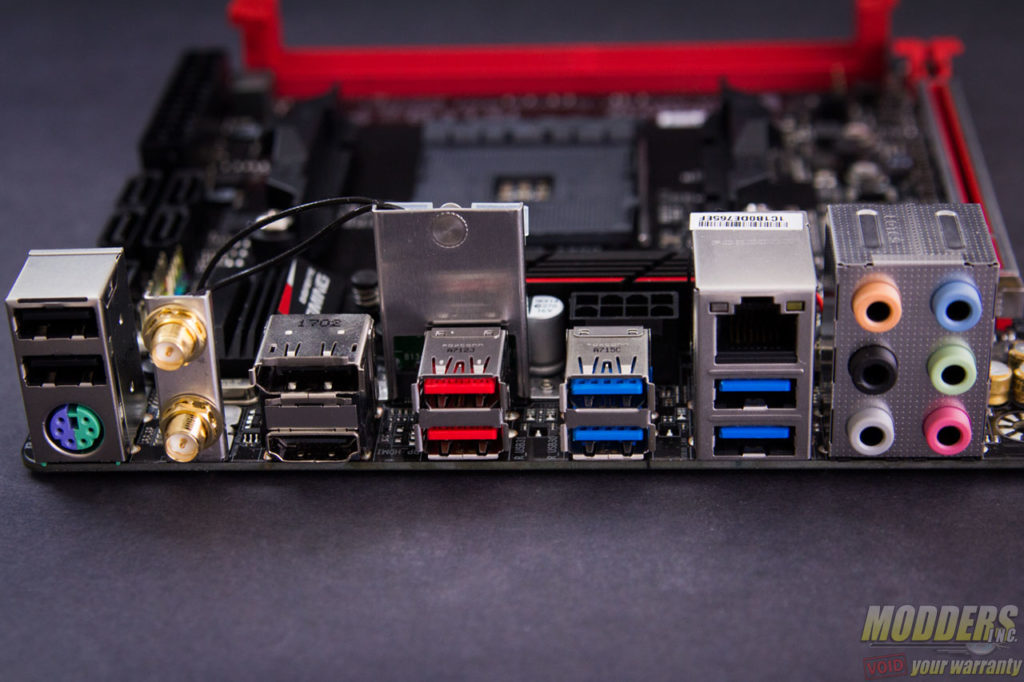 In terms of audio output at the rear, there are six configurable analog audio jacks. Gigabit Ethernet is also handled by a Realtek chip, specifically the Realtek 8111G located in the backside.
For display output, there is an HDMI  port and a DisplayPort available available for upcoming Ryzen AM4 APUs (not available yet). A PS/2 combo port for connectivity is available as well from the IT8686E SuperIO.
The WiFi card is installed vertically on an M.2 slot. This is an Intel Dual Band Wireless-AC 3165NGW 802.11ac card that also has Dual Mode Bluetooth 4.2 BLE support. This is bracketed with a metal mount so that it is kept upright which are held by screws at the back. The card and the antenna connectors come pre-mounted, but the users have to install the receiver antenna by screwing it in. This has a magnetic bottom so users can also mount it almost anywhere, such as the side of a steel case for example.