« Sub-System Benchmarks (Storage, Audio, Network, Gaming)
Final Thoughts about the Gigabyte AB350N-Gaming WIFI Motherboard
The mini-ITX started out as a niche and underappreciated motherboard form factor specifically designed for low-power systems. That expectation of function is no longer a requirement. In fact, it is the opposite, with more users demanding more powerful options be built on smaller board designs. This of course presents a challenge for manufacturers to pick and choose what features should be included or what should be omitted. After all, there is only so much space that can be used up. However, increasingly complex chipsets have made incorporating more features possible. This is especially true with AMD's B350 chipset which straddles the sweet-spot of mainstream unlocked performance and budget system build nicely.
At this moment, only the Biostar X370GTN and ASRock's B350-Gaming ITX as well as X370-Gaming ITX are its competitors in this space. The Gigabyte AB350N-Gaming WiFi beats all of these in terms of balance of price, features and performance. The Biostar X370GTN is the lowest price at $5 less than the AB350N-Gaming WiFi but has no WiFi functionality and pales in comparison to the AB350N-Gaming WiFi's audio implementation.  The ASRock AB350-Gaming ITX matches the Gigabyte AB350N-Gaming WiFi's audio and has similar 802.11ac/Bluetooth functionality built-in for the same price. However, the AB350N-Gaming WiFi edges it out with its lesser count but more powerful 60A 4-phase VRM vs ASRock's 6-phase (which is actually a 3-phase), but loses with its Realtek wired Gigabit LAN vs ASRock's use of Intel i211AT. Gigabyte wins the RGB LED implementation too since it has RGBW/UV LED support and can set colors via the UEFI.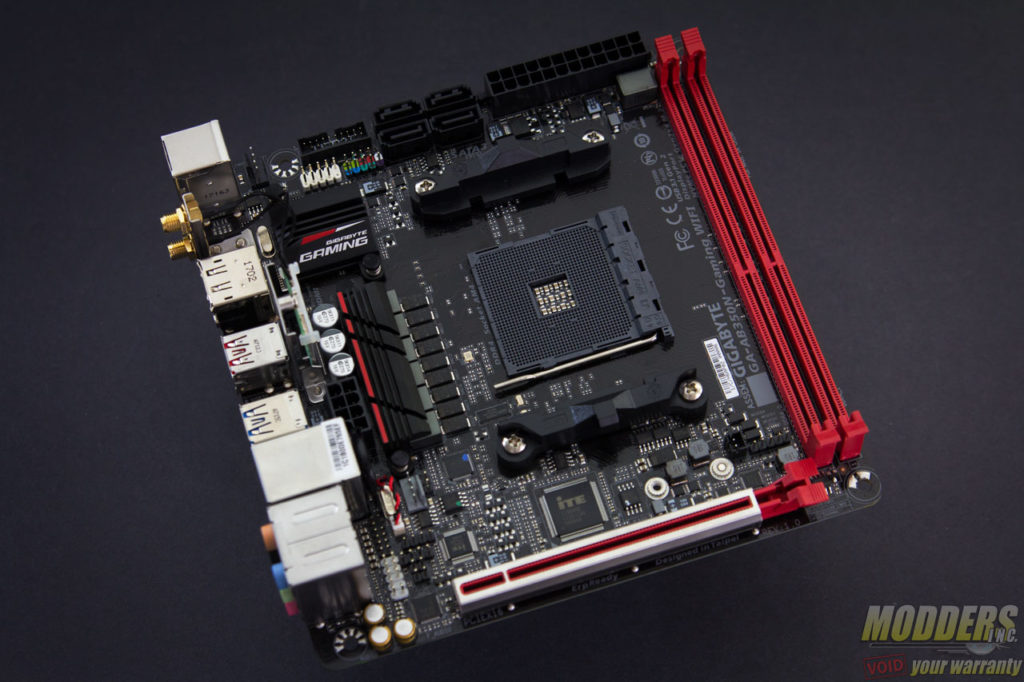 With the AB350N-Gaming WIFI, Gigabyte perfectly illustrates how versatile a B350 build can be. Despite being limited to a mini-ITX form factor; the board is not lacking compared to its full-size ATX counterparts (aside from the PCIe expansion slots). It has RGB and RGBW LED headers, with other options to customize other than via desktop software. It also has USB 3.1 Gen 2 support via two Type-A ports. Gigabyte also happens to have the best performing USB 3.1 Gen 2 implementation having very high sequential write-speeds compared to other B350 and X370 mothebroards. It also has the latest Realtek ALC1220 HD audio with built-in headphone amp (which certainly helps save space on the PCB compared to having an extra op-amp IC). The built-in Wi-Fi is actually a bonus at this point. An implementation that is cleverly mounted in a vertical slot to save space out of necessity.
Because of the limited space, users would have to be selective in the cooler they choose. Understand that mini-ITX motherboards are not primarily designed with overclocking in mind first and foremost. It is capable enough having 60A IR power stages but you will generate plenty of heat beyond what the minute heatsinks can handle. So if you do, make sure you have active cooling in the area. Thankfully, Gigabyte provides comprehensive fan control and sensor options even if the AB350N-Gaming WIFI only has two fan headers.
The limited layout also adds a bit of a difficulty with cable management. Gigabyte moved the connectors closer to the edges to accommodate for this, having the on-board headers accessible from each corner. Only the 8-pin CPU location will require some minding since it will have to overlap the USB 3.0/2.0 and front panel headers at the top left.
Overall, the Gigabyte AB350N-Gaming WiFi features top USB connectivity, audio implementation and flexible RGB LED support at a surprisingly compact space. This is even made more impressive by the reasonable price of $114.99. As of BIOS update F2, the AB350N-Gaming WiFi also now has the AGESA 1.0.0.6 microcode update that significantly improves DDR4 compatibility as well as provides DDR4 divider support up to 4000 MHz.