« Intro
|
Page 3 »
Ok… I'll come clean, I'm an ATX fanboy. I've always purchased and used full sized motherboards. Why? I subscribe to the belief, "I'd rather have it and not need it, than need it and not have it!" . Mini-ITX, I have always considered, was a distant cousin to a motherboard.
"Couldn't possibly have all of the features I am looking for!"
"Something that small will be a problem down the road with all of that integrated stuff."
"Integrated peripherals lack the feature set and power that I like and expect."
…
I have officially thrown all of those excuses out the window on this motherboard.
With this motherboard…I have the following (*ahem*):
Gb ethernet
802.11ac wireless with *magnetic* base external antenna
USB3 (onboard internal pin interface and external jacks)
4x 6Gb SATA
2 DDR3 sockets
BLUETOOTH
7.1 Channel Audio
PCI-E x16 slot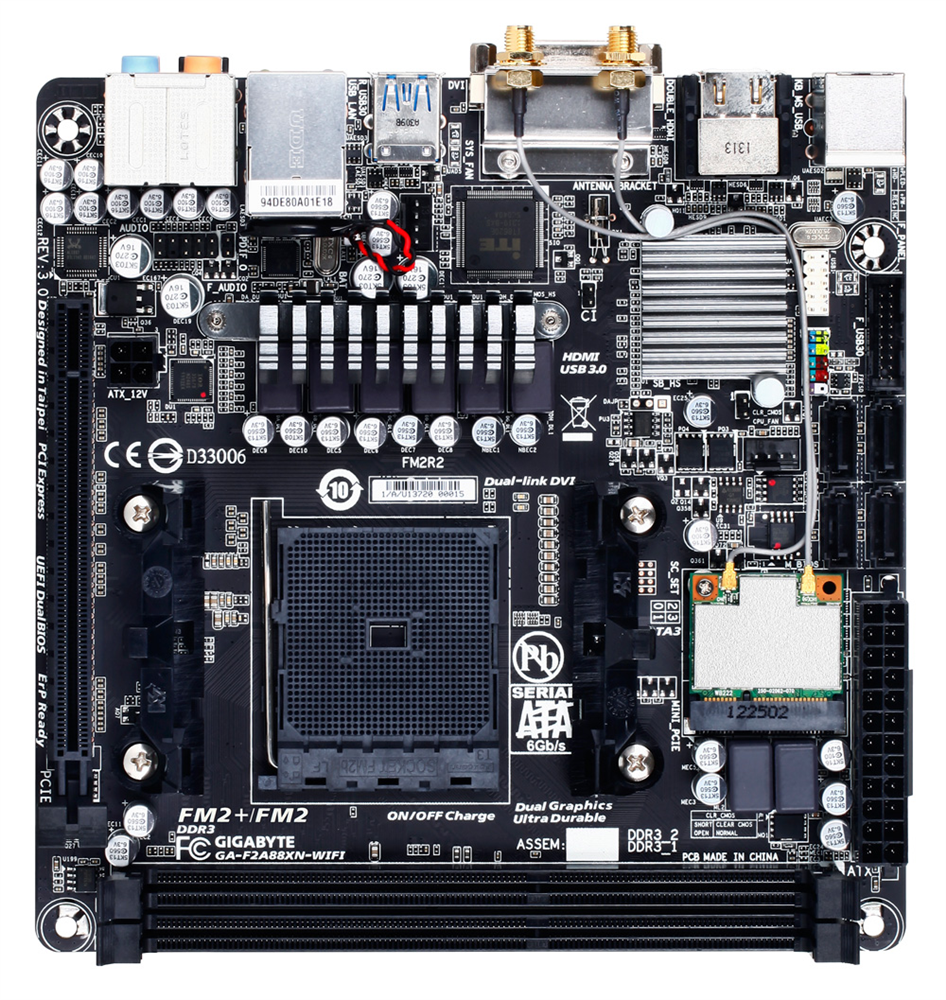 Did you catch all that? I can mount a full sized, discrete graphics card that would dwarf the size of this board, no problem! Need to attach it to the wireless in your house…. got it! Got Bluetooth devices you want to use around your machine… already there!
One thing that jumps out at me is the placement of the SATA connectors. I appreciate that. Keeping them out of the way of the potential of interfering with a graphics card, or getting stuck under a heatsink.
I mean, come on, this fight was over before it started! this thing is packed to the gills with great tech, right out of the box. No fumbling around installing other stuff…. its already here!
About the only thing that I think would have been an excellent integration on this board is mSATA/mini SSD interface. Space is at a premium, that's for sure. But maybe another version of this board with mSATA as an onboard option, and a SATA port multiplier option (https://www.sata-io.org/port-multipliers) for the bulk storage… just thinking out loud here. :)