« Page 4
Final Thoughts and Score:
To say that I am impressed with this little wunderkind would be an understatement. It has fully reset my expectation of small form factor computing. Obviously, I cant tell you how reliable this hardware is in the long haul, but I can tell you that out of the box experience in my eyes says a lot about the reliability of a product and how well thought out and engineered  the product is. And this board works exceptionally well, right out of the gate. From watching HD movie content, to generalized computing, this board handled it all stably and with poise. This can be the basis for a HTPC or kitchen computer, or it has the flexibility to be augmented into a portable gaming system, LAN party rig. As someone who has been hefting mid/full towers all my life to LAN parties, this now has a LOT of appeal to me! The color choices on this board, I am very thankful for. Gigabyte used to have some very colorful boards. Thankfully, it appears they have grown past that. This is a good looking board that could easily justify a windowed case. I applaud Gigabyte on this board, as it has MUCH to offer computer modders by allowing such stability and flexibility in such a small size, bravo!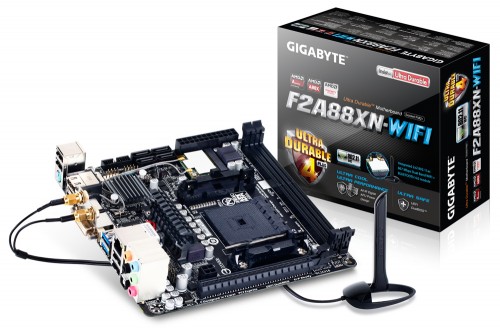 PRO – CONS
PROS
+Exceptional value
+Good RTM installation routines on the driver disk
+Apps stable
+Integrated Bluetooth allows for more wireless flexibility
+Out of Box experience perfect, everything worked as it should!
CONS
– No place for a mSATA
[sc:editors_choice_award ]