« Page 2
|
Page 4 »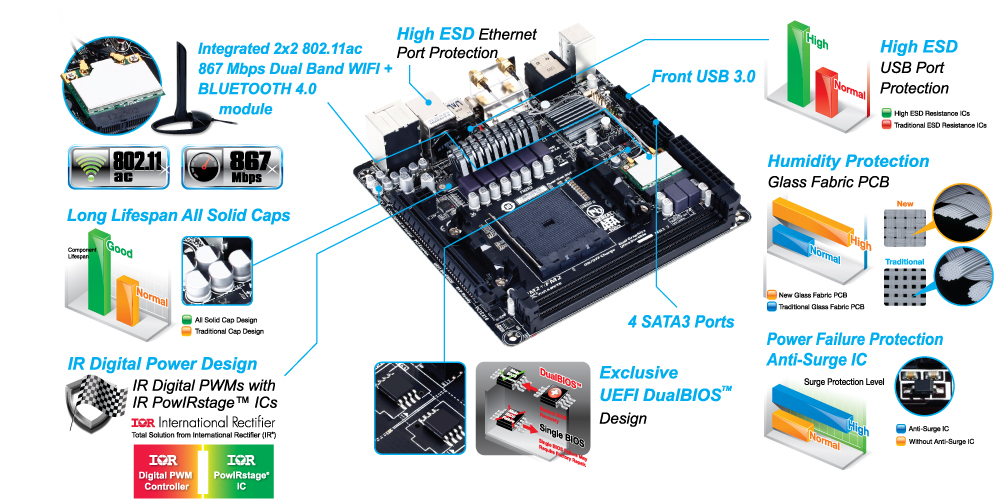 So, lets talk about all that this motherboard can do. Lets start with the Wifi/Bluetooth module and what it can do.
MP3's on your phone that you want to listen to on your computer… but you don't have a USB cable? Do you have Bluetooth on your phone? Pair the device to the computer and play the songs that you have on your phone through your computer! Do you have a Bluetooth printer? Attach it and print away! Bluetooth Keyboard and mouse for use with a HTPC? You get the picture… you get a whole different range of connectivity options with the simple inclusion of that Bluetooth module. For boards of this form factor, that will predominantly be used in small HTPC/Mediacenter types of builds, the Bluetooth adds a great level of inclusion, and flexibility.
The Wifi is not just a WiFi. It covers all of the standards (a/b/g/n/ac), 2.4/2.5Ghz  Dualband. It can attach to your existing Wifi as simply a wireless network card, or you can set it up as a WAP (Wireless Access Point), or it can be used as a drag and drop file transfer service between computers (for the less tech savvy that need network assistance of this type).
So, how about the graphic options, you say? Drop an FM2+ processor in here and gain ultra high resolution capability of "Dual-Link DVI", which is to say…. 2560×1600. You'll need a Dual Link capable monitor as well as a cable, but this combination supports it. Dont want to use DVI? How about 2x HDMI ports on the back, supporting 4096×2160 so long as you are using a FM2+ APU .
If you are installing a PCI-e card that requires, PCI-e 3.0 specification, the slot supports it, but only if you are using an FM2+ APU. So, you are starting to see a pattern. If you want to unlock the full potential of this motherboard, pair ir with an FM2+ processor and let the good times roll!
USB3 for all of your external storage needs, and for when your friend brings that sweet HD/BluRay movie over on that USB3 thumb drive, pop it in and enjoy. No "transfer rate" stuttering over USB3.
Long lifespan Solid caps… check! Dual BIOS for those unfortunate "oops" moments when you need to repair you BIOS. Digital PWM's for impeccable power regulation… Good stuff here folks!
RAID options for the 4 SATA ports, the ability to charge devices on USB ports *without* having your computer on, cha-ching!