CPU Reviews
Intel Core i7-5775C Review: More Than Meets the Eye
« Integrated Graphics Benchmarks
Overclocking Behaviour
The unlocked Intel Core i7-5775C processor can be overclocked using a Z97 motherboard with an updated BIOS that supports Broadwell processors. Since these 14nm processors are very efficient, thermal issues are not going to be the main problem when overclocking. Getting 4.3GHz even for validation takes a bit more effort than in Haswell and I found that additional VRin voltage dialing from default is necessary once over 4GHz, not just feeding the Vcore. Make sure to disable C-states as power throttling will kick in aggressively and lower clocks dynamically even if temperatures are far from thermal throttling level.
The IMC is limited compared to Haswell. The dual-channel Mushkin Stealth DDR3 RAM I use for my reviews is a 1600MHz kit that can overclock to 2600MHz @ 1.5V and complete HyperPi with my retail Intel Core i7-4770K. The same kit could not push beyond 2133MHz with the ES i7-5775C.
The IGP is slightly overclockable and max validation was 1300MHz, although additional voltage was applied so as not to get artifacts on the screen under Windows. There is no eDRAM overclocking option in the ASRock Z97 Extreme4 motherboard UEFI used in this review but MSI has a beta BIOS that provides this functionality for their Z97 mainboards.
Z87 Compatibility? Short answer. No. It will not even post, as tested on an ASUS Z87 Maximus VI Gene motherboard with the latest 1603 BIOS update. Users will have to consult their motherboard manufacturers if a BIOS will be available to enable it but right now, odds point to "no".
Power Draw
The entire system is measured from the wall and since real world loads are used to see behaviour, namely Metro Last Light and x.265 encoder, both quite brutal to the CPU in their own way even though they are not synthetic loads. Unlike the load performance of the A10-7850K and the i7-4770K in Metro Last Light, the i7-5775C used the most power relative to the x.265 load and idle performance which is not really surprising considering how much graphics muscle it can push. Comparatively however, it is only three Watts more than the A10-7850K load while having a 10+ framerate average lead. The i7-5775C also consumed the least under x.265 encoding with a load delta of only 56W compared to 67W in the i7-4770K and 79W in the A10-7850K.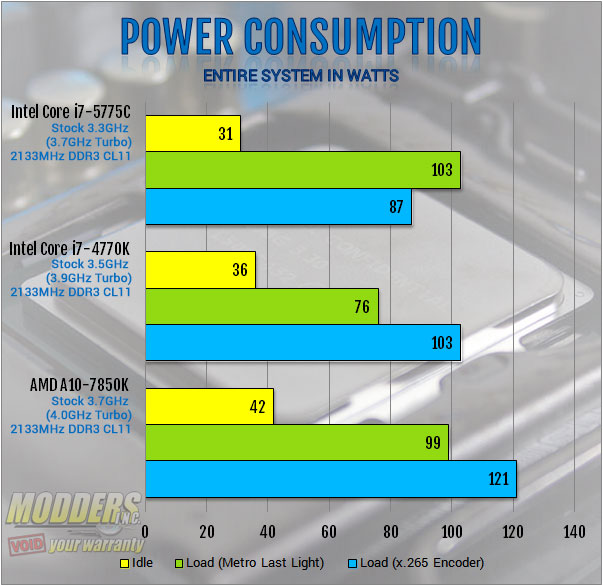 Temperatures are not a concern at all, topping out at only 46C peak at the hottest core with an NH-D15 installed on an overclocked 4.2GHz 1.2Vcore i7-5775C under mixed CPU and graphic load.
Final Thoughts
The new Broadwell i7-5775C is not for the typical discrete graphics card user/enthusiast/overclocker crowd that much is obvious, but the question still remains, who is this processor for? It is easy to be myopic when you are deep in enthusiast circles and not see the larger picture to gauge what the system user base is really like for the whole market. There is however a simple way to see (although catering specifically only to gamers) with Steam's Hardware Survey that the chunk of users using integrated graphics is large having the majority. In the latest June Steam hardware survey, Intel HD 4000 users take the most at 5.14% with HD 3000 users at 2.75% and HD 5000 users, while not at at the top 2 spot, still takes up a sizable 0.44%. The userbase is even greater when you toggle to just Mac users with Intel graphics taking the top 5 spots and Iris 5100 graphics taking 10.57% (3rd) with Iris Pro 5200 graphics taking up 8.26% (5th).  While the common and vocal overclocker/gamer/enthusiast crowd will not be swayed to swap against Haswell and Devil's Canyon processors, the Broadwell CPUs will take a chunk out of the AMD APU share, especially with the more powerful GPU performance.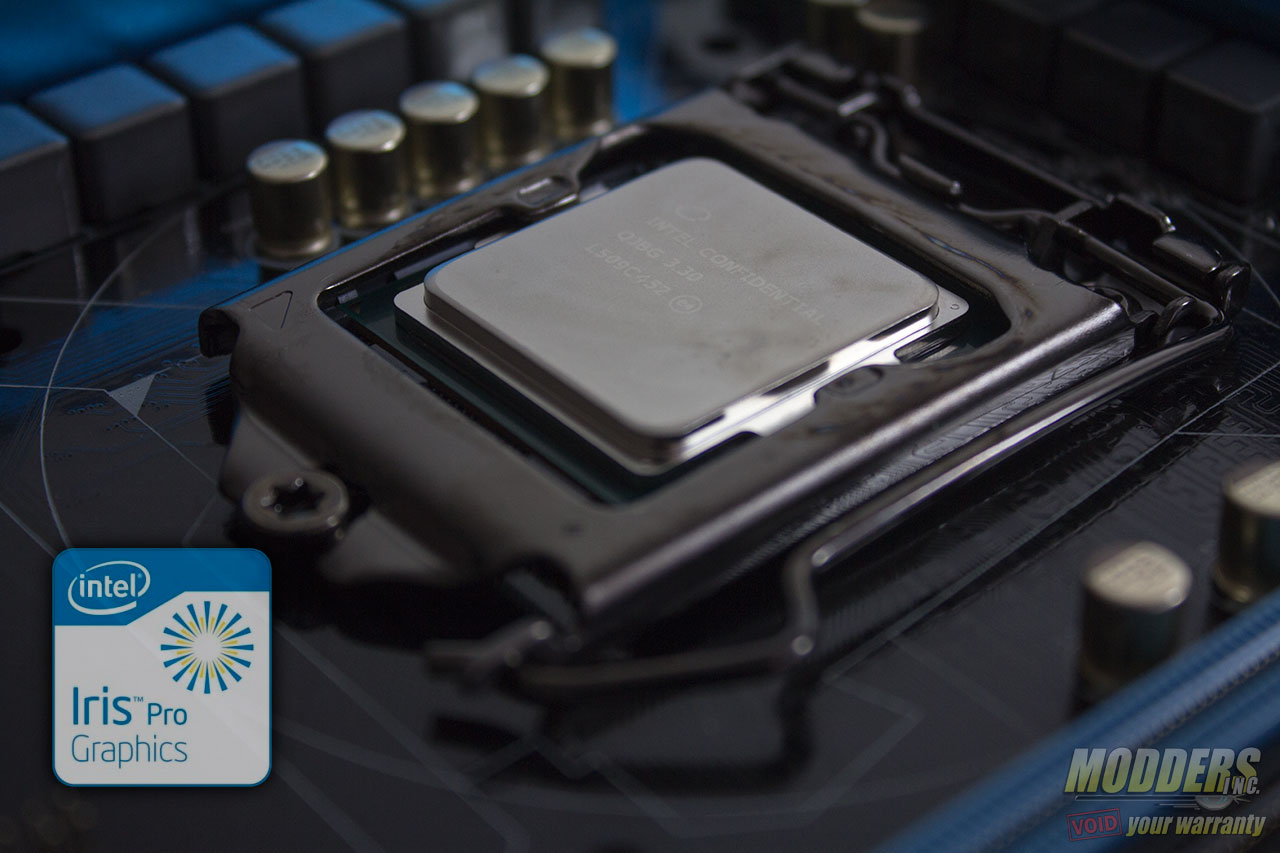 The very high price however will be the single greatest hindrance to its wider adoption. At $377 (box), it costs more than twice the AMD APU, although arguably, CPU performance is significantly better by comparison as well as the benchmarks show. There are other positives with the i7-5775C as well that is not gauged by just pure performance metrics, most notably the Virtualization feature for directed I/O which has been absent on unlocked mainstream Intel processors for the past few generations. The lower TDP and better efficiency also, in practical terms, provide greater performance in more compact form factors and requires less power and requires a lot less effort to cool. The Intel graphics ecosystem as a productivity platform is growing as well with increased support daily so users who are fond of QuickSync and media handling efficiencies are not left wanting. As a gaming platform, Intel has also increased support with the launch of http://gameplay.intel.com, offering information on optimizing Intel HD graphics performance depending on the game. All of these combine to deliver a complete experience that fleshes out the platform into something a lot more than just a new processor with fancy new technology.
Brute strength is out of fashion. With increased efficiencies, more and more users will be looking at more "finesse" solutions and Intel is right there at the edge laying tracks. For most users, especially the enthusiast/overclocker/gamer crowd, it might be difficult to see where Intel is taking this path down to but that is only because they are so far ahead of the trend that they are not adapting to it, they are creating it.
[sc:recommended_hardware_award ]