CPU Reviews
Intel Core i7-5775C Review: More Than Meets the Eye
« Stock CPU and Memory Benchmarks
|
Integrated Graphics Benchmarks »
Clock-for-Clock Comparison vs Haswell @ 4GHz
Stock is one thing but to gauge how well the new generation CPU actually performs over the last in terms of CPU performance, there must be parity, so both processors were overclocked to 4GHz, cache was locked to their default values and the memory was set to the kit's JEDEC default floor which is 1600MHZ 11-11-11-28-1T.
AES and CPU Queen performance is very close but the CPU Photoworxx, Zlib and especially CPU hash show noticeable improvements. It is in the FPU benchmarks where the shortcomings of the new Broadwell processors show. The 32-bit floating point performance as well as the 64-bit Mandelbrot test show much lower performance even at 4GHz although performance is slightly faster with the 80-bit and VP8 compression test. The Haswell does have a larger shared L3 cache (8MB vs 6MB in Broadwell) and it helps here.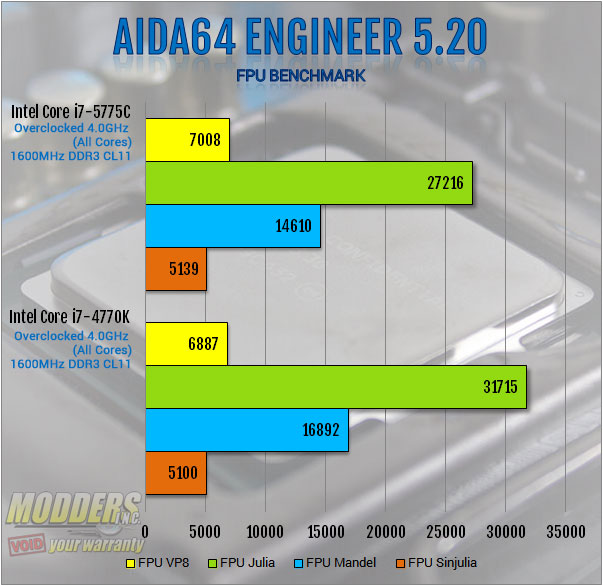 If the default speeds left doubts as to whether the i7-5775C can out-perform or even keep up with the i7-4770K in rendering, it is erased in these tests. A 9-point lead in single threaded and 44-point lead in Cinebench R15 CPU test is observed and the i7-4770K's lead at stock was lost when the i7-5775C was set at similar speed.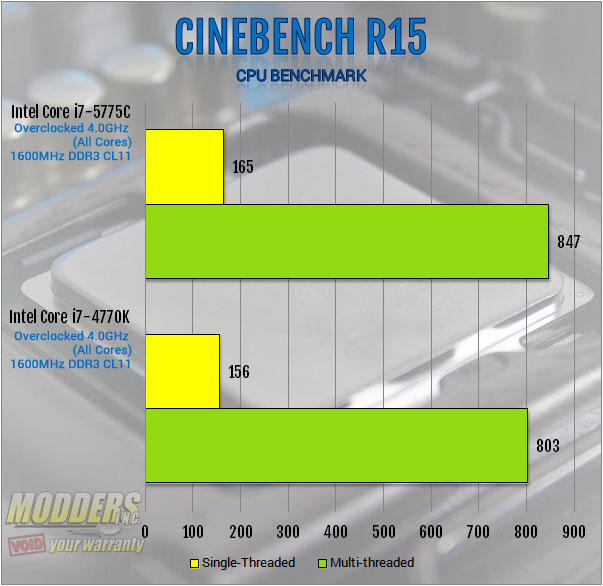 x264 and x265 encoding shows slight advantage going to the i7-5775C as well over the i7-4770K.
Compression performance was already spectacular with the default comparison so the advantage of the i7-5775C is even more visible here, especially with the inclusion of single-threaded performance which shows a 700+ lead.