CPU Reviews
Intel Core i7-5775C Review: More Than Meets the Eye
Test System and Testing Procedures »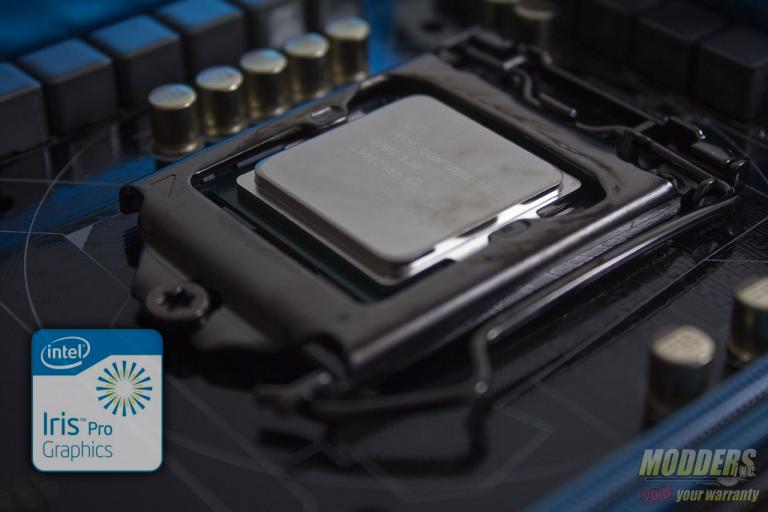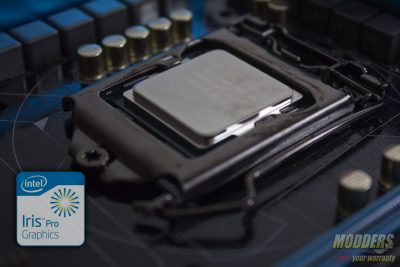 While it is important to recognize one's strengths and leverage it as an asset, accepting shortcomings and working on them is equally as important for the whole is greater than the sum of its parts. For others, it is hard to admit weakness in a certain area and there are plenty of efforts placed on internal rationalization on why it is not a liability instead of facing the challenge head on. For a company as large and successful as Intel, addressing their lackluster performance in the graphics front was not a matter of if but a matter of when. Set to the rhythm of their "Tick, Tock" cycle, Intel's move to the 14nm process brings about not only high levels of efficiency but also welcomes the greatest performance leap in Intel's integrated graphics performance.
Compatible with 9-series chipsets and conforming to the LGA1150 socket, the new Intel Broadwell LGA processors are a 14nm die-shrink of the 22nm Haswell CPUs. Sitting at the top of this batch is the new Intel Core i7-5775C flagship CPU which has HyperThreading and is unlocked just like the Intel Core i7-4770K Haswell and i7-4790K Devil's Canyon processors before it. The two biggest changes other than a new process node, involve the inclusion of a massive 128MB eDRAM L4 cache and the powerful HD 6200 Iris Pro integrated graphics.
[sc:sponsor sponsor="Intel" product_link="http://www.intel.com" product_name="Core i7-5775C" product_price_link="http://www.amazon.com" product_price="$366 (Tray)/$377 (Box)" ]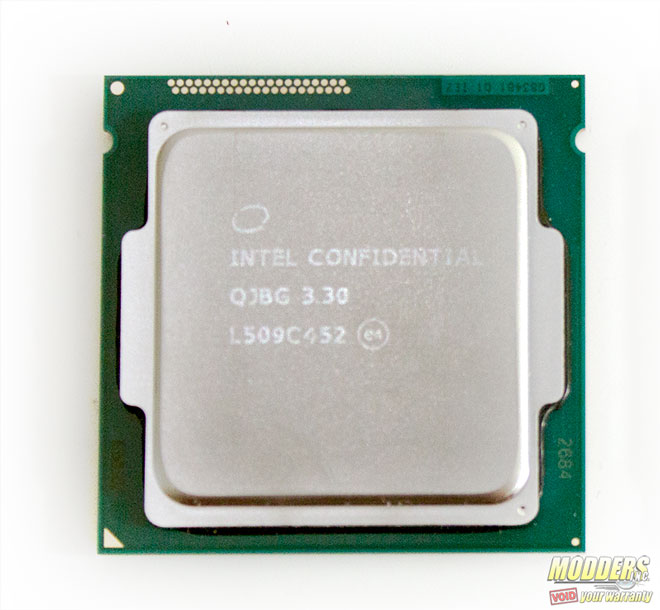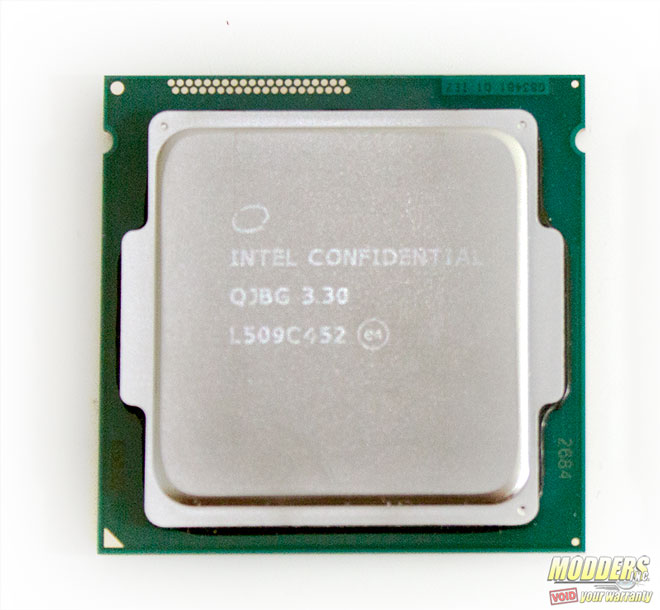 An engineering sample of the Intel Core i7-5775C was sent by Intel and other than the markings look identical to Haswell processors on the topside.Since it is an LGA1150 processor the pinouts are also similar but you can see the difference of the layout in the middle by looking at the transistor arrangement on the back of the PCB.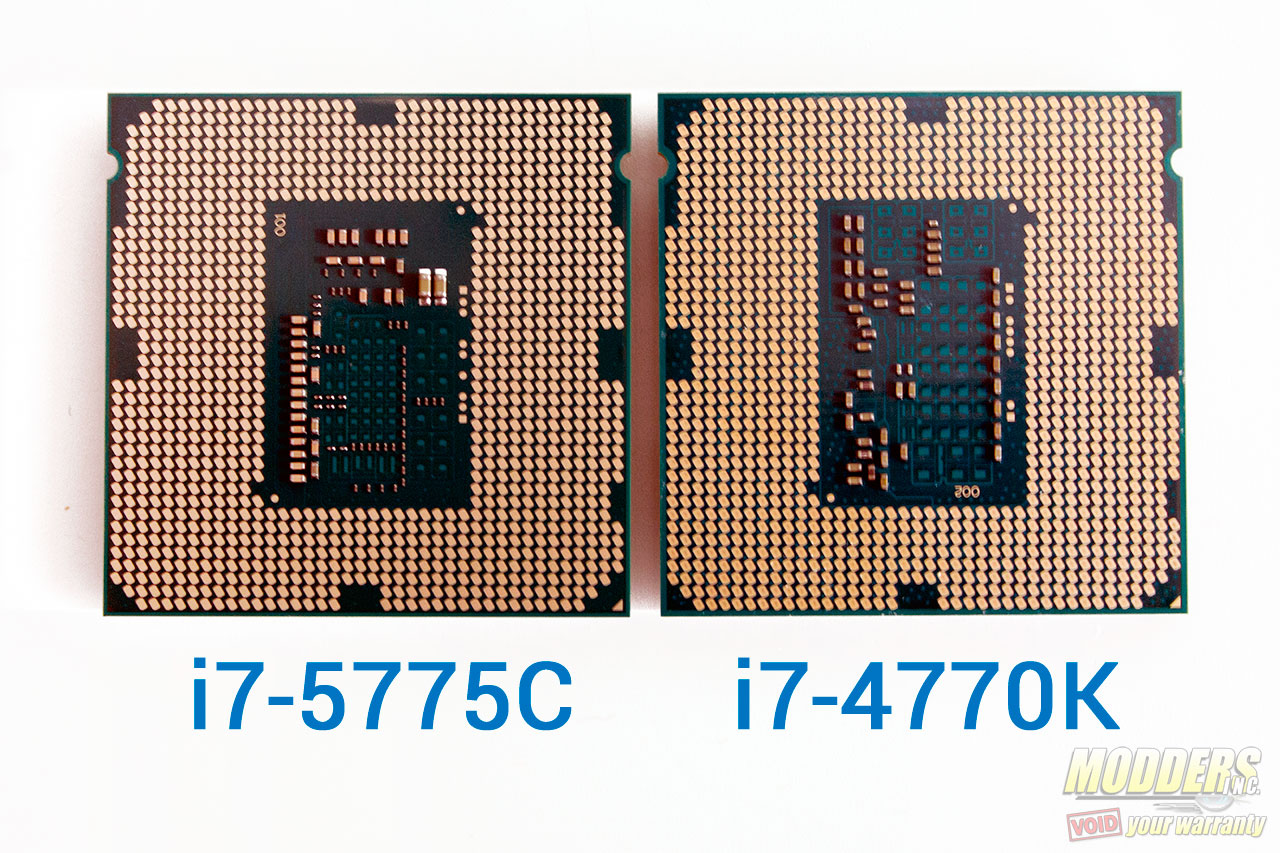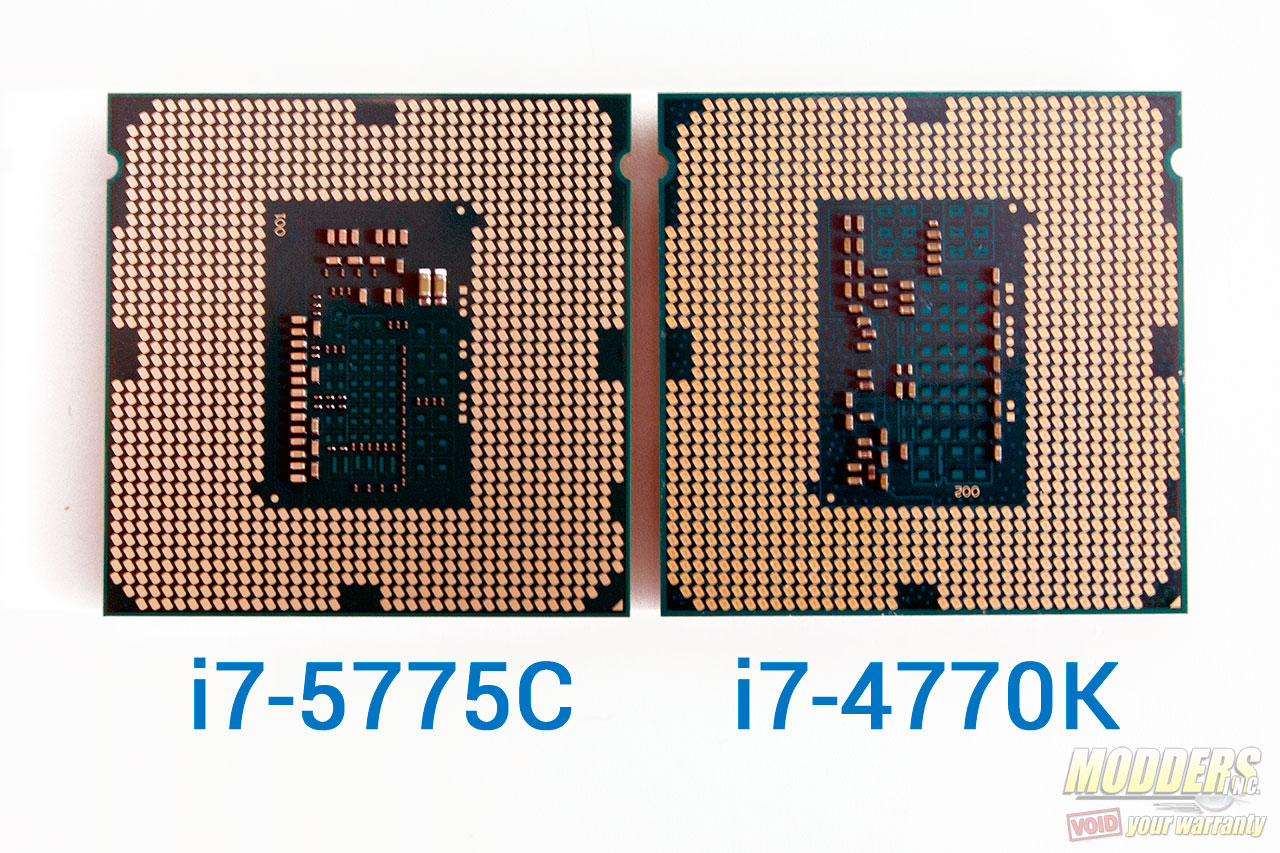 This is what the layout looks like inside the Intel Core i7-5775C Broadwell CPU. The powerful graphics processor takes up the most space while the new eDRAM L4 cache can be accessed by both the CPU core and the GPU. Dropping the "K" naming scheme for the unlocked parts, Intel adopts the designation "C" which most likely refers to "Crystal Well".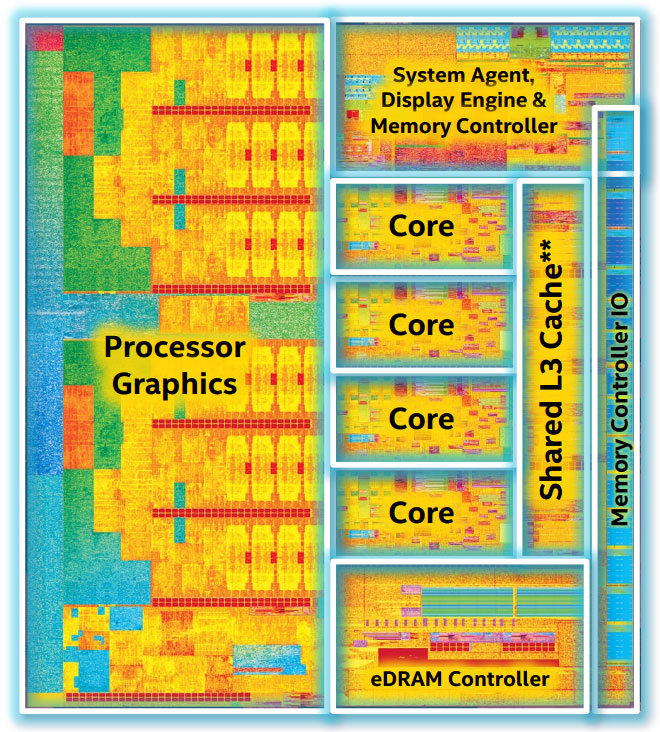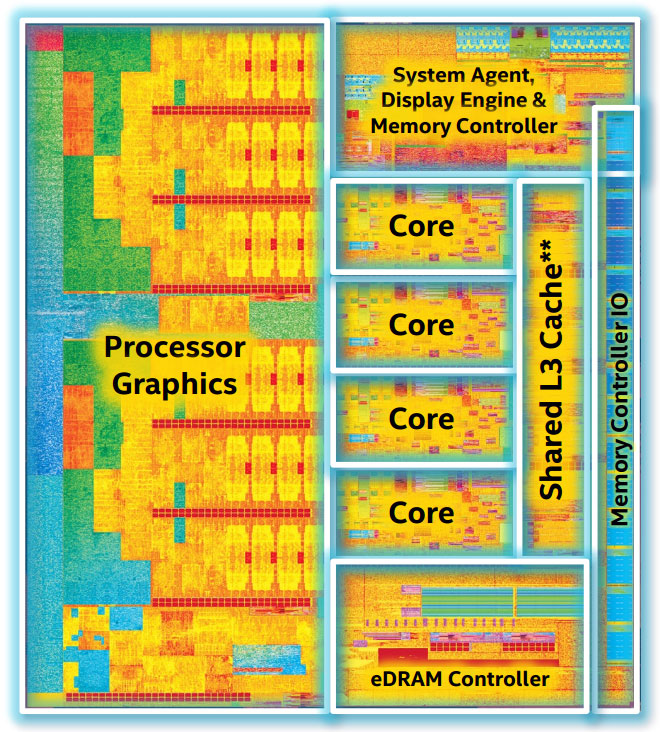 Five 65W Broadwell desktop processors were launched, only two of which are Land-Grid Array aka LGA (socket) while three are Ball-Grid Array aka BGA (permanently mounted). All share the Iris Pro 6200 graphics with 48 Execution Units as well as the 128MB eDRAM and 65W TDP. Compared to the 84W TDP i7-4770K, the new Intel i7-5775C has a smaller L3 cache of 6MB vs 8MB and has 200MHz lower base and turbo frequency. These are just the five 65W parts, Intel has also released five more Broadwell processors in BGA package that has a lower 47W TDP.
| | | | | | |
| --- | --- | --- | --- | --- | --- |
| | i7-5775C | i7-5775R | i5-5675C | i5-5675R | i5-5575R |
| Base Frequency | 3.3Ghz | 3.3GHz | 3.1GHz | 3.1GHz | 2.8GHz |
| Turbo Frequency | 3.7GHz | 3.8GHz | 3.6GHz | 3.6GHz | 3.3GHz |
| Cores | 4 | 4 | 4 | 4 | 4 |
| Threads | 8 | 8 | 4 | 4 | 4 |
| Unlocked | Yes | No | Yes | No | No |
| Graphics | Iris Pro 6200 | Iris Pro 6200 | Iris Pro 6200 | Iris Pro 6200 | Iris Pro 6200 |
| EUs | 48 | 48 | 48 | 48 | 48 |
| Graphics Frequency | 1150MHz | 1150MHz | 1100MHz | 1100MHz | 1050MHz |
| Memory Speed Support | 1600MHz | 1600MHz | 1600MHz | 1600MHz | 1600MHz |
| Integrated Memory Controller | 2 ch | 2 ch | 2 ch | 2 ch | 2 ch |
| L3 Cache | 6MB | 6MB | 4MB | 4MB | 4MB |
| L4 Cache (eDRAM) | 128MB | 128MB | 128MB | 128MB | 128MB |
| Interface | LGA | BGA | LGA | BGA | BGA |
| TDP | 65W | 65W | 65W | 65W | 65W |
| Price (tray) | $366 | $348 | $276 | $265 | $244 |