Page 2 »
We are going to be taking a look at a set of case fans from a relatively new company called GELID Solutions. With the endless number of fans on the market, you can just about get anything you want, if you look hard enough. We are going to be looking at the GELID Wing9 and Wing12 UV Blue case fans. GELID has done what a few other manufactures have done, offer us something different than the normal case fan.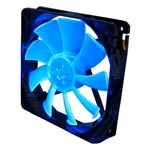 Sponsor: GELID Solutions
[hr]
First Impression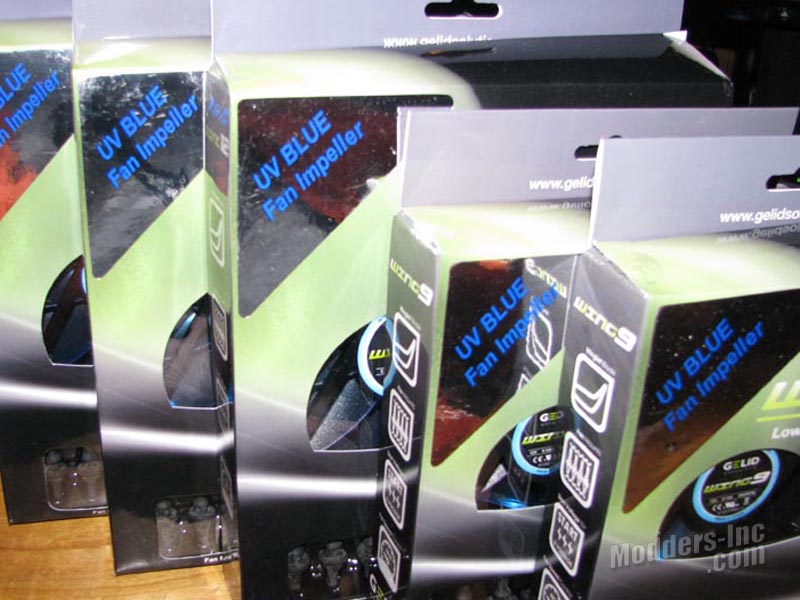 When I was first asked about reviewing the GELID Wing Series case fans, it took me all of a few seconds to decide. I love seeing companies take the inniciative and design something a little out of the normal. The Wing Series case fans fall into this category, they have a unique blade design which is suppose to improve their performance, along with a unique bearing design that will offer longer life and quieter operations.
Features:
Nanoflux Bearing (NFB)
Optimized Winglet Fan Blades
Waterproof & Dustproof
Long Lifetime (100'000 h MTTF at 40°C)
Silicone Fan Mounts
Fan Speed Control
Specifications:
| | | |
| --- | --- | --- |
| Model: | Wing 9 | Wing 12 |
| Air Flow (CFM): | 39.8 | 64.3 |
| Bearing: | Nanoflux Bearing (NFB) | Nanoflux Bearing (NFB) |
| Cable Length (mm): | 500 | 500 |
| Connector: | 3 Pin Molex | 3 Pin Molex |
| Current (A): | 0.14 | 0.22 |
| Dimensions (mm): | 92 x 92 x 25 | 120 x 120 x 25 |
| Fan Speed (RPM): | 2000 | 1500 |
| Noise Level (dBA): | 22.5 | 25 |
| Safety Approvals: | UL, CUL, CE, RoHS Compliant | UL, CUL, CE, RoHS Compliant |
| Static Pressure (mmAq): | 2.15 | 1.925 |
| Voltage (V): | 12 | 12 |
| Warranty (years): | 5 | 5 |
| Weight (g): | 75 | 119 |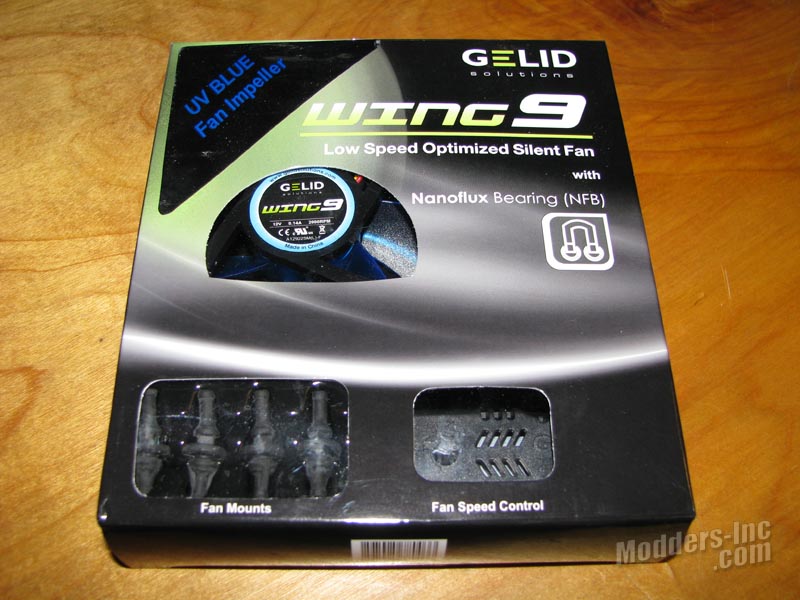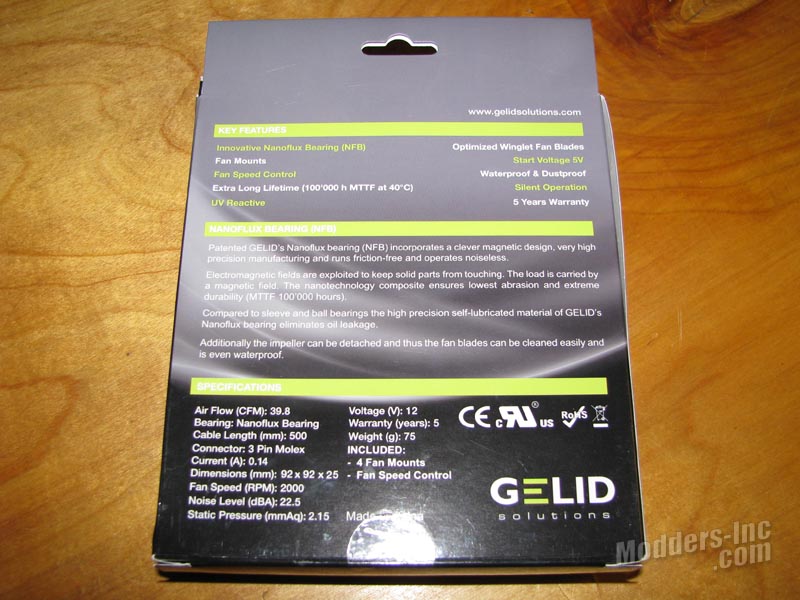 The GELID Wing9 and Wing12 (they also offer a Wing8 – 80mm) case fans come packaged in a standard box that allows the consumer to see a minimal part of the rear of the fan, and a few of the accessories. Flipping over to the rear of the package, you will find a full list of the features and specifications.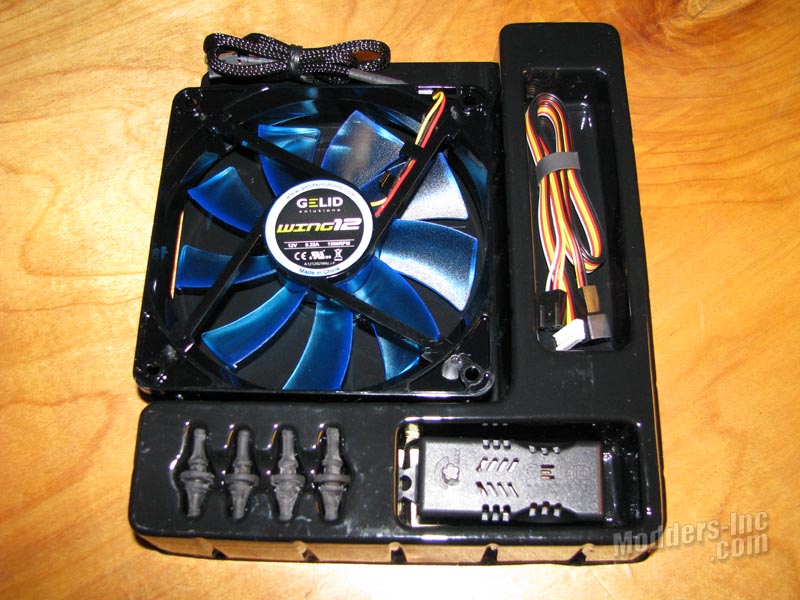 Cracking open one of the boxes, we will see that Wing12 and its accessories are neatly packed in a plastic liner to hold everything in place during transport. Included in the package are the Wing12 case fan, four rubber fan mounts, the fan controller (with double sided tape, and a case badge under it), and the wiring harness.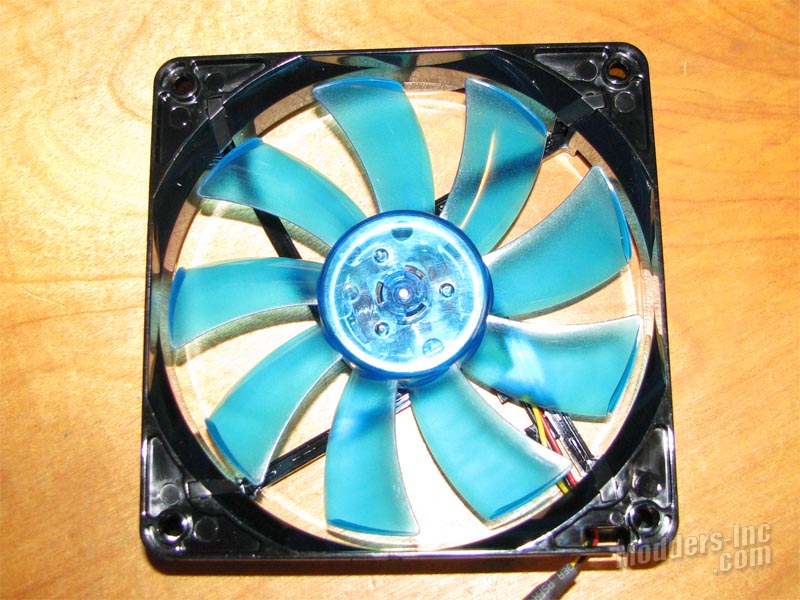 Looking at the Wing12 itself, we can see that it has a standard black frame, with the Blue impeller. The Wing9 utilizes a 7 blade impeller while the Wing12 utilizes a 9 blade impeller similar to that of the Noctua NF-P12 we reviewed back in April. The impellers have a clear Blue frosted look to them and are Ultra Violet reactive.
Quote from GELID Solutions:
"The WING UV Blue case fans are premium quality, UV reactive, ultra- quiet, dust and water proof cooling fans for gaming enthusiasts.This series features an unique bearing with patented design, winglet fans blades and low starting voltage. Only the highest quality materials have been used to manufacture this state-of-the-art cooling fan. Control the fan RPM speed according to your desire using the supplied voltage regulator. To add to the silence fan mounts replace traditional screws and are made of high quality, ultra-soft silicone which stop vibrations from the fan motor from travelling into your PC case."