CPU Cooler
Noctua NH-D9L CPU Cooler Review: The Mini NH-D15
« Introduction and Specifications | Installation Procedure and Clearance Issues »
A Closer Look at the Noctua NH-D9L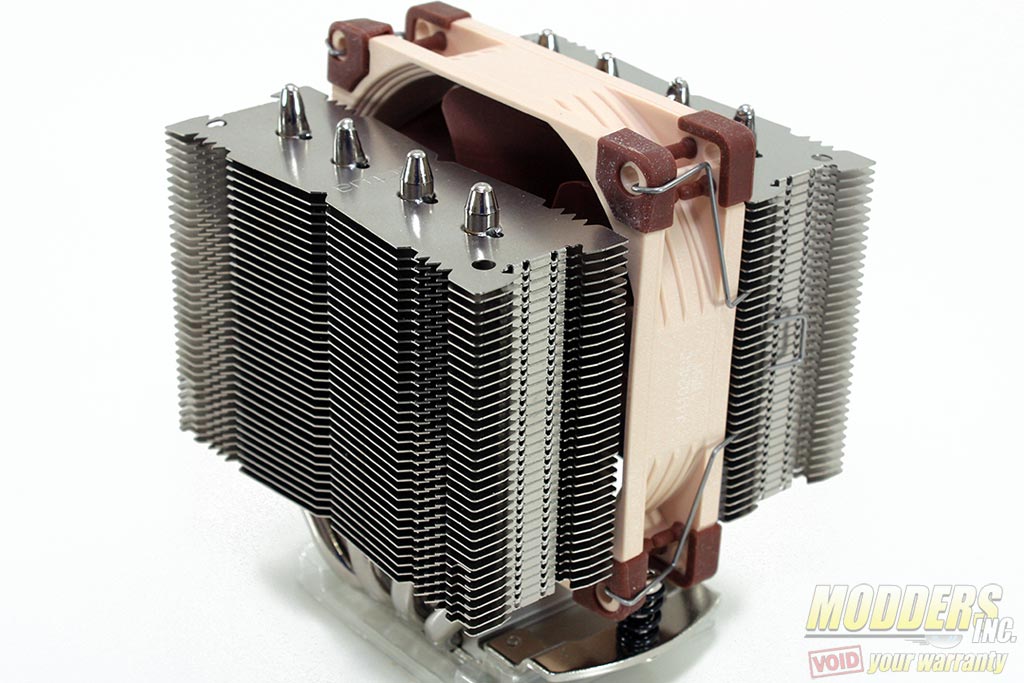 Measuring 110 x 95 x 95 mm, the Noctua NH-D9L is effectively shorter than the NH-U9S and the previous generation NH-U9B SE2. Utilizing a dual tower design with the fan in the middle, the NH-D9L is also afforded extra clearance on both front and back for better RAM compatibility. The middle 92mm NF-A9 fan comes pre-installed. The shorter height also makes the NH-D9L compatible with three rack unit (3U) cases.
Each aluminum fin array has 35 fins and the pattern is uniform for both sides and both towers with the dges slightly angled towards the middle with a sharp recess at the center. Minor sawtooth formations of three on the sides are also present.
There are four 6mm copper heatpipes spaced evenly from each other, each of these copper heatpipes are nickel finished. These are also soldered clean to the base with no visible extra flux.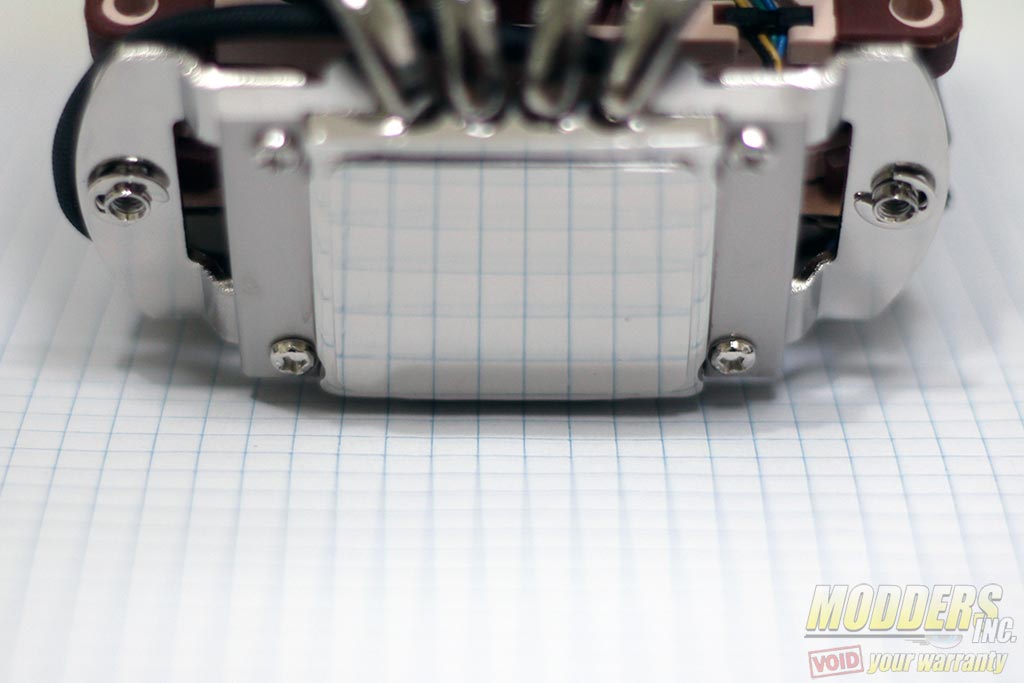 If the bundled screwdriver was nickel plated then you can be sure that the heatpipe and the base will be as well, giving the Noctua NH-D9L a very premium feel like its larger siblings. The contact surface is highly reflective but has very minute rounded machining marks that can be felt. The surface is flat as well judging by the even parallel lines reflected.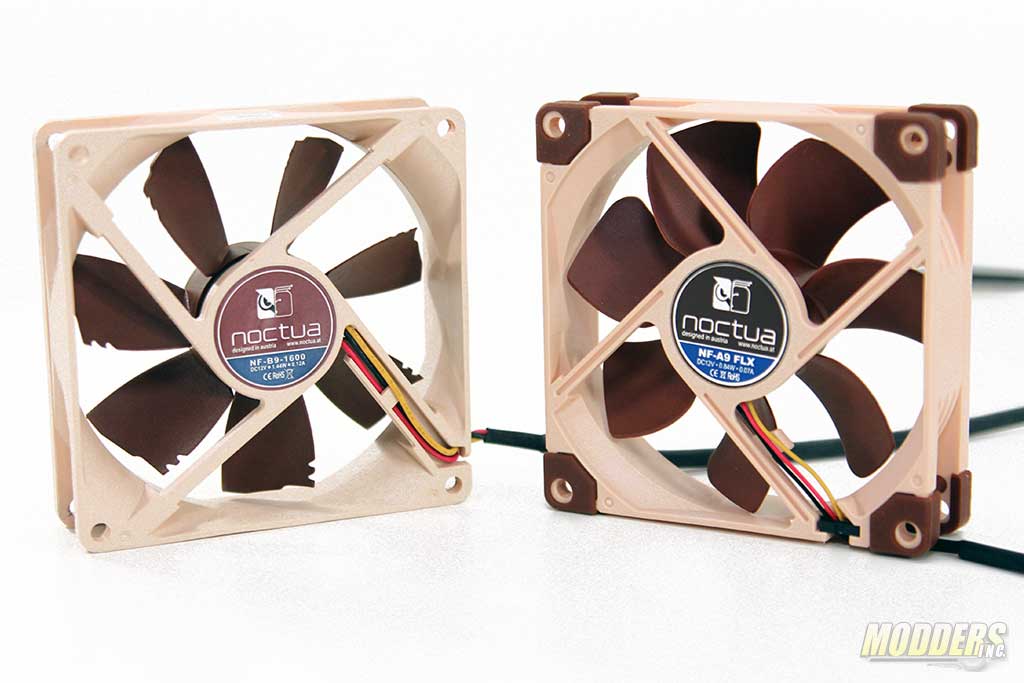 The A-series fan blades are very wide with compared to the B series Noctua fan blades. There are seven in total across all fan sizes and there is a gradual curve on the leading tip and a straighter edge on the trailing tip. There are four standard straight struts on the exhaust side. The NH-A9 fan version maxes out at 2000 RPM, higher than the 1600 RPM on the NH-B9 fan on the U9B-SE2 heatsink. Readings from ASUS Fan Xpert II reveal the controllable range: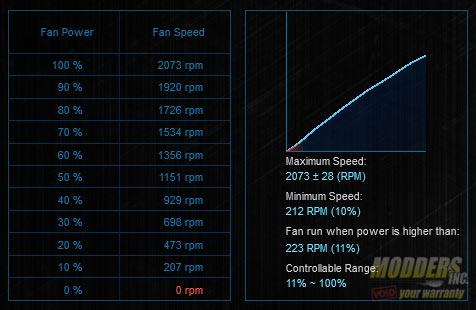 NH-U9S vs NH-U9B fan specification comparison:
| | | |
| --- | --- | --- |
| Model | Noctua NF-A9 PWM | Noctua NF-B9 PWM |
| Bearing | SSO2 | SSO |
| Max. Rotational Speed (+/- 10%) | 2000 RPM | 1600 RPM |
| Max. Rotational Speed with L.N.A. (+/- 10%) | 1550 RPM | 1300 RPM |
| Min. Rotational Speed (+/- 10%) | 400 RPM | 300 RPM |
| Max. Airflow | 78.9 m³/h | 64.3 m³/h |
| Max. Airflow with L.N.A. | 62.6 m³/h | 52.6 m³/h |
| Max. Acoustical Noise | 22.8dB(A) | 17.6dB(A) |
| Max. Acoustical Noise with L.N.A. | 16.3dB(A) | 13.1dB(A) |
| Static Pressure | 2.28 mm H2O | 1.61 mm H2O |
| Static Pressure with L.N.A. | 1.53 mm H2O | 1.09 mm H2O |
| Input Power | 1.2 W | 0.96 W |
| Voltage Range | 12 V | 12 V |
| MTBF | > 150.000 h | > 150.000 h |