CPU Cooler
Noctua NH-D9L CPU Cooler Review: The Mini NH-D15
Closer Look at the Noctua NH-D9L »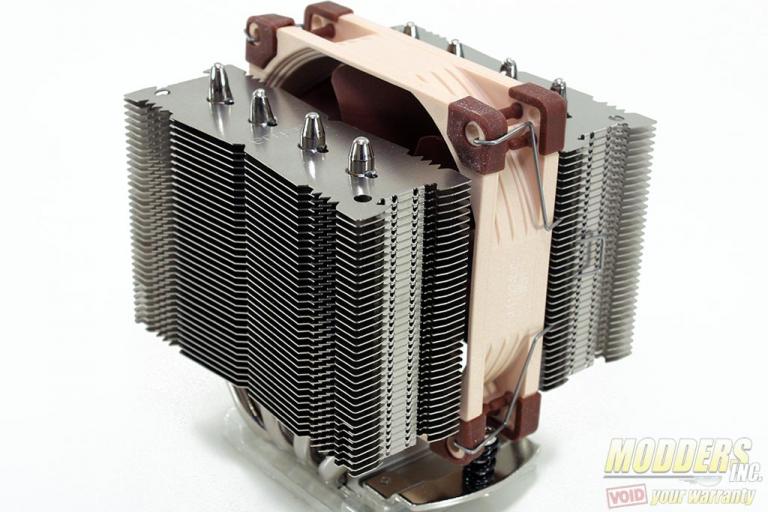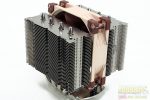 Noctua's NH-D14 and NH-D15 dual-tower coolers are excellent CPU coolers because of their size but many overlook the fact that part of their effectiveness also lies in their design. As a dual-tower solution, the NH-D14 and NH-D15 have the convenience of further spaced-apart heatpipes compared to a single tower heatsink where they bunch up closer together. This means heat is a lot less concentrated on a specific area and should be easier for the fan to push out. Would the same design idea work on a smaller heatsink?
Noctua's NH-U9B has been around since 2008 and Noctua has updated it with the release of a RAM-friendly NH-U9S, but they are also releasing a compact dual-tower 92mm heatsink dubbed the NH-D9L. The Noctua NH-D9L is basically a mini-NH-D15 using four heatpipes distributed across a pair of aluminum fin arrays. As with all Noctua coolers, the NH-D9L is premium nickel finished and comes with mounting accessories for AMD, Intel LGA2011 and Intel LGA115x motherboards.
[sc:sponsor sponsor="Noctua" product_link="http://www.noctua.at/main.php?show=productview&products_id=106&lng=en" product_name="NH-D9L CPU Cooler" product_price="$56.90″ ]
The Noctua NH-D9L is packaged in a glossy outer box has a wall of multi-lingual text on all sides. Unlike the previous generation NH-U9B SE2 packaging, the NH-D9L has no see through window or even a photo preview of what the internal cooler looks like except for a small diagram of the cooler dimensions on the corner side of the box. I guess Noctua is confident that their branding is familiar and so distinct that they don't need to have a flashy graphical packaging to sell like other coolers.
The packaging inside is separated into two compartments: one for accessories and one for the NH-D9L itself. The NH-D9L is sandwiched between two folded cardboard cube pieces a la the original NH-D14 packaging.
Accessories include documentation for each mounting system, metallic case badge, low noise adapter, a full-sized tube of NT-H1 thermal compound, extra fan clips for an optional second 92mm fan, angled screwdriver and mounting kits for Intel and AMD mainboards.
The mounting kit is closer to the NH-D15 than what was found on the NH-U9S previously reviewed here. Most notably are the Intel NM-IMB2 mounting bars with a more prominent curve and the use of the classic NM-AMB1 mounting for the AMD.
Specifications:

Socket compatibility

Intel LGA2011-0 & LGA2011-3(Square ILM), LGA1156, LGA1155, LGA1150 & AMD AM2, AM2+, AM3, AM3+, FM1, FM2, FM2+ (backplate required)

Height (without fan)

125 mm

Width (without fan)

95 mm

Depth (without fan)

95 mm

Height (with fan)

110mm

Width (with fan)

95 mm

Depth (with fan)

95 mm

Weight (without fan)

428 g

Weight (with fan)

531 g

Material

Copper (base and heat-pipes), aluminum (cooling fins), soldered joints & nickel plating

Max. TDP

see Noctua TDP guide

Fan Compatibility

92x92x25

Scope of Delivery

– NF-A9 PWM premium fan
– Low-Noise Adaptor (L.N.A.)
– NT-H1 high-grade thermal compound
– SecuFirm2™ Mounting Kit
– Fan-clips for second NF-A9
– Noctua Metal Case-Badge

Warranty

6 years