« Closer Look
FINAL THOUGHTS
I look at this product like this. I was a programmer, coder long ago when you had to code every pixel, instruction, function and transaction in specific details. I can easily say I've written more than a million lines of code and have the carpal tunnel scares to prove it. This keyboard would have been a welcome tool in my trade back then. There really is a fatigue that comes with keyboarding and the NovaTouch Topre style keys are the better solution to limit that fatigue and possibly some of the future carpal tunnel damage with the light easy touch for the user of this product.
The Cooler Master CM Storm NovaTouch TKL Premium Keyboard is not for everyone. Gamers need not apply, yet but the technology works. Fast, quiet very reactive and performs as described. Lacking macro programming, led lighting and programmable functions I would not plan on gaming with it but if your a writer, programmer, data input, chatter and type a great deal you would be very satisfied with the performance of this keyboard. Keep in mind Topre and then Cherry MX mechanical switches are expensive and rightly so. The construction and assembly I see would lead me to believe the Cooler Master CM Storm NovaTouch TKL will last for years to come.  The Novatouch does have a 2 year warranty but being a "Premium" model I would expect at least a few features such as USB ports, audio port,  or wireless. Me personally, I like USB ports off the keyboard. Handy access for SD adapters, chargers, mice and or headphones. The price of $199.99 is on the high end but knowing that Topre Cherry MX switches are expensive, I believe this keyboard is priced accordingly.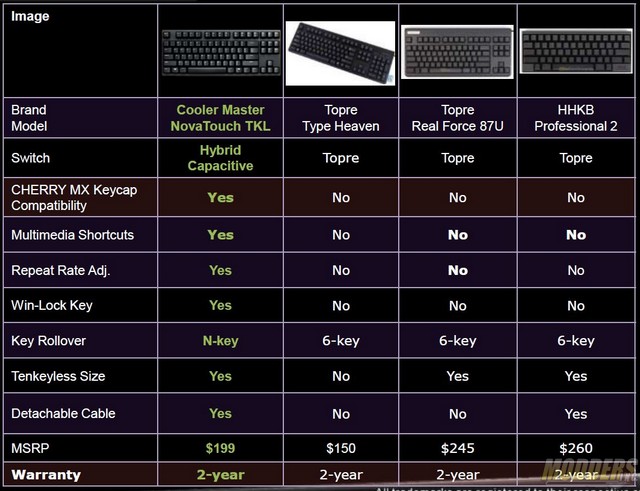 PROS
Compact, Balanced Tenkeyless Style
Unique Hybrid Capacitive Switches
Keycaps Compatible with Cherry MX Stems
Fastest Mechanical Keyboard with Rapid Debounce
Super Smooth, Satisfying Tactile Feedback
On-the-fly Adjustable Repeat Rate Settings
CONS
Price $199.99
Lacking USB Ports on board (Premium)
If your needs and use matches what the designs of the CM Storm NovaTouch TKL Premium Keyboard then I can recommend it.
[sc:recommended_hardware_award ]