Graphics Card Reviews
Nvidia GeForce RTX 2080TI Founders Edition & RTX 2080 Founders Edition GPU Review
Turing up to 11
« Introduction
|
Test System and Synthetic Benchmarks »
A Closer Look at Nvidia's RTX GPUs
The RTX 2080TI and RTX 2080 are visually identical except for the chrome model name between the fans on the front and likewise on the back backplate.  The design of the card has changed from Nvidia's classic single centrifugal fan towards the rear and copious amounts of plastic elsewhere. On the RTX series, the body is made of aluminum and dual axial fans that cool a full-length vapor chamber heatsink underneath.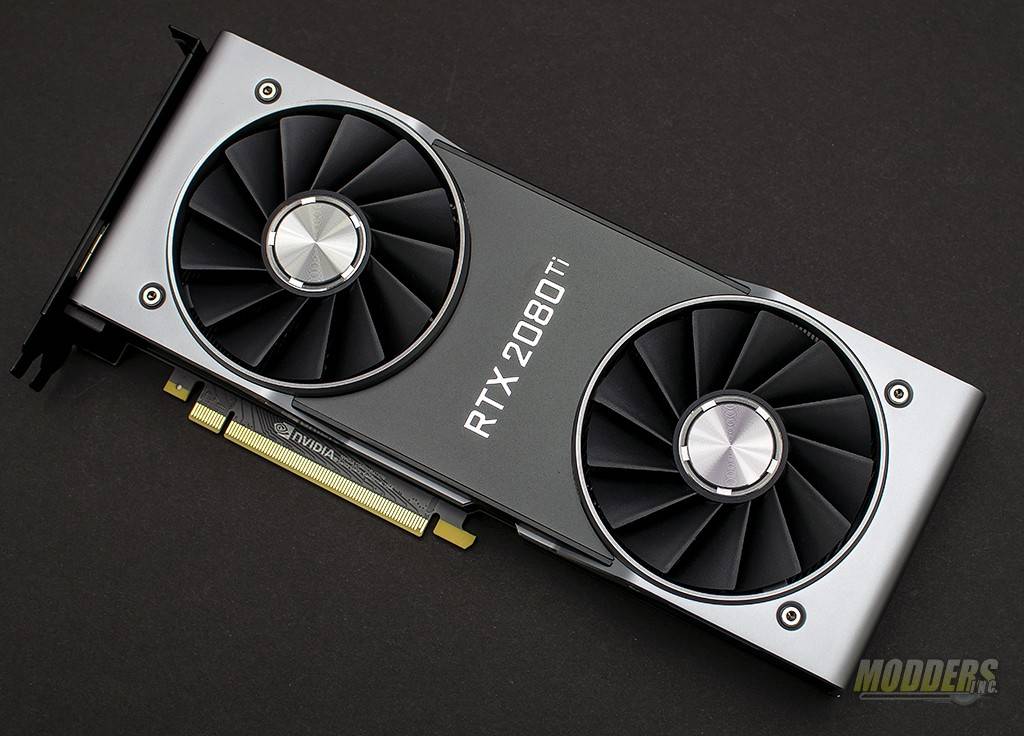 On the top side of the RTX series, there is a nice thick aluminum back plate with the model name embossed in the center. Nvidia was going for a full-on premium look and feel for their Founder's Edition cards.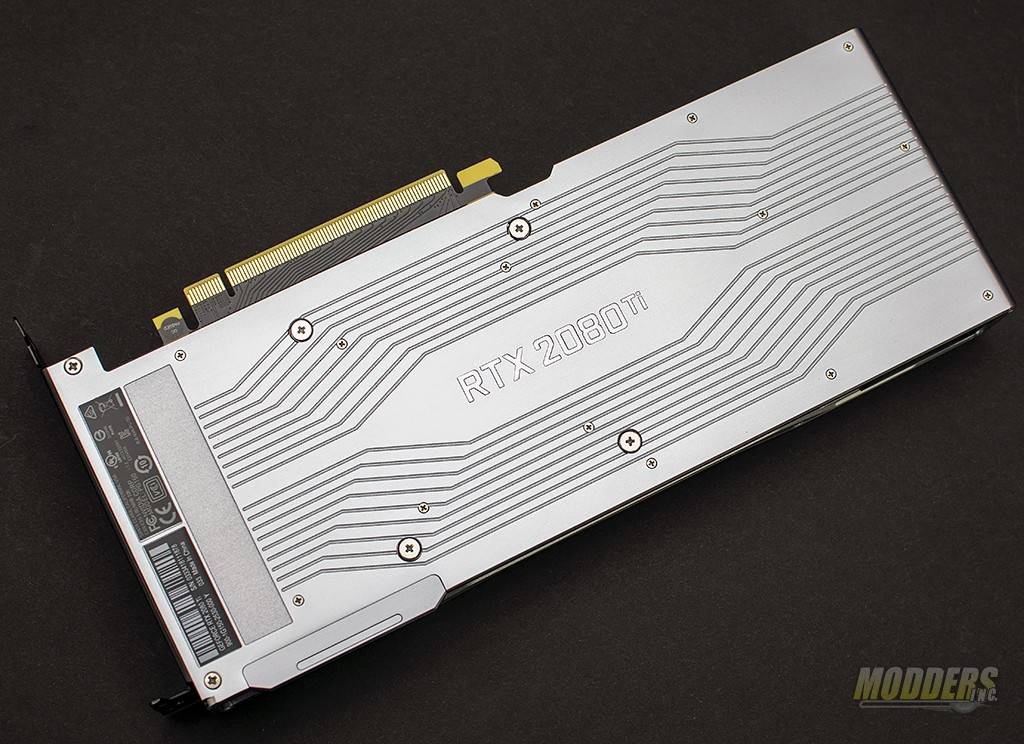 Taking a look at the back end of the card and the aluminum goodness continues. A nice finished 90° bend finishes off the card. Take note of the two screw holes on the back. This card is just over 2 lbs so, could these be used for a GPU bracket?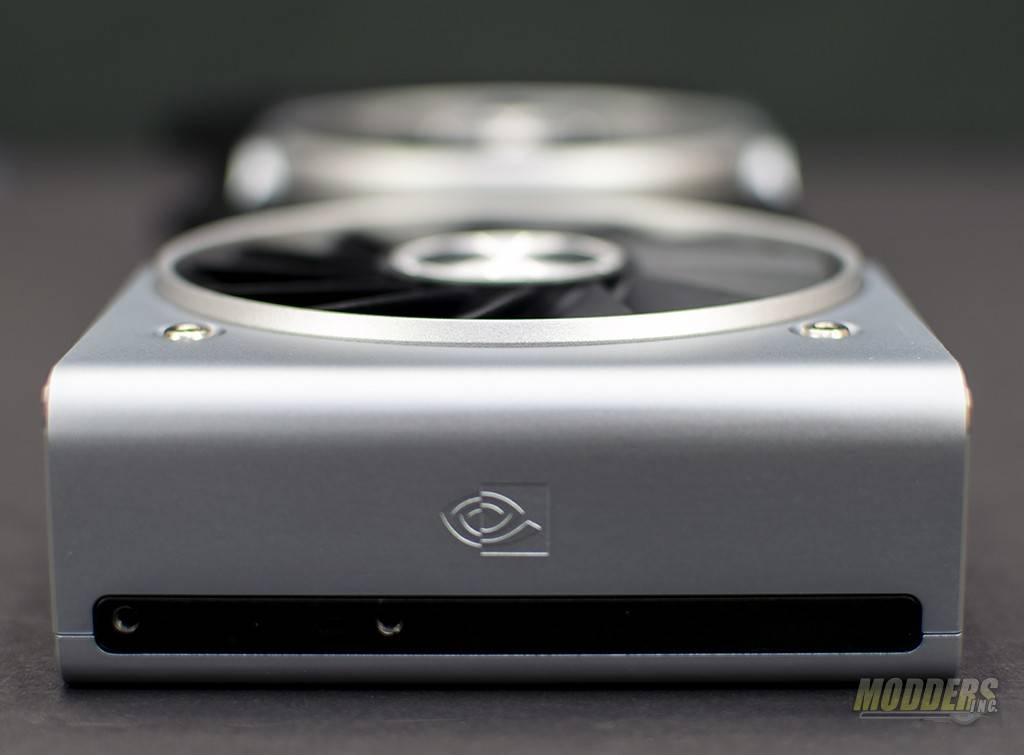 The fans have what I think is a quite aggressive blade angle. The fans blow down across the vapor chamber heatsink and exhaust the hot air out of the sides and back of the card. Even with the aggressive blade angles, during testing, I didn't notice any additional noise when the fans ramped up. Typically the fans hovered around the 40% mark for fan speeds.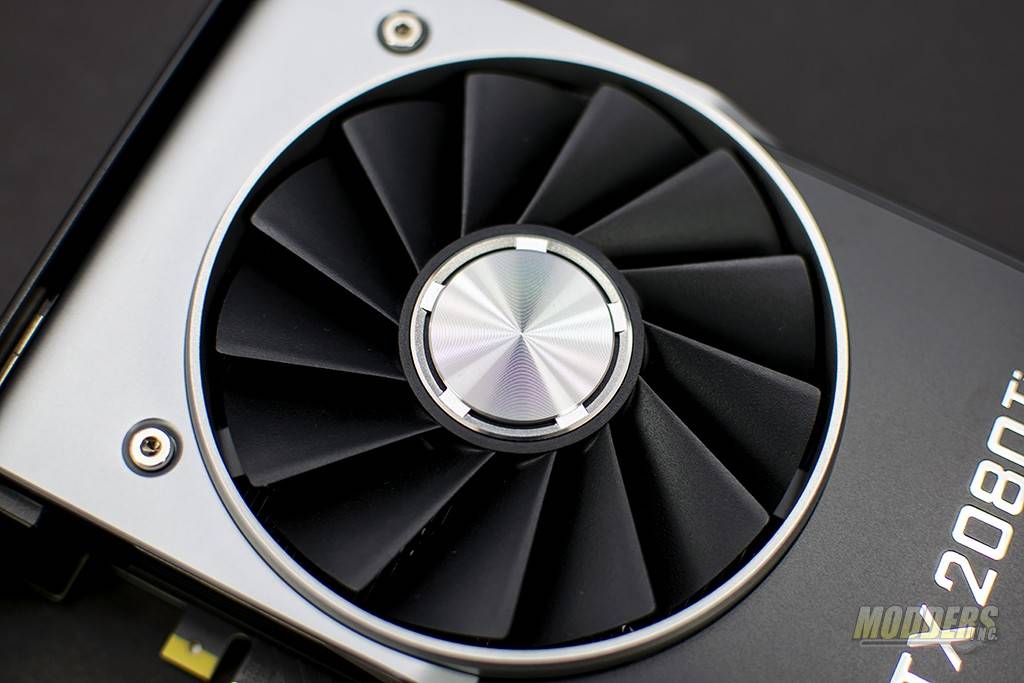 On the I/O panel, we no longer find a DVI connector but a DisplayPort to DVI adapter is included in the box. For I/O you'll find three DisplayPort 1.4a connections and one HDMI 2.0b. The DisplayPort 1.4a outputs can drive dual 8K monitors @ 60Hz. That USB C connector is called VirtualLink. VirtualLink is designed to ease the cabling burden when it comes to VR. That single port can supply power, display, and data required for the VR headset. The port supports four lances of Hig Bit Rate 3 DisplayPort and SuperSpeed USB 3 simultaneously. 8K Displays are also supported by VirtualLink


Now, on to performance testing.