Graphics Card Reviews
Nvidia GeForce RTX 2080TI Founders Edition & RTX 2080 Founders Edition GPU Review
Turing up to 11
« A Closer Look at Nvidia's RTX GPUs
|
Gaming Benchmarks »
Test System and Synthetic Benchmarks
| | |
| --- | --- |
| Processor | Intel Core i7-8700K (Retail) |
| CPU Cooler | EKWB Predator 360mm AIO with Noctua NT-H1 thermal compound |
| Motherboard | Gigabyte GA-Z370-Gaming 7 |
| Memory | G.Skill SniperX  2x8GB @ 3400MHz 16-16-16-36 (XMP) |
| Storage | Samsung 240 EVO 256GB SSD, Crucial MX500 1 TB SATA III SSD |
| Case | DimasTech EasyXL V3 |
| Drivers | NVIDIA 411.51 |
| Video Card(s) | Nvidia GeForce RTX 2080TI Founders Edition, Nvidia GeForce RTX 2080 Founders Edition, Nvidia GeForce GTX 1080TI Founders Edition |
| Monitor | BenQ EL2870U 28 inch 4K HDR Gaming Monitor 3840×2160 @ 60 Hz |
| Operating System | Windows 10 x64 Pro with latest patches and updates |
These cards were designed to run at 4K. I did test 1080p and 1440p along with 4k. So, a word of warning. You will see CPU bound benchmark results. Testing these cards means that it is time to revisit which games and applications we will be testing with in the future.
Synthetic Tests
3DMark Firestrike from Futuremark is a Semi-synthetic DirectX11 benchmark designed for high-performance gaming PCs. Firestrike performs advanced geometry, illumination and particle tests with its Graphics benchmark and performs physics simulations using the CPU. Firestrike Ultra Kicks it up a notch and ratchets up the resolution to 4K and turns the quality up a bit.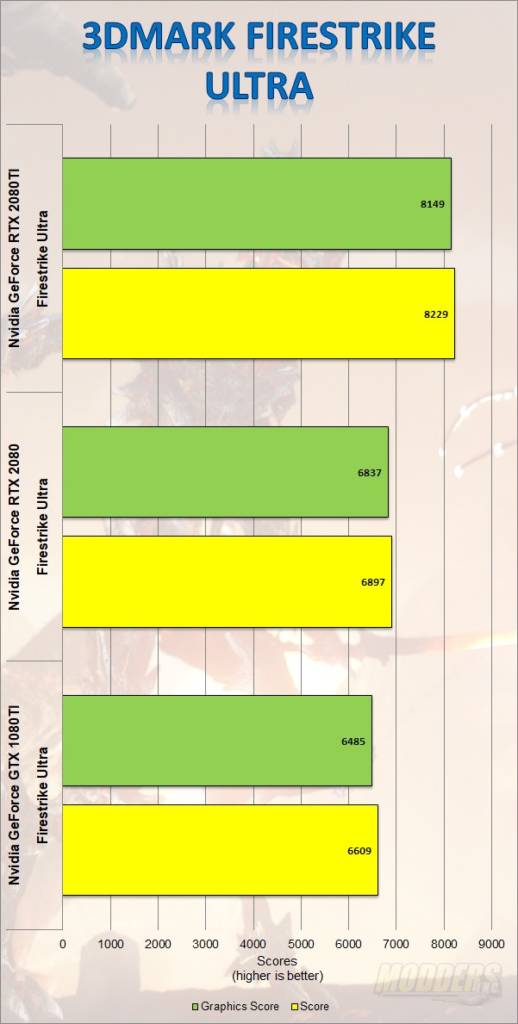 In Firstrike Ultra, the Geforce RTX 2080TI takes a commanding lead with a 19% performance increase over the RTX 2080 and a 26% increase over the GTX 1080TI. While not its direct competitor, the RTX 2080 bests the GTX 1080TI by 5%.
Timespy is an additional test in 3DMark which represents DirectX 12 game play. The extreme version is meant to test the highest end graphics cards at 4K.
In Timespy Extreme, the RTX 1080TI gains 44% over the GTX 1080TI and just over 29% above the RTX 2080. The non-TI card picks up a few percentage points to 11% over the GTX 1080TI.
Unigine's Superposition features both a monitor benchmark but also a VR load as well. I used the 1080p high, 1080p extreme, and VR optimal settings (set for HTC Vive) for the benchmarks. Superposition also allows you to explore the environment in VR Mode with your headset connected. I used 1080P Extreme, 4k optimized, and 8K optimized with both DirectX 11 and OpenGL as the presets for this test.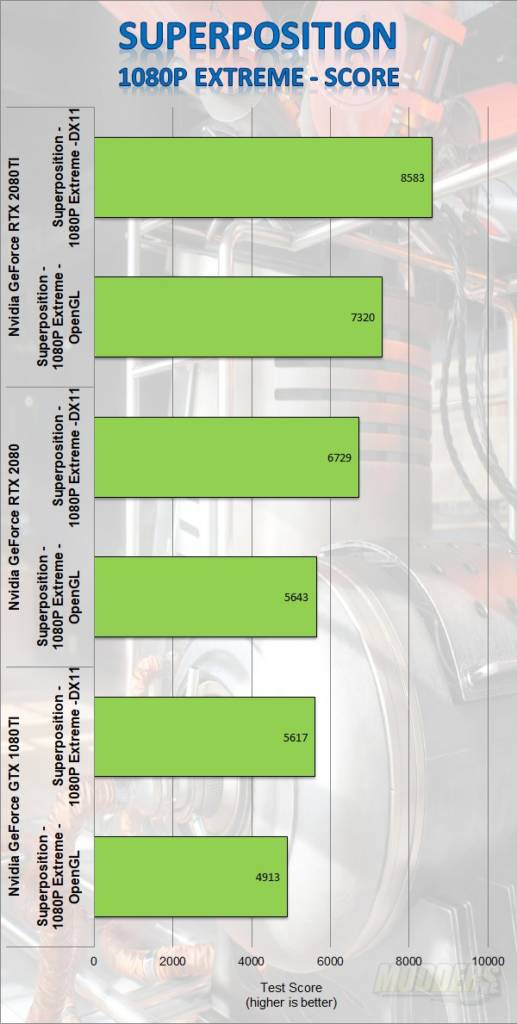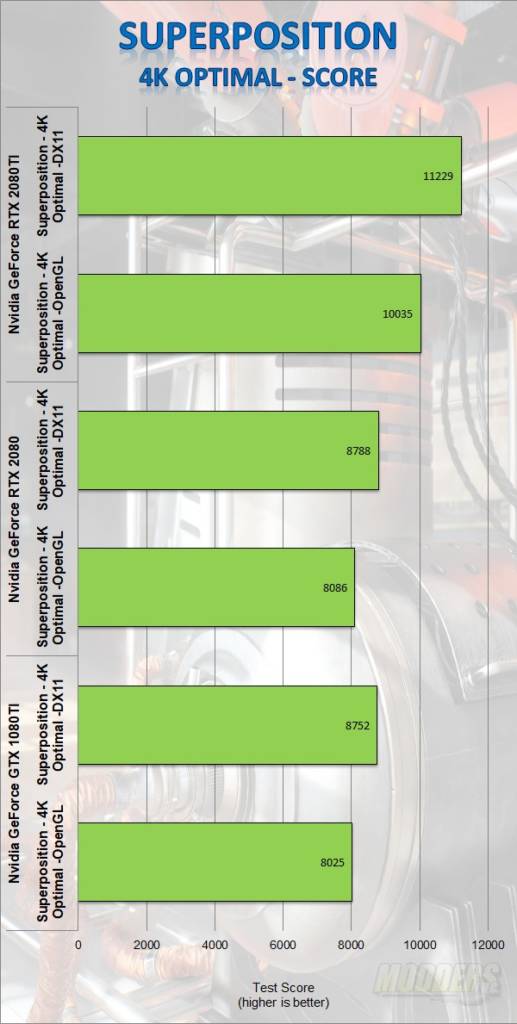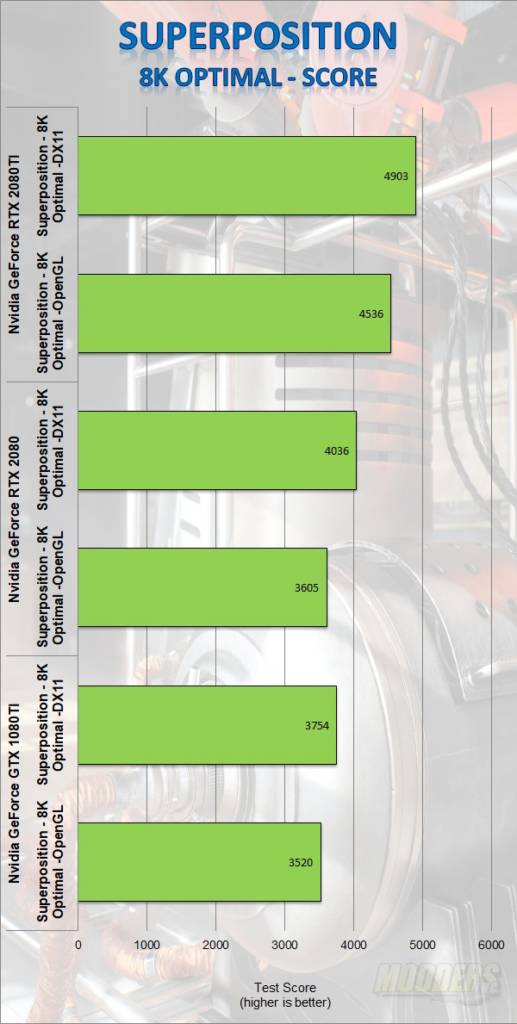 To round out the synthetic testing, I turned to an old favorite. Unigine's Heaven. For this test, I set the quality to extreme for both Direct X 11 and OpenGL and ran it at 4K.