CES
Patriot Suite CES 2019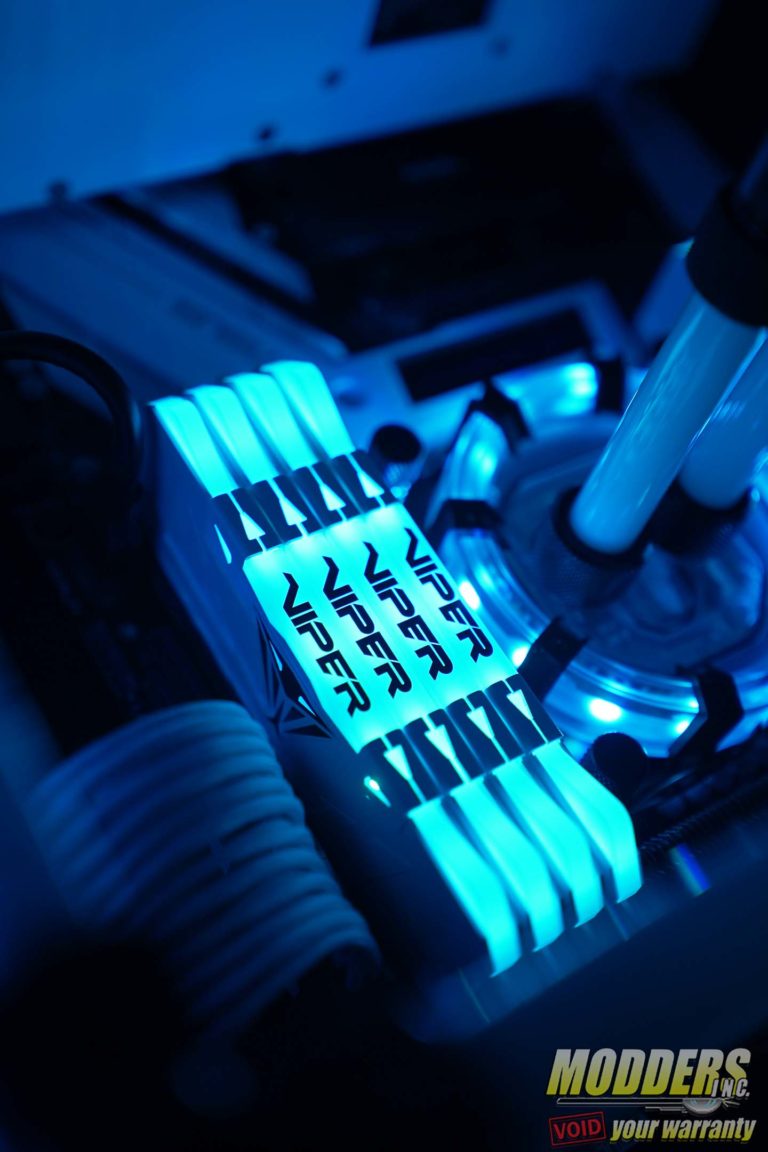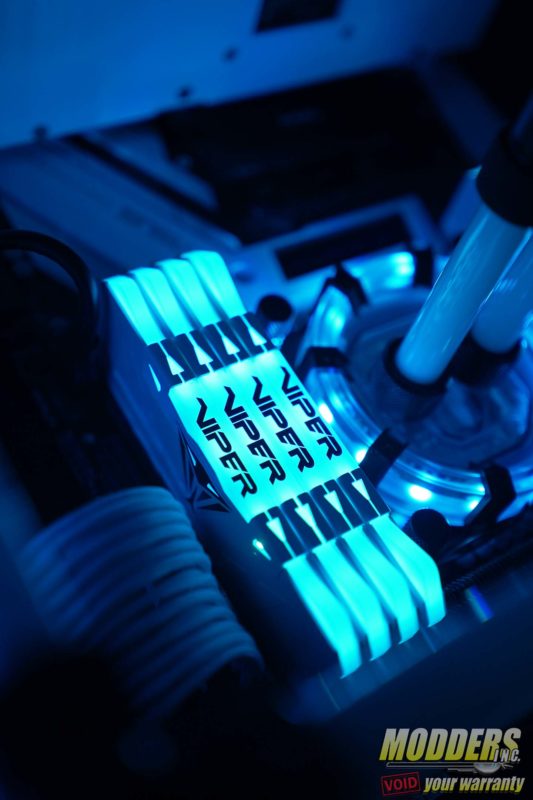 Patriot is always one of my favorite stops on the grind that is CES. This is for a few reasons. First being their PR department is made up of some of the nicest people who are great to work with. Also, Patriots products are always great. Whether its memory, SSDs, flash drives or peripherals, they always have some new and exciting products showcased at CES. Their press kits are always packed with detailed and useful information. This year, their press kit was given to us on a 64 GB Trinity drive. This was one of the products Patriot had on display in their suite this year.
Patriot's Trinity drive is a USD flash drive that comes with a Type-A, Type-C and micro-B connector. This makes the Trinity drive one of the most versatile drives on the market. It even works on any Android device without adding additional software. The Trinity drive comes in 32GB, 64GB and 128GB capacities. It boasts speeds of up to 200 MB/s read and 100 MB/s write. Patriot's Trinity drive is USB 3.1 and its backward compatible all the way back to USB 1.1.  The Trinity drive was just one of many different flash drives in Patriots line-up.
On the DRAM side, Patriot had an array of memory in both desktop and SODIMM memory from both their Patriot and Viper lineups. The showed off their Patriot Signature line with speeds up to 2666 MHz and a newly designed heatshield. They also had their Viper RGB memory on display. To learn more on Patriot's Viper RGB memory, check out our reviews on a couple different kits, their 3000 MHz and 3200 MHz kits here:
https://www.modders-inc.com/patriot-viper-rgb-ddr4-3000mhz-memory-review/
https://www.modders-inc.com/patriot-viper-rgb-ddr4-3200-mhz-memory-review/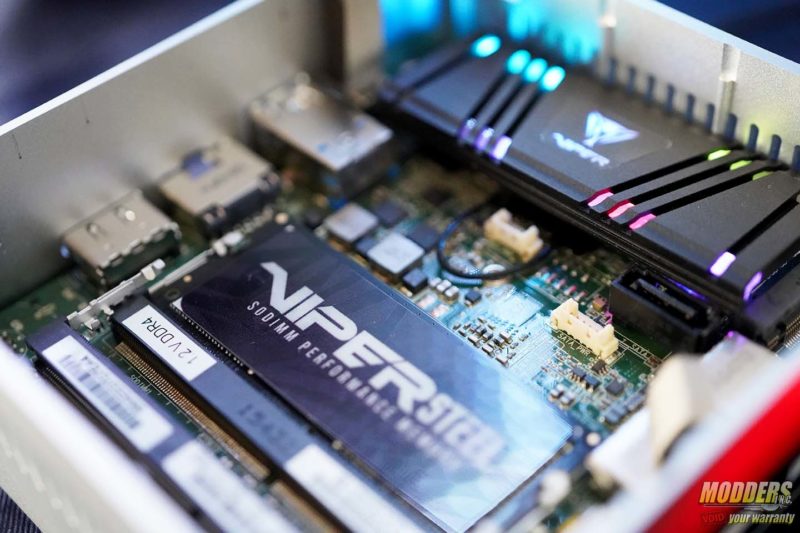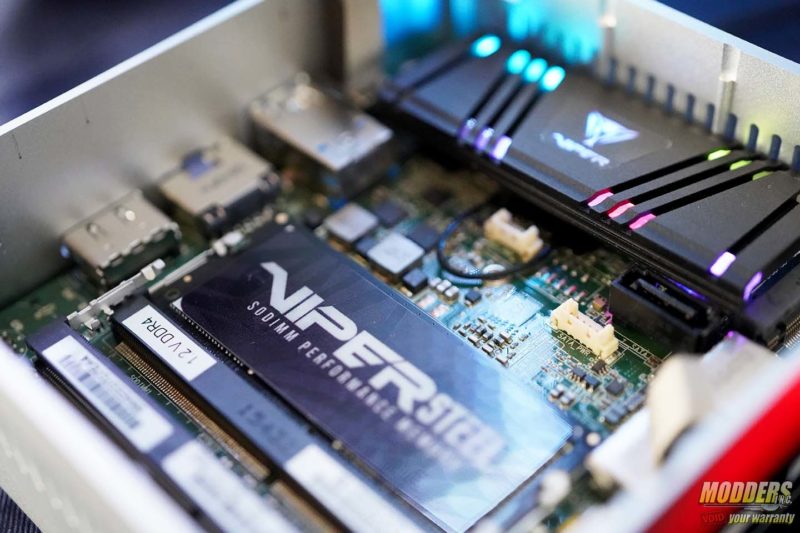 One of the most exciting of their memory products has to be Patriot's Viper Steel and Viper Steel SODIMM memory. Patriot's Viper Steel memory provides frequencies between 3000 and 4400 MHz. Patriot guarantees to overclock up to 4500 MHz. However, their aim is for 5000 MHz on their Viper Steel memory. Viper Steel memory has been tested on the latest Intel and AMD processors. Patriot's Viper Steel SODIMM comes id single sticks and dual kits with speeds from 2400 MHz to 3000 MHz. Viper Steel SODIMM comes in capacities of 8GB up to 32 GB.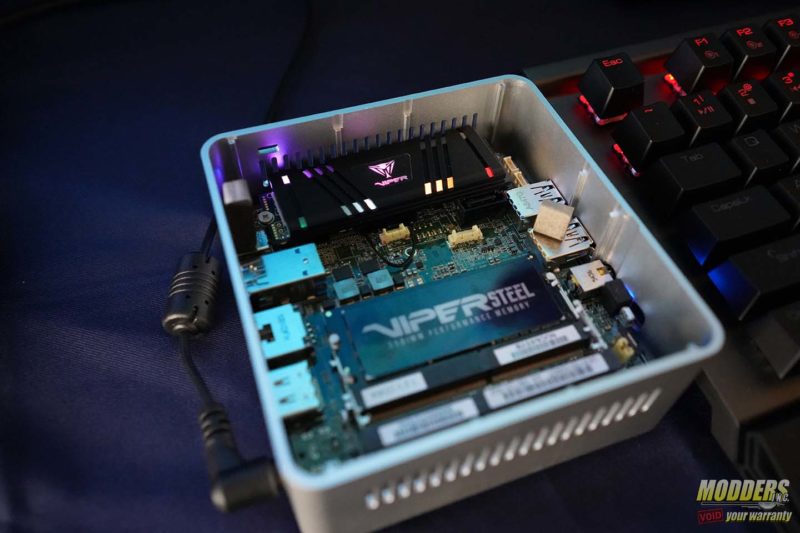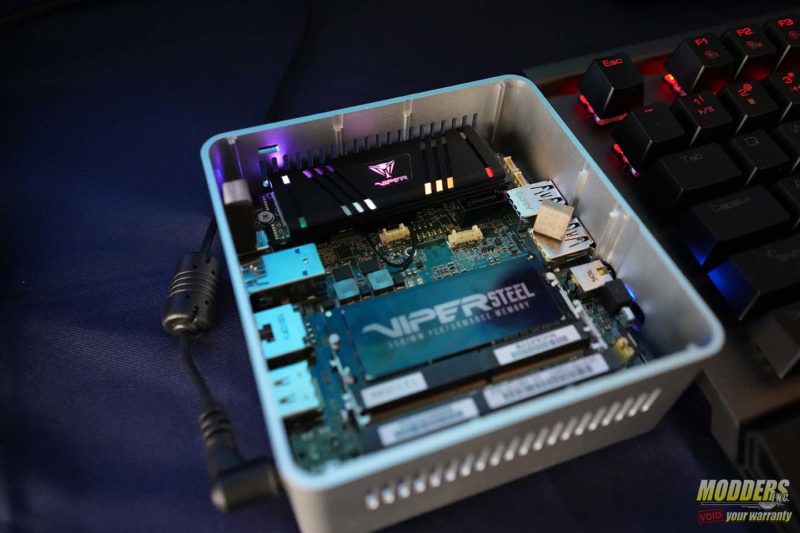 Like always, Patriot also had an array of SSDs to show off as well. At this point, we've all seen an RGB SSD somewhere. However, Patriot has developed the first RGB M.2 SSD and it looks awesome. Patriots VPR100 is a type 2280 PCIe Gen3 x 4 NVMe 1.3 M.2 SSD. With capacities up to 1 TB and DRAM cache up to 512 MB, the VPR100 is designed with extreme performance in mind. Patriot is advertising speeds of up to 3100 MB/s read speed and 3000 MB/s write speed and 4k aligned random read and write IOPs of up to 500k. The VPR100 has a built-in thermal sensor as well. Its RGB-illuminated heat spreader can be controlled through the VIPER RGB software.
The VPR100 wasn't the Only SSD that Patriot had to show at CES 2019. Their other M.2 was the Patriot Scorch M.2. The Scorch M.2 is also an NVME SSD. However, it's a type 2280 PCIe Gen 3 x2 NVMe 1.2 SSD. The Scorch M.2 comes in 128GB, 256GB, and 512 GB capacities with 512MB of DRAM Cache. Being an X drive, its speeds aren't as fast as the VPR100. However, it still delivers speeds of up to 1700 MB/s on the read and 950 MB/s on the write. The 4k aligned random read is up to 200k IOPs and the $k aligned random write is up to 115k IOPs.
Patriot also had 2.5" SSDs showcased in their suite in the Viper 2.5" and Patriot Burst SSD. Both are SATA 6 drives and essentially saturate the interface at speeds of 560 MB/s on the read and 540 MB/s on the write. The Viper 2.5" comes in capacities of 512 GB, 1 and 2 TB. The Patriot Burst SSD comes in capacities of 120 GB, 240 GB, 480 GB, and 960 GB. The Bust SSD is designed to be more budget friendly. The last SSD that Patriot had to show was their EVLVR Thunderbolt 3 external SSD. The EVLVR uses the Thunderbolt 3 interface to reach transfer speeds of up to 1600 MB/s read and 1000 MB/s write. The EVLVR Thunderbolt 3 comes in capacities up to 1 TB.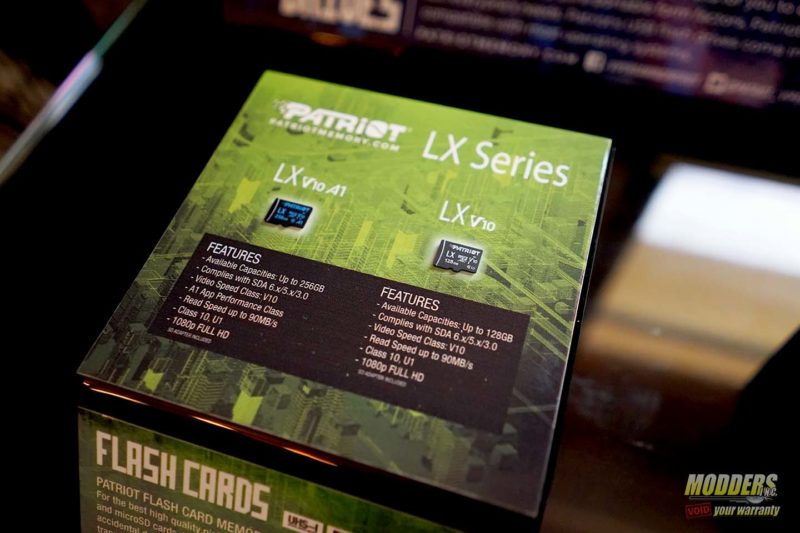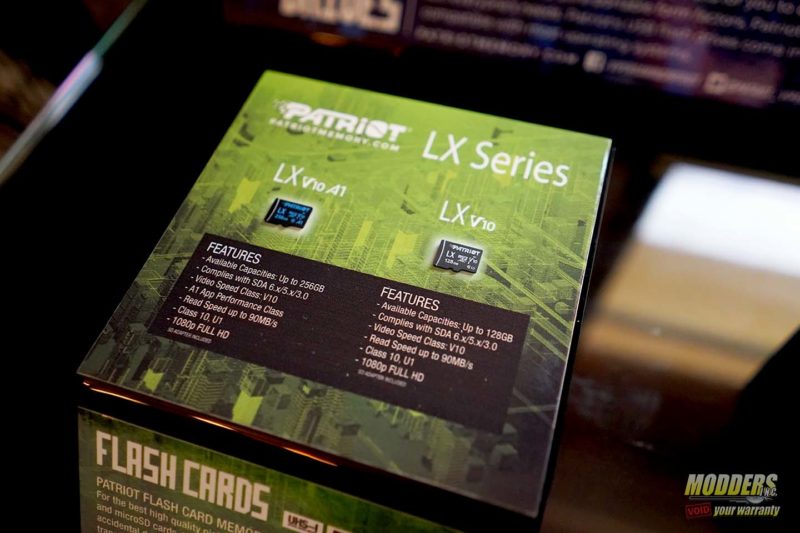 Next was Patriots line up of SD cards. Patriots LX V10 microSD card is designed for full HD recording. It comes in capacities of 16GB, 32GB, 64GB, and 128GB. This is a V10 class SD card with speeds up to 90 MB/s. Next is Patriots LX A1 V10 microSD. It too is a V10 Class SD card with speeds of up to 90 MB/s. Its designed for full HD recording with capacities of 32 GB, 64 GB, 128 GB, and 256 GB. Last is the EP A1 microSD card. The Patriot EP Ai microSD card comes with an A1 App Classification rating. It's a V30 class card with speeds of up to 100 MB/s read and 80 MB/s write. This microSD card is designed for 4k recording. Actually, our video of the Patriot suite was recorded to one of these exact cards. The EP A1 microSD card comes in 64GB, 128GB, 256GB and 512GB capacities. For more on the Patriot EP A1 microSD card, check out our review here:
https://www.modders-inc.com/patriot-256-ep-micro-sdx-card-review/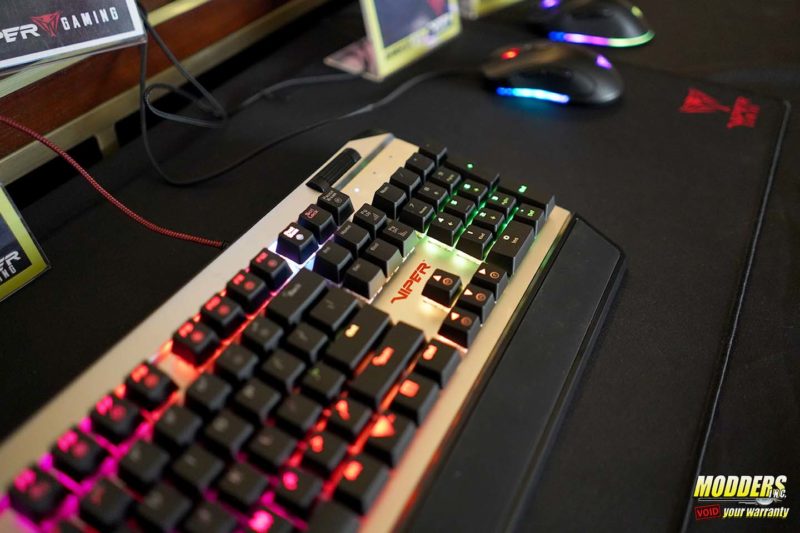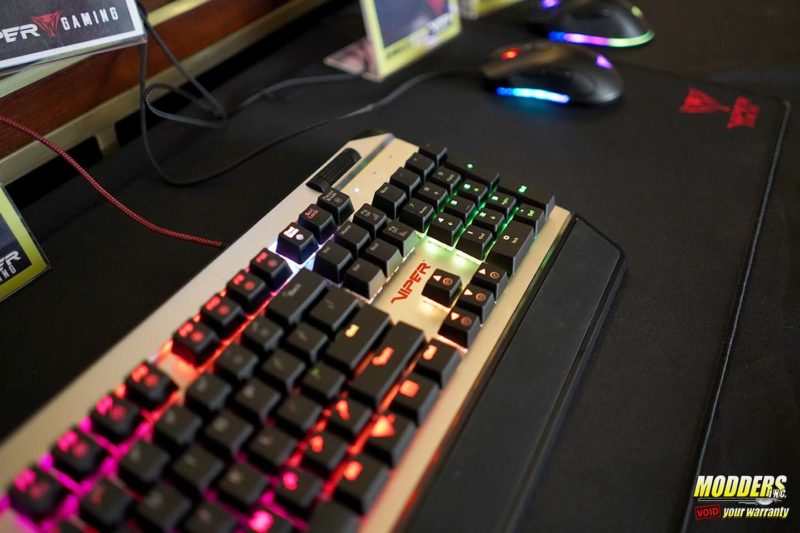 The last thing Patriot went over with us was their line up of peripherals. They now have everything from keyboards and mice to headsets, headset stands, and even RGB mouse pads. In the past, we've reviewed their Viper V770 RGB keyboard as well as their V570 mouse. Both received great reviews and won the Modders-Inc "Must Have Award" You can see those reviews here:
https://www.modders-inc.com/patriot-viper-v770/
https://www.modders-inc.com/patriot-viper-v570-rbg-laser-gaming-mouse-review-red-green-blue/
However, Patriot had all new peripherals at CES 2019. For mice, they showed off their Viper 551 RGB gaming mouse and their new Ambidextrous Viper V550 RGB Gaming Mouse. Both look excellent. The V551 has DPI settings from 6,200 up to 12,000 DPI and 8 buttons, 7 of which are programmable. The V550 has DPI settings from 5,000 up to 10,000 and has 9 buttons, 8 of which are programmable. But my favorite peripheral Patriot showed off is their all-new Patriot Viper V765 RGB mechanical keyboard. The V765 features Kailh white switches, full N-Key rollover, and anti-ghosting. Everything one would expect in a keyboard today. The V765 is fully RGB backlit and customizable through the Viper software. My favorite feature is the 103 programmable macro keys. In fact, I'm in the process of programming all 103 keys for use in Premiere Pro, Photoshop and Adobe Audition. You can check out our review of the Viper V765 coming very soon to Modders-Inc.com.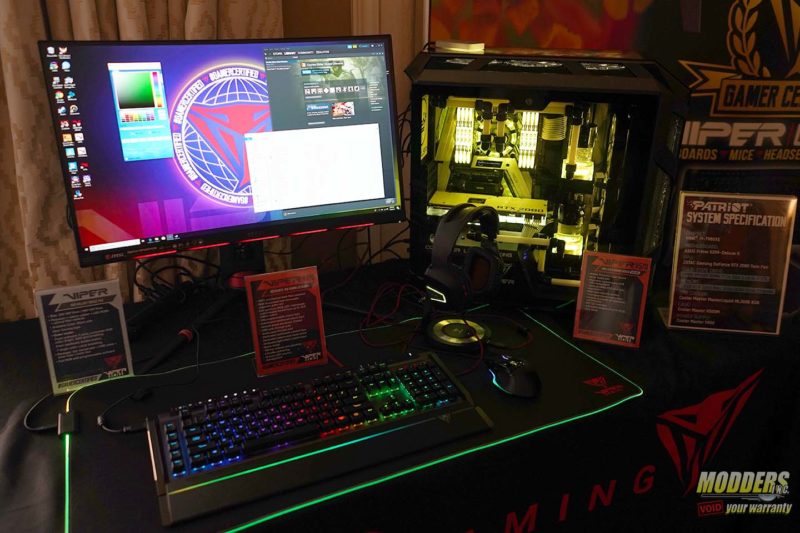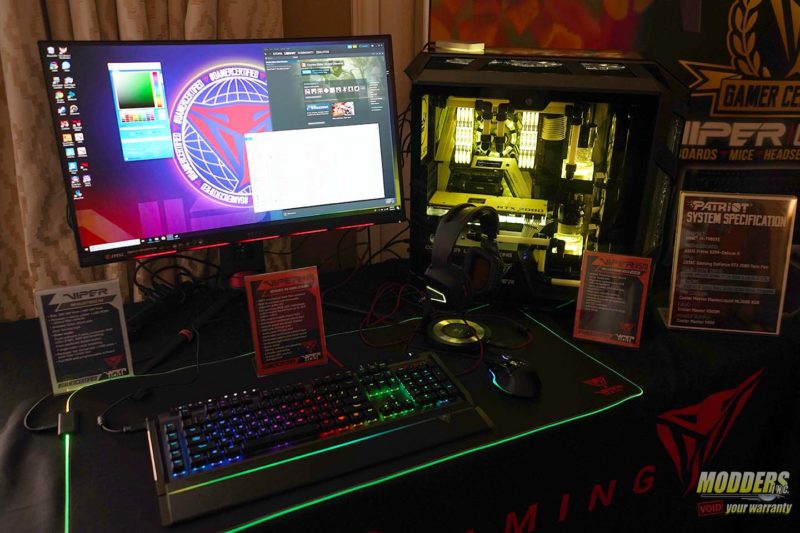 As you can see, Patriot had an absolute ton of awesome products both new and old set up in their suite at CES 2019. I'm really excited to see what else Patriot comes up with next!