« Patriot Viper V360 Headset Review
|
Testing and Final Thoughts »
A Closer Look at the Patriot Viper V360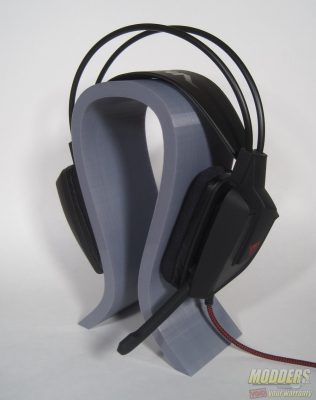 The headset's construction is simple and solid. The arching bars are metal rods surrounded by a plastic shroud, and the wide strap underneath is a combination of smooth plastic on top and soft, slick fabric beneath. This band is somewhat rigid. Inside the strap are two long plastic strips, which extend and contract to fit the user's head.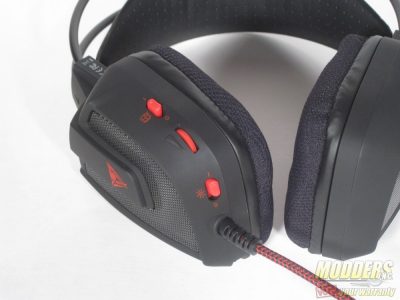 The headset's ear cups are made of a matte-black plastic and metal mesh.  The ear cups are made of a comfortable fabric, which breathes well and doesn't trap heat against your ears. On the left cup there is a volume dial, a switch for the cosmetic LEDs, and a switch to engage the "Ultra Bass Response (UBR) system" which turns on the secondary 20mm sub drivers.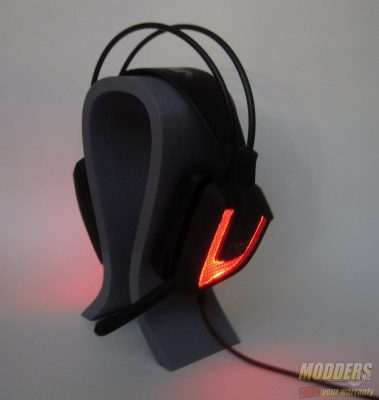 Inside the ear cups are red LEDs, shining through two sheets of mesh and (it would appear) a sheet of semi translucent plastic. The illuminated section is evenly lit and easy to see in the dark, but the light isn't intense enough keep you awake when you're sleeping near your rig.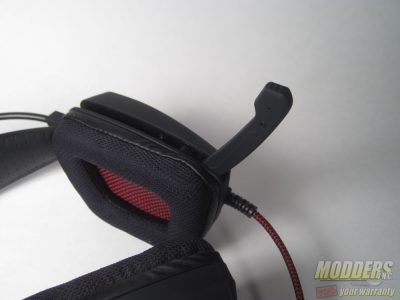 The microphone folds out and can be positioned at multiple different angles. It automatically turns on when folded out, and turns off when folded back in. Interestingly enough, the microphone area is the only place where there's any exposed screws: one on the microphone itself, and two hidden inside the slot the microphone folds into.
Some people may prefer having a switch to turn the microphone on/ off but I like this design. Its position will always tell you whether or not your mic is on, meaning there's no need to find and check an inline switch or LED.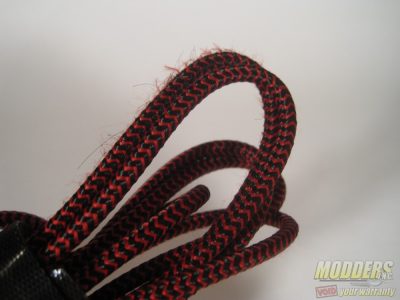 The product is pretty solid, but unfortunately I found a small flaw: the braided cord arrived frayed. This fraying worsened when I scratched at it with my fingernail, shedding a couple fibers onto my desk. Over time, this fraying could spread to the rest of the cord. However, I'm not too worried about this, because the headphones come with a 2-year warranty.