« A Closer Look at the Patriot Viper V360
Testing and Final Thoughts
The Viper V360 is very comfortable to wear for long periods of time, resting lightly on the head at only 300 grams. The ear cups completely cover the ears without exerting too much pressure, and outside noise is easily drowned out at a medium volume. The light resting ear cups also allows the user to wear glasses without discomfort.
This headset is well suited for all forms of media, whether it's music, gaming, or movies. Both high and low- pitched sounds are well-defined and you can hear all the little audio details of music and movies. The microphone is clear and loud enough for communicating while gaming, and can be unobtrusively folded away when you're not playing.  The 7.1 surround sound works well, and allows quick localization of sounds in-game.
I used Audiocheck's Frequency Response test to test the speaker's basic capabilities. The results are summarized below:
| | | |
| --- | --- | --- |
| Test | Bass Boost On | Bass Boost Off |
| 10-200 Hz | Could hear entire range | Could hear 20-200 |
| 22-8 Hz | Could hear 21-8 | Could hear 21-8 |
Activating the "Ultra Bass Response" (UBR) enables two subwoofers, which imbues any bass notes with a rich, ear-vibrating experience. Some people might dislike this vibration, but I felt it added an extra layer to music and gaming. Without the UBR, audio is less bass-heavy, but still balanced and clear.
I also conducted a microphone test, which you can hear here:
In order to get a clean recording, I installed the Viper Audio Center Software. The automatic Windows 7 driver install worked well for the audio, but microphone recordings had a large amount of background white noise. The microphone is a little quiet, but that can be adjusted with in-game audio settings.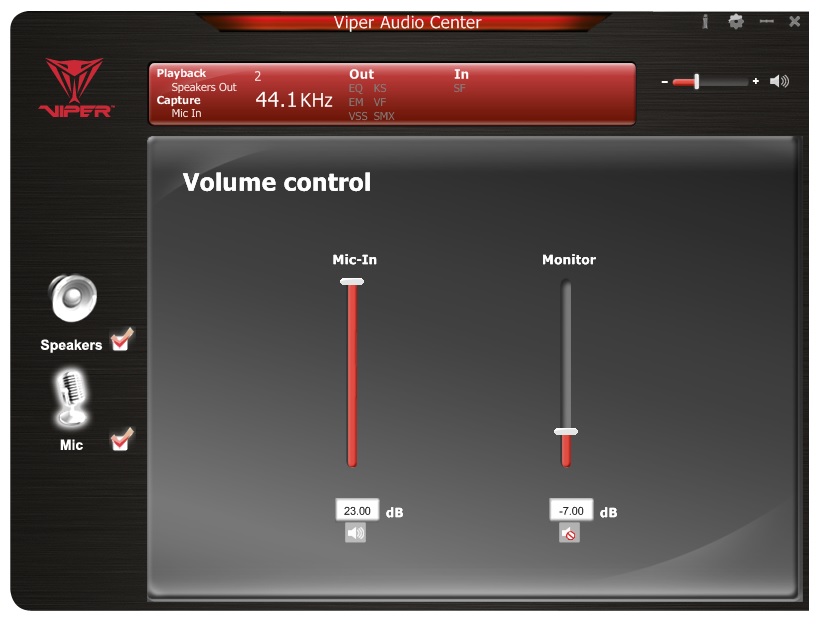 The Viper Audio Center Software itself is a simple, spartan program that (in addition to installing audio drivers) allows you to control microphone, monitor, and volume levels, as well as turn enable/ disable the speakers and microphone. The little gear allows the user to enable/ disable system tray icon and the startup message, and change UI transparency.
In conclusion, the Viper V360 is a well-priced, comfortable headset. It has a simple, attractive aesthetic with solid construction that's free of flimsy plastic joints and backed by a confident 2-year warranty. The headset is suitable for movies, gaming, and music thanks to its loud, clear speakers and crisp microphone. The only downside is a potentially fraying cord, but the warranty makes that a non-issue.

[sc:recommended_hardware_award ]