SPECIFICATIONS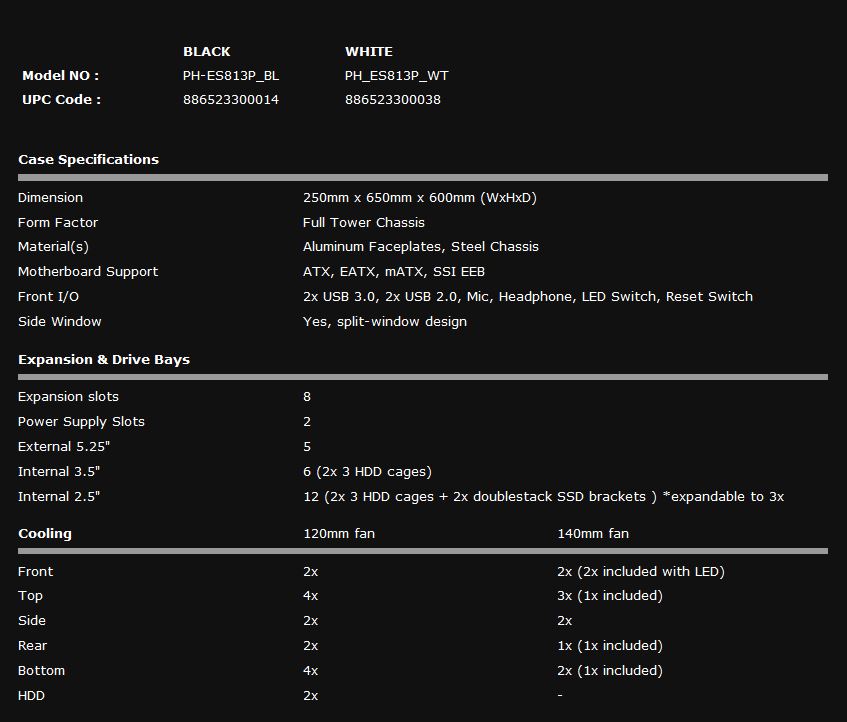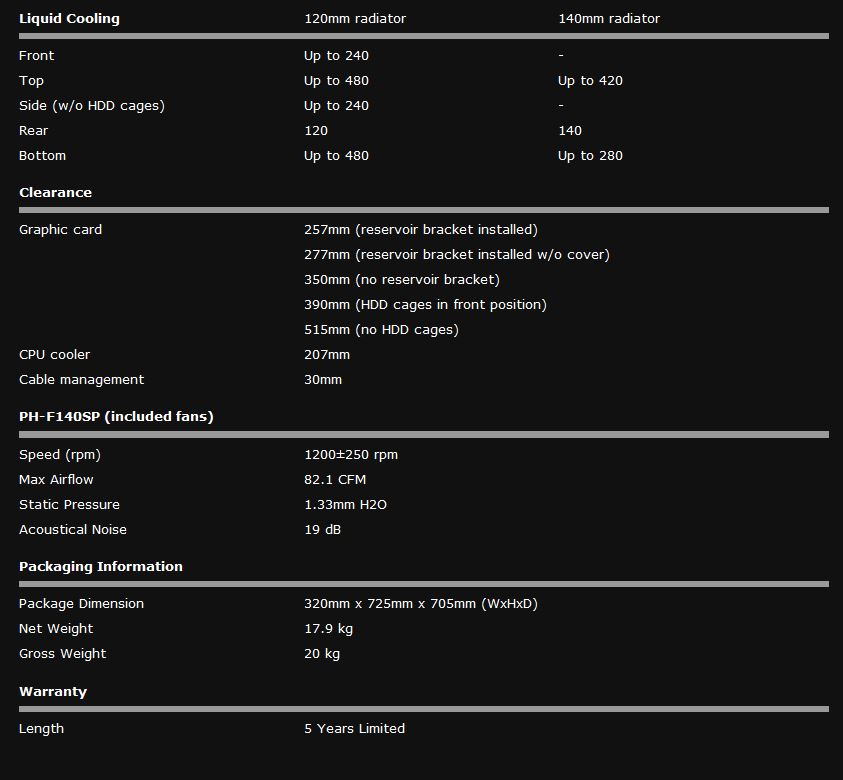 FEATURES
Phanteks says: "Phanteks' Enthoo Primo features a unique PSU thermally isolated location, multifunctional cable/reservoir cover, exclusive brackets, and massive cooling potential. Phanteks' new case features a shifted design which allows for the unique PSU configuration. The PSU is thermally isolated, creating cooler temperatures within the case. With the PSU located in the back of the case, this allows for a cleaner look and better cable management.. Exclusive brackets that makes everything a breeze to install. Reservoir bracket that can be use as a cable cover with the modular cover on or as a reservoir bracket with the pre-drilled holes when cover is off. Enthoo Primo includes a pump bracket that supports many different pumps, side radiator bracket and bottom radiator bracket for easy installation."
But Honestly, I think they are being reserved and humble. Let me list some of the features I think are important:
Full Tower Chassis
Brushed Aluminum Front and Top Panels
5 x 140mm PH-F140SP fans included
Ultimate Water Cooling Solutions
~ 120mm: Up to 240mm (front), 480mm (top), 240mm (side), 120mm (rear), 480mm (bottom)
~ 140mm: Up to 420mm (top), 140mm (rear), 280mm (bottom)
Vertical Cable Cover / reservoir mount
Built in reservoir mounting locations
Pump bracket with 3 mounting/locations and allows for multiple pumps
Side radiator mounting bracket
Bottom radiator mounting bracket
16 x fan locations
Fan Hub converts 11 x 3 pin fans to full PWM control and mounted in choice of 2 locations
6 x LED fan leads tied in with the case light switch
2 x LED strip leads (max 50 LEDS <1A each) tied in with the case light switch
Distinctive LED lit case elements
Additional 2 x SSD mounting locations in addition to the SSD compatible drive cages
Drop N Lock tooless double stack SSD bracket that mounts to back side
Drop N Lock SSD Brackets support 2 x SSD's each with 2 other SSD mounting locations giving 6 SSD mounts
Modular 2 x HDD Cages with optional configurations
Dual PSU or choice of 2 Thermally isolated locations
PSU sound and thermal stand offs and pads for 2 PSU mount loactions
Press and lock/unlock top and front filter access panels
4 x removable dust filters
Vented right/back side panel
2 x magnetic peel off dust filters on the right/back panel
Optional right/back panel venting or cover with thumb screws over the magnetic filter screen
Motherboard standoffs pre-installed
Snap on upper panel and front bezels
2 x perspex angled side windows for inside view
Happy satisfied owner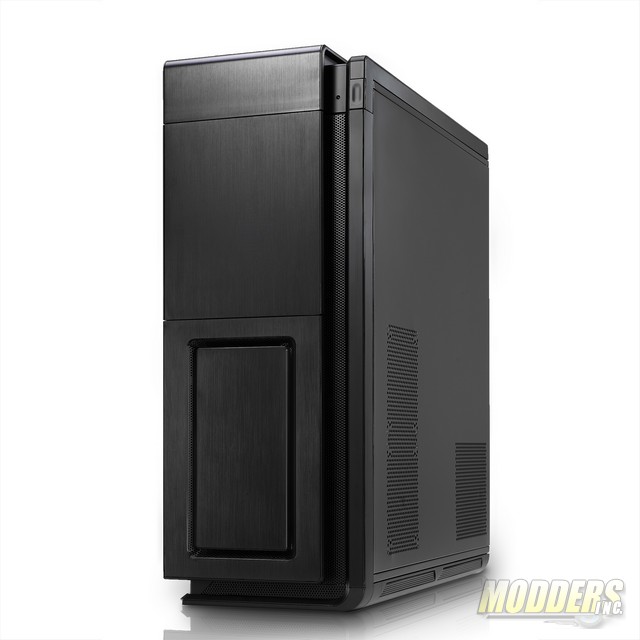 This is a FULL Tower ATX case. I mean it's in the upper class of "full" but also in the upper class of looks. It has a brushed steel look with dimensions measuring 25.0 x 65.0 x 60.0 cm or 9.8 x 25.6 x 23.6 inches (W x H x D). Case volume is 97.5 L which is a good 30-40 L more than most big ATX towers. For perspective a Corsair Obsidian 900D is approx. 114 L.  The Enthoo Primo weighs in at 20Kg or 44 pounds. Now that I can examine the surface, materials, compositions closer I have to say it's very impressive. There is quality in here.