« Page 6
|
Page 8 »
THE BUILD
SPECS:
CASE: Phanteks ~ Enthoo Primo Luxury Water Cooling Case
MOTHERBOARD: ECS GANK Machine Z87H3-AX L337 by ECS ELITEGROUP
CPU: Intel Core I5 4670K 1150
GPU: Sapphire Technology ~ HD 7970 Dual-X 3GB
MEMORY: Corsair Dominator® with DHX Pro Connector — 1.5V 16GB Dual/Quad
Channel DDR3 Memory Kit (CMP16GX3M4X1600C7)
SSD: 2 ADATA Technology 128Gb XPG SX900 Solid State Drives
PSU: Thermaltake Technology Inc SMART Series M1000W 80Plus Bronze
2 cooling set-ups;
AIR COOLING: Phanteks PH-TC14PE CPU Cooler
WATER COOLING: EKWB Water Blocks and Fittings
COOLANT: Mayhems XT-1 and Pastel White Additives
TUBE CONNECTORS: Monsoon Chain Gun Compression Fittings, 1/2″ x 3/4″
BAY RES: Monsoon Series 2 Premium 5.25″ Dual Bay Reservoir
PUMP: Swiftech MCP655 Special Edition 12 VDC Pump With Speed Controller
RAD#1: Alphacool.com NexXxoS Monsta 240
RAD#2: EK-CoolStream RAD XT (240)
FLOW INDICATOR: Bitspower Flow Indicator (BP-FI-CLBKMBK) – Clear/Black/Matte
TEMP. INDICATOR: Phobya Temperature Sensor/External thread G1/4 with C/F Display
TUBE RES: Water Tank Z-Multi 250 (POM Version); Model Name:BP-WTZM250P-BK; Water-Cooling / Water-Tank.
TUBE RES: Phobya Balancer 150 silver nickel
FANS: PH-F140XP and PH-F140SP LED
LIGHTING: NZXT Hue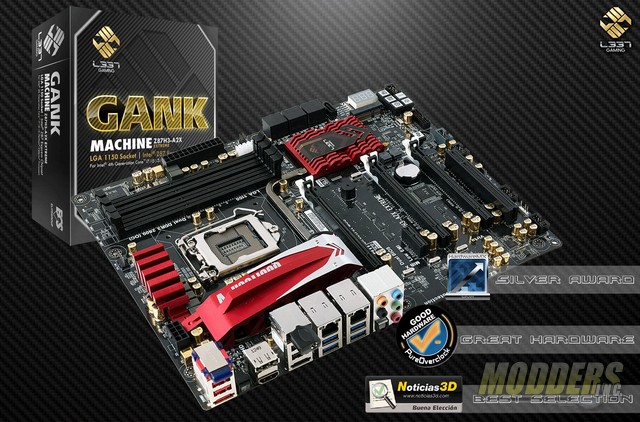 For this build I'm using a ECS Z87H3 A2X L337 Extreme GANK 305mm(W) X 244mm(H).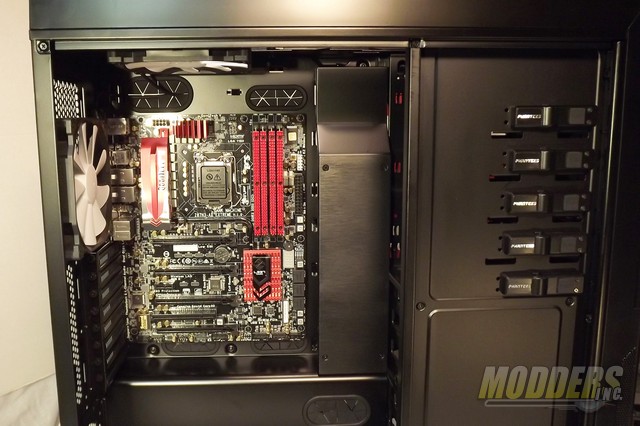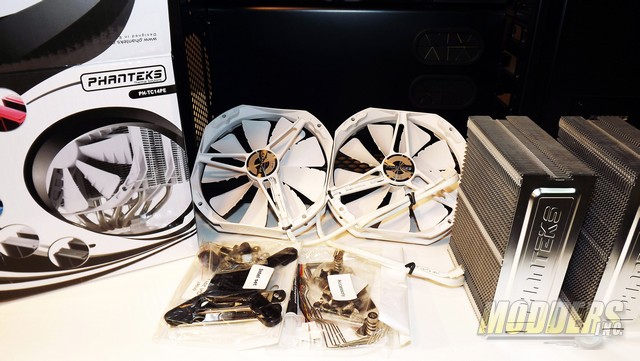 Even though this is a luxury water cooling case, you could still use air cooled CPU coolers like PHANTEKS award winning PH-TC14PE or even the largest of air coolers.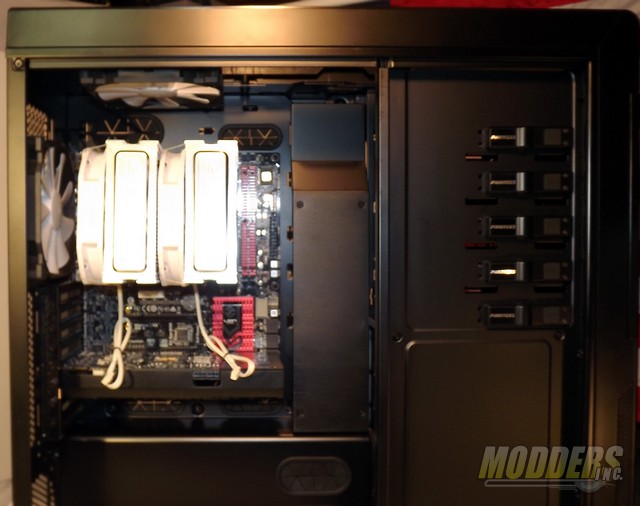 Plenty of room left but this is a Water Cooling marvel and not a place for air coolers.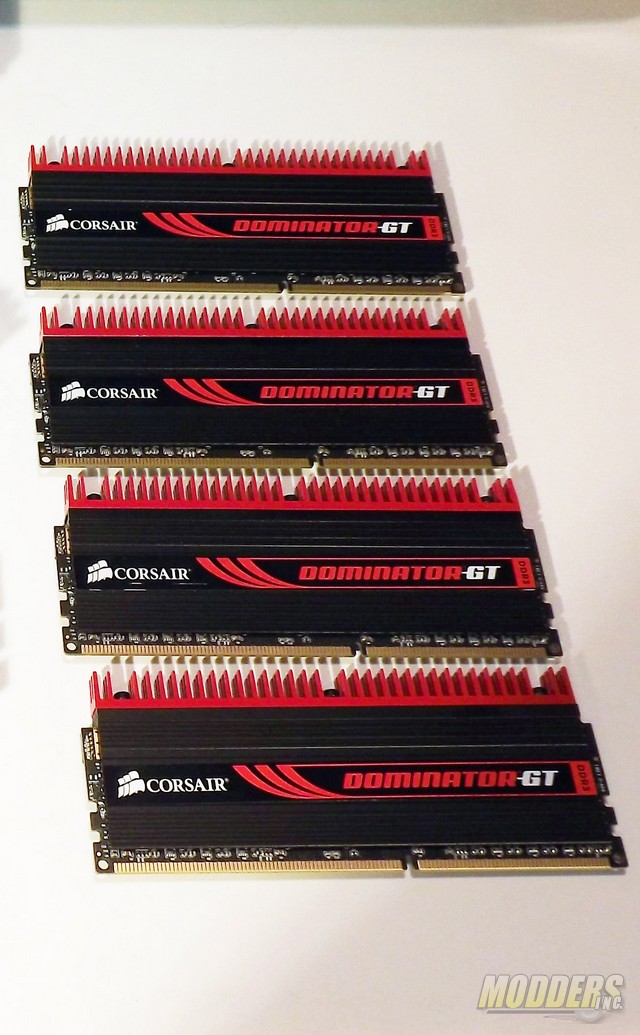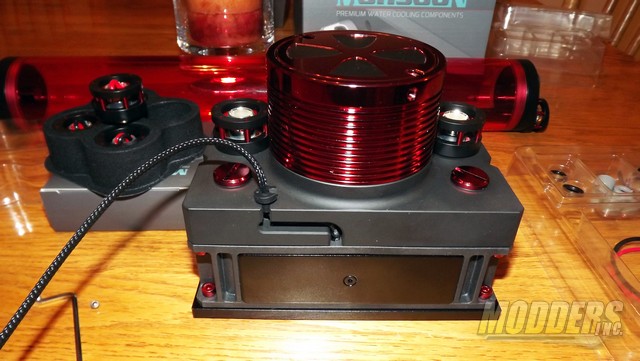 Some very attractive parts for this review build.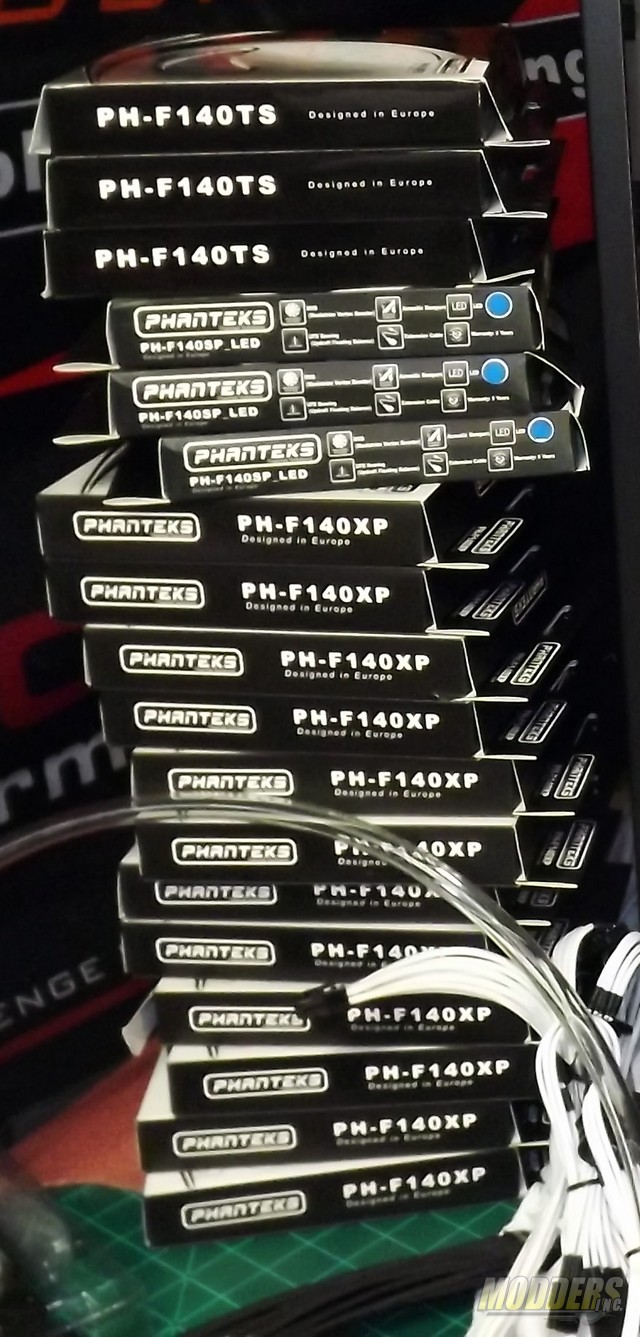 I'll be adding a few more fans. PHANTEKS three more PH-F140SP Blue LED Fans, 2 on top and one more lower front then two more PH-F140XP's on the floor.  I didn't need them to be PWM like the XP's are since the HUB is PWM controlled. I didn't realize when I ordered this set-up how functional the HUB was. Nice thing is these fans have 3 pin adapters and convert easily.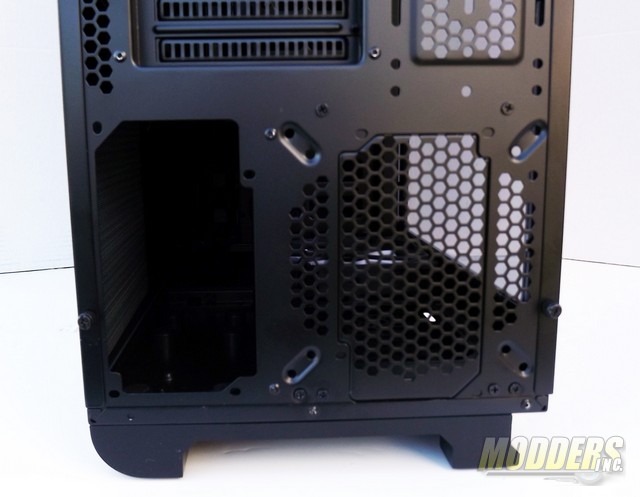 Choice of two PSU locations or use both PSU locations if desired. I chose to stealth my PSU on the back side.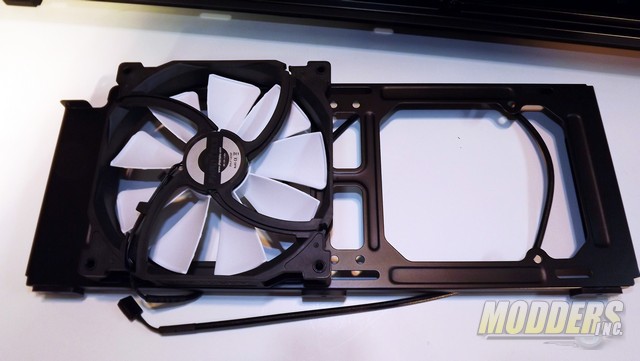 The bottom floor options are 3 140mm fans or with the bracket you can lay a 240mm radiator under the bracket and 2 x 140mm  fans above.
One lovely feature of the 2 brackets supplied is they have mounts that slide for that perfect positioning and adjusting for tubing or put fans right where you like.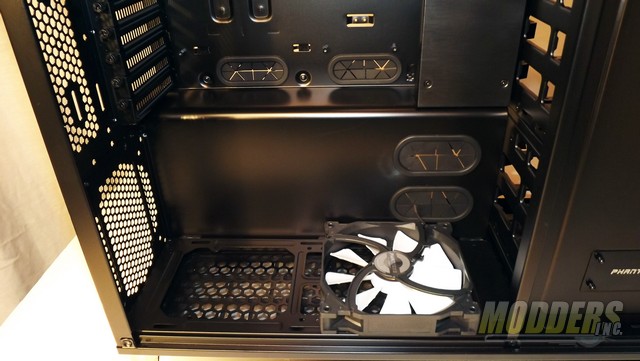 Before adding my fans here is the floor fan bracket without the radiator.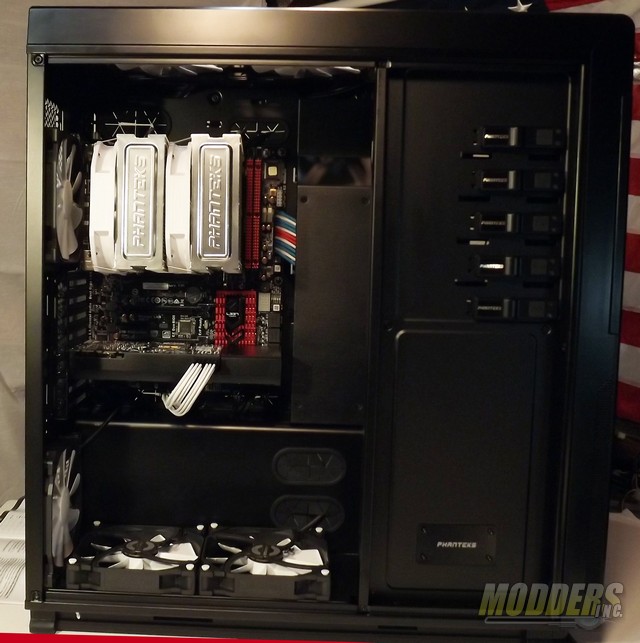 Air Cooling set-up and fan mounted on the floor fan bracket/adapter.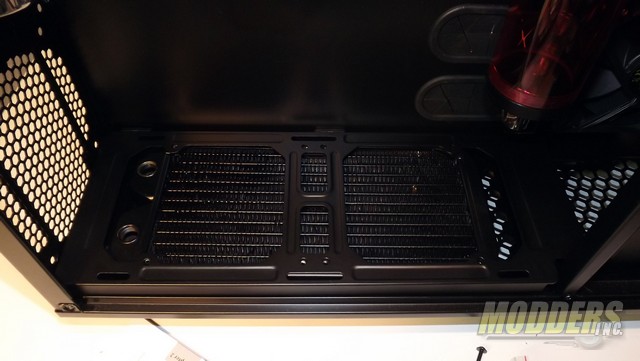 Let's drop the air and go H2O. Here is the 240mm radiator under the 2 x 140mm bracket.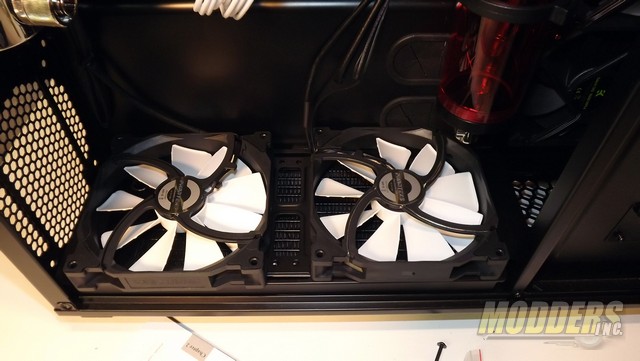 With the bracket I put a 240mm radiator under and 2 x 140mm fans above but you could also do this next configuration.
Notice How I could slide the fans forward/backward about 2 inches as I like.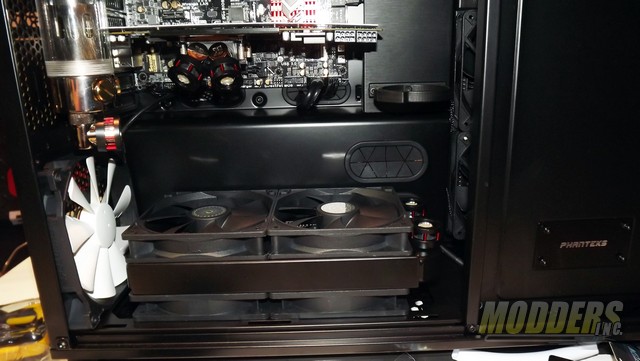 Mount a full 2 x 120mm radiator set-up in the floor. I could mount 120mm or 140mm fans and put a 240 radiator under the bracket. Pull the bracket and you could fit up to a 480mm or 280mm full set up on the floor into the drive bay area. But there's another option up next.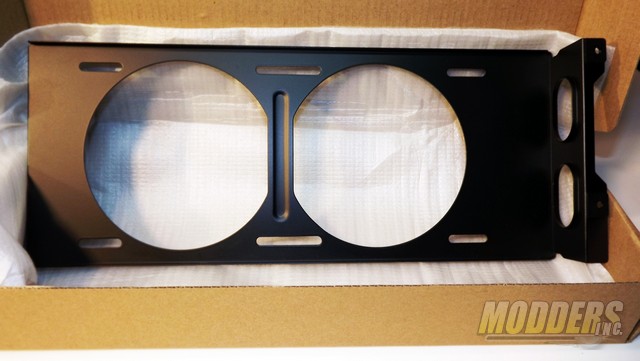 Another bracket is included for a 2 x 120mm mount and it too has the slide mount feature mainly for radiator and fan positioning to clear tubing as you like.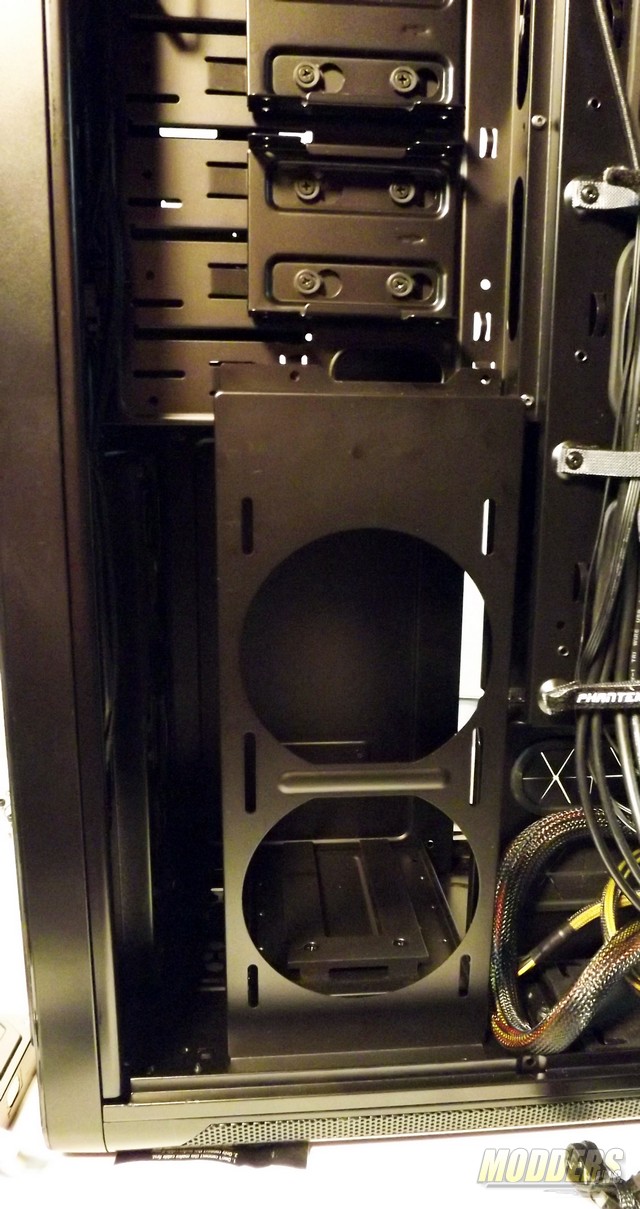 You can remove the Drive cages and mount this in a hidden manner on the back side and it ends up like this.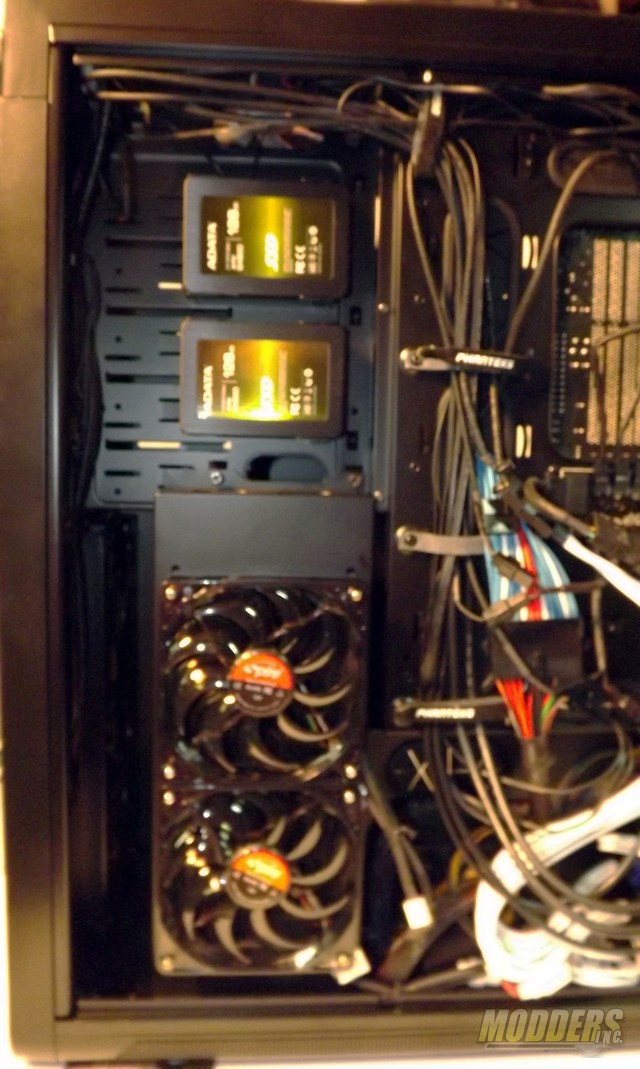 The right / back side view of the 2 x 120mm push pull radiator mount using the bracket.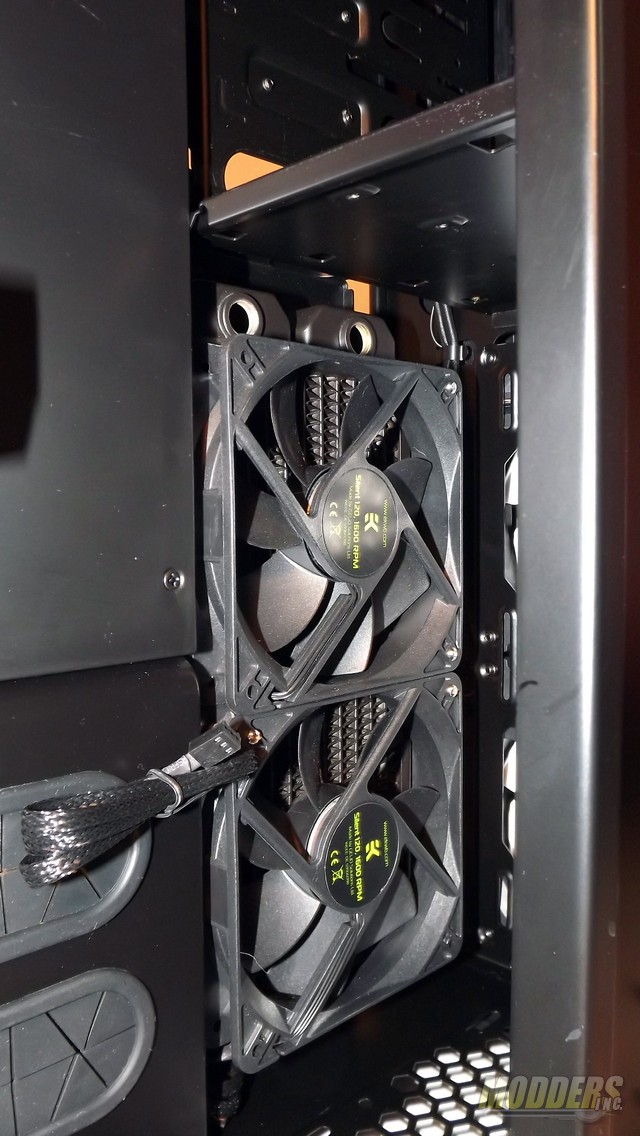 Peeking from inside the case with the HDD Cages removed you see the other side of the radiator mount that's hidden.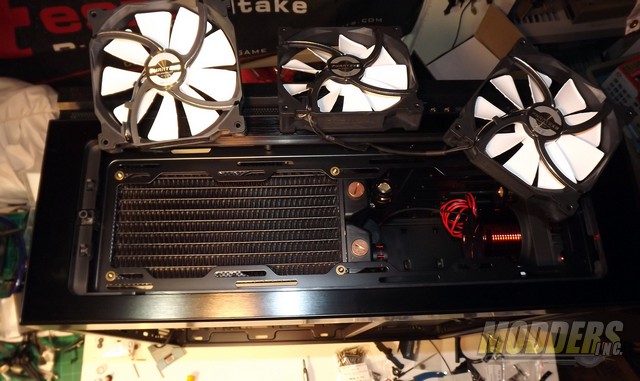 Again the features of this case is versatility in using parts. Up top you can mount a 420mm (3 x 140mm or 480 4 x 120mm) radiator set-up. BUT, dig this, with the built in bracket your not restricted to fans matching  rads.  Here I have a AlphaCool MONSTA 240mm 2 x 120 rad. mounted from under so I can put 3 140mm fans above for that full draw of air and full look.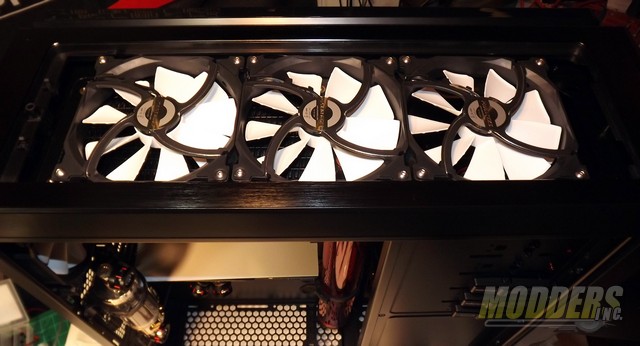 3 x 140mm over a 240mm radiator. You could do 4 x 120mm or 3 x 140mm in place on the upper section.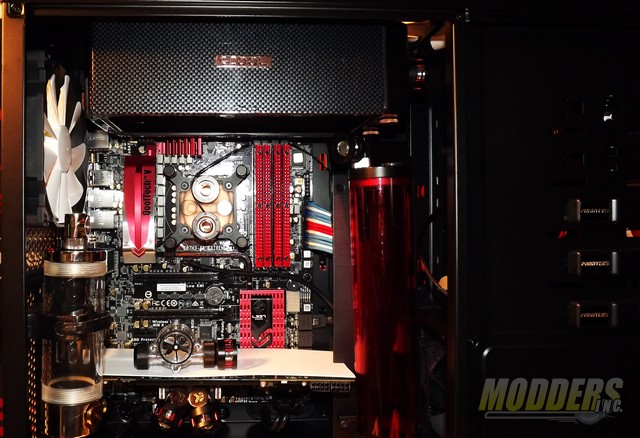 Even with the Extra Thick AlphaCool MONSTA Rad mounted under the top bracket there is plenty of space. At this time I have a 300mm Res there but decided later for a 250mm for tubing design. I could fit a push side fan rear of MONSTA rad but the memory heat spreaders topping off the Dominators prevent a push fan on the front of the rad. Using a standard sized radiator would allow a push/pull with no problem.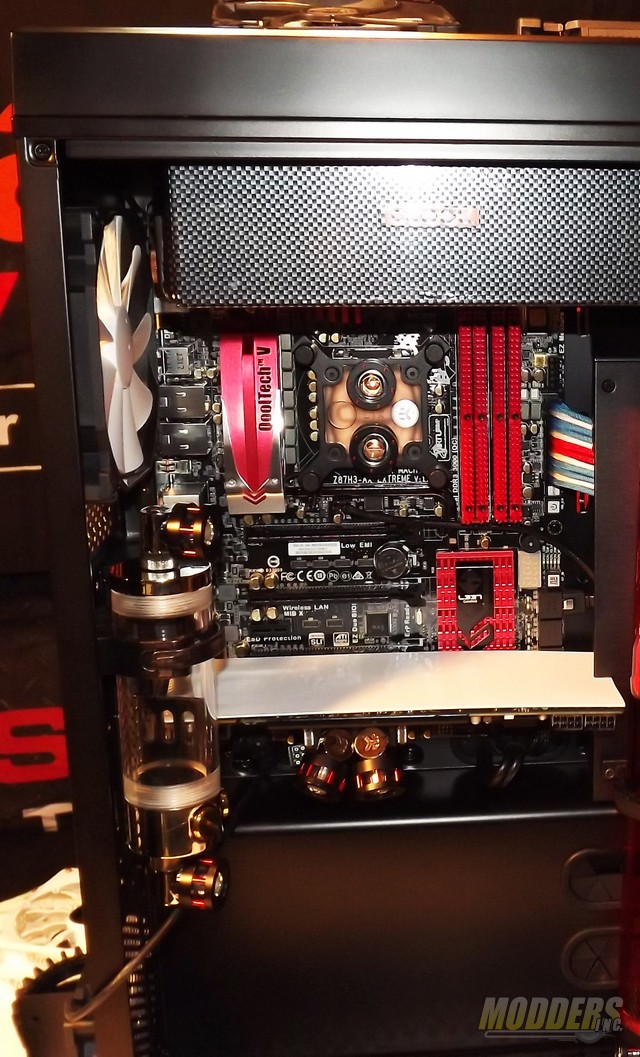 I'm using every Water cooling part I have so I can show configuration options and alternatives. Here i'm putting a Phoyba 150mm balancer on the rear res mount area. You have so many options, if you choose not to have the PSU up front taking space like I did and not have the floor radiator a 200mm res would fit on the rear where mounting is ready and set for them.
The HD 7970 GPU is 1/2″ too long for the reservoir bracket cover in place but I do like how the cable cover adds stealth to cables so I took a dremel and being ABS plastic. I cut a sliver to mount the GPU as you can see with the white cover to show what I did.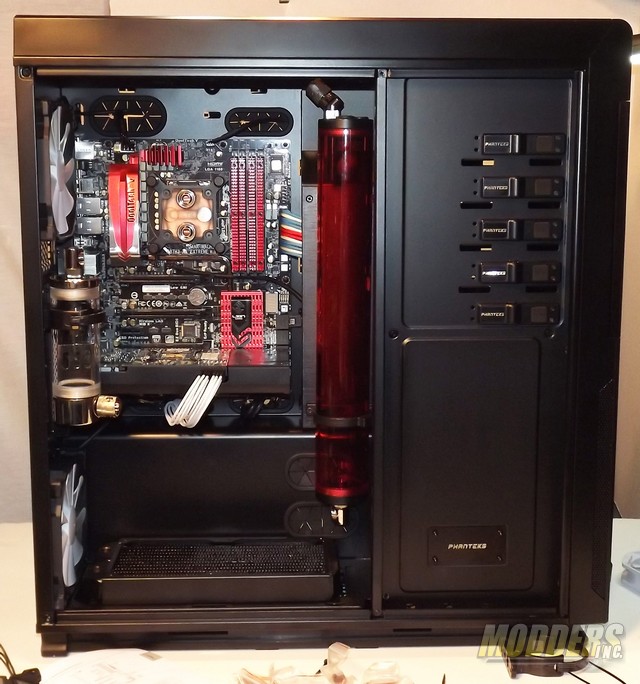 This is with the 350mm reservoir. It would work but I like nice tubing lines so I chose a 250mm shown next.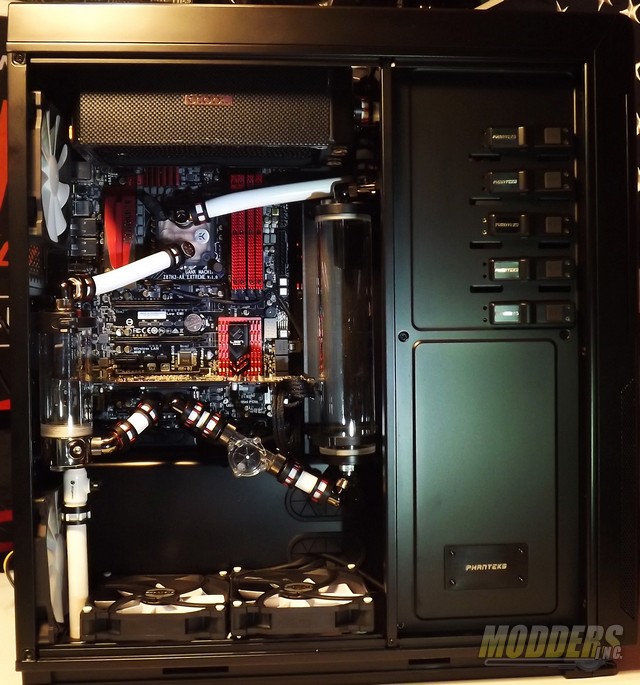 Changed to a 250mm Clear res., added white tubing and Monsoon Chaingun Fittings, drain port, flow indicator, and front bayres. The beauty in my opinion is some of what you don't see. Half of the loop is hidden and to me the good stuff shows and the rest works.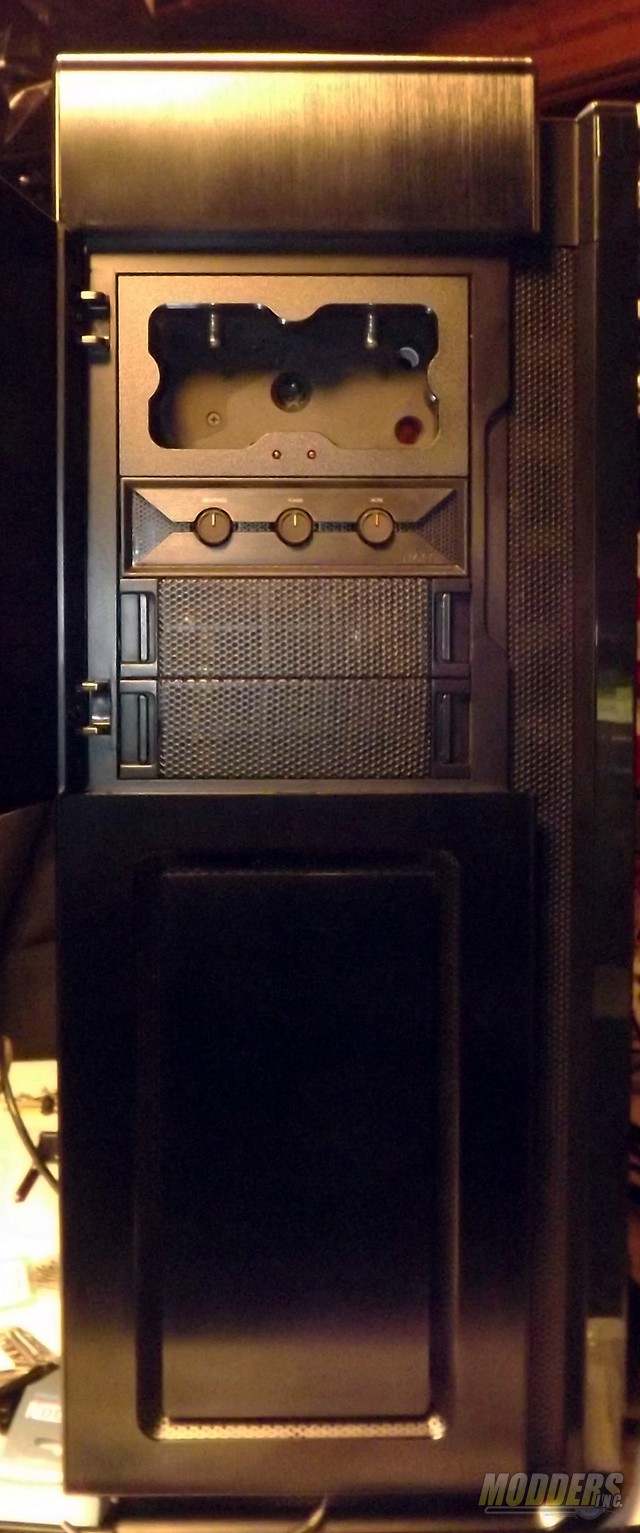 Added the Monsoon Series 2 Premium 5.25″ Dual Bay Reservoir with a Swiftech MCP655 Special Edition 12 VDC Pump With Speed Controller. Now here again is where knowing your case and planning your build comes in. IF I had known about how well the hub worked I could of used the PWM control and sprung for a PWM pump. That way all could be PWM controlled by the mobo to the hub and means you don't need a controller. Also shown is the NZXT Hue controller used for lighting. If I had LED strips with the JST 2 pin I could have up to 9 strips laid out as I like and controlled from the front panel light switch.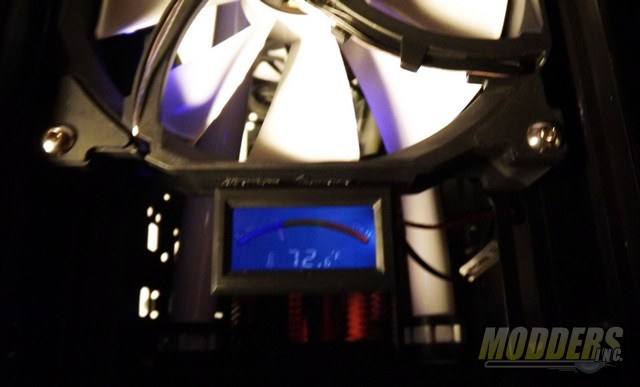 I dislike temperature monitoring APs as far as convenience so inline loop off the CPU block output I installed a Phobya Temperature Sensor/External thread G1/4 with C/F Display that shows thru the top grill. This is where the sliding fan bracket mounts come in handy. I could slide the fans backward and insert the digital display here up top under the grill.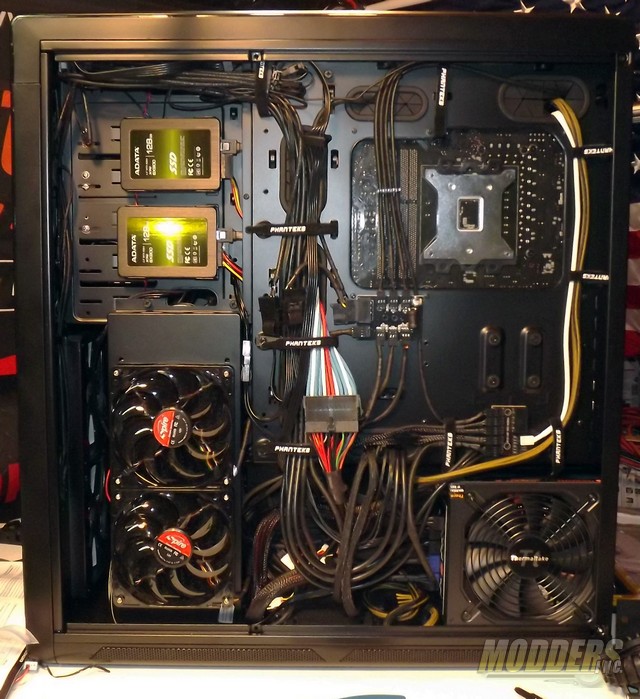 Cable management is made easy with all the tie down locations. With all the velcro straps and I didn't even have to use a single zip tie. No zip ties! Now maintenance, tear down or updates will be a peel of velcro away. There is ALLOT of cables here. I used 13 fans, Bayres, pump, digital temp, 2 SSD's, 1 HDD, lighting controller… I'm very impressed how natural, easy and lined up the design is for cable management was. I chose the back right side for the PSU mount which has an intake vent on the side panel with the magnetic peel off filter. Another note is how tight the rubber pass thru grommets are. Other cases in this class fall off during pass thru, show light thru the cuts in the pass thru and are not as thick quality as these are. All of the work and handling I've not had a grommet fall off yet. There is a stealth slit cut along the bottom of the Mobo tray and another hidden behind the reservoir mounting bracket and reservoir cover adds even more cable stealth.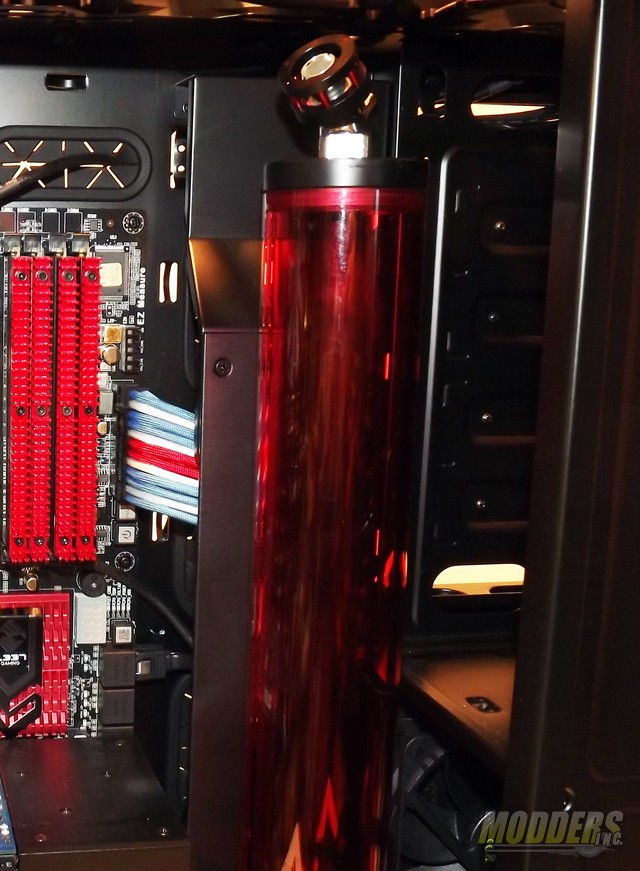 Peeking inside behind the reservoir is the reservoir bracket with the reservoir cover that extends out allowing us to stealth all the cables from the HDD, Bay devices, SATA, MOBO, 24 pin cables for a very PRO presentation.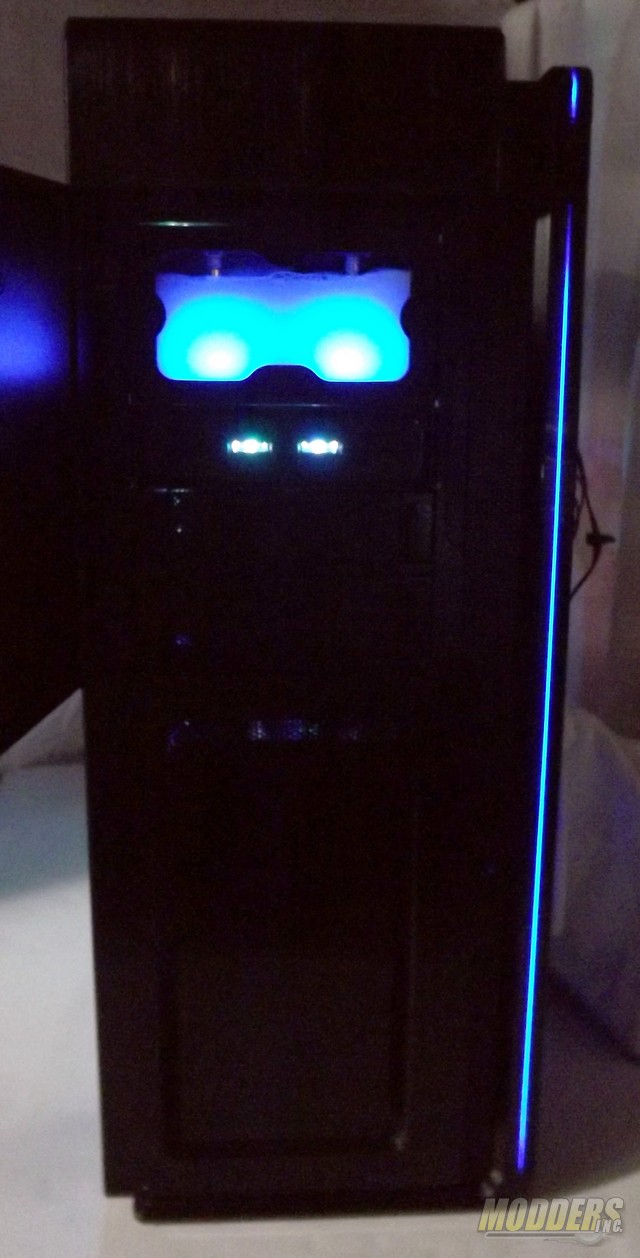 Front view of the case, lights and Monsoon Series 2 Premium 5.25″ Dual Bay Reservoir and case LED strip lighting.