« A Closer Look Inside
|
Conclusion] Conclusion After many weeks of working with this case, I have mixed feelings. There are many features that I really like such as the sound dampening pads and hidden SSD mounts. However, the thin steel is not very sturdy. In fact, the motherboard plate actually flexes and wobbles. However, for the price point this case is at, it is missing some features that I have come to expect that other brands feature such as built-in fan controllers, windowed side panels and fully-modular configurations. This case is just begging for someone to put a large side window panel on it, and it's large flat surfaces would make an excellent blank canvas for vinyl or paint work. The sleek minimalist design works very well for the Silent Base 800 and the silent fans compliment the sound dampening while providing ample airflow. For a premium price however, certain features such as additional cable tie-downs would improve the user experience further. Having a full modular design will also help with flexible compatibility when mounting higher-end components such as custom liquid cooling. Hopefully these features are improved in Be Quiet's future case projects. Likes
Sleek Minimalist Design
Sound Dampening
Hidden SSD Mounts
Large Feet for Ample Airflow from Below
Dislikes
Thin Material
Lack of Adequate Cable Tie Downs
Lack of Full Modular Design
Price
[sc:approved_award »
Hardware Installation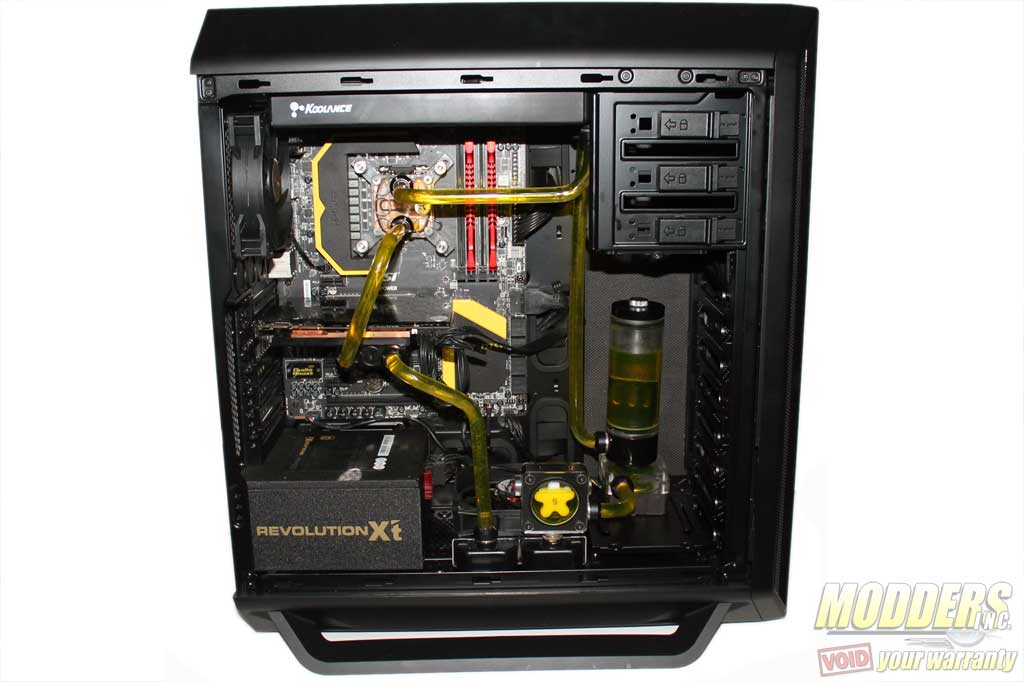 For the hardware installation, I decided to go with a full-blown liquid cooling system utilizing a 240mm as well as a 120mm radiator with hard line tubing. First thing I noticed was that you can't mount radiators any thicker than 30mm in the top or bottom. Second, short of drilling out all the mounts for the front fans or drilling out the rivets that hold the HDD cages, there is no way to install a radiator at the front. There is also a lack of a dedicated pump/reservoir mount so you will have to get creative.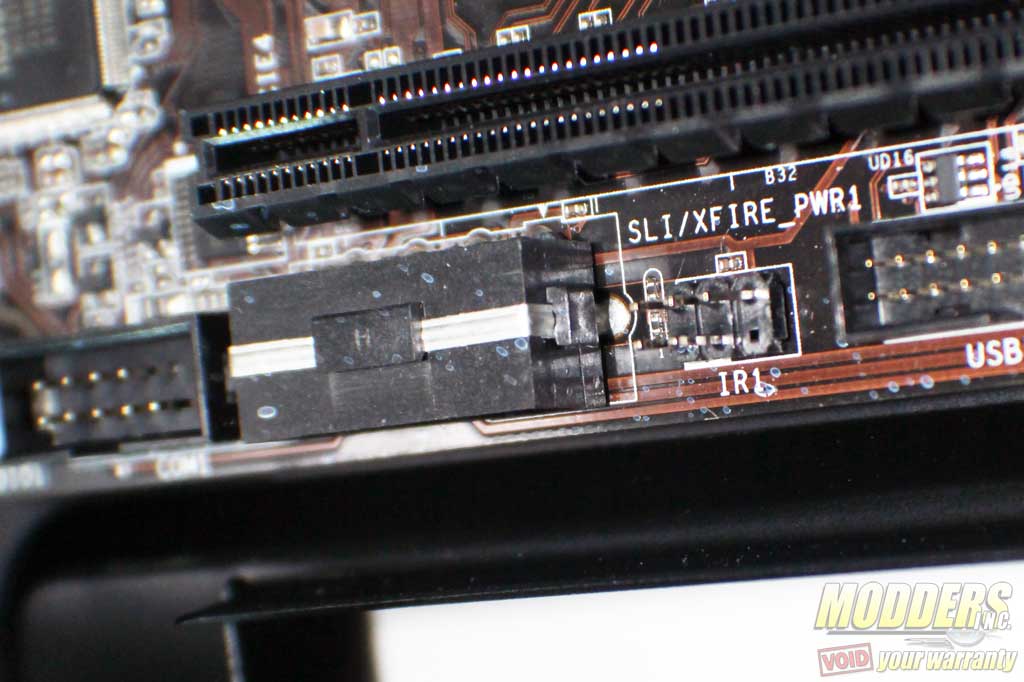 Another thing I ran into was a compatibility problem regarding ATX boards that have power connections located at the bottom of the board as the cut out for the PSU is in the way.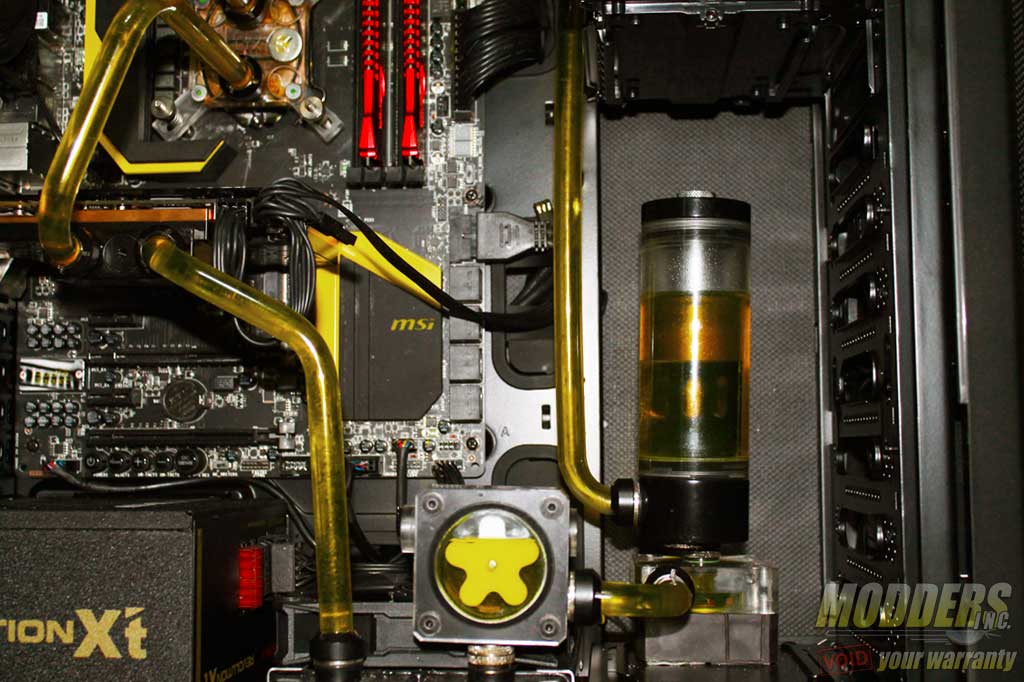 There is plenty of room between the PSU connections and the radiator mount located at the bottom of the case.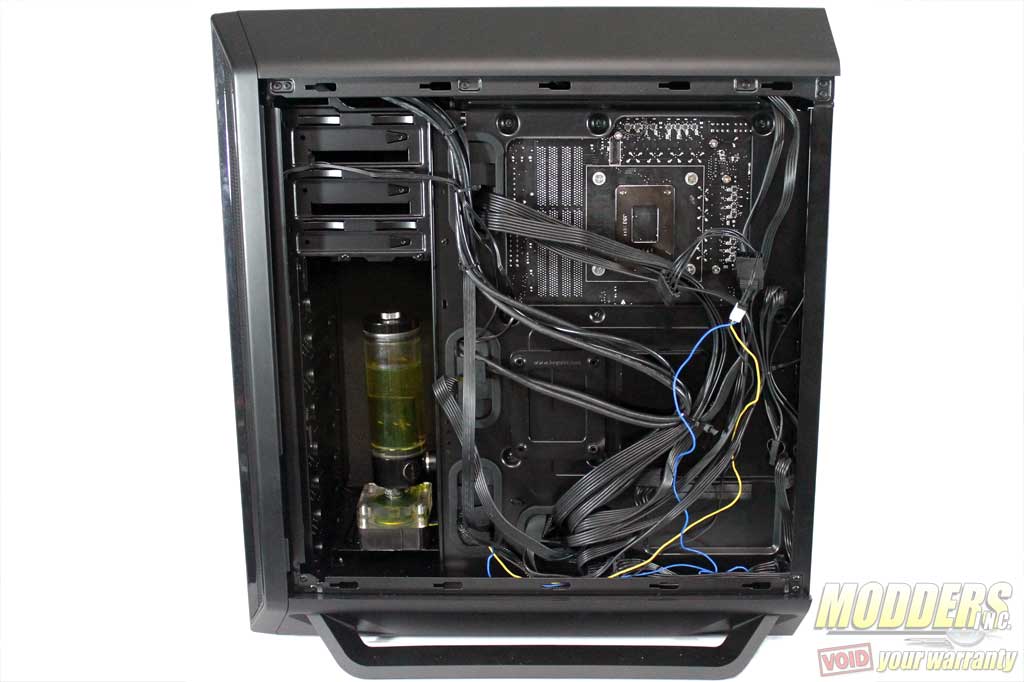 The rear has ample space for cable management. However due the amount of space provided I would not recommend add the optional 120mm fan on the side panel. It would most likely get in the way of some of the cables. The lack of tie downs for both the  CPU power cable and the SSD Mounts.