Page 2 »
Remember the Cosmos, the Cosmos S and how cool you thought they were. Well if you never got one of those and you still have the craving for a Cosmos then you are in luck as the newest, biggest and baddest Cosmos has arrive; the Cosmos II Full Tower Case.

Sponsor: Cooler Master
[hr]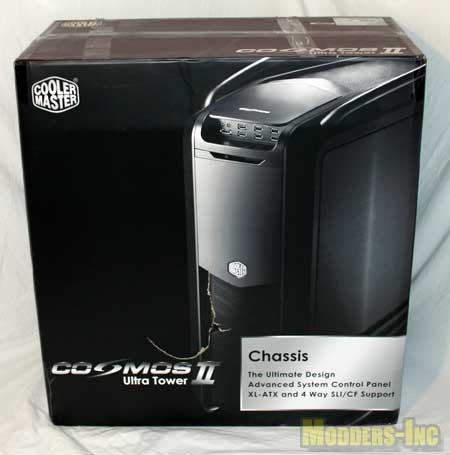 A classy looking storage container encases the newest addition to the Cooler Master Cosmos series of computer case. This unit is a full tower and weighs in at a whopping 48lbs when empty. After putting a full system in the Cosmos II I would truly consider where you might be placing it, you desktop might not be a good place unless it is a steel desk. By the way if you look closely you can see that the side of the box was damaged. Even though it came with another protective layer of cardboard on the outside I think the delivery person was probably pissed on how much it weighed.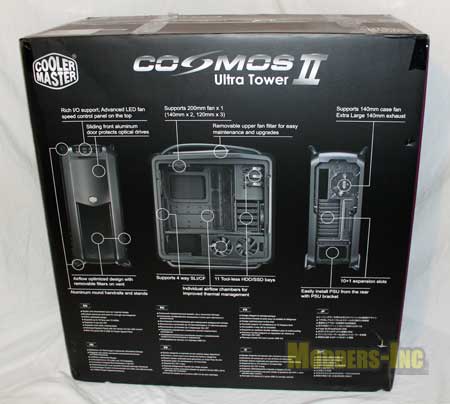 On the opposite side of the box we are giving details and highlights about this new Cosmos II.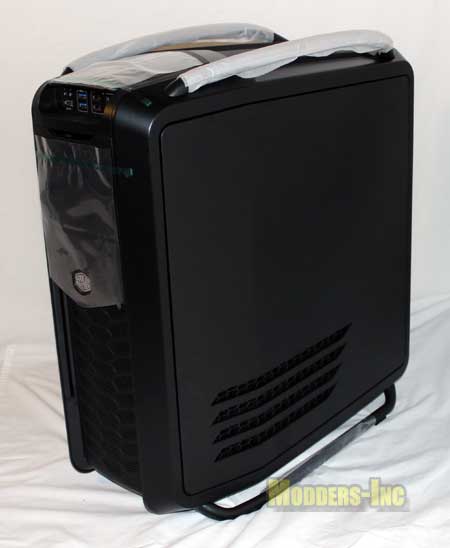 The case comes packed with the normal foam for protection from shipping with a heavy duty plastic bag (probably 5-6mm thick) over the top of the case. The bag is to protect the finish on the case and to act as a final barrier for protection on shipping. The top handles, lower support bars, and other areas come with protective materials on them.
Model
RC-1200-KKN1
 
Available Color
Midnight Black
 
Material
Exterior: Aluminum, Mesh, Synthetics;
Interior: Steel-Alloy, Synthetics, Rubber
 
Dimension (W / H / D)
344 x 704 x 664 mm / 13.5 x 27.7 x 26.1 inch
 
Weight
22kg / 48.5 lb
 
M/B Type
Micro-ATX, ATX, E-ATX, XL-ATX, SSI CEB, SSI EEB
 
5.25″ Drive Bay
3
 
3.5″ Drive Bay
13 (2 from X-docking with key locks, 5 HDDs in the Middle cage, 6 HDDs in the bottom cage)
 
2.5″/3.5″ – SATA HDDDrive Bay
11 (converted from 3.5″ cages)
 
I/O Panel
USB 3.0 x 2, USB 2.0 x 4, e-SATA x 1, Audio In and Out
 
Expansion Slots
10+1
 
Cooling System
Front: 200mm LED fan x 1, 700 RPM, 19 dBA(converted from 120/140mm x 1)

Top: 120mm black fan x 1, 1200 RPM, 17 dBA
(optional: 200mm fan x 1 / 140mm fan x 2 / 120mm fan x 3)

Rear: 140mm fan x 1, 1200 RPM, 19 dBA

Side: 120mm fan x 2 (optional)

HDD: Mid.HDD: 120x25mm fan x 1 (optional); Bottom HDD: 120mm fan x 2, 1200 RPM, 17 dBA

 
Power Supply
ATX PS2 / EPS 12V (optional)
 
Warranty
2 years
 
UPC Code
884102014857