« Page 3
|
Page 5 »
    To test out the Razer Piranha headphones I tried them out for several weeks in basically two applications,  Music and Gaming.  Although I did keep them on for general use of the computer it is these two applications that most discerning audiophiles are going to find the most interest.  To start off let me just say that I am not an audiophile.   However, I am a huge gamer.   Not good enough to be anything but someone who enjoys it on a regular basis, and I do game often.   In gaming I didn't really care much about my Audio for a long time until I got my X-Fi card and a good pair of Sennheiser HD 280 pro headphones.   Now I feel I can't seem to game without good sound quality.   That's about as close as I come to being an Audiophile.   I don't get all anal about impedance but I know what I like to hear, and I know when something is missing.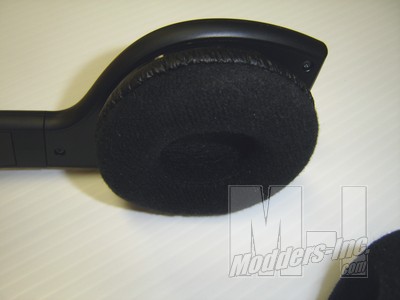 After spending several weeks with the Piranha I was pleasantly surprised that the headphones were very light and didn't mess with my ears too much.   I was really worried about how they sat on them as I have had bad experiences with sore ears after several hours of gaming before.   Granted my ears were a little red but even after a day at a LAN my ears didn't ache at all.
Piranha's earpieces pressing against the ear
     The only drawback I found to the Piranha's ear pieces were that they allowed me to hear everything that's going on around me in the room.   This can be a plus or minus depending on what your preferences are.    At first I found it really irritating and blasted the volume up loud enough that I couldn't hear anything but the game.   You see I live in a house with three young boys and they often are very loud.  You can usually hear them across the house.    The oldest likes to play COD4 with me in the computer room so I get to game over his trash talking as well.     I found the fact that I could hear these things so distracting that it irritated me to no end.     Eventually I got used to this and found that sometimes this can be a good thing.   Like when I get a phone call, dinners ready or some thing's on fire.    Now I find it to be more of a positive that I can know what's going on around me in the room.   I just means I have to concentrate on the game a little more.
  
     The examples above are some of the main reasons I normally preferred the  Sennheiser sealed can style headphones over Piranha's open ear style. I like to seal out everything except for what's going on "in the game".     I like to be able to hear every little twig snap and distant footstep far off in the woods.    This is where being able to hear that there is a dude walking in the room upstairs from you can give you that slight edge in your gaming experience.     Positional audio cues are critical too hardcore gamers, especially ones who compete professionally.   
    To be brutally honest here there is nothing better than having the rest of the world sealed out and being totally immersed in the game.   This is where I think the Piranha doesn't deliver the goods.  You'd think a company that was geared toward gamers would understand this more than anyone.      That unless you turn up the volume a lot you are going to hear what is going on in "the real world" and lose that small edge.   Why razer chose this design over the one that is on their Barracuda Brand is Beyond me.   Quite possibly it is because these are to be more compact or even that the Barracuda is a  "better"  gaming headset.  
   Ear pieces aside,  The Overall sound coming out of the ear pieces was very crisp and not too sharp on the high tones like sometimes happens on headsets.  The Lows worked well and didn't buzz or distort in anyway.  Even with Techno music throwing multiple ranges at it.   Watching movies and listening to music the sound was "full" and I enjoyed the sound quality.   Compared to my other headphones and even a 5.1 surround sound setup the positioning was right on and I felt that I was listening to a quality product.    As mentioned during Gaming I did find that it was harder for me to locate people due to outside noises unless I turned it way up.   If I increased the volume too much to where I could hear faint sounds a  loud explosion would  often be too loud for my ears.    This is another drawback of the open ear design.   Nothing wrong with what you are hearing it's just that hearing it is a bit harder.