« Intro
|
Page 3 »
    ATi has been doing some reshuffling lately of cards and card names. They must have some sort of agenda that they do not want to share with the rest of us. In the meantime they are confusing the heck out of the casual or novice computer user that wants to upgrade their present video.The X1950 Pro is ATi's replacement for the X1900 GT which uses the R580 chip. The X1950 uses the new RV570 chip that seems to be tailored make for it. The RV570 uses the TSMC's 80 nm process and with the high clock speeds there will probably very little over clocked X1950 Pro's coming straight from manufactures. Right now the 7900 GS is the competitor for the X1900 GT, but the lower priced and slightly faster ATi X1950 would make the better choice.Lets take a look at what the New Sapphire X1950 Pro has to offer us.Features of the Sapphire X1950 Proo         36 pixel shader processors
o         8 vertex shader processors
o         Up to 256-bit 8 channel GDDR3 memory interface
o         Native PCI Express x16 bus interface
o         Plug-and-play (native) CrossFireShader Technology

o        Support for Microsoft DirectX 9.0 programmable vertex and pixel shaders in hardware.
o        Shader Model 3.0 vertex and pixel shader support:
o        Full speed 32-bit floating point processing
o        High dynamic range rendering with floating point blending and anti-aliasing supp
o        High performance dynamic branching and flow control
o        Complete feature set also supported in OpenGL 2.0

Anti-Aliasing and Anisotropic Filtering

o        2x/4x/6x Anti-Aliasing modes:
o        Sparse multi-sample algorithm with gamma correction, programmable sample  patterns, and centroid sampling
o        New Adaptive Anti-Aliasing mode
o        Temporal Anti-Aliasing
o        Lossless Color Compression (up to 6:1) at all resolutions, up to and including widescreen HDTV
o        2x/4x/8x/16x Anisotropic Filtering modes:
o        Up to 128-tap texture filtering
o        Adaptive algorithm with performance and quality options
o        Improved rendering with higher subpixel precision and LOD computation levels
o        New rotational high quality rendering mode

3Dc+ Advanced Texture Compression

o         High quality 4:1 compression for normal maps and luminance maps
o         Works with any single-channel or two-channel data format

Ring Bus Memory Controller

o         Programmable arbitration logic maximizes memory efficiency, software upgradeable
o         New fully associative texture, color, and Z cache design
o         Hierarchical Z-Buffer with Early Z Test
o         Lossless Z-Buffer Compression (up to 48:1)
o         Fast Z-Buffer Clear
o         Z Cache optimized for real-time shadow rendering
o         Optimized for performance at high display resolutions, up to and including widescreen HDTV

Avivo Video and Display Engine

o         New advanced video capabilities, including high fidelity gamma, color correction and scaling
o         Dual independent display controllers that support true 30 bits per pixel throughout the display pipe
o         Full symmetry on both heads
o         Each display interface supports display resolutions beyond 2560×1600
o         Advanced DVI capabilities, including 10-bit, 16-bit HDR output
o         YPrPb component output for direct drive of HDTV displays
o         Seamless integration of pixel shaders with video in real time
o         MPEG1/2/4 decode and encode acceleration:
o         DXVA support
o        Hardware motion compensation, iDCT, DCT and color space conversion
o         All-format DTV/HDTV decoding
o         Adaptive per-pixel de-interlacing and frame rate conversion (temporal filtering)

CrossFire

o         Multi-GPU technology
o         Four modes of operation:
o         Alternate frame rendering for maximum performance
o         Supertiling for optimal load-balancing
o         Scissoring for compatibility
o         Super AA for maximum image quality
o         Native CrossFire support simplifies setup by requiring no dedicated slave or master hardware
o         24-bit CrossFire connection enables high resolutions and refresh rates
o         Supports the broadest range of platforms for both Intel and AMD

Now the real fun begins. Every time I open up a box its like opening a treasure chest and I can't wait to see what is inside. Like always Sapphire packs a lot of stuff into the box.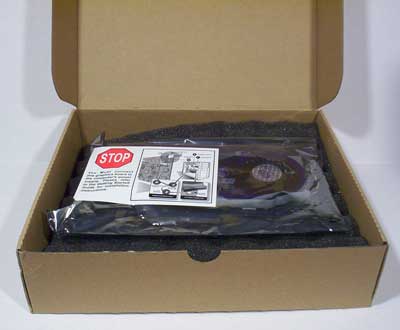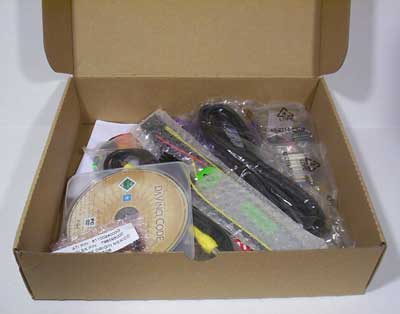 Along with the manual you get a few CD's which include the install drivers, PowerDVD and the full version of the DaVinci Code game.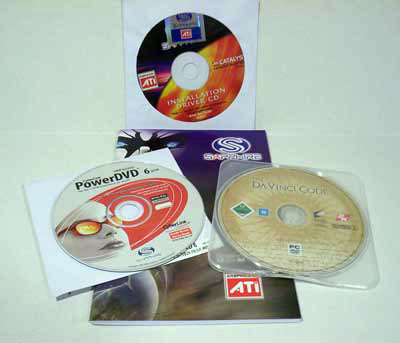 Cables, man do they give you cables. Included with the video card and software are all the cables and connectors you would ever need to connect it to your display of choice. You get 2 DVI-VGA adapters, an S-video to RCA adapter, RCA Male-Male cable, 6 foot S-video cable, and an S-video to RGB for those of you that are overseas or have special needs for video connection.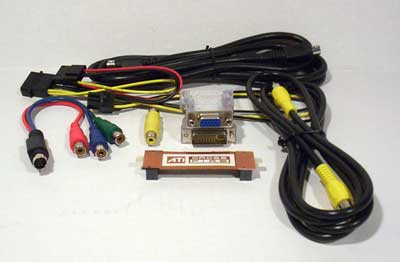 This is a beautiful card; please click on the picture to see it up-close.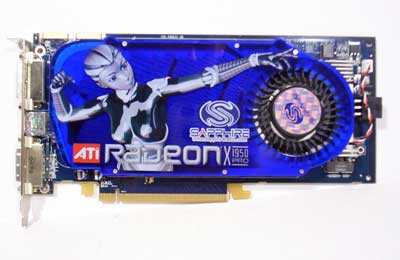 A few manufactures have decided to go with a taller fan and heat sink and making the card occupy two slots. Sapphire decided to leave their card a single slot GPU so the fan/heat sink is very thin and covers the entire card.


The fan draws the air from the inside of the case and then distributes it across the aluminum heat sink through a series of attached channels. The fan is temperature controlled and is not very loud even when using ATi Tool to put the fan at 100% for max cooling.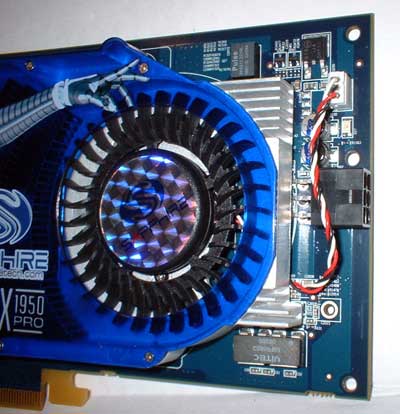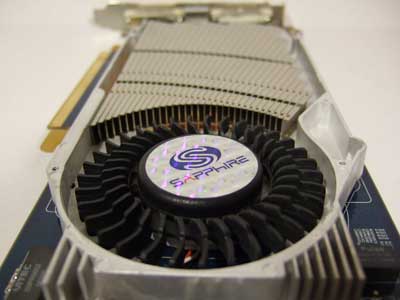 The hot air exits the heat sink towards rear of the case, but does not exit to the outside. The air is diverted away from the motherboards and towards the left side panel leaving the warm air inside, which is normal for a single slot graphics card and is not too much of a problem as the card run fairly cool. Under normal conditions the GPU temperature would stay around 55-60c, but under heavy loads, such as stress testing for overclocking, I did see the temperature go as high as 72c. Within a few seconds of completing the task the temperature would return to normal. Personally I would like to see fan speed control added to the ATi Overclocking utility so I can set the fan speed instead having to rely on the temperature sensor.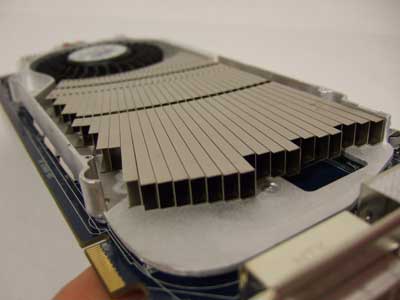 With the heat sink removed we can see that a large copper plate is used to remove the heat from the GPU. The plate is directly attached to the cooling ducts on the top side, but is not attached to the aluminum. It does rest upon it and the mounting bracket that holds the plate in place does pull the two pieces tightly onto the large heat sink. The aluminum is used to help remove the heat from the memory chips by using thermal pads.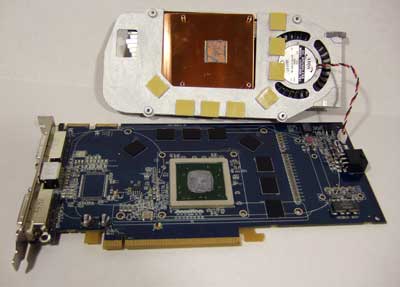 Two DVI connections are provided for a dual LCD monitor setup. This kind of feature is becoming more common on video cards and is starting to be used a lot more on people desktops. I myself do not know how I got along without it. Once you go to 2 monitors, you won't go back.

     Sapphire includes 2 DVI-VGA adapters incase you have either one or two CTR's so that you can enjoy the two monitor setup as well. In the middle of the two DVI connections is an s-video In/Out port.
Looking back through the features list we see Plug-and-play (native) CrossFirethat's new! What does this mean, it means that ATi finally got the right idea and made the CrossFire available without the need of a special motherboard or a master-slave setup buy having to have CrossFire and CrossFire ready cards. The CrossFire control is now within the RV570 chip itself and is no longer integrated in the PCB. You can now drop any two ATi X1950 Pro cards into an SLI board, attach the ribbon cables and run the CrossFire setup. By doing this ATi will no doubt increase the popularity and sales of the CrossFire setup.
A 12 pin internal ribbon(s) is now used to connect the 2 cards instead of the cumbersome external cable they had been using and no one liked. The ribbon is flexible and is not a rigid PCB board like the one NVIDIA uses.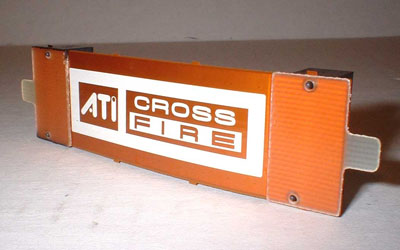 Even though ATi was behind on the SLI bridge concept they decided to go one step farther than NVIDIA buy using two bridges instead of one. Currently SLI transfers information from one card to the other card in one direction at a time (12-bit).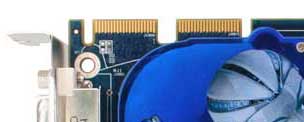 The new ATi native CrossFire allows the information to transfer simultaneously at (24-bit) using one ribbon to send data one way while passing data on the other cable. With the increase in information (pixel data) transferred between the cards a better utilization of a two card/multi GPU setup can be achieved sometime in the future. Another possibility with the multiple connection points is linking more than two cards together. Can you imagine having 3 or 4 cards all hooked together or add-on cards that could handle special request like the current AGEIA PhysX physics card. I mean that makes sense as most motherboards have at least one PCI between the two SLI/PCIe slots.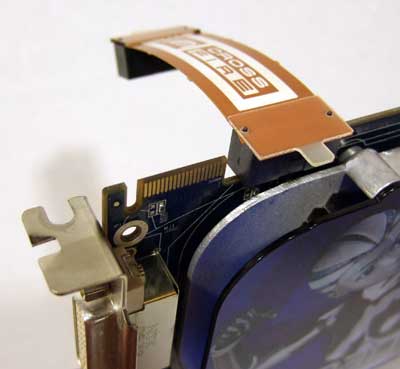 ATi has decided that each card should be shipped with its own CrossFire ribbon. You might want to make sure that it is included with the bundle that comes with the card you choose as some manufactures might not ship them to save money and lower the price on the card.