CPU Cooler
Scythe Fuma CPU Cooler Review: A Little Off the Top
Closer Look at the Scythe Fuma »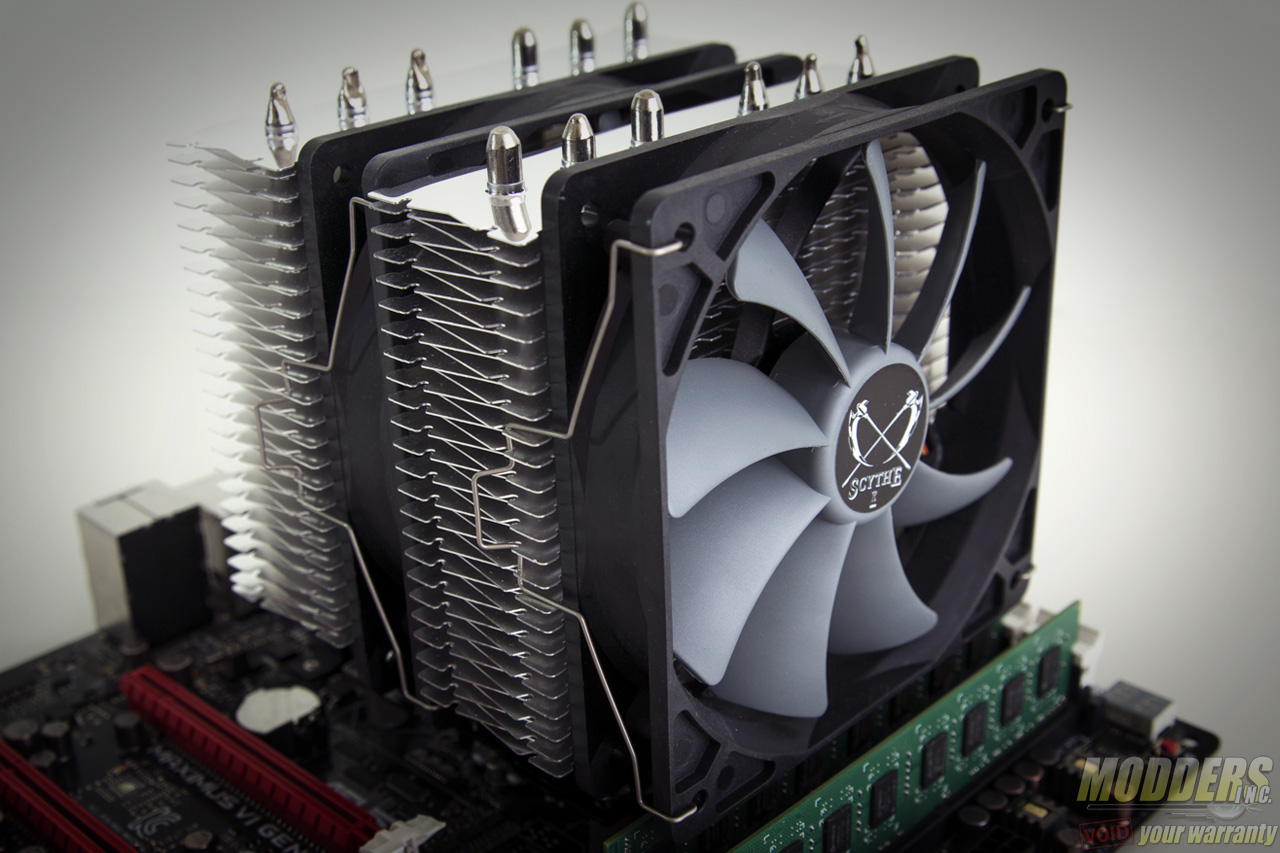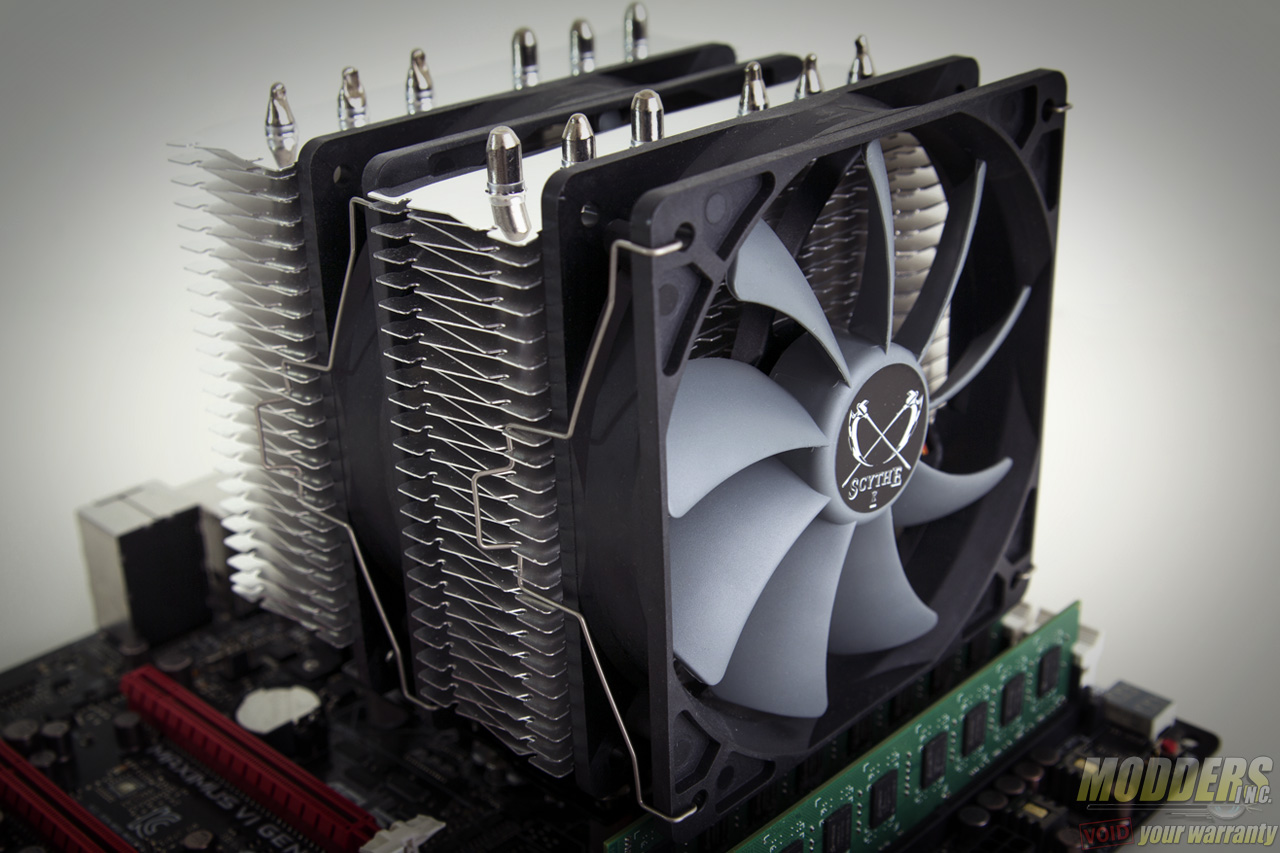 Heatsink designs are driven by the fundamental principle that a larger surface area equates to better heat dissipation than a smaller area. Factoring in componential consent, modern aftermarket CPU tower heatsinks had to get creative to compensate and dial-in the efficiency needed, hence the rise of dual-tower cooler designs. By isolating the two ends of the heatpipe set into two separate fin arrays, the active cooling fan can cool faster due to the smaller area. Dual-tower design also results in better performance with two fans since it is pushing cool air into relatively the same fin array size rather than relegating one of the fans to simply pulling hot air. This dual-tower design is utilized in one of Scythe's latest tower cooling solution called the Fuma.
Unlike most dual-tower heatsinks currently in the market, the Scythe Fuma is distinct because of its compact 149mm height and use of a unique split re-drafting fin arrangement. For comparison, a Noctua NH-D15 measures 160mm tall so the Scythe Fuma can easily go in most mid-tower cases with limited CPU height clearance. The Scythe Fuma also aims to deliver in value as well as performance, priced only at $55.49 with two 120mm Scythe Slip Stream fans bundled.
[sc:sponsor sponsor="Scythe" product_link="http://www.scythe-eu.com/en/products/cpu-cooler/fuma.html" product_name="Fuma CPU Cooler" product_price_link="http://amzn.to/29sChpG" product_price="$55.49 (Amazon.com)" ]
The packaging of the Scythe Fuma comes in black with the dimensions of the cooler outlined on the side for quick reference. Scythe heatsinks are relatively affordable compared to most high-end air coolers so most of the savings are actually on the packaging itself, lacking a glossy finish externally and not using foam padding inside.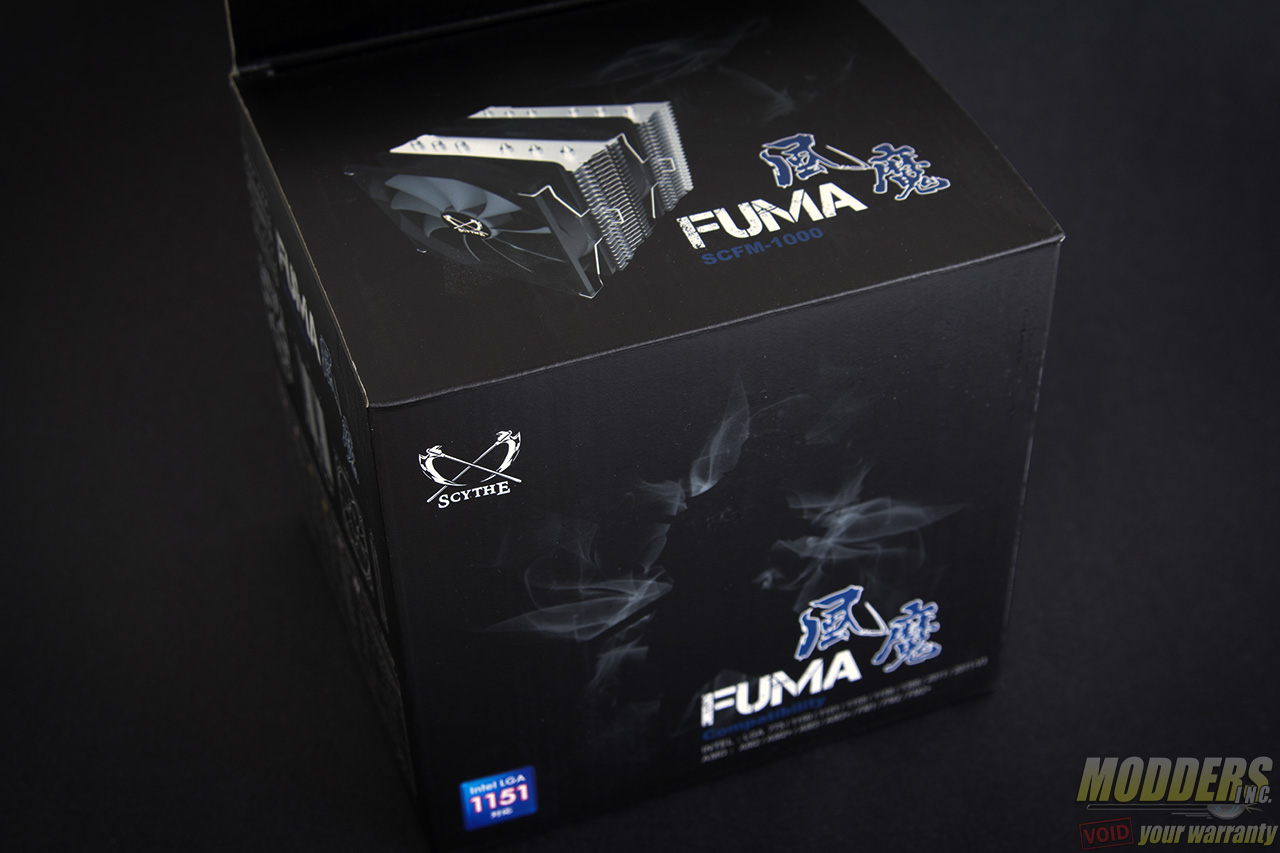 The Fuma heatsink instead is cradled in the middle between the two bundled Scythe Slip Stream 120mm SY1225SL12M-CJP fans on each side. Holding it in place is a cardboard top, but otherwise there is not much in terms of protection. In fact, the edge of one of the aluminum fins already is bent from the packaging.
The accessories are stored in a smaller box in the middle. The mounting setup is similar to the previously reviewed Scythe Ninja 4. The accessory box contains a metal backplate for Intel systems, a mini-spanner, 2x mounting brackets, a mounting bar, 4x LGA2011 mounting nuts, 4x screws for securing the brackets to the mounting nuts, 2x locking screws for the mounting bar, 4x mounting nuts and 4x insulator washers for non-LGA2011 motherboards, a small tube of thermal compound, an LGA775 backing adapter mount, a 4-pin PWM connector splitter, and three pairs of fan clips for installation of up to three fans.
Specifications:
Socket Compatibility
Intel: Socket LGA775, LGA1150, LGA1151, LGA1155, LGA1156, LGA1366, LGA2011 / 2011-v3 (Square ILM). AMD:
Socket AM2, AM2+, AM3, AM3+, FM1, FM2, FM2+
Dimensions without fan
137 x 149 x 103 mm
Dimensions with fan
137 x 149 x 130 mm
Weight
920 g / 32.45 oz
Heatpipe
6 x 6mm
Base Material
Nickel Plated Copper
Fan Bundled
2x Slip Stream 120 PWM SY1225SL12M-CJP
Fan Airflow
5.6 ~ 79.0 CFM – 9.51 ~ 134.20 m³/h
Fan Speed
300 (±300 rpm) ~ 1.400 rpm (±10%) (PWM-controlled)
Static Pressure
0.1 ~ 15.3 Pa / 0.01 ~ 1.56 mmH²O
Bearing
Sleeve Bearing