CPU Cooler
Scythe Fuma CPU Cooler Review: A Little Off the Top
« Introduction and Specifications | Installation Procedure and Clearance Compatibility »
A Closer Look at the Scythe Fuma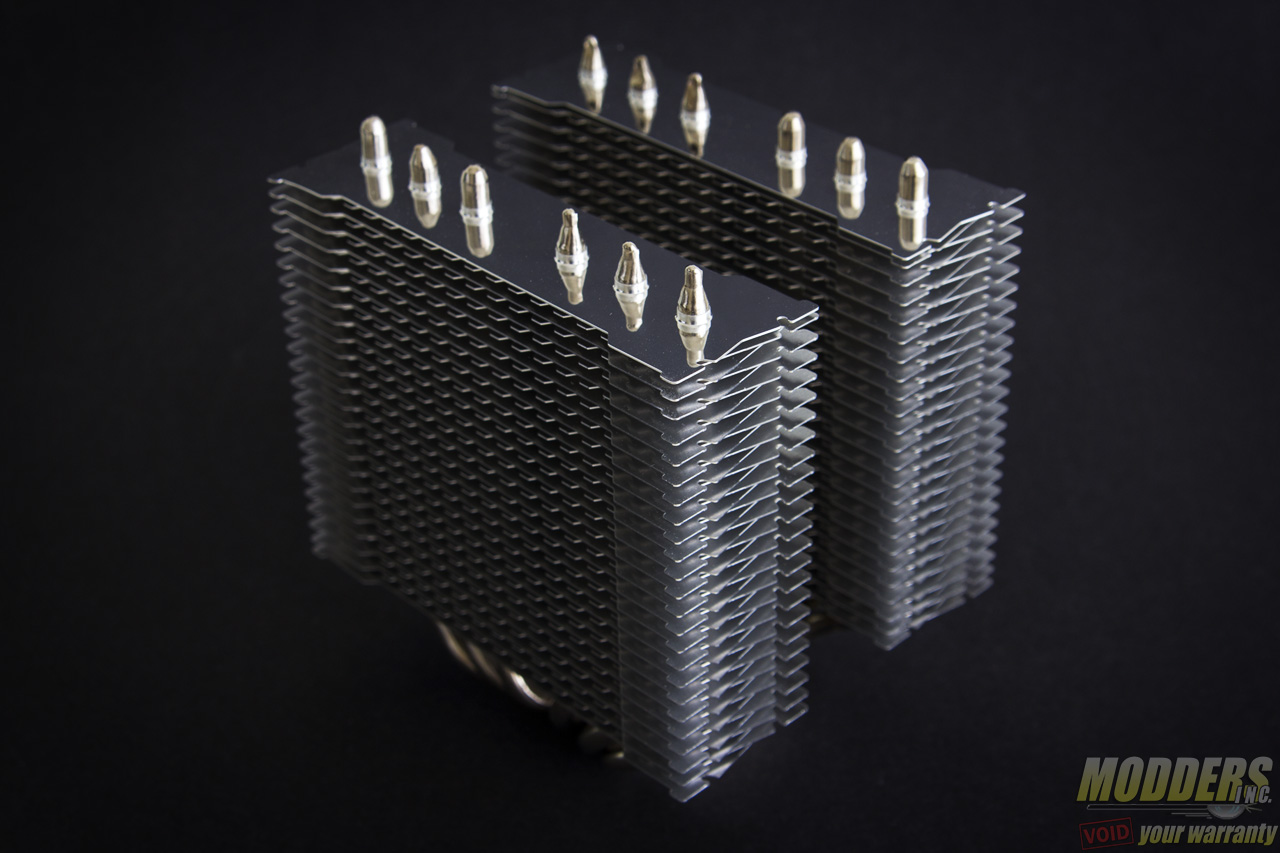 The dual-tower Scythe Fuma stands only 149mm tall which is short compared to the likes of the Noctua NH-D15 which is 160mm tall. Since the Scythe Fuma is designed for 120mm fan use, its body is also modestly wide at 130mm. With a 120mm fan installed on one side, the layout is essentially a square at 130mm on all sides (total length without a fan outside is 106.8mm). Due to the ambidextrous design of the body however, a third can can also be installed.
There are 47-fins in total in each tower and they are arranged in an alternating criss-cross stack. Each fin set is wider on one end with a flat edge while the opposite trailing edge is narrower with a blocky-wave saw-tooth pattern. The average fin gap is actually only 1.90mm but because of the way the stack is designed, it appears as if the gap is much wider at 4.4mm when viewed from the side.
Unlike the previously reviewed Scythe Ninja 4, the solder points for the heatpipes at the base are not as clean here with a lot of extra visible even as it was plated by the nickel finish. The contact surface is highly reflective, having a contact surface area of 38 x 44mm.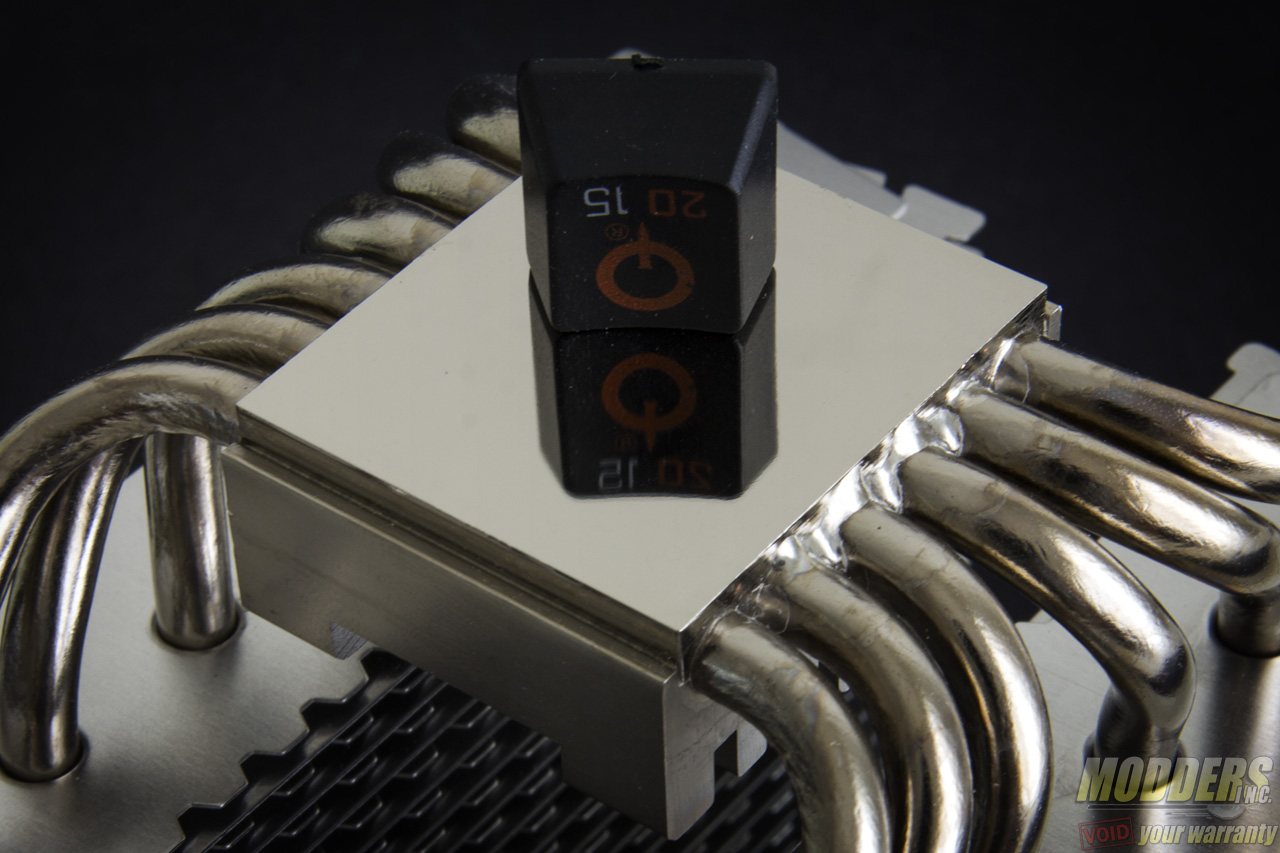 The bundled fans are a pair of 120mm Scythe Slip Stream 120 PWM SY1225SL12M-CJP fans. This is a sleeve bearing fan so this is where concession was made to make it more affordable like the packaging, instead of using a fluid or ball-bearing fan. There are nine blades in total measuring 40mm long and are 13mm apart from each other from the trailing edge, creating a dramatic scooping shape. There are four struts on a counter-rotation curve at the exhaust side and the hub itself is curiously small having only 35mm diameter.
The frame is of a standard 120mm fan with standard mounting holes, making replacing and upgrading fans on the Scythe Fuma convenient because of higher compatibility with other 120mm fans.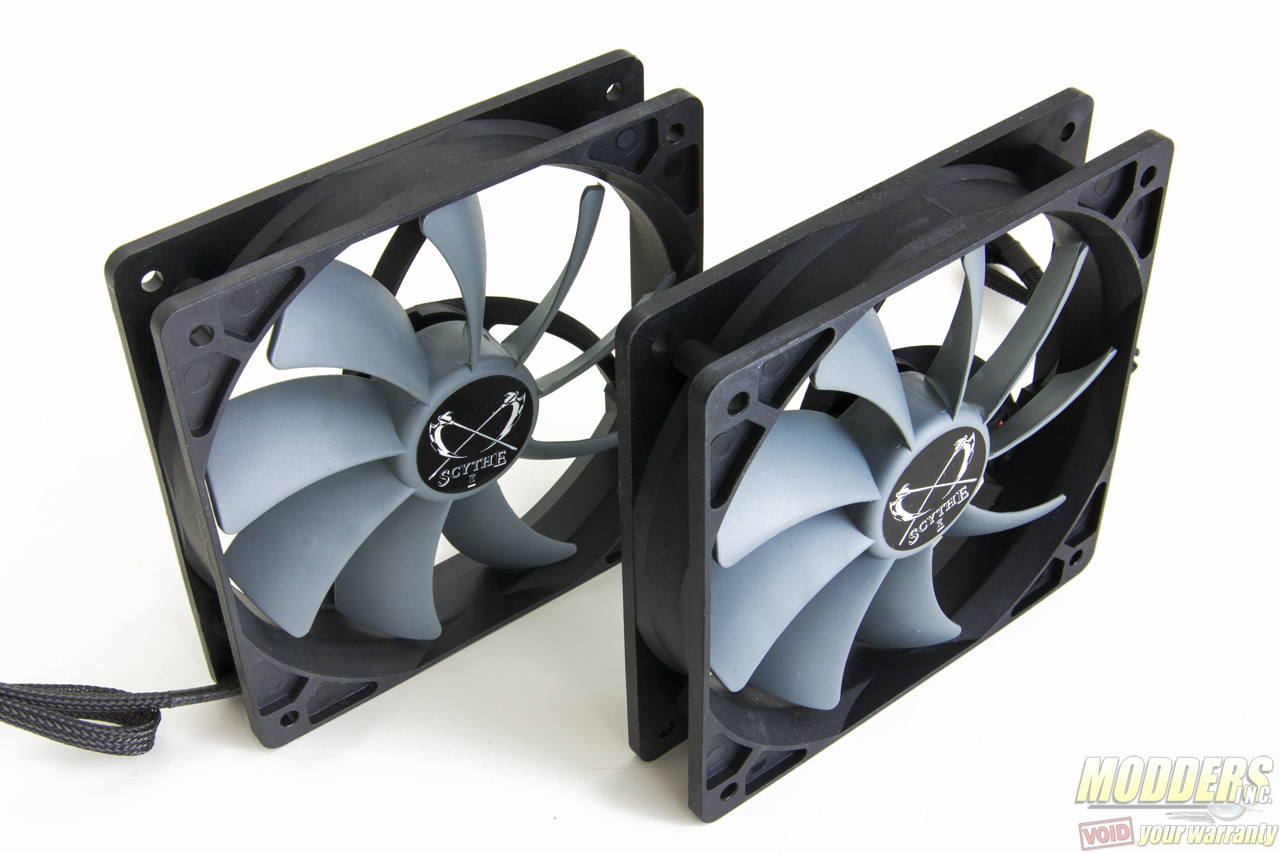 The fan cable is nicely sleeved and has a 4-pin connector, Readings from ASUS Fan Xpert II reveal the real-world controllable PWM range 400 to 1400 RPM.