Keyboards
Sound Blaster Vanguard K08 RGB Mechanical Keyboard Review
« Introduction
|
A Closer Look at the Vanguard K08 »
Packaging
Package Contents
Sound BlasterX Vanguard K08 Mechanical Keyboard with 2.0m USB cable attached
1 detachable wrist-rest
1 keycap remover
Quickstart leaflet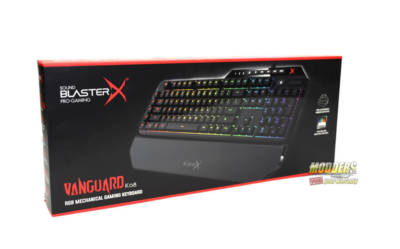 The front of the package has the Sound BlasterX Pro-Gaming logo printed in the top left-hand corner. On the bottom left-hand corner, there is the Vanguard K08 product branding. Most of the front is taken up by a depiction of the Vanguard K08 mechanical keyboard. To the far right, there is a depiction of the custom Omron switch that is used in the Vanguard K08. Below that is the AURORA Reactive logo. This is the specific type of RGB lighting on the Vanguard. In the bottom right corner, is the Creative logo.
The rear of the packaging as the Vanguard K08 branding in the top left corner. Below the product branding, is a list of nine key features of this keyboard. To the right of that, as a large depiction of the keyboard, with the RGB backlight. The numbers on the pictures coincide with the list of features.  To the far right, there is a depiction of the custom Omron switch. Below is a brief description of their custom PRES switches. PRES stands for Perceive-React-Execute Switches. There is also a line graph that shows the total force required to press any given key.
The top of the box has the Sound BlasterX Pro-Gaming logo and the Vanguard K08 branding to the left, and a link to Sound Blaster's various social media accounts to the right. These include Facebook, Twitter, and YouTube. The link is Creative.com/social. Printed above the social media link is #GamersForLife.
The bottom of the box has a lot of information on it. To the left are the Sound BlasterX logo and Vanguard branding. Below that are the keyboards dimensions and the switches life expectancy. In the center is a picture that tells you what's in the box. This being the keyboard, wrist rest and paperwork.  To the right are the minimum system requirements, UPC code, model number, serial number and copyright information.
The right side of the box lists six of the main features of the Vanguard K08. These features include 70 million keystrokes, 45-gram actuation forge (1.5mm travel), 55-gram tactile force, 80-gram total travel force (3.5 mm total travel), Double crosspoint technology for fail-safe contacts and 26-key rollover.
The right side has the Sound BlasterX Pro-Gaming logo across the top. In the center is the AURORA Reactive logo. This is the lighting system used by the Vanguard K08 keyboard. Below that is a description of the lighting system. At the very bottom is an image of the WASD keys lit up.
The outer box acts like a sleeve for the plain white box the keyboard is housed in. The board comes wrapped in a clear plastic bag, as does the wrist rest, and literature for the keyboard. The wrist rest is packed under the keyboard, along with the paperwork.