Keyboards
Sound Blaster Vanguard K08 RGB Mechanical Keyboard Review
« A Closer Look at the Vanguard K08
|
Sound Blaster Connect Software »
Performance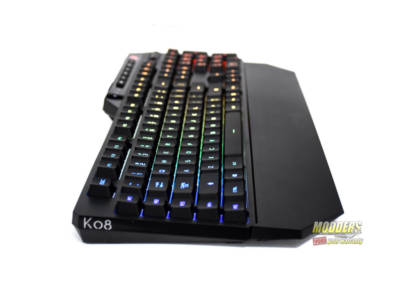 I really enjoy typing on the Vanguard. I'm used to typing on Cherry MX brown switches. However, I used to type in the Logitech G910, which also had Omron switches in the Romer-G switches. I moved away from the G910 because those switches were missing something. That being the distinct tactile bump that other switches offer. The PRES switches on the Vanguard offer the speed of the Romer-G, and the tactile bump of the Cherry MX switches such as Blues or Browns. If I had to compare the PRES Switches to any other, I'd say it would be the Cherry MX Browns or possible their Speeds Switches.  They have a similar feel to browns, but with a faster actuation, like the Speed Switches.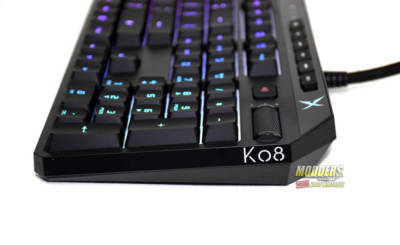 I spend a lot of time in Photoshop. So, the five dedicated Macro keys are a great feature for me. Having dedicated keys for things like exporting an image can save you hundreds of keystrokes when editing 200 plus pictures. There are dozens of uses for Macro keys, whether you're a gamer, content creator or just a casual user. Again, just an excellent feature.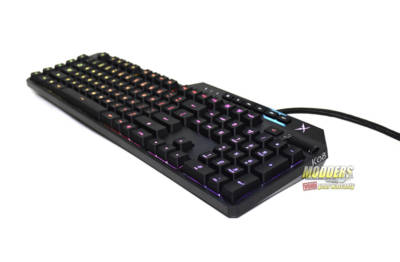 The wrist rest is another feature I really like. It may just be plastic, but I found it comfortable. I tested the Vanguard with and without the wrist rest. Without the wrist rest, my hands got tired much quicker. Without the wrist rest, I typed for about an hour straight before my hands got tired. As for gaming, I played GTA V for almost 2 hours before my hands got tired. With the wrist rest, I was able to type for an additional 30 minutes or so and game for about an hour longer. The USB passthrough is a very useful feature. This is where my SD cards reader now lives. This is extremely helpful when editing pictures. Before, I had to run a USB extension from my PC to keep the SD card reader close. I also find myself using the volume wheel more and more. It's great to adjust the volume like that. Especially where I watch a fair amount of YouTube and every video has a different volume level.