Keyboards
Tesoro Lobera Spectrum Review: Gaming in Style
« Software
Experience and Final Thoughts
Even the grumpiest of curmudgeons cannot help but smile at the fancy lights of the Tesoro Lobera Spectrum. It is simply cool, fun and should need be, can always be disabled, but odds are you won't be doing that as you would be too pre-occupied customizing each individual key lighting. Maybe it doesn't help that the software is a bit on the clunky side in terms of usability so customization takes some patience, but nonetheless, it is very satisfying seeing a customized Lobera Spectrum come alive. Even the pass-through connected audio LED mode can be quite the party for the fingers.
When the novelty of dancing bright lights eventually fade, the Tesoro Lobera still has a solid functional foundation at its core with a power-optional USB pass-through, audio ports, NKRO via USB and live macro recording. In order to remain competitive pricing however, Tesoro opted to hold back on the build quality with an all-plastic enclosure that is noticeably less "premium" compared to other high-end mechanical keyboards in the market. For those looking for a feature-heavy mechanical keyboard with full RGB LED function, the Tesoro Lobera Spectrum would serve well. If only Tesoro would improve on the software layout and usability, it would significantly help the Lobera Spectrum hold its ground better against other RGB LED mechanical keyboard offerings.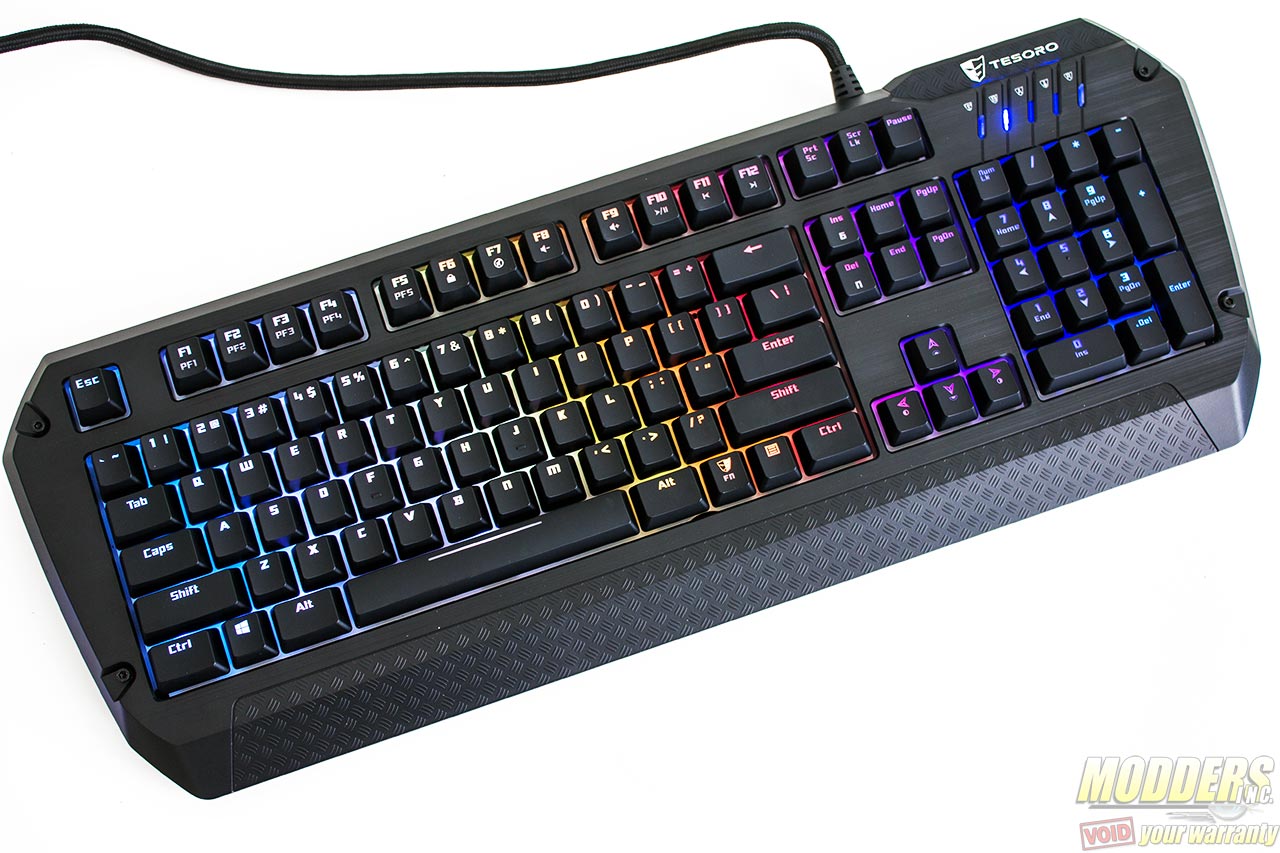 Corsair currently has monopoly on Cherry MX RGB LED switches with an exclusive contract with the German company, leaving their competitors such as Thermaltake, Razer and Tesoro to use Kailh's Cherry MX clone RGB switch solution. Although Thermaltake and Razer have both downplayed and avoided directly mentioning that they are using Kailh switches, Tesoro has been up front about it from the start and on their website so they get honesty points for that. Kai-hua/Kailh itself has been quite popular lately, not just in keyboard switch use but have also popped up in a lot of new mice offering but whether they have improved their manufacturing process compared to what they offer a few years ago, only time will tell. This is why Thermaltake has assuaged consumer fears by offering a 5-year warranty on their Kailh-switch mechanical keyboards which certainly helps, but the Tesoro Lobera Spectrum comes with the standard 1-year warranty. The use of Kailh switch allows Tesoro to also offer the Lobera Spectrum at a lower price than Corsair's RGB keyboard with more features at $20 less to be exact. For those looking for an even lower priced individually customizable RGB LED keyboard, Tesoro's Excalibur Spectrum can be had for as low as $109 ($129 MSRP) giving up a few of the Lobera Spectrum's comforts such as audio and USB pass-through.
[sc:recommended_hardware_award ]