« Gaming Benchmarks Continued
|
Final Thoughts and Conclusion »
Overclocking, Noise, and Temperatures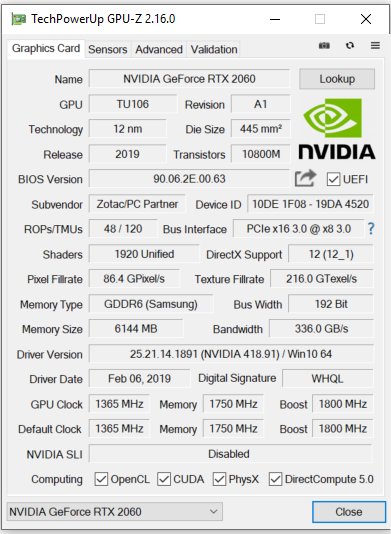 For overclocking, we used the Firestorm utility by Zotac. Firestorm is like other overclocking utilities. However, it has a feature that other don't. Firestorm has an OC Scanner feature that will overclock your graphics card at the touch of a button. Your card has to support this feature and the Zotac RTX 2060 AMP does. Unfortunately, I wasn't able to test this feature. Every time I tried, it just sat at the same screen for as long as I left it. I'm not sure if it was I didn't give it long enough, if it were something I did wrong or a bug in the program. However, when the OC scanner works properly, its a great feature for those who want to overclock their card, but are a bit nervous about doing so.  Overclocking is a long and tedious process that some may not like and the OC Scanner is a great idea to save some time and get the most out of your Zotac graphics card.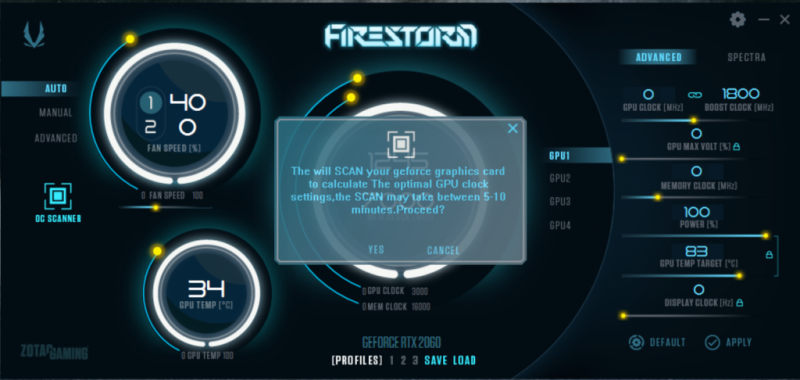 The Zotac RTX 2060 AMP is already a factory overclocked card. The 2060 AMP has a boost clock of 1800 MHz, 120 MHz over the 1680 MHz of the reference RTX 2060. That being said, we were able to get an additional +120 on the core and +800 on the memory. After using the Zotac Firestorm utility to overclock, the Zotac RTX 2060 AMP was able to boost to 2145 MHz.
To validate the overclock, we used FurMark GPU Stress Test. We ran the Zotac RTX 2060 AMP through FurMark for about 10 minutes. We did this at stock, as we all overclocked as far as we could push the card. The Zotac 2060 AMP, at its stock settings, idled at about 40°c and hit a max temp of 67°c. While overclocked, the Zotac 2060 AMP idles at about 42°c and maxed out at only 69°c after 10 minutes of FurMark. This seemed low to me, so I let FurMark run about another 5 to 6 minutes with the card overclocked. Still, the card never went above 70°c.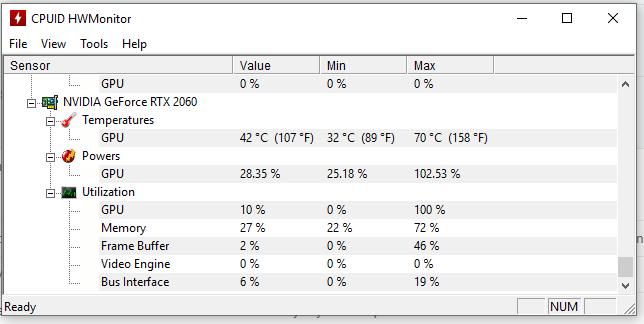 For noise testing, I used the Sound Meter Android app by ABC Apps found in the Google Play app store. So, it the noise testing wasn't done with an actual decibel meter. However, I've found this app to give pretty accurate. At its stock settings, the fans ran at 40% and averaged about 28 decibels which is about as loud as a mosquito. At 75% fan speed, the Zotac 2060 AMP ran at about 32-34 decibels, about as loud as a whisper. Even at 100% fan speed, the Zotac 2060 AMP never went above 50 decibels or as about as loud as casual conversation.