Motherboard Reviews
ASUS Z390 ROG Maximus XI Apex Motherboard Review
The Apex of Performance on Z390
« A Closer Look at the Z390 ROG Maximus XI Apex | Test System and Testing Procedures »
UEFI BIOS and ASUS Software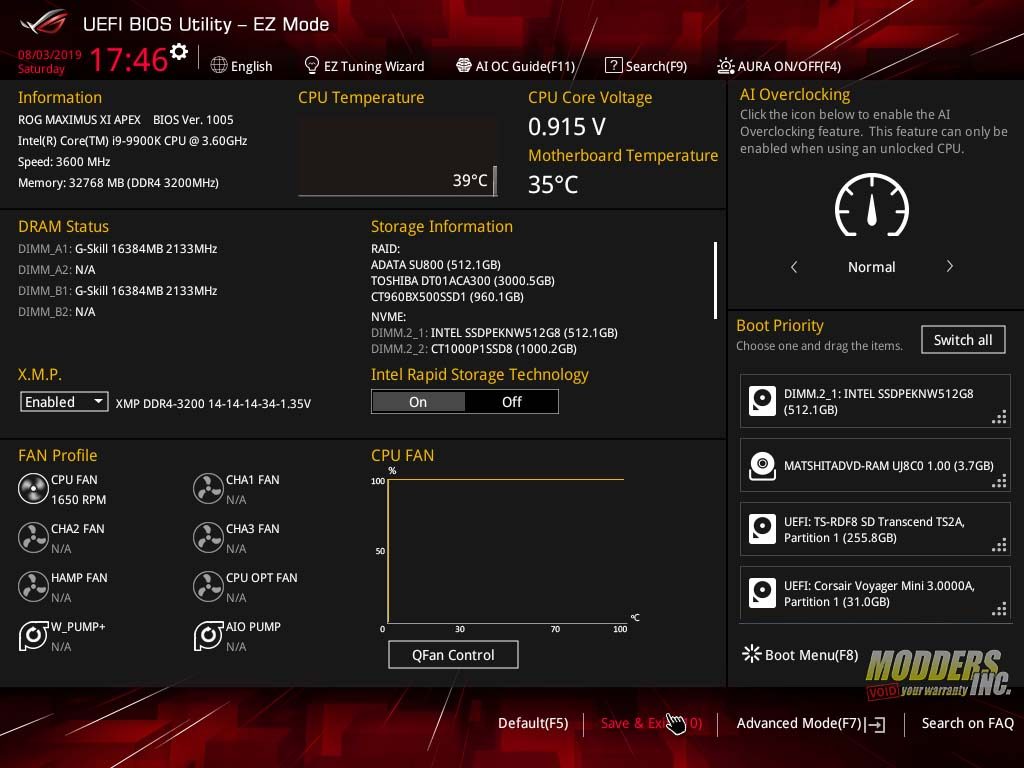 For this review, we used BIOS 1005 released on 4/10/19. The BIOS on the Z390 Maximus XI Apex is like any other ASUS BIOS in recent memory. Just either the ROG Eye logo at the top left-hand corner in place of the say TUF or PRIME logos. The Bios has both EZMode and an Advanced Mode. The BIOS boots into EZMode. You can swap between EZ and Advanced Modes by pressing F7. You can also set it so the BIOS boots in Advanced mode every time you enter the BIOS. EZMode gives you a rough overview of the BIOS settings. You can swap around the boot order of your drives, set fan curves of each fan connected to the board and set XMP profiles. There is also an EZ System Tuning section that goes between Normal and ASUS Performance mode. To get more in-depth experience, enter Advanced Mode.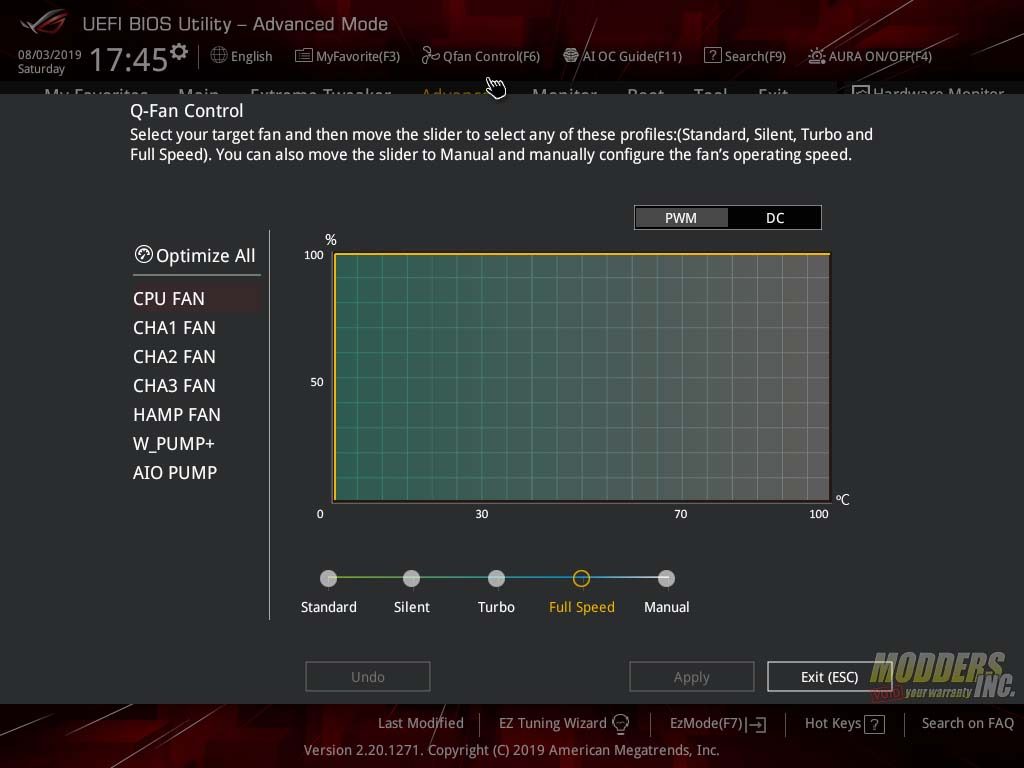 From EZMode allows you to quickly access Q-Fan mods. Here you can set fan curves for every fan or pump header on the Z390 Maximus XI Apex. In EZMode you can also access your favorites, the AI OC Guide, the search feature and disable and enable the AURA lighting on your board.
The first section in the Advance Mods of the BIOS is the Main section. This section will tell you the basic information of the BIOS such as the version, date its releases and versions of the different firmware. The nest section is the Extreme Tweaker section. here you can tweak your processor's turbo frequency, AVX frequency, DRAM frequency, and cache frequency. You can set the frequency per core or sync all cores to the same frequency. You can play with memory timings and much more. There is a host of setting in this section to help you get the most out of your processor.
Next section is the advanced section. Here you can go in-depth on the setting on your motherboard. Everything from USB and PCH configuration to CPU configuration to NVMe configuration. Next section is the Monitor section. Here you can monitor temperatures of the various temp sensors on the Z390 Maximus XI Apex.
The next section is the boot section. Here you can set the boot order of your various drives installed. You can also set priorities for your hard drives, USB devices, and CD/DVD drives.  The tool section has a set of various tools specific to ASUS BIOS. The last section is the save and exit section. Here you can load optimized defaults, save or discard changes and its also where you exit the bios.