PC Water Cooling
Bitspower THOR EIX99 Full Cover Water Block for EVGA X99 Classified/FTW
« Installation | Benchmark Results »
Test System
| | | |
| --- | --- | --- |
| Type: | Component name: | Provided by: |
| Processor | Intel Core i7-5960x Extreme Edition (retail) | Intel |
| Motherboard | EVGA X99 Classified | EVGA |
| Memory | Kingston HyperX Fury Black 4×8 DDR4 2400MHz CL15 | Kingston |
| Drive | Samsung EVO 840 250 GB SSD | Reviewer |
| Graphics | Gigabyte GTX 980 Gaming G1 | Gigabyte |
| Thermal Compound | Noctua NT-H1 | Noctua |
| Case | DimasTech Easy XL Test Bench | DimasTech |
| Power Supply | Enermax Platimax 1000W | Enermax |
| Operating System | Windows 7 x64 Pro | Reviewer |
| Test Software | AIDA64 Engineer Edition | AIDA64 |
| Radiator | RX360 Triple Fan Radiator V3 | Reviewer |
| Pump/Reservoir | D5 Vario Photon 170 Reservoir/Pump Combo | Reviewer |
| Fittings | Bitspower Matt Black Compression fittings for 7/16-5/8 tube | Bitspower |
| Standardised Fans | 4x Enermax Twister Storm 120mm | Enermax |
Tests were conducted with the D5 Photon 170 Reservoir/Pump combo pump speed set to 3 on the dial. The water loop was filled using distilled water only. A 24 hour leak/bleed process was completed before benchmarking. Three Enermax Twister Storm fans were mounted to the XSPC RX360mm radiator. Ambient air temperature is measured at the fan intake and kept constant at 23°C,. Stock performance numbers were gathered using the BIOS defaults for Auto and overclocked results were gathered using a clock speed of 4.4 GHz and 1.313v on the CPU vCore.
Noctua's NT-H1 thermal compound is used as it is non-conductive, non-corrosive, compressor-cooling compatible, long-term stable in storage or use, and does not require curing time. Plus, the compound's consistency spreads well under pressure without the need to be manually spread.
Temperatures are averaged (last minute) from individual core temperature results monitored by AIDA64 after 60 minutes using the default CPU, FPU, Memory and Cache simultaneous load to allow the water temperature to stabilize. AIDA64 is able to use the latest instructions including AVX and AVX2, etc unlike other older CPU load tests so it is also a lot more "future proof" as more software start to utilize it. FPU-only load average is used to simulate worst case scenario load levels similar to Intel Burn Test or OCCT. Please keep in mind that this test is brutal and not even close to real-world load (especially not that constant for that amount of time), so not many CPU coolers are expected to pass this test but the ones that do are exceptional. Results marked "100″ and in red means thermal limit was reached and the CPU was throttled, even for just but a second. This includes results where even just the first core reached the limit and even if it briefly happened. It is marked as 100 in red in the review if it happens three times. Three runs are conducted per cooler and a fourth run is done after a remounting to verify. Last minute average is taken instead of peak because it represents the averaged behaviour of the thermal performance instead of worst-case scenario or a snapshot.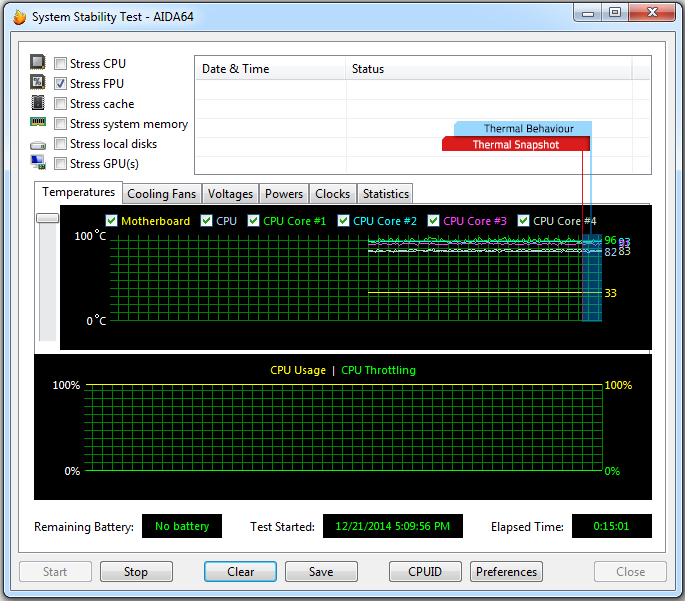 Enermax has generously provided four Enermax 120mm Twister Storm fans to use for standardised testing. Using the speed shift control, fan speeds were limited to a maximum of 2500 RPM.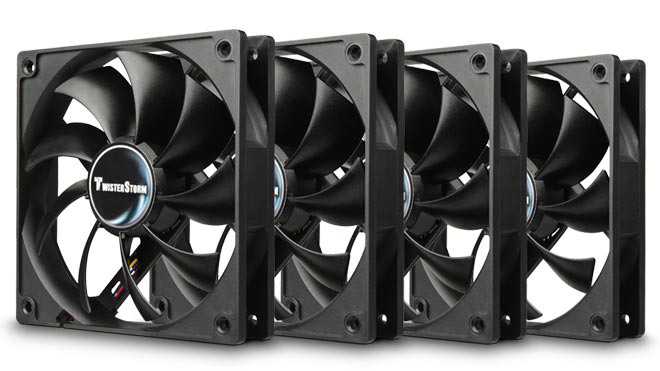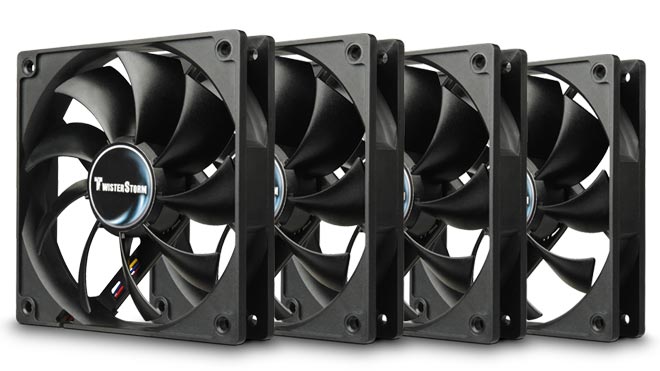 Enermax Twister Storm Specifications:
| | |
| --- | --- |
| Dimensions (mm) | W120 x H120 x D25 |
| Speed Control | fixed RPM with Shift Speed Control (SSC) |
| Bearing Technology | patented Twister Bearing Technology |
| Number of Blades | 9 Storm-Flow Blades |
| Fan Speed (RPM) | 1500 ~ 3,500 (+/- 10%) |
| Air Flow (m³/h) | 123.11 ~ 262.55 |
| Air Flow (CFM) | 72.46 ~ 154.53 |
| Static Pressure (mm-H2O) | 2.512 ~ 11.125 |
| Noise Level (dB(A)) | 23 – 38 |
| Connector | 3 pin |
These benchmark results are not directly comparable to any benchmark results previously published due to the nature of the testing procedure using a non-synthetic load.