PC Water Cooling
Bitspower THOR EIX99 Full Cover Water Block for EVGA X99 Classified/FTW
« Introduction | Installation »
A Closer Look at the Bitspower THOR EIX99 Water Block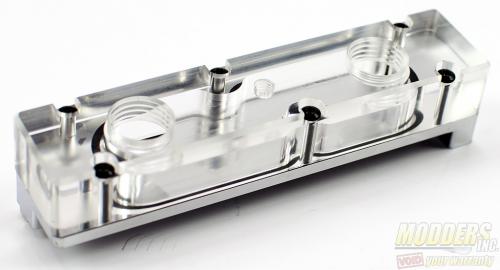 This is the VRM block. The top of the block is made of thick clear Acrylic.  As you can see there is no hiding imperfections when the main body of the water block is clear.
The base of the VRM block is nickel plated and polished. Some light machining marks are visible. For those with the EVGA X99 FTW motherboard, a second set of screw holes are provided. The nuts attached to the bottom of the VRM block need to be moved to the second set in order to facilitate installation on the FTW motherboard.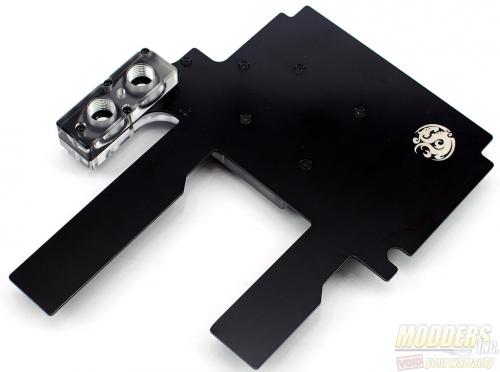 Next we have the PCH water block or what is called the Full-Covered Armor. This block covers the PCH and most of the circutiry on the right side of the motherboard. The armor is made from stainless steel that has been polished and painted black.
The fittings attach to a clear acrylic block that when flipped over  leads to a highly polished nickel plated water block that is designed to cool the PCH. Again, minor machining marks are present on the surface of the PCH water block.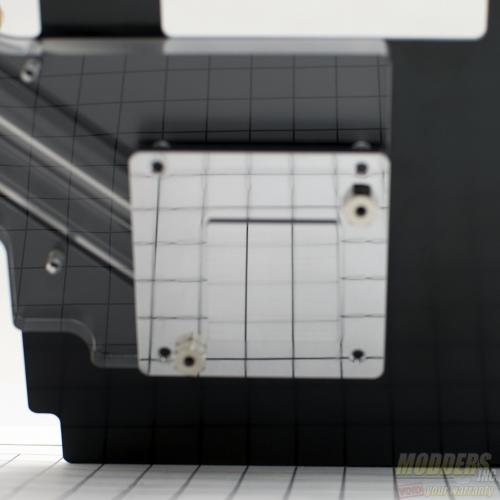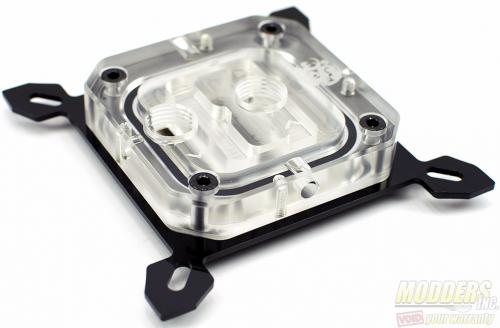 The CPU block follows the same design theme as the other blocks. Up top is a thick, clear Acrylic block attached to a metal mounting plate.
Taking a closer look at the top of the waterblock, you can see the fins inside the waterblock. Fins are used to increase the surface area the water comes in contact with in order to transfer more heat. Underneath a big warning stickers alerts the installer to remove before installation.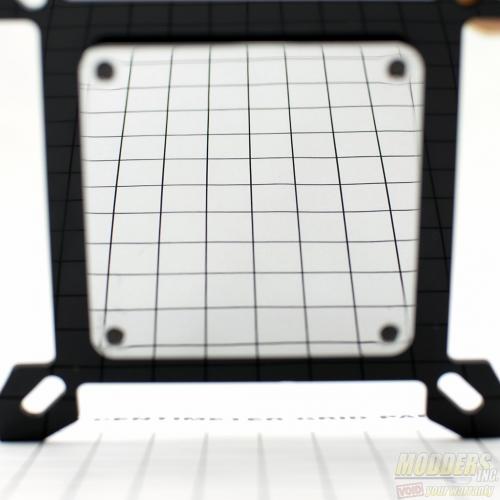 The nickel plated base of the CPU block is highly polished and reflective.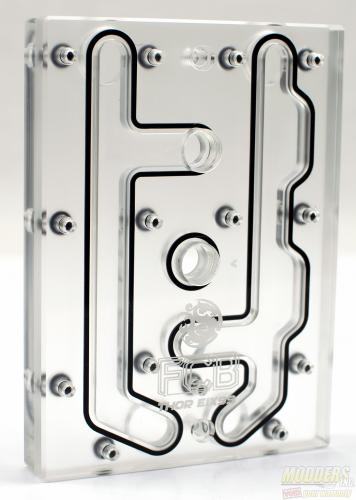 The water distribution block is two pieces of Acrylic screwed together with channels that direct the water to the other blocks. This piece is installed as the final component on the motherboard.
Each of the components can be disassembled for cleaning and maintenance. Bitspower has included O-Rings for reassembly.
Six fittings are included with this kit. The fittings are designed to connect the water distribution block with the three other blocks that are included. The fittings are knurled to ease with installation and since they can be hand tightened, it should reduce the chances of cracking the Acrylic blocks. The side with the green O-Ring is screwed into each of the blocks and the distribution block is pressed onto the other side.