« Introduction and Specifications
|
Installation »
Closer Look at the Cooler Master Nepton 240M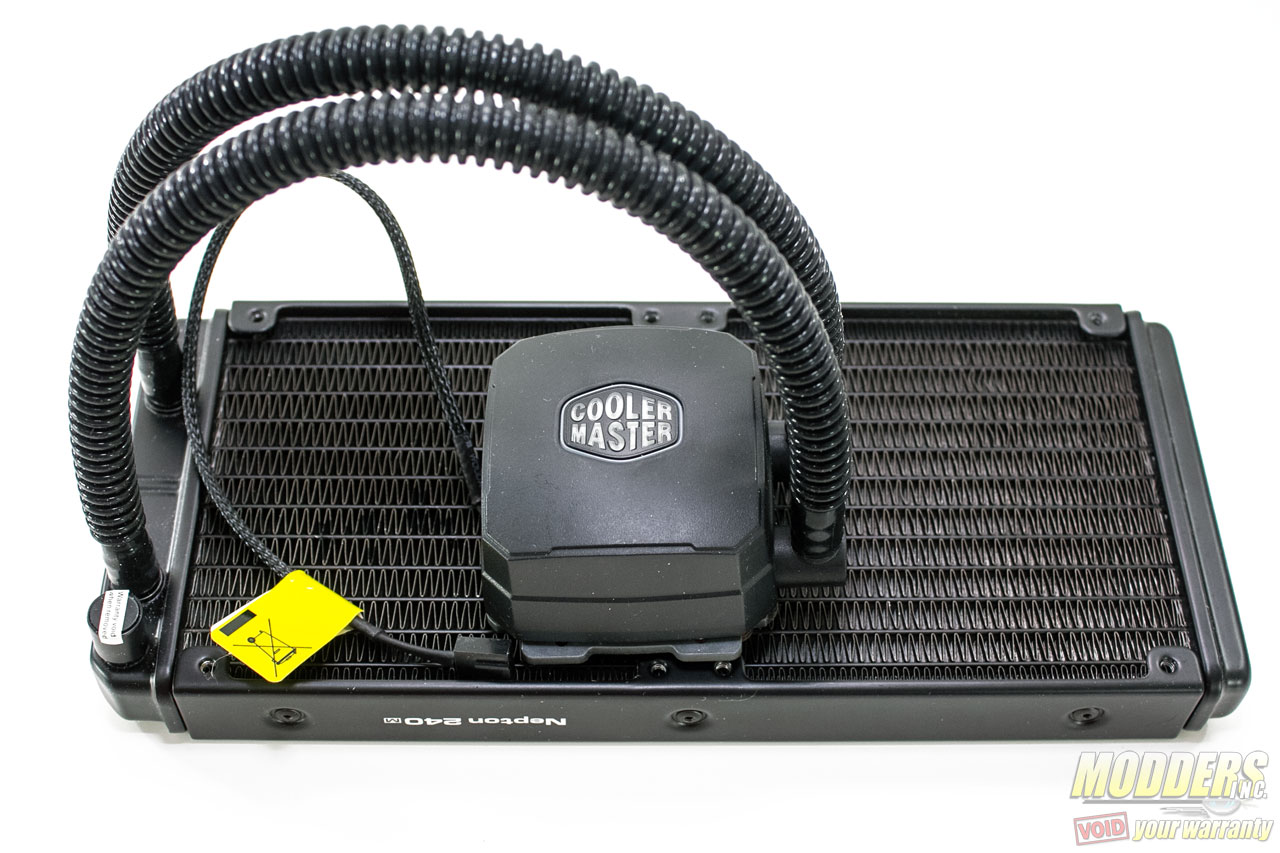 All Cooler Master Nepton AiO units share the same pump/block design but with a few minor changes on the 240M and 120XL compared to the 280L and 140XL which came out first. The Cooler Master white LED logo now fully illuminates instead of just the ring outline which makes sense since now you can actually read the Cooler Master logo when the Nepton unit is installed instead of just seeing a shape.
The pump block requires a 3-pin power connector although it uses a 4-pin housing (4th one is empty). This connector cable is braided and measures 300mm. On the other side, the FEP hose connects at an angle and these can be angled themselves up to 180 degrees away from each other, although it will take some effort as they prove to be very stiff and resistant to movement. This hose measures 340mm long and has a 13mm outside diameter at its thickest.
The Nepton's 240mm radiator is 27mm thick and supports a pair of 120mm fans on each side. It is an aluminum radiator and the entire unit is painted black. Total radiator length is 274mm and is 119mm wide. Fin density is at 22 fins-per-inch and the gap between the fan mounting frame and the radiator inside is 6mm. Mounting hole position for the fans at both sides are the standard 15mm gap.
The cold plate base is made of copper and the surface is rough with straight brushed machining marks running vertically. Behind this surface are ultrafine microchannels where the water flow draws heat away from the cold plate. The contact surface itself is 56.5 x 56.5 mm but measuring only the contact surface without the screws is still a generous 43 x 53mm which is plenty of room even for the largest Intel LGA2011 CPU IHS surface.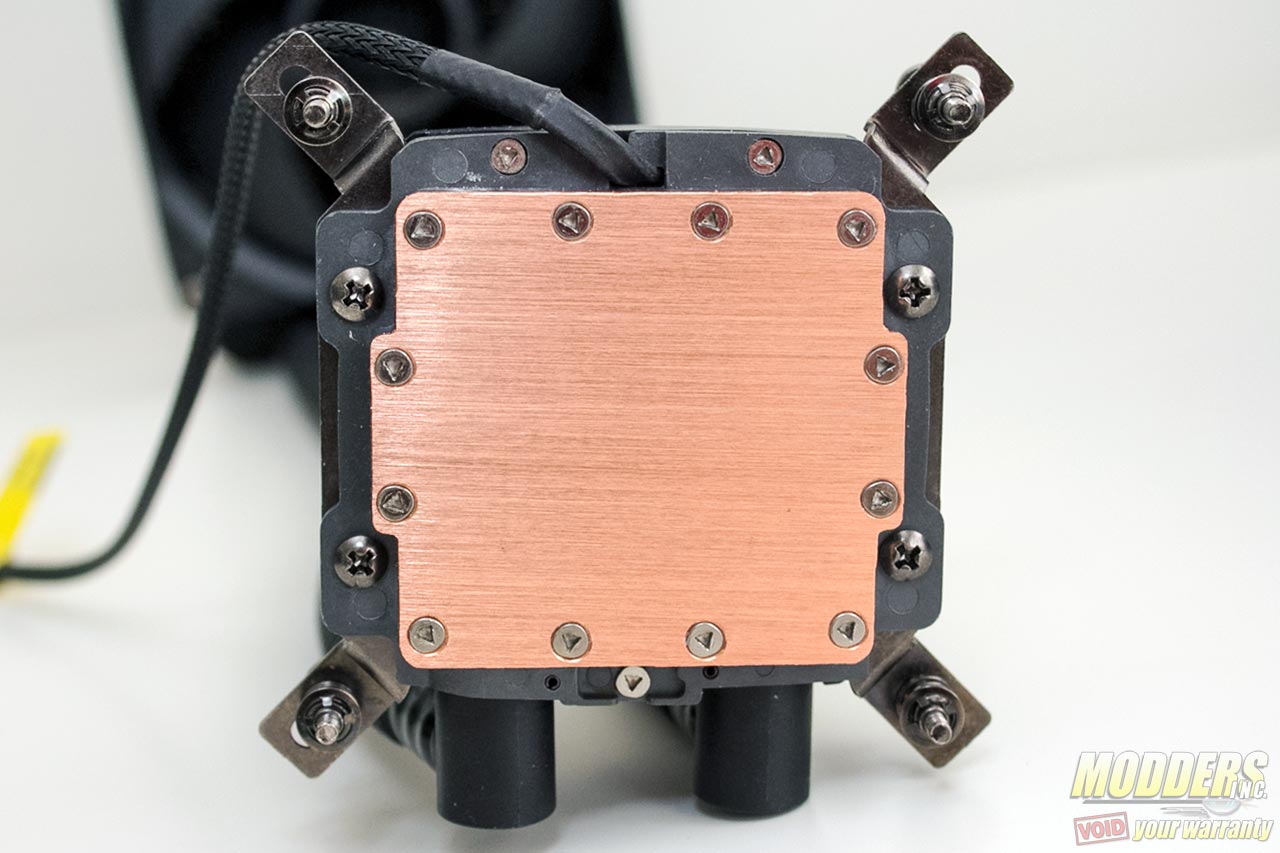 The exposed copper contact surface is barely reflective and has a rough surface, with very noticeable straight machining marks.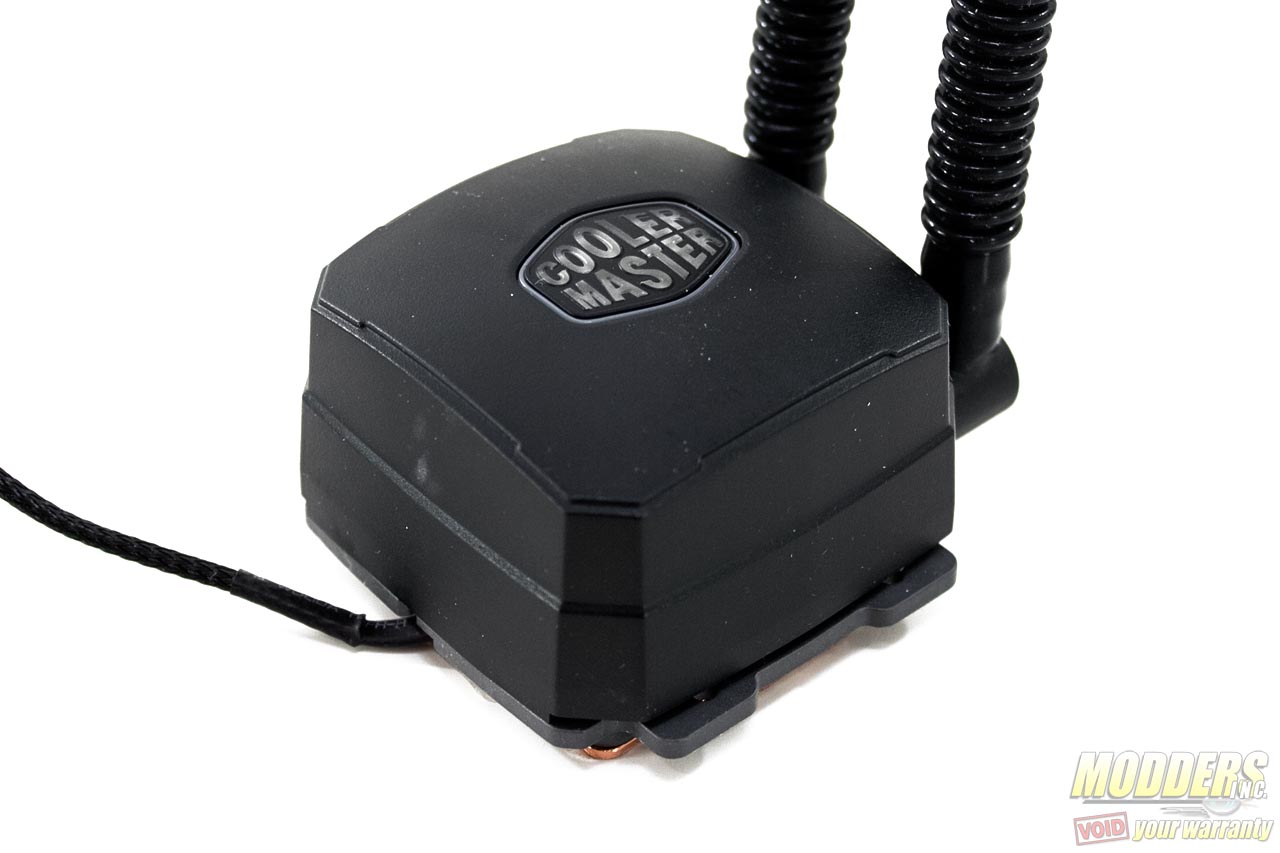 The bundled Silencio FP fans use Loop Dynamic Bearing compared to the rifle bearings used on the Jetflo fans bundled with the previous Nepton releases. Cooler Master provides fan pressure range from 0.48~4.8mmH2O and air flow range of 16.5 to 76CFM at 800 RPM through 2400 RPM. The fans are 4-pin PWM controlled with a 300mm braided cabling. It also uses a standard 120mm mounting and standard 25mm fan thickness.
There are less blades on the Silencio FP fan but these impellers cover a large area with their dramatically curved design. The tips are 60mm wide with a 55mm wide leading edge and a 45mm trailing edge. The center hub is 45mm in diameter and there are four straight struts on the output side. This design allows the Silencio FP to be able to increase the static pressure while minimizing noise. ASUS Fan Xpert 2 Results showing controllable range detected by the test motherboard: