« Intro
|
Page 3 »
A Closer Look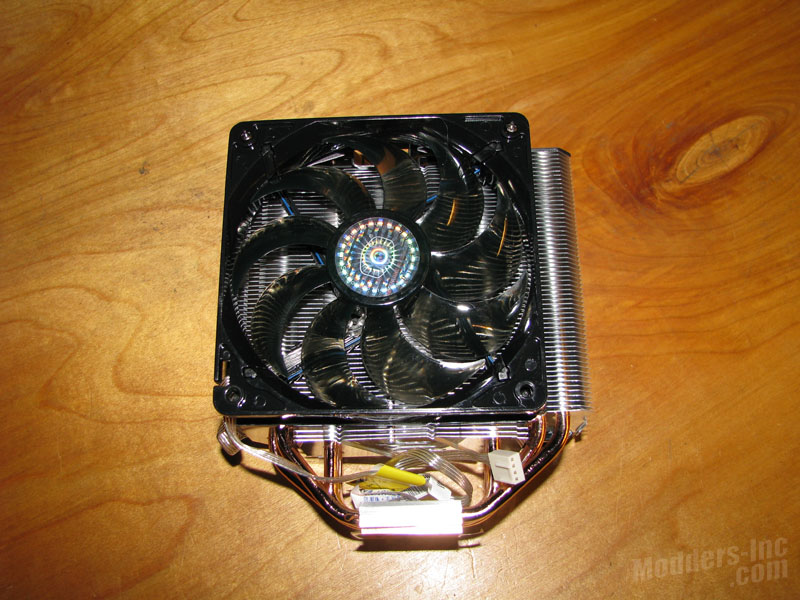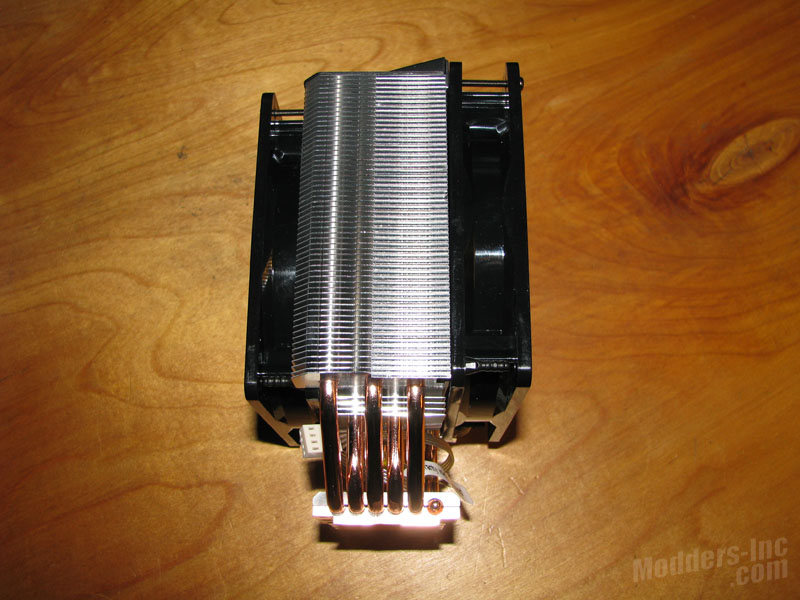 The Cooler Master Hyper N620 has the same basic overall size when compared to other 120mm CPU coolers. The Hyper N620 uses two 120 mm 9 blade fans that are rated at 800~2000 RPMs. The fans measure in at 120 mm x 120 mm x 25 mm while the cooler itself measures in at 140.8 mm x 50.8 mm x 158 mm. The overall dimensions with the fans installed is 140.8 mm x 96.4 mm x 160.7 mm. This means that the Hyper N620 is large enough that it could pose a few problems with some chassis although most current chassis on the market are designed to hand larger coolers.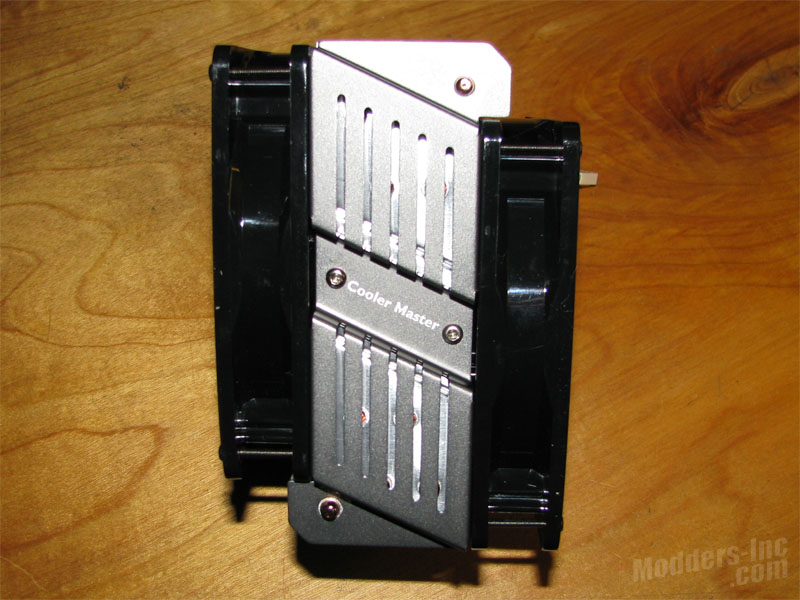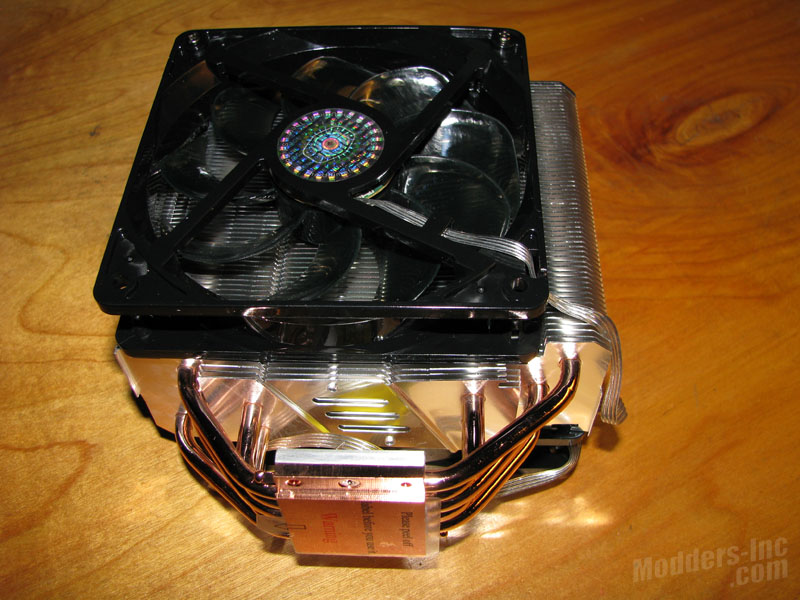 Having a look at the top of the Hyper N620, we can see that the fans are offset from each other by about 3/4″ which Cooler Master says helps accelerate the air straight through the aluminum fins. Looking at the right image we can see that there are three heat pipes passing through the outer edges of the fins, while there are two heat pipes going through the inner sides. If you noticed that doesn't add up to six right? The four center heat pipes go from one side of the fins through the base and back up into the other side of the fins. The two outer heat pipes simply go from one side of the fins to the base.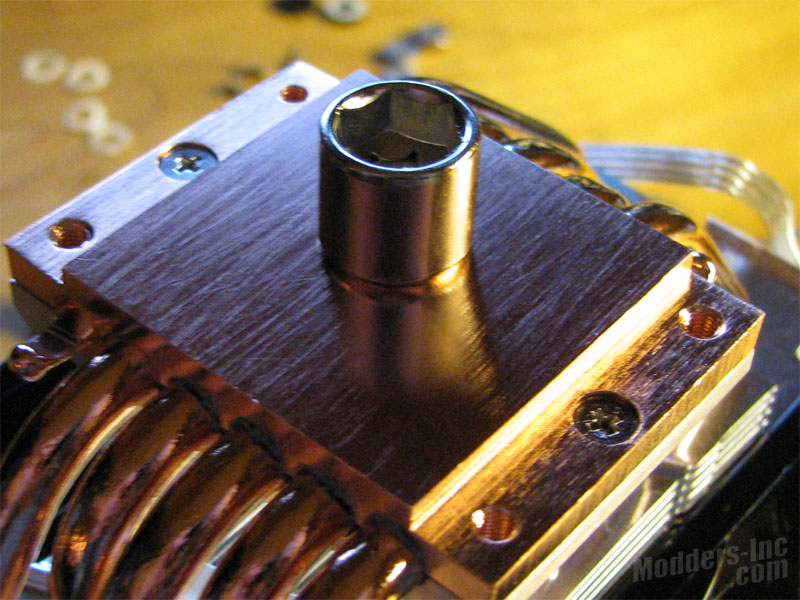 Here we have a shot of the copper base on the Hyper N620. As we can see by looking at the reflection of the socket on the base, it's not a mirror finish and does show tooling marks. This is normal for most of the CPU coolers on the market. The thermal compound used should have no problem filling the small voids left by the tooling marks. Looking to the right and left of the base, we have the four mounting screws used for the CPU mounting brackets.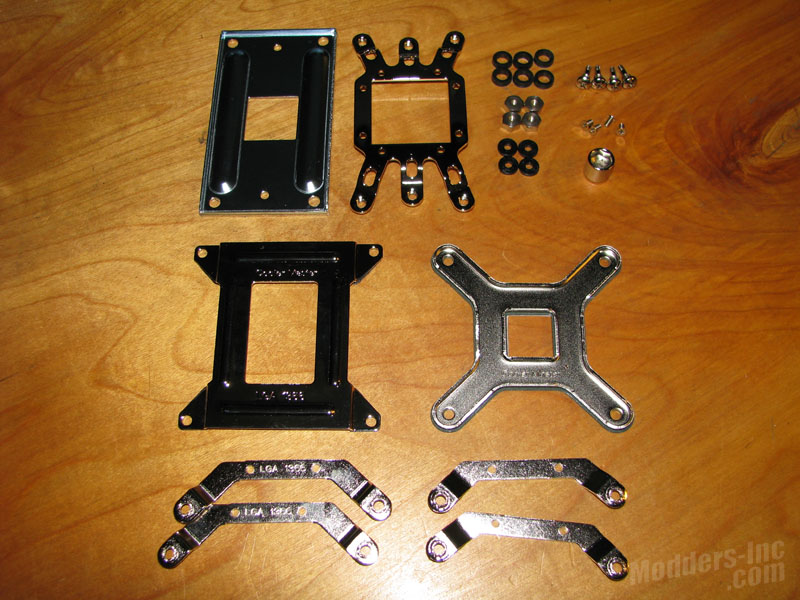 Above we have the mounting brackets and accessories laid out that are included with the Cooler Master Hyper N620. These are relatively the same brackets used by some of the other Cooler Master CPU coolers. Included are the AMD upper and lower brackets (supports AM3 / AM2+ / AM2 / 940 / 939 / 754), the upper and lower Intel LGA775 brackets, the upper and lower Intel LGA1366 brackets, six rubber washers, four plastic washers, four shoulder screws (for mounting the cooler to the board), four small screws (used to mount the upper brackets to the cooler), four nuts (used to secure the shouldered screws to the lower bracket), and one socket (used to tighten the four nuts).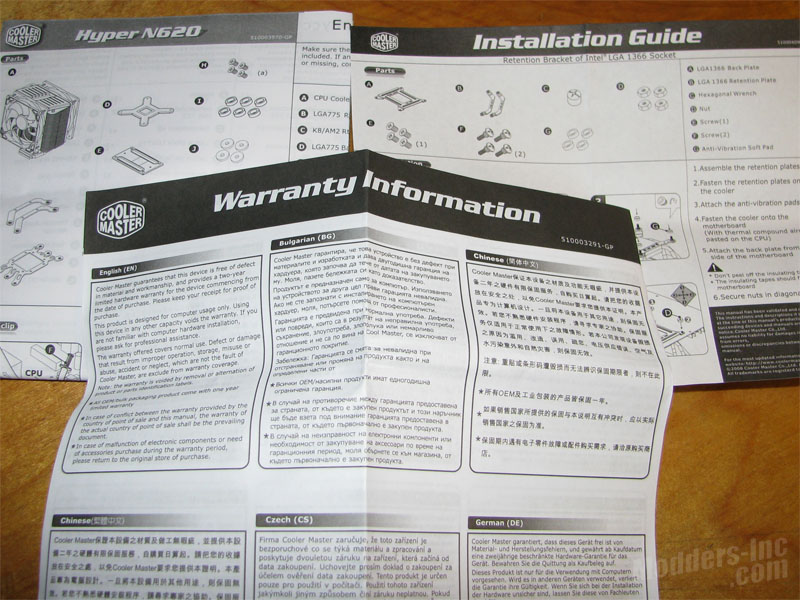 And then we have the included paper work (Warranty, Users Manual, and Installation Manual).