« Page 3
|
Page 5 »
Observation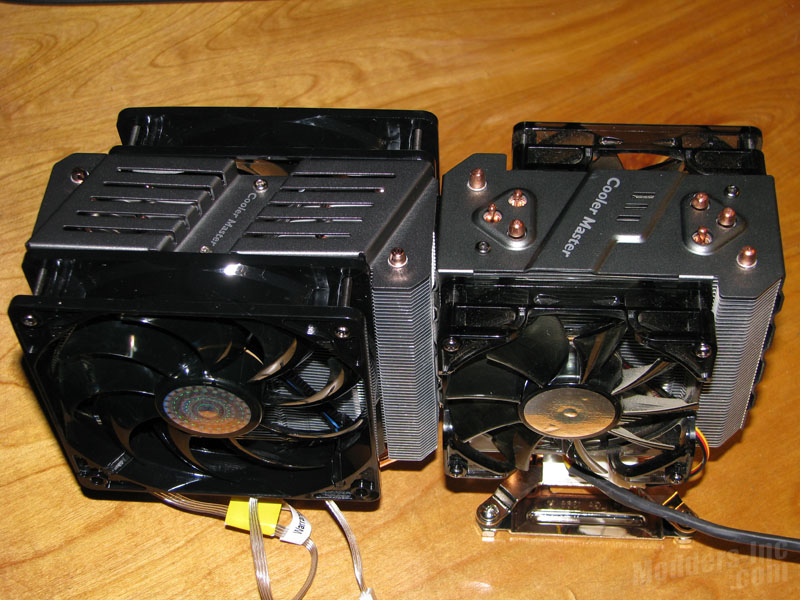 Above we have a shot of the Cooler Master Hyper N620 (left) and the Cooler Master Hyper N520 (Right). Looking at the two coolers, we can see that the closely reassemble each other. It's not an identical match, but it's close enough to tell that they are from the same family of coolers. Will the increased fin size, and larger 120mm fans give the Hyper N620 better cooling results? Well to find out we have the Hyper N620 installed in the following system.
The Test Rig:
Intel Core i7 920 @ 2.66GHz ~ 3.875GHz
EVGA X58 Motherboard
BFG GTX 280 Video Card
Thermaltake Toughpower 850W Cable Management ESA
OCZ 6 GB PC3-10666 DDR3 Platinum Series Memory
1 Western Digital Caviar SE16 500GB Hard Drive
Logitech G15 V2 Keyboard
OCZ Equalizer Mouse
Samsung 24″ Wide screen Monitor
Cooler Master Cosmos-S Chassis
Windows Vista 64bit SP1 w/Current Updates
Testing:
  Loading the CPU core(s) will be done with Prime 95 v25.8 build 4. Running tests on each of the cores will ensure that we are loading the CPU to 100% usage for a 30 minute duration. During this process I will use Everest Ultimate v5.00.1650 to record the minimum, maximum, and average temperatures obtained. I will also be repeating all tests multiple times across six different clock settings on the Core i7, which should give us a broad scale of how the cooler does at the six different overclocks.
  Seeing that they Hyper N520 and N620 are from the same family, I thought the Hyper N520 would make a good comparison cooler, paired up with the stock Intel cooler for my Core i7. Now some of you might recall that I swapped the fans on the Hyper N520 when I reviewed it. For today's tests I will be running the stock fans on the Hyper N520. On with the testing.
Level 1: 2.66 GHz (Default) All fans set to 100%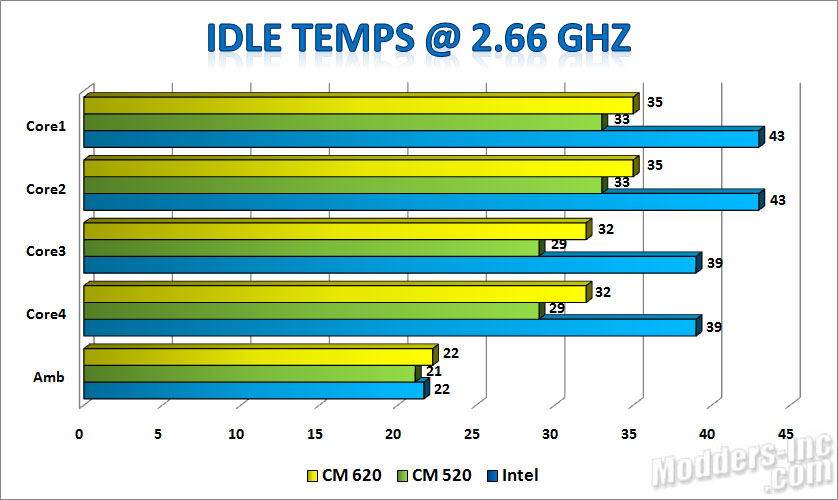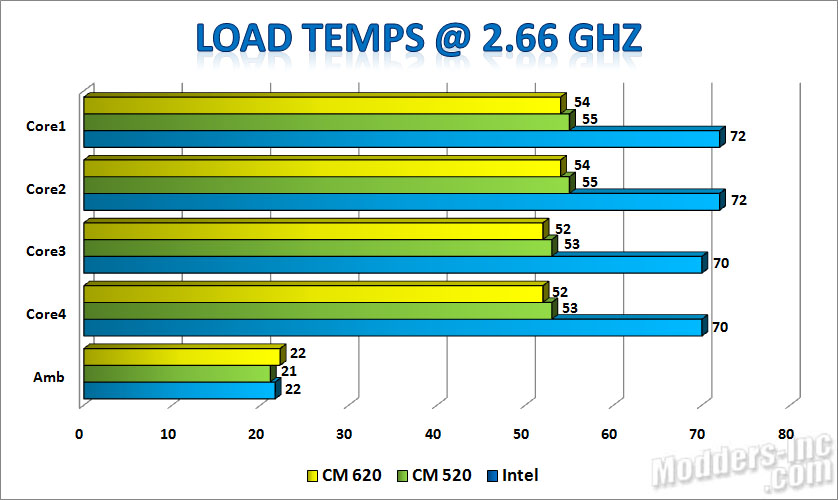 Level 2: 2.78 GHz (5% OC) All fans set to 100%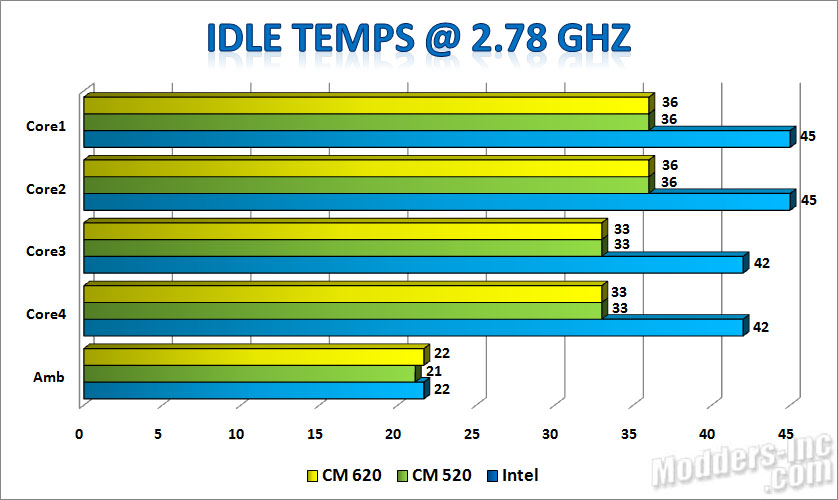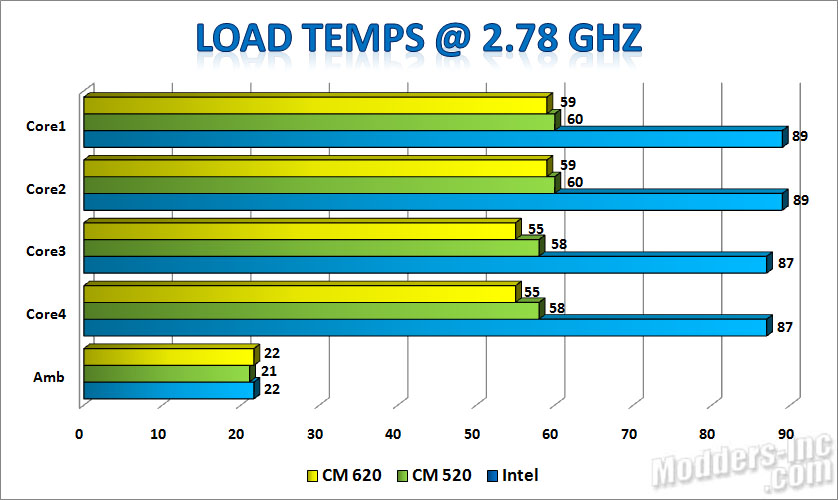 Level 3: 3.05 GHz (15% OC) All fans set to 100%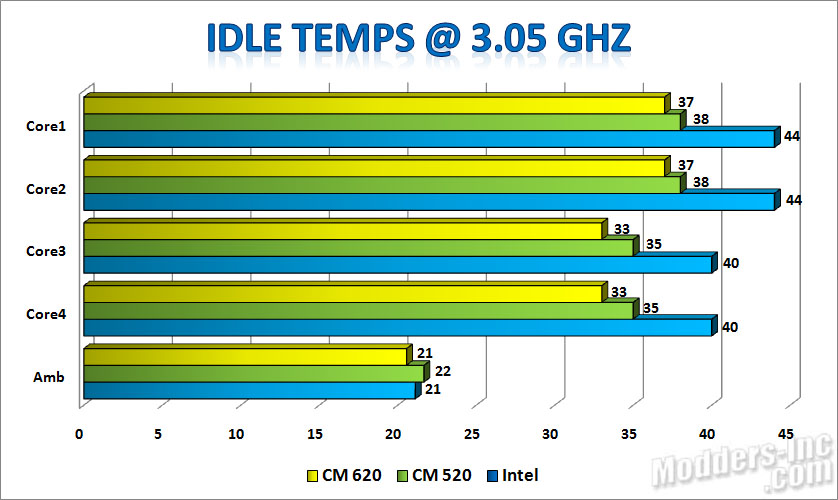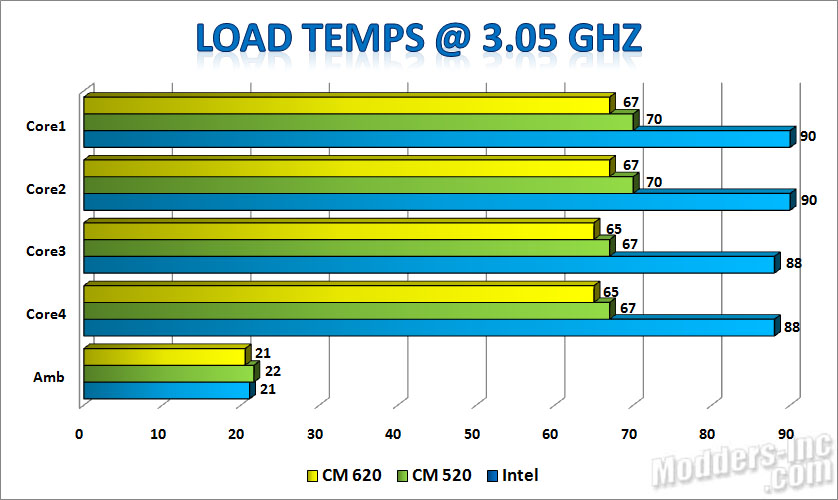 Level 4: 3.33 GHz (25% OC) All fans set to 100%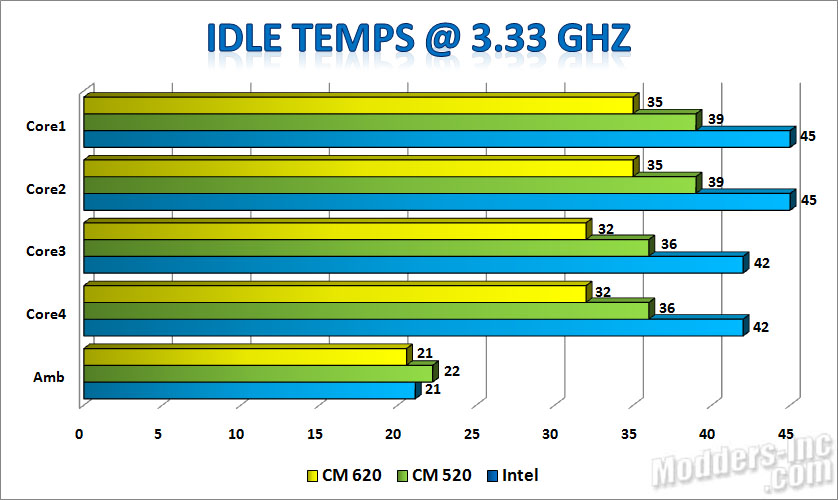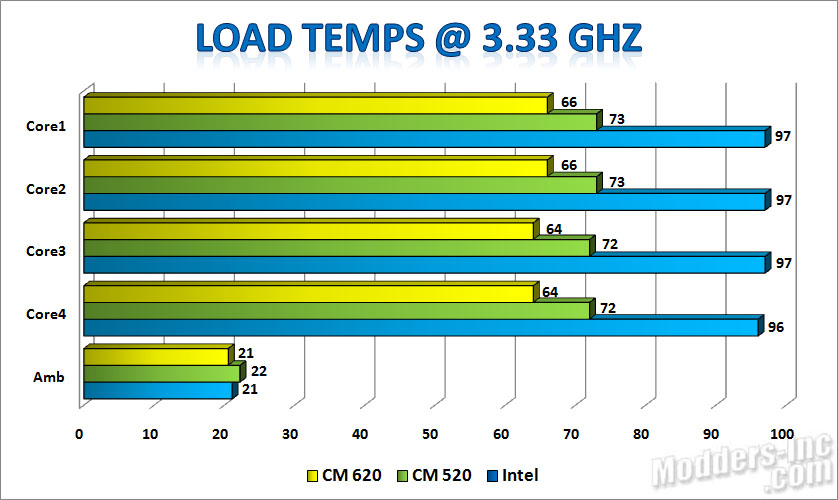 Level 5: 3.60 GHz (35% OC) All fans set to 100%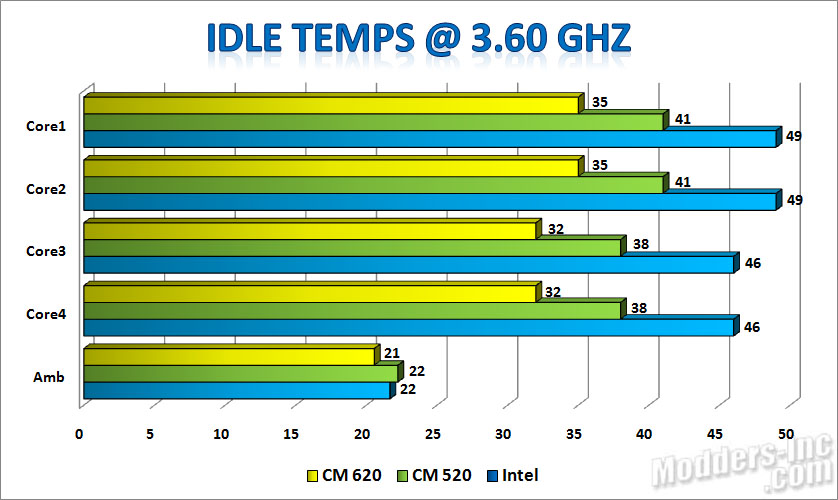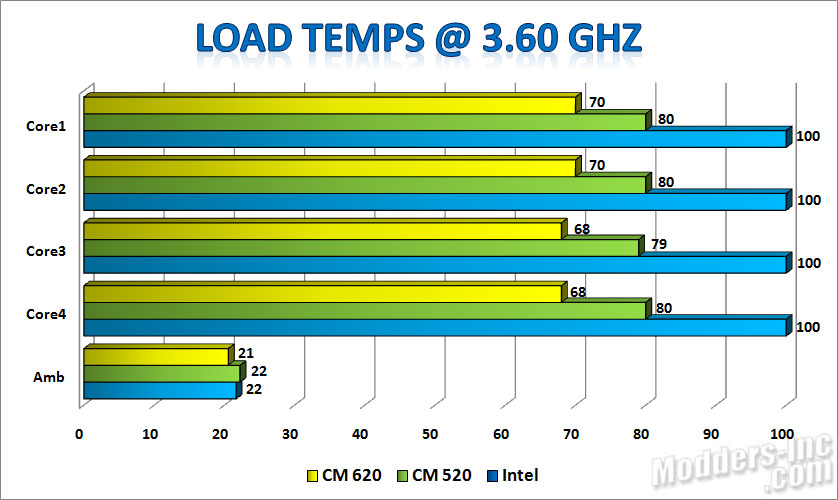 Level 6: 3.87 GHz (45% OC) All fans set to 100%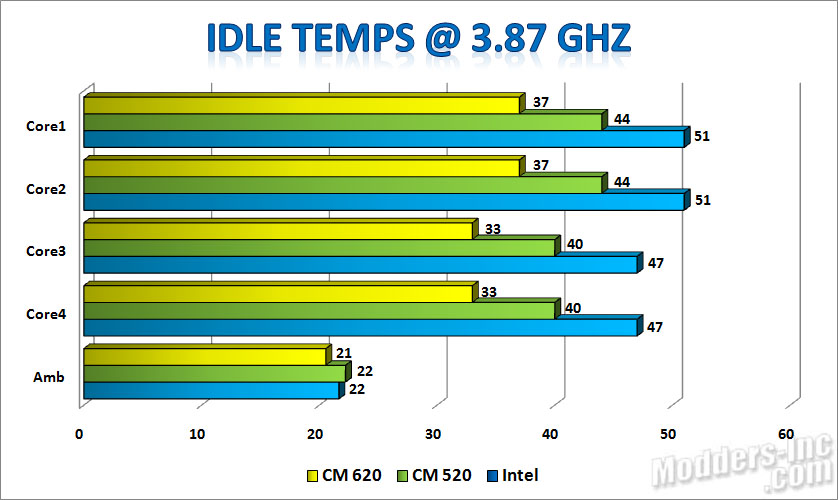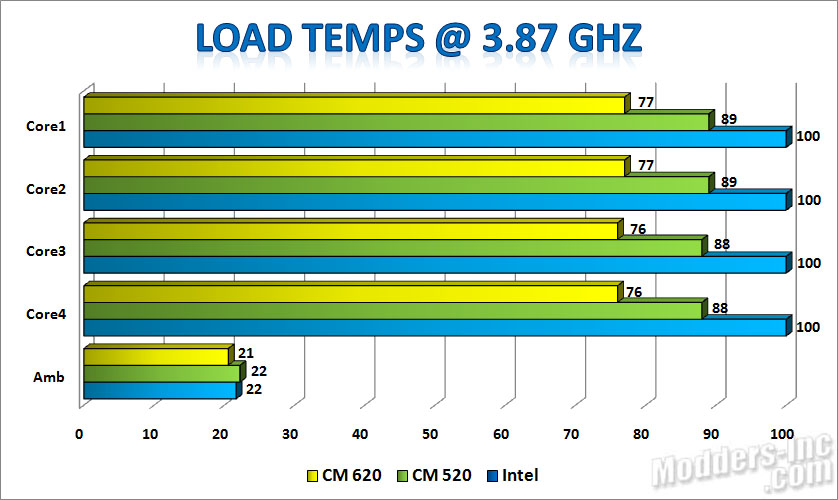 Note: I altered my charts to start reflecting the ambient temperatures recorded in Celsius rather than Fahrenheit like previous reviews just to simplify things a little.
  Looking at the above charts we can see how both the N520 and N620 paired up with each other. The first tests shows that the Hyper N520 did pull in slightly lower idle temperatures, but notice that the ambient temperature on that test had a slightly lower temperature as well. The ambient temperatures during testing will affect the coolers results which is why they are graphed. We can see that the Hyper N620 has a 1~2C advantage on the load side @ 2.6 & 2.7Ghz. Moving up to the levels we can see the difference increasing a few degrees at each test. At our highest level the Hyper N620 pulled in a 7C lower idle temperature and a 12C lower load temperature compared to the little brother.
  Looking at these coolers from a price / performance stand point. The Hyper N520  is currently listed for $44.99 @ NewEgg while the Hyper N620 is currently listed for $59.99, which 20% higher than the Hyper N520. Did we achieve a 20% increase in performance with the Hyper N620? No, but we came pretty close. At 3.87 GHz, on the idle side we had an increase of roughly 18%, while on the load side we had an increase of roughly 15%.