CPU Cooler
Cooler Master MasterAir MA610P Review
No water needed
« Test System and Benchmarks
Final Thoughts and Conclusion
The MasterAir MA610P performed above my expectations. It even out performed many AIO liquid coolers I've tested in the past. Being a water cooling enthusiast, I usually look down on air coolers. However, Cooler Master proved me wrong, and really impressed me with the performance of the MA610P. Although the chip did hit a max temp of 87°c, that was during a very intensive stress test. While gaming, the CPU stayed around 65°c. With the fans running at 100%, they never went about 38 decibels. That being said, I'd say this cooler runs very quiet, especially for an air cooler.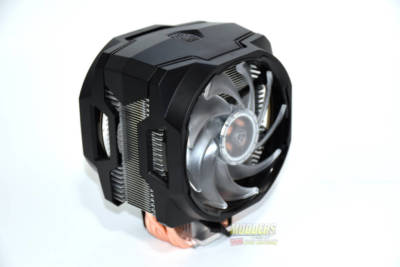 I've made it no secret that I'm no huge fan of RGB lighting, except when done correct. In this case, Cooler Master did the RGB right. I used Cooler Master's RGB controller that can run up  to 4 fans or strips. This allowed me to sync the fans on the cooler to the 140 mm MasterFan Pro's in the case, creating a cool light show. If an extra RGB controller isn't something you have laying around, the included, Molex powered RGB controller works great and can control both fans together. I also love the RGB Cooler Master logo on the top of the cooler.
So, if you just aren't comfortable with water cooling, or just don't have the time, this cooler is an excellent choice. It stood up to Aida64's stability test with no issues, and kept decent temps throughout. Gaming and idle temperatures were both great. The RGB lighting isn't over done at all, which can kill the aesthetic of anything. The MasterAir MA610P from Cooler Master provides performance equal too, and in some cases better than an all in one (AIO) liquid cooler. It does this at a fraction of the cost of a custom loop, and even cheaper then most AIO coolers. At the time of this review, the MasterAir MA610P can be purchased on Newegg for $74.99 USD, on sale from $99.99 USD. This is a great price for a great cooler.