CPU Cooler
Cooler Master MasterAir MA610P Review
No water needed
« Installation
|
Final Thoughts and Conclusion »
Test System
Intel Core I7 6700k @ 4.5 GHz
Gigabyte Z170 Ultra Gaming
MSI GTX 1080 GamingX Plus
16 GB of Kingston HyperX Predator DDR4 3000 MHz
San Disk Ultra 2, 240 GB SATA SSD
Corsair HX850i Power Supply
NZXT S340 Elite
Windows 10 Pro
Software
Aida64 Engineer
Core Temp
To get a more real-world result, I decided not to use my open air test bench. To get a more real-world result, I tested the MA610P in one of my back up systems, the one I usually test coolers in. I tested this cooler on a retail sample, i7 6700k clocked at 4.5 GHz and about 1.34 volts. This was the most stable overclock I was able to get with this specific chip. Therefore, all testing was done and results recorded with the chip running at 4.5 GHz. The 6700k I used for testing isn't the best overclocker. It actually has never gone over 4.5 on any cooler, ever. I saw this chip hit 4.6 on any core for the first time ever. Although, it wasn't very stable and crashed shorty after. Most coolers, this chip hit about 4.4 GHz. One cooler, the Swiftech H320 X2 prestige, was the only other cooler to get this 6700k to 4.5. All the more reason the MA610P impressed me.
I was Impressed with the idle temperature of the CPU using the MA610P. It dipped as low as 22°c, but averaged 24°c overall. To get this result, I basically recorded the minimum temperature using Core Temp every 15 seconds, for 5 minutes and averaged them out.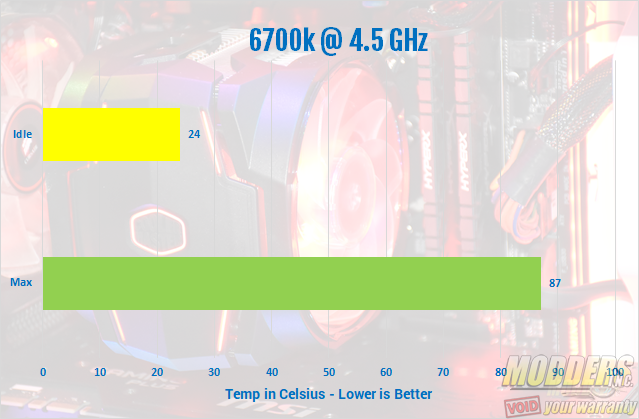 The MasterAir MA610P uses Cooler Master's MasterFan Pro. This is a PWM fan with a speed range from 600-1800 RPM. I decided to set the fans to their max speed of 1800 RPM.This way, I can get an idea of how loud the cooler runs at its max rpm. Although I ran the benchmarks at the fans full speed, I did test the cooler at different speeds. I tested the MA610P at its lowest RPM, 600, the at 50%, 1200 RPM and at 100%, 1800 RPM. This cooler was near silent at 600 RPM, hovering right around 32 decibels. At 50%, it wasn't much louder at about 35 decibels. Lastly, at 100%, or 1800 RPM, it stayed around 38 decibels. Over all, the cooler was very quiet, even at 100%.
Aida64 Engineer
AIDA64 implements a set of 64-bit benchmarks to measure how fast the computer performs various data processing tasks and mathematical calculations. Multi-threaded memory and cache benchmarks are available to analyze system RAM bandwidth and latency. Benchmark pages of AIDA64 Extreme provide several methods to measure system performance. These benchmarks are synthetic, so their results show only the theoretical maximum performance of the system.
The MasterAir MA610P was put to the test using the FPU Stability Test in Aida64 Engineer. This test is designed to push the CPU to max loads. It works like Intels Burn In Test. It will give you an idea of how the chip will run under extreme conditions that the average user would never experience with average use. The test ran for 15 minutes and 12 seconds with no issues. The overall highest temperature was 85°c. However, core number 3 was the hottest core at 87°c. Throughout the benchmark, the 6700k stayed at a constant 4.5 GHz.