CPU Cooler
Cooler Master MasterAir Pro 3 and 4 CPU Cooler Review: Living Up to a Legacy
« Test System and Benchmarks
Final Thoughts about the MasterAir Pro 3 and MasterAir Pro 4

The MasterAir Pro 3, being a 92mm cooler is not exactly the direct descendant of the Hyper212+ although it inherits a lot of its features. This cooler is primarily aimed towards those of limited chassis space with its 140mm height. In terms of performance, it not particularly powerful, nor was it expected to be.  Its thermal management skills are average compared to most 92mm coolers. At max speed, the 92mm fan was not particularly quiet either at the 'Q' setting which was running at 3000 RPM, but the 'S' was a lot better at only 36.8 dBA operating at 2000 RPM.
Most of the pressure was on the MasterAir Pro 4 to perform well, or at the very least show a marked improvement over the Hyper 212+. Thankfully, it does, convincingly so albeit with a caveat. The MasterAir Pro 4 outperforms the Hyper 212+ cleanly in both stock and overclocked benchmarks but its fan is operating at 2500 RPM compared to the Hyper 212+'s 2000 RPM and is also a lot louder at 48.5dBA compared to 45.7 dBA.  The good news is that when lowered to 2000 RPM, the MasterAir Pro 4 outperforms the Hyper 212+ at stock and is within a hair of the Hyper 212+ at only 42.5 dBA.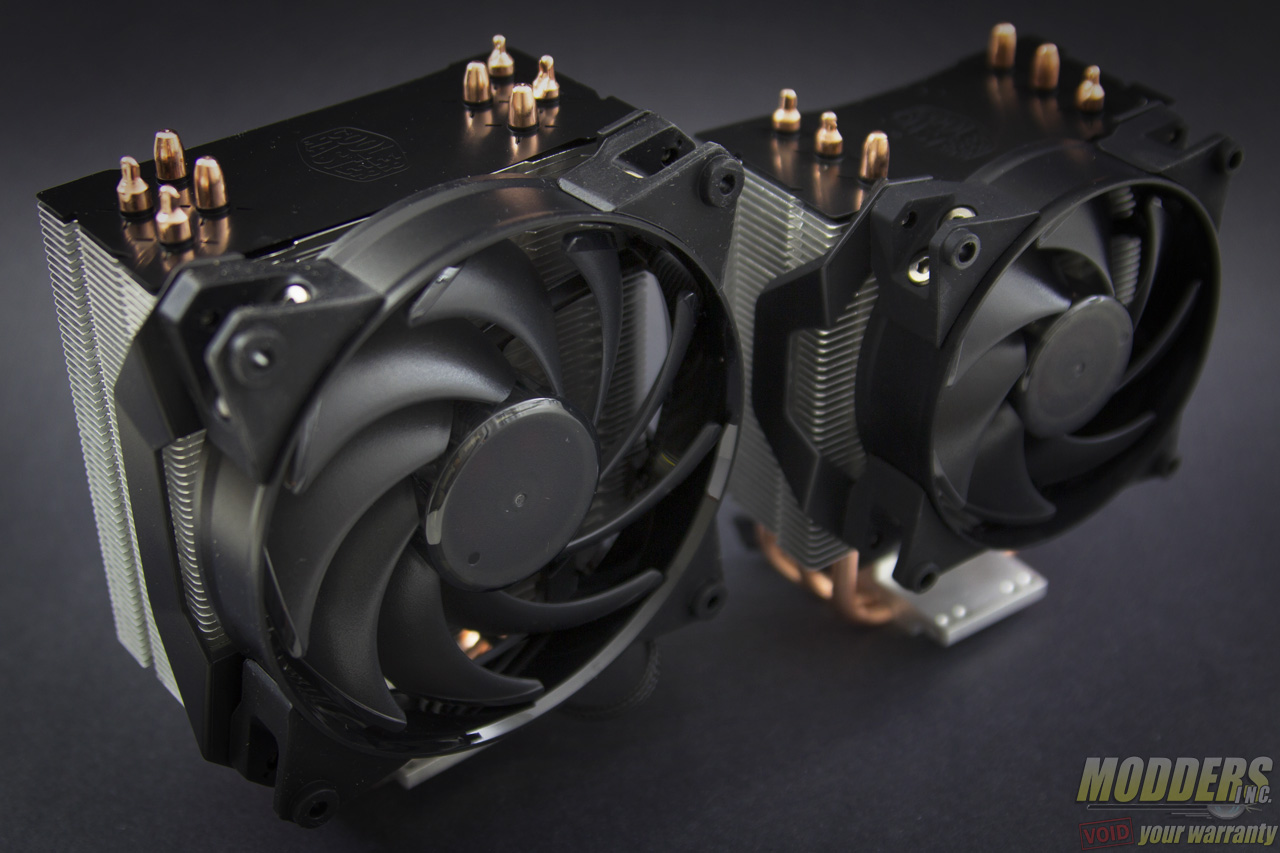 The improvement on the fan mounting clip and the alternate option of having push-pins is also a welcome addition. These new fan mounting clips have a much better grip compared to the smaller ones used on the Hyper 212+. The latching side is actually the widest area compared to the 212+/212 EVO which just had a small piece of plastic hugging the radiator on the side. This new fan mounting accessory on the MasterAir series can stand more re-installations than the previous design.
There is really only one big factor preventing these new MasterAir Pro series fans from living up to the Hyper 212+ legacy completely and that is the price. The MasterAir Pro 4 carries an MSRP of $44.99 while the MasterAir Pro 3 carries an MSRP of $39.99 and that puts it at a higher price than their mainstream competitors. One of the most popular Hyper 212+/212 EVO alternatives for example is Cryorig's H7 CPU cooler which retails for only $34.99 and performs within range. Cooler Master did show non-pro MasterAir coolers at Computex so maybe they will be offering these lower-cost versions later on if the market demands it. What configuration these will come in at is yet to be seen, but even with just the push-pin mounting, if Cooler Master can offer those non-pro variants at a much lower price than their competitor, they could easily get back in Hyper 212+ territory.
Overall, these new MasterAir Pro fans are decent, but let's face it. The appeal of these Hyper 212+ types of coolers are largely because of their low price and they need to be offered along the same price point or even less as their competitors to get attention.
The MasterAir Pro 3 gets the Modders-Inc Approved award: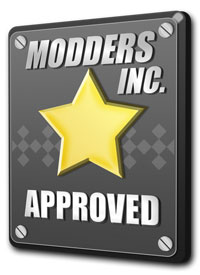 The MasterAir Pro 4 on the other hand, scores higher and gets the Modders-Inc Recommended Hardware award: