« Introduction and Specifications | Installation Procedure and Clearance Issues »
Closer Look at the Deepcool GamerStorm Captain360

Much like the GamerStorm Steam Castle case, the GamerStorm Captain pump unit has a reactor inspired design that lights up when powered on. In the middle is a glass tube with visible red coolant flowing through and arches down to the lower area. The hoses are located at the opposite side of this glass tube and are positioned on top of each other and not side-to-side like it was in the GamerStorm Maelstrom.
The entire base is brushed copper with a total contact area of 54 x 54mm and accounting for the coldplate screws, remaining contact surface area is 40 x 40mm. This area is big enough to accommodate even larger heatspreaders from LGA2011 CPUs which have a 38 x 38mm IHS area. There is pre-applied thermal compound so the Captain 360 is ready to be installed out of the box.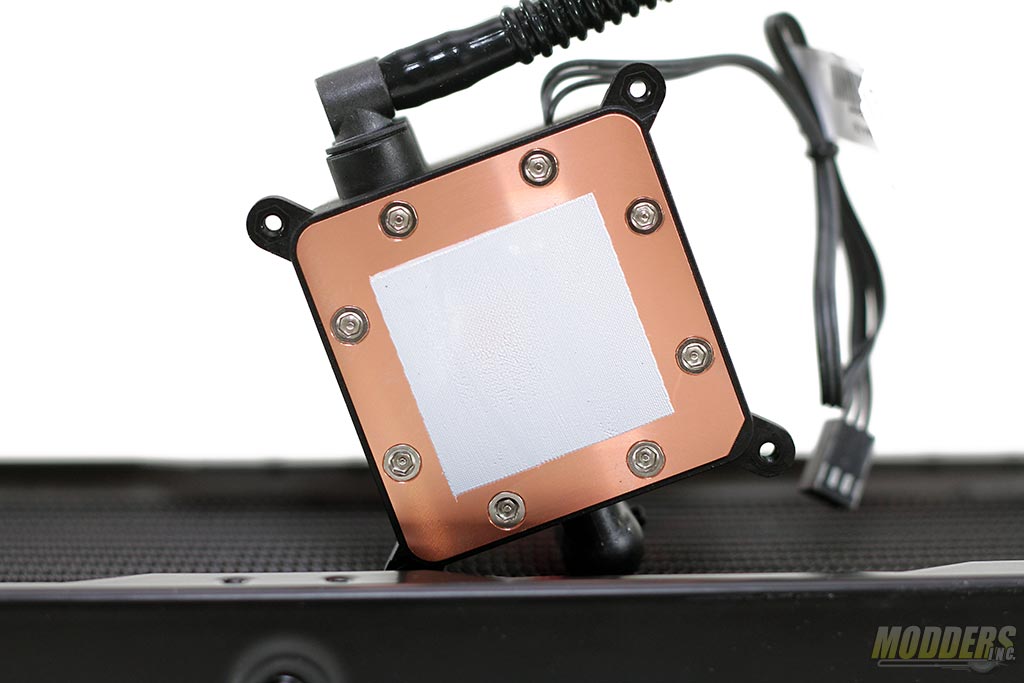 The exposed copper contact surface is barely reflective and has very fine rounded machining marks that is difficult to see but can be felt if the user runs their fingers on top.
The large aluminum radiator measures 395mm long with standard mounting for 120mm fans and has 22-24 fins-per-inch. The entire unit is painted black and there is a fill-port beside one of the tubing which understandably has a warranty void sticker on top of it.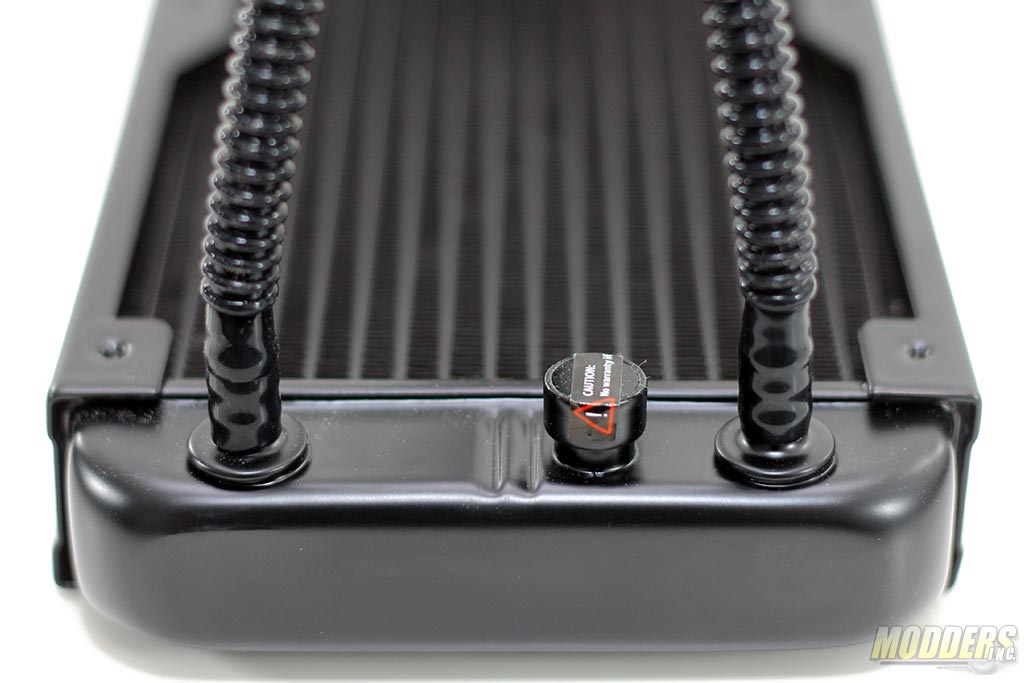 Total radiator thickness is 32mm but that includes the raised fan mounting area which are 7mm away from the fins in the center so the total thickness of the actual fin array is only 18mm.
Three 120mm fans are bundled and each have a standard 105mm mounting hole distance. The frame is rubberized to absorb vibrations from movement and the cabling is braided, each having a 4-pin PWM connection. There are nine fan blades colored red with notches on the tip angled from the corner. This focuses the airflow into a smaller area rather than the more scattered push on a regular fan. The fan blades themselves are wider at the tip with only a slight curve on the trailing edge and a more prominent angle on the leading edge. The angle of attack is also higher at the middle and tapers toward the tip. There are four struts, each on a straight angle and colored simiarly red to the fan blade and the PTFE lining of the inner wall. A red trim matching the colors also line the external frame. Deepcool touts fluid-dynamic bearing for silent and long life operation and can ramp up to 2200 RPM with high-static pressure performance.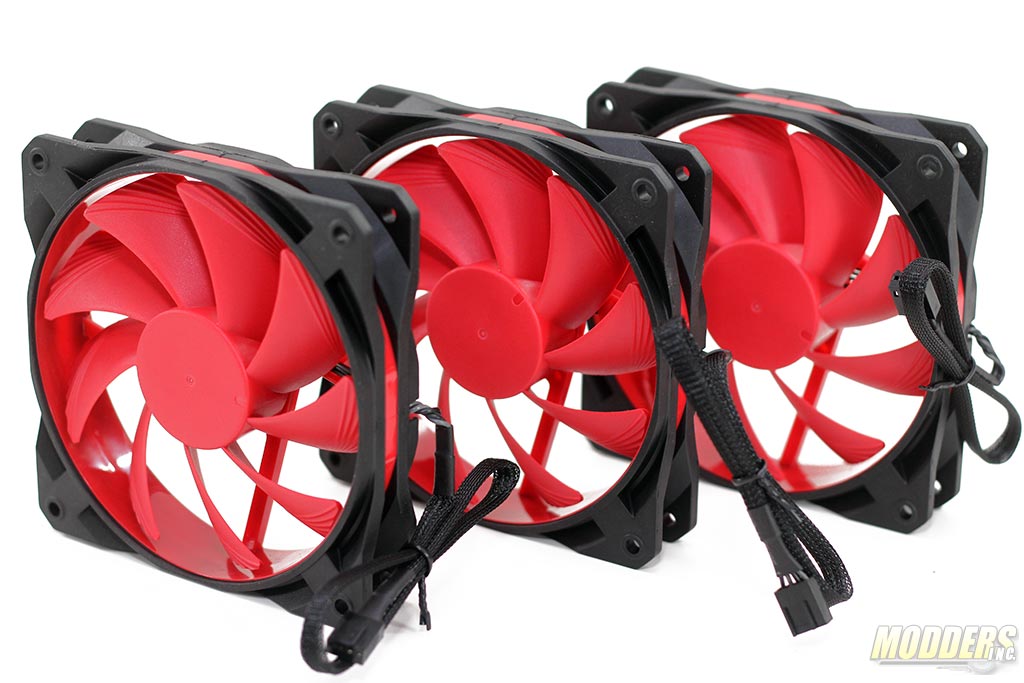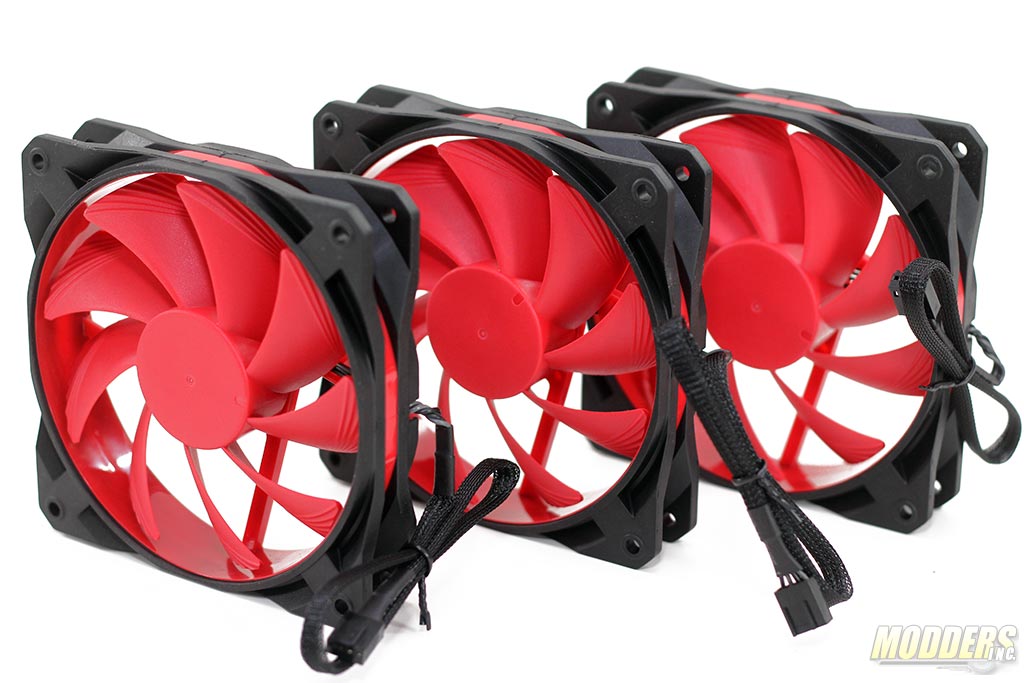 ASUS Fan Xpert 2 Results showing controllable range: