Systems
ECS LIVA X Mini-PC Review: Efficiency Matters
Closer Look »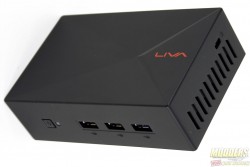 There are many things that seem like a good idea in theory and looks good on paper but ends up being a disappointment and a failure when applied in the real world: Duke Nukem Forever, J.J. Abrams Star Trek, the Kama Sutra , body cameras for cops, Katherine Heigl, etc. Compact mini-PC's used to be a part of this list until recently when advancements in hardware efficiencies have caught up to the strict thermal and power envelope requirements of a compact space. ECS with their original LIVA mini-PC is one such example of the compact mini-PC demonstrating just how far things have improved. With the new LIVA X, ECS has incrementally fixed some of the issues that were found on the first design and also offers a slight performance improvement.
The ECS LIVA X compared to the original LIVA "Bat-mini" compact desktop now has an even smaller enclosure design. It is powered by an Intel Celeron N2808 processor and is available with configurations of 2GB or 4GB memory as well as option for 32GB or 64GB eMMC storage and is available without an operating system or bundled with Windows 8.1 BING preloaded. Instead of the micro-USB power connector of the original LIVA, the LIVA X comes with an AC power adapter and now features a Kensington lock for security from theft when installed in a public place.
[sc:sponsor sponsor="ECS" product_link="http://www.ecs.com.tw/ECSWebSite/Product/Product_LIVA.aspx?DetailID=1593&LanID=0″ product_name="Liva X" product_price_link="http://amzn.to/1Ff8bhs" product_price="$249.99 (64GB), $209.99 (32GB)" ]
The ECS Liva X box measures 13.8 x 6.6 x 26mm and has a fairly muted design with only the new Liva X logo to the left side of a matte black expanse but with a subtle gloss accent in the shape of the new Liva X enclosure top. Since the Liva X is available in different configurations, the specifications on the side show what storage and memory capacity the unit inside contains.
Inside the box, the top compartment houses the new Liva X unit while the bottom compartment contains the accessories which include a user guide, power adapter with four different localized plugs for North America, UK, EU and German outlets. A VESA mount (75mm/100mm) with mounting screws is also included as well as a disc containing drivers. The ECS Liva X does not ship with an OS by default but a Windows 8.1 with Bing version is now available for the same price.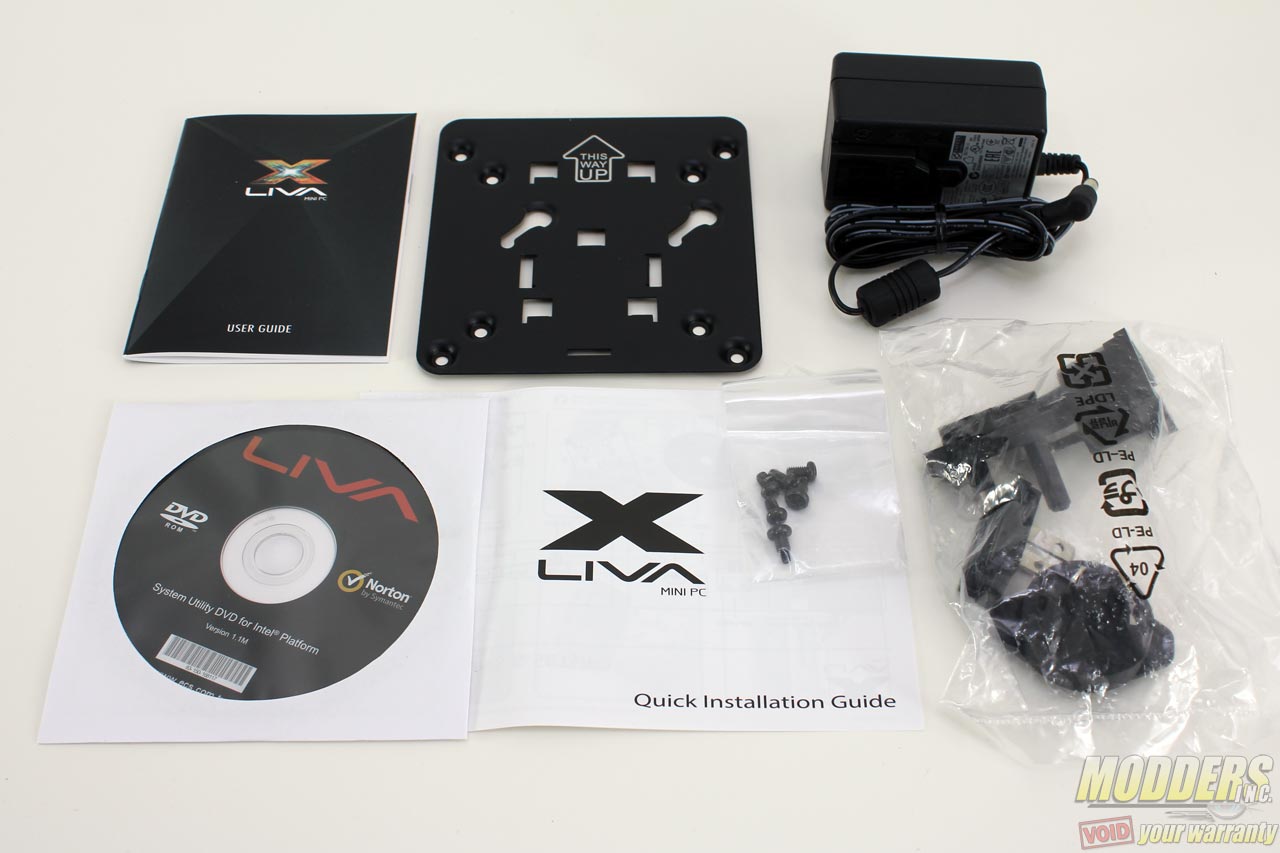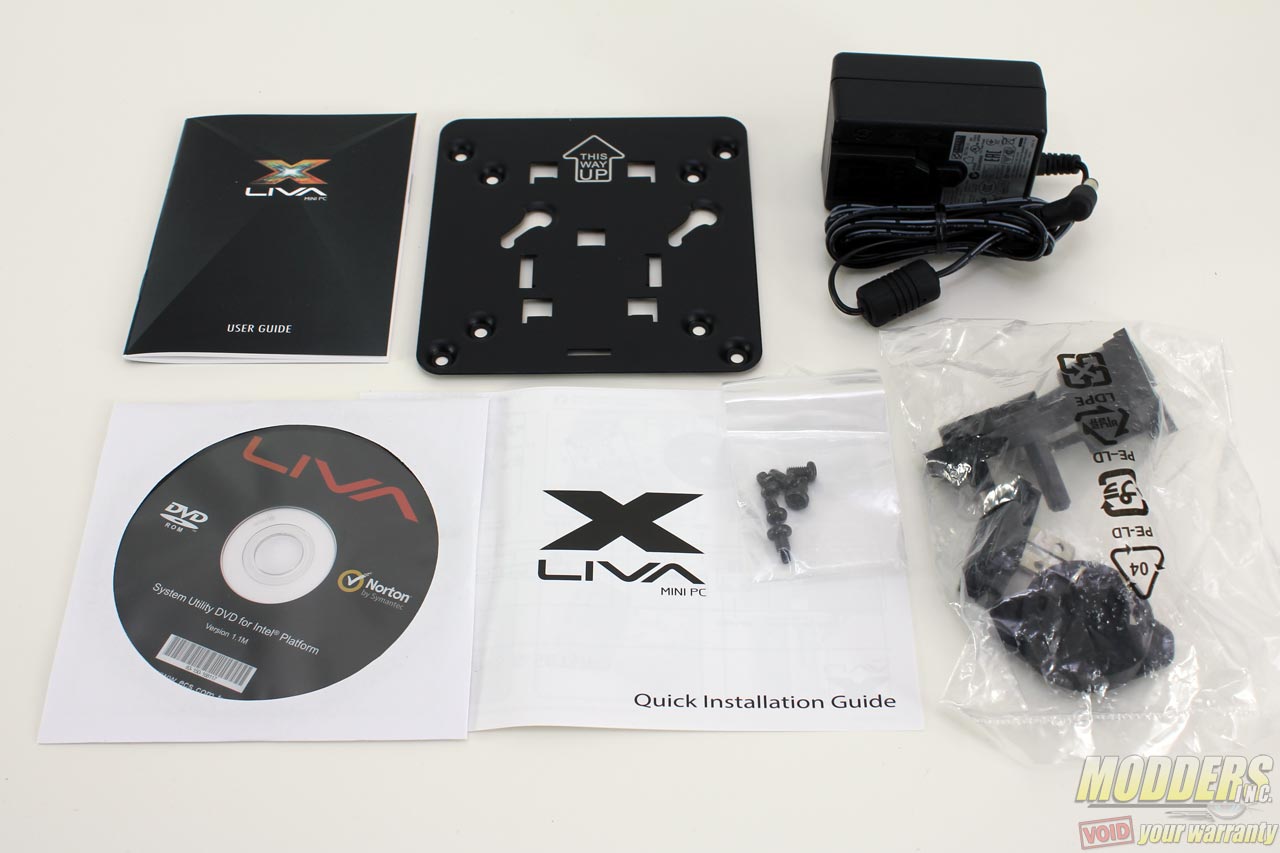 Specifications:
Platform
Intel® Bay Trail-M/Bay Trail-I SOC
Memory
DDR3L 2GB/4GB
Expansion Slot
1 x mSATA for SSD
Storage
eMMC 64GB/32GB
Audio
HD Audio Subsystem by Realtek ALC283
LAN
Realtek RTL8111G Gigabit Fast Ethernet Controller
USB
1 x USB3.0 Port
2 x USB2.0 Ports
Video Output
1 x HDMI Port
1 x VGA Port
Wireless
WiFi 802.11 b/g/n & Bluetooth 4.0
PCB Size
115 x 75 mm
Dimension
135 x 83 x 40 mm
VESA
Supports 75mm / 100mm
Adapter
Input: AC 100-240V,Output: DC 12V / 3A
OS Support
Linux based OS (UEFI mode)
Windows 7 (via mSATA SSD)
Windows 8
Windows 8.1
*Recommends to install Windows, ECS does not provide other OS installation technical support.
Accessory
1 x Power adapter (US+UK+EU AC plug)
1 x VESA Bracket
7 x Screws
Manual & Driver DVD