Systems
ECS LIVA X Mini-PC Review: Efficiency Matters
« System Benchmarks
|
Conclusion »
Multimedia, Power and Thermal Performance Benchmarks
Online streaming:
Online video streaming is a basic function and this should be a fairly easy task, but it must be conducted nonetheless. Power consumption will be noted. Netflix streaming was tested by installing the Windows 8.1 app and manually setting the stream setting to the maximum 750. Power consumption is very efficient and under Netflix load, it only maxed out at 7W. playback was expectedly without hiccups as expected and seeking is almost instantaneous.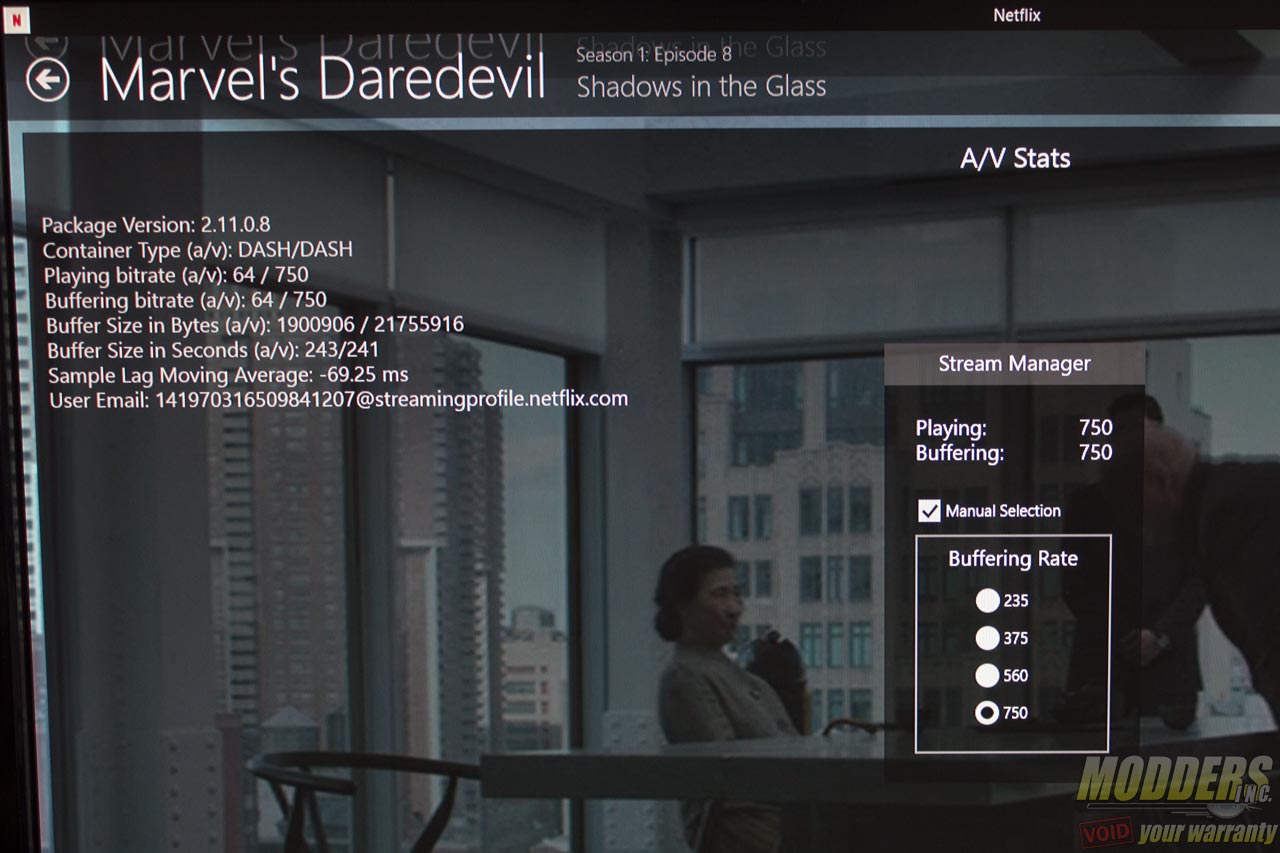 YouTube streaming was tested with Big Buck Bunny 60fps playback in full-screen 720p and 1080p, both used up the most power at 13W from the wall but playback was very smooth as expected and seeking is instantaneous. While the more efficient HTML5 is now used for online streaming rather than the clunky, old Adobe Flash, playback requirements are still high as evident in the power consumption alone.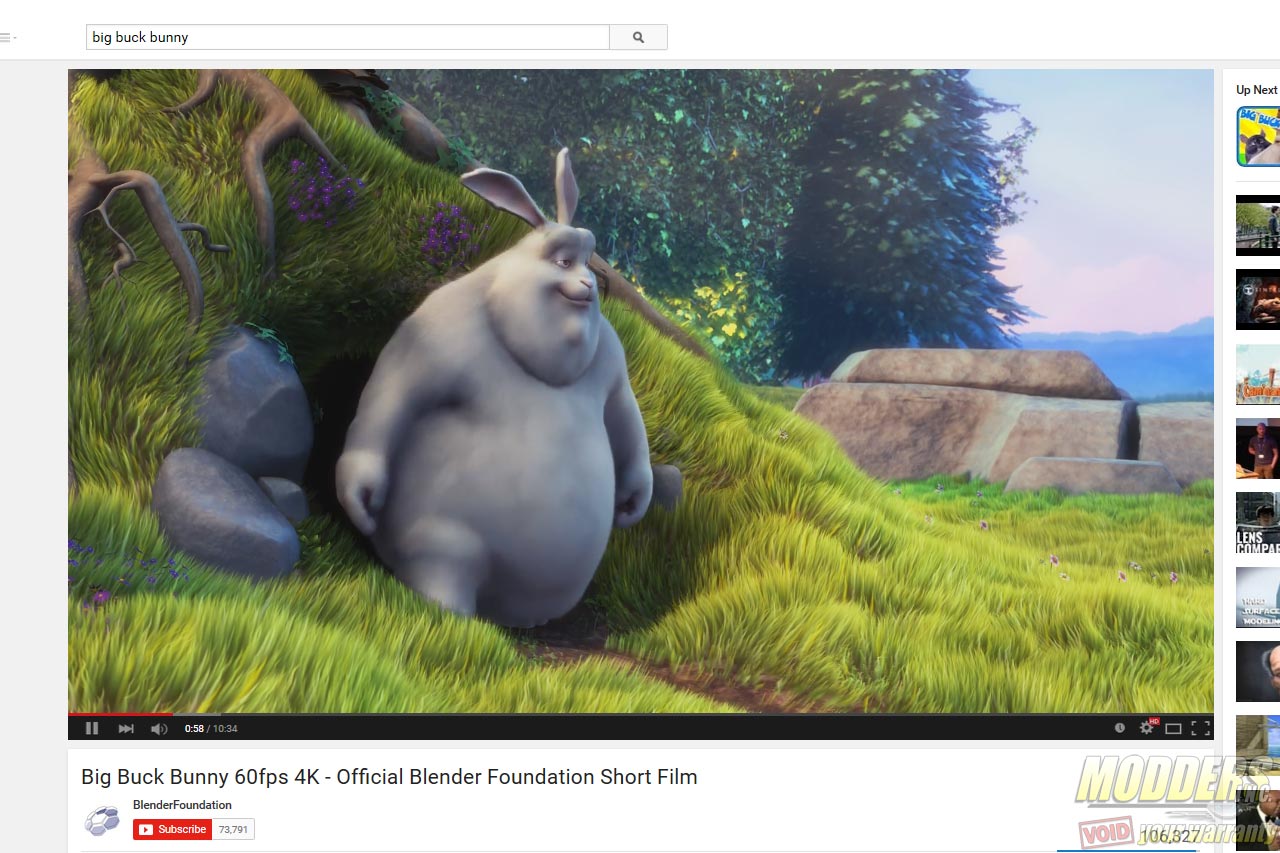 H.264 Playback

H.264 1080p playback is pretty much expected from any current HTPC hardware as acceleration is available although 4K playback. Using Media Player Classic Home Cinema (DXVA) and Kodi/XBMC, performance is tested across a variety of common HTPC media files including 4K performance. The debug screenshot of both media players is used to show performance results: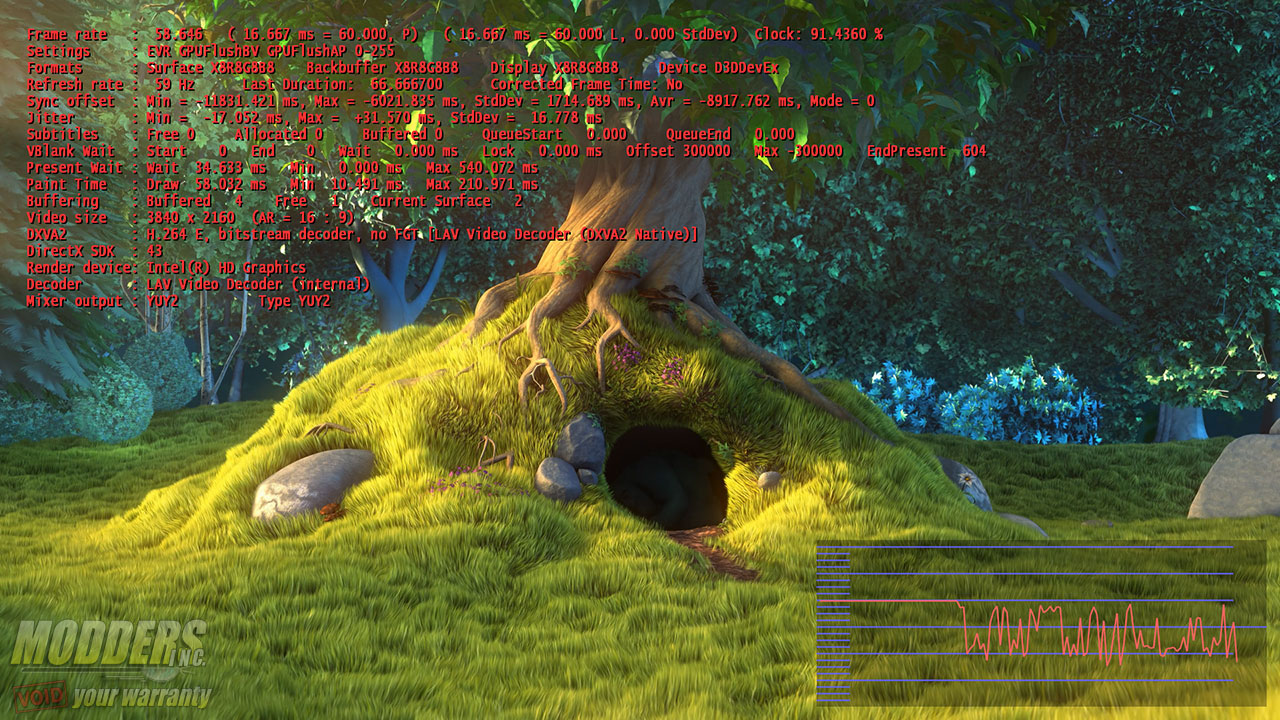 H.264 4K playback at 60FPS is not completely perfect but passable, Kodi playback is smoother than MPC-HC but this is largely due to DXVA acceleration. The performance difference is substantial when it is turned off making the video unwatchable, even at 4K 24fps movies below compared to when it is turned on (right image below):
4K 1080p H.265 playback system power consumption peaked at 11W, while 1080p H.264 consumed only 8W at most. Other than 4K H.264 playback and HTML5 streaming, 1080i @ 60fps H.264 (DVR Live TV recording) was also resource heavy, with power consumption reach 12W for the LIVA X but playback was relatively smooth.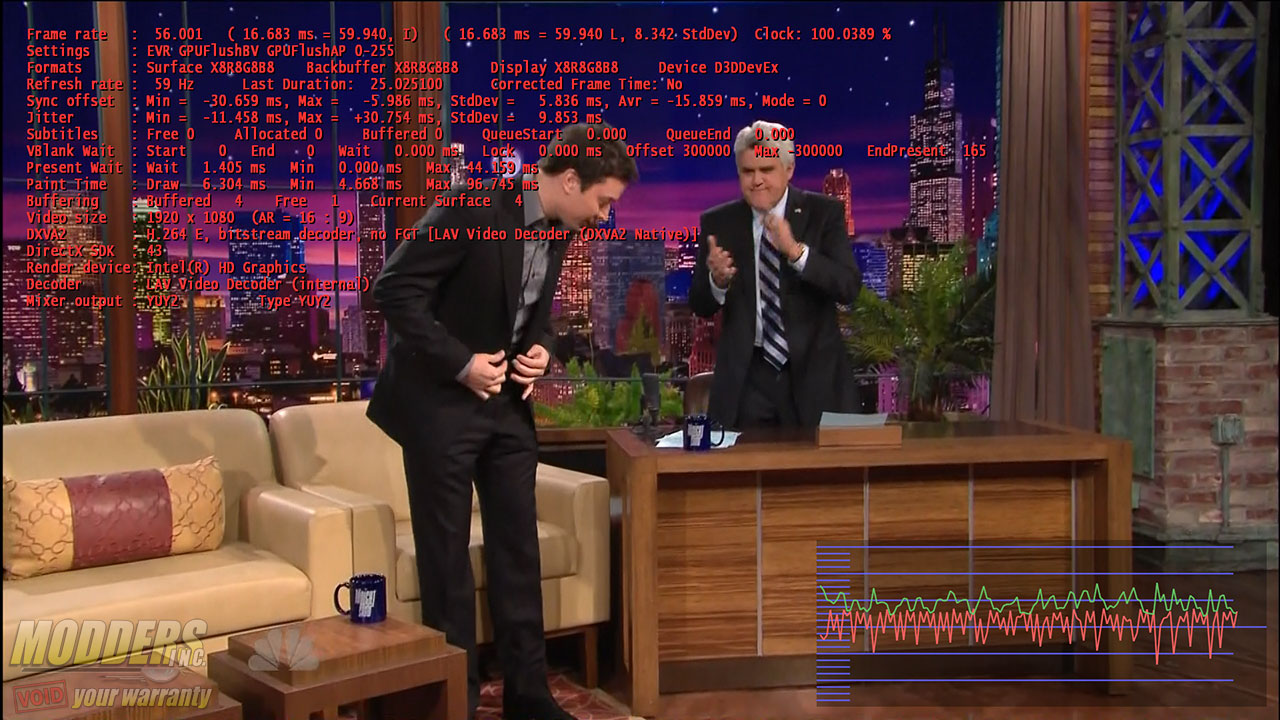 HEVC/H.265 Playback
Since 4K and higher-resolution videos are the future, HEVC/H.265 are gaining ground as it provides a better compression method than standard H.264, providing detailed videos without a larger file size. Hardware support for it however is still far from common compared to H.264 and thus CPU usage is very high and playback can be an issue depending on your system. The results below show the performance of the LIVA X under HEVC encoded BlenderFoundation Big Buck Bunny in various resolutions and framerates:
System power consumption while watching 720p H.265 was at 8W while 1080p and 4K H.265 was at 11W.
Thermal Performance
We saw a bit of the power consumption in the multimedia test but let us see the thermal performance when the system is loaded and whether the passive cooling system is enough to keep the Intel Bay Trail Celeron in check without throttling under full load. AIDA64's system stability was used as you can customize the load to each component or you can load it entirely simultaneously. Idle temperatures averages at 60C, but then again it is passively cooled. In this sate, CPU Vcore remains at 0.370V and CPU clock downlocks to 500MHz. System power consumption is 4W from the wall: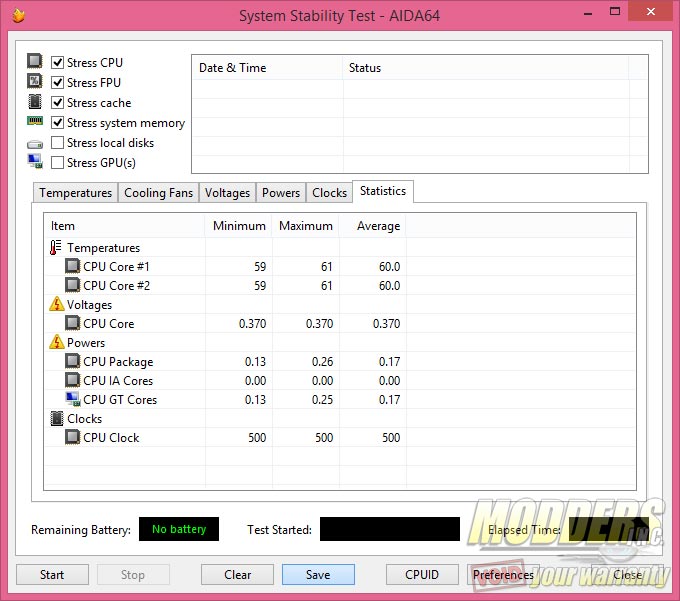 The first load is with the default CPU, FPU, cache and system memory loaded. The CPU temperature peaks at 70C with a 68.3C last minute average after 10 minutes and voltage tops out at 0.750V. Total system power consumption from the wall at this state is measured at 9W: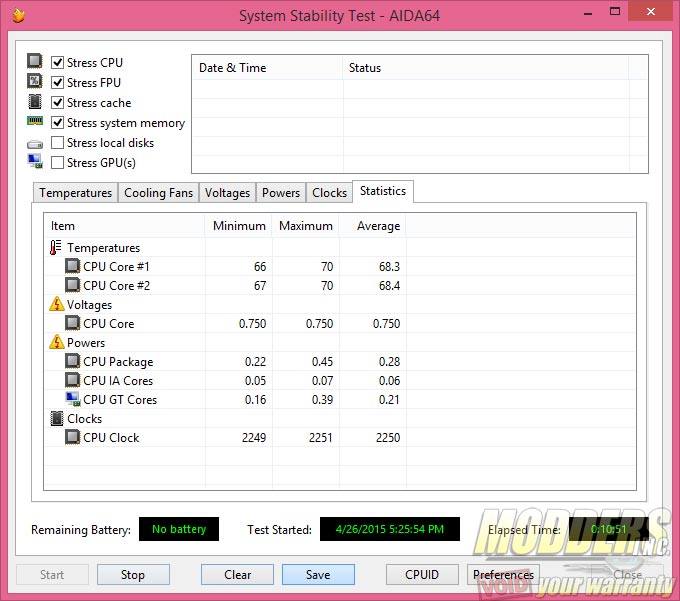 This time, the storage and GPU are loaded as well with the CPU and set longer for 15 minutes. The maximum temperature reached 82C and the last minute average was at 78.9C. Peak power draw from the wall was 13W. This is of course a worst-case scenario. For real world comparison, playing 4K 60fps H.264 for 15 minutes, only peaked at 76C with a last-minute average of 74C.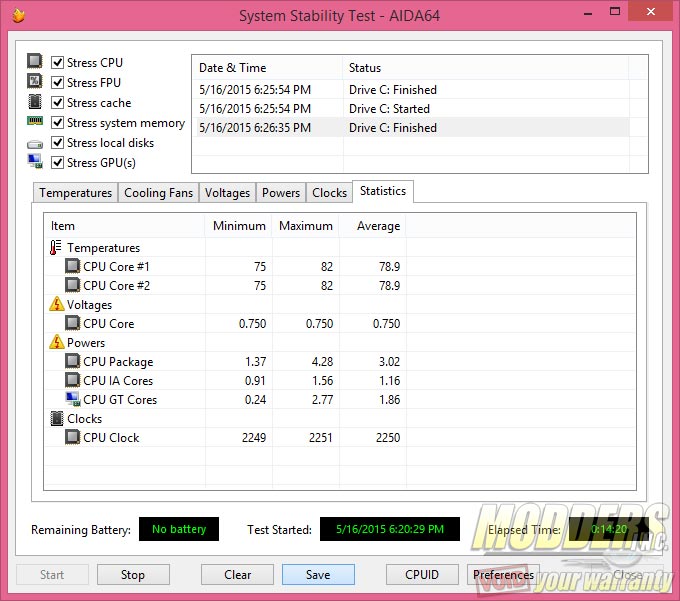 A quick look at the full graph verifies that the CPU max temp was not reached after 15 minutes and CPU usage was not throttled.