Systems
ECS LIVA X Mini-PC Review: Efficiency Matters
« Packaging and Specifications
|
BIOS Overview »
Closer Look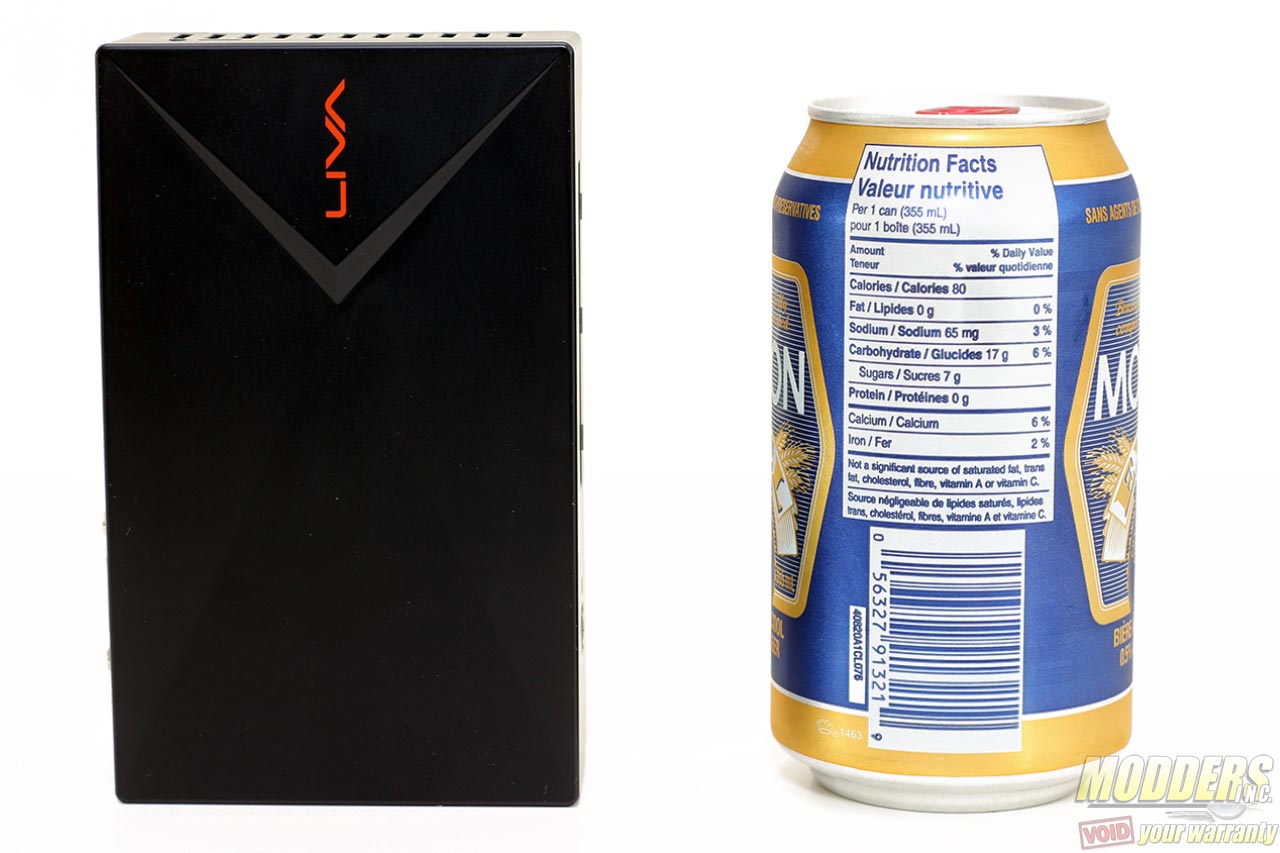 Physically, the new Liva X is smaller than the previous generation Liva unit. The new enclosure is barely larger than a 355ml can and measures 135 x 83 x 40mm. The design has also been updated and much more modern looking without being ostentatious. The components inside are passively cooled and there are ventilation slots on both sides of the Liva X unit. At the rear, a power plug, HDMI, VGA, LAN, and 3.5mm stereo headphone ports are available. Up to dual simultaneous displays are supported. At the front, a pair of USB 2.0 ports, a single USB 3.0 port and the power button with a green power-on LED is also present. A kensington lock option is available on the right side for public/kiosk use.
Rubberized feet hold the Liva X in place when sitting on top of a table and the screws are also housed inside of these that need to be unsecured to remove the bottom plate and access the internals for mSATA installation.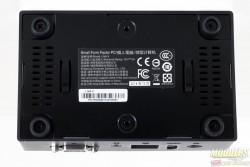 The custom PCB is facing down with the Intel Celeron processor and two memory chips passively cooled by a thick aluminum heatsink with thermal pads. The mini-PCI-E slot is also populated by the Wi-Fi/Bluetooth module with the antennae snapped in  and is attached to the top aluminum inner shell attachment.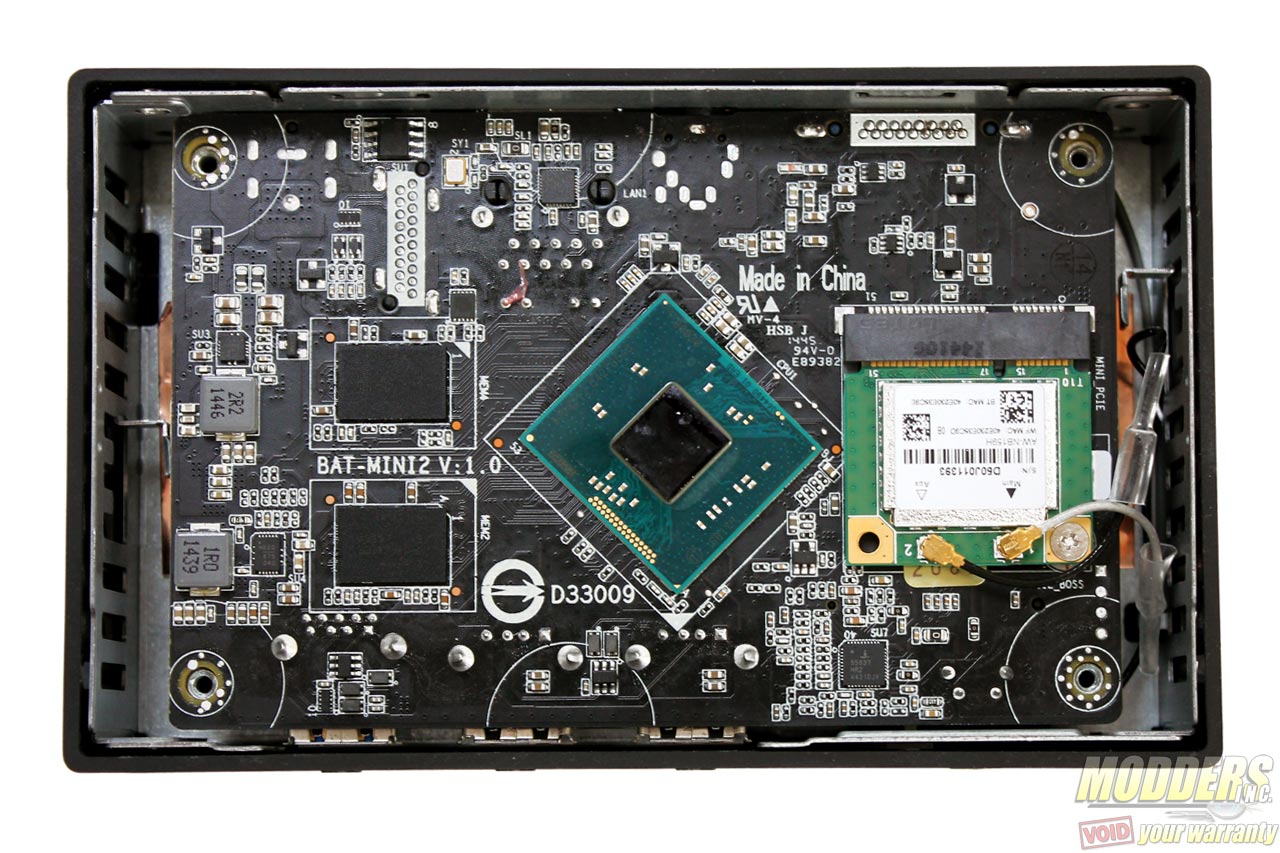 The Intel Celeron N2808 is a dual-core, dual-threaded 22nm CPU with a base frequency of 1.58GHz and can turbo up to 2.25GHz. The HD graphics base frequency is 311MHz but can burst to 792MHz. Despite having built-in Intel HD graphics, this SoC only has a 4.5W TDP hence the minimal cooling requirement. This will be verified later on in the testing of course whether this is sufficient under full-load without throttling.
The CPU voltage regulation uses an Intersil 95837 1+1 phase controller with built-in drivers (up to three actually but only two are used) and two Infineon OptiMOS 40A MOSFETs (other side of PCB). The SK Hynix H5TC8G63 are 1333MHz CL9 DDR3L memory chips have their own independent power fed to them as well. There are two more on the other side of the PCB in this version since this is the 4GB model.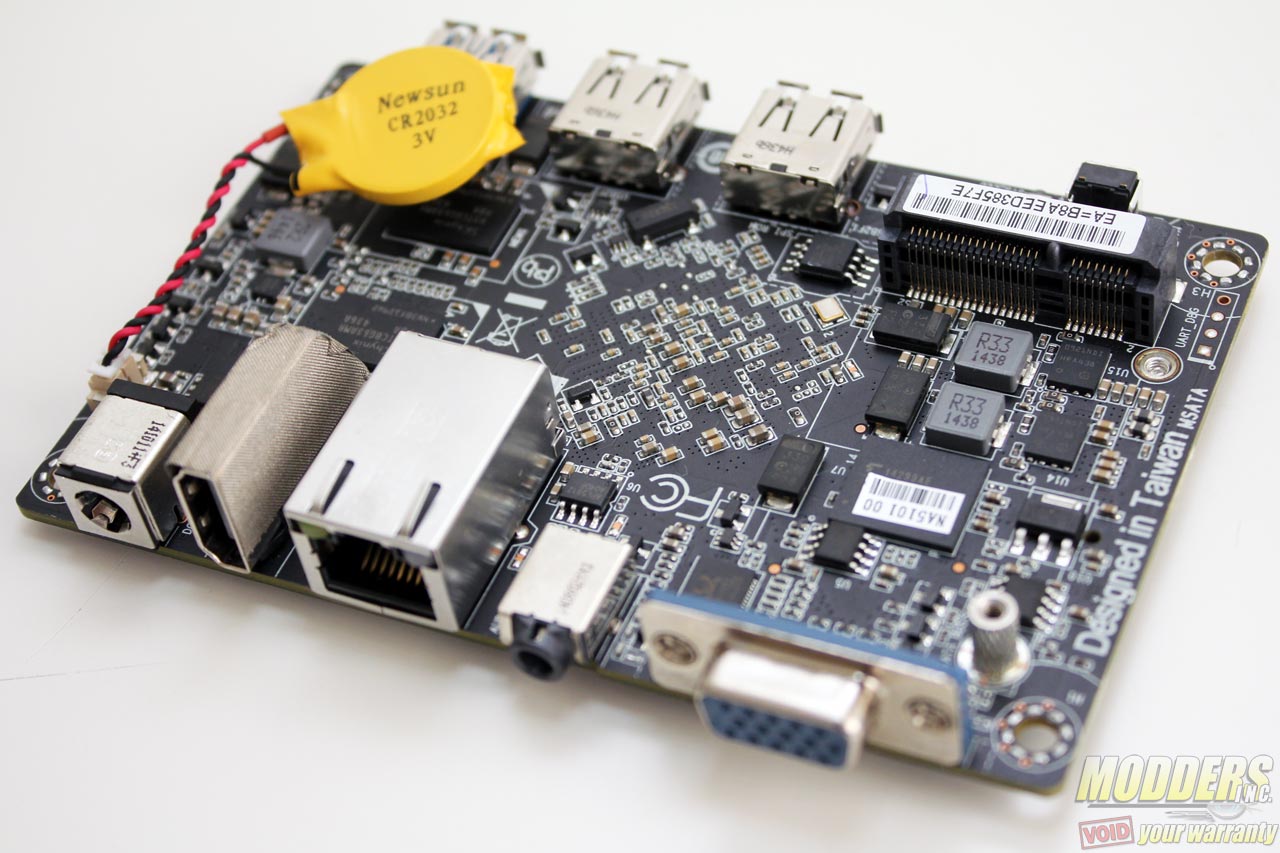 Right below where the available mSATA port is sits a Toshiba THGBMBG9D8KBAIG which is the 64GB eMMC storage onboard the LIVA X. Although this supports Windows 8.1 out of the box, users who wish to run Windows 7 will have to install an mSATA drive on the available port. Stereo audio output is provided by a Realtek ALC283 HD audio codec and the Gigabit ethernet controller is the 8111G from Realtek as well.