« Page 4
Testing and Final Thoughts
TESTING RESULTS:
Using the following build I put the Enermax LIQMAX 120S to the test.
Case: Raidmax Vampire full ATX case
Motherboard: ECS Z77H2-A2X Black Extreme GOLDEN
CPU: Intel Core I5-3550 LGA 1155
Memory: 16GB Corsair Dominator Platinum
PSU: Raidmax RX-1000AE 80 Plus Gold Modular
COOLING: 1 front intake Radimax 200mm case fan, 1 rear exhaust 140mm Raidmax case fan, 1 side panel Prolimatech 140mm intake and the 120mm push radiator fan of the Enermax LIQMAX 120s cooling system
Case fan controller: High Speed
Cooler Master CF12S25SH12A H100 120mm radiator fan for the push/pull test
OS: Windows 7 Pro fresh install with no resident applications or startup software
Test applications and monitoring: OCCT-P,  HWMONITOR and 3DMark 11
Each OCCT test is set to run at 100% CPU, 64 bits, medium data sets for 1 hour fresh machine start after sitting idle for 1 hour.
The Enermax Radiator Fan has a onboard speed switch: Silent Mode at 600~1300 RPM, Performance Mode at 600~2000 RPM and Overclock Mode at 600~2500 RPM.
Round 1: Silent mode push only
Round 2: Performance mode push only
Round 3: Overclock mode push only
Round 4: Silent mode push/pull with a Corsair  CF12525sh12a radiator cooling fan.
Round 5: Performance mode/pull
Round 6: Overclock mode push/pull
Round 7: Overclock mode push CPU 115%
Round 8: Overclock mode push pull CPU 115%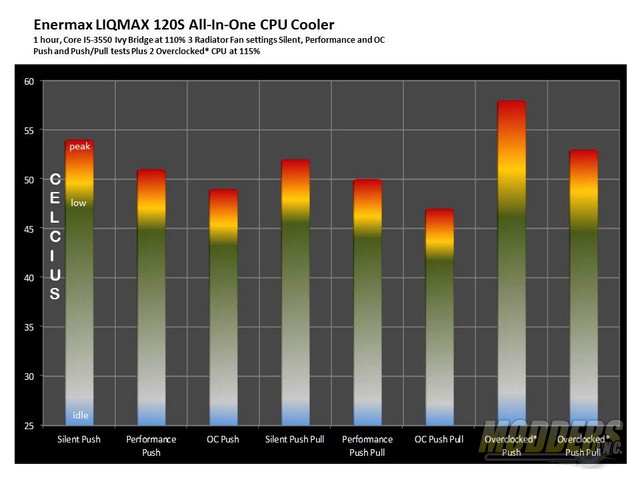 The pump didn't vary much, running 2330 to 2340 RPMs every test.
As expected the 3 setting fan switch spun up to 1330 (rated 600-1300) RPM Silent mode, 2050 (rated 600-2000) RPM Performance mode but in the OC mode even during overclocking  2375-2390 fell short of the rated 2500 RPM max speed.
Final Thoughts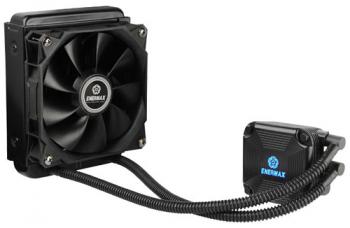 Bottom line is the unit performed well. Holding 100% CPU and even 115% CPU overclock at acceptable safe temperatures. Temperature recovery to near idle temps is immediate in a second or two after a heat spike and full 25-27c within 10 seconds of running the hour testing. Silent and performance mode sound is unnoticeable thru the case mounted above and the OC speed setting was barely noticeable.
Mounting was easy, flexible tubing with tube swivels at the block/pump mounts are a plus.
At the time of writing I could only find one North American sale price of $89.00 with a $20 mail in rebate.
Price, easy DIY, performance, well within stated range of operation, no shortcomings and for a 120mm in single fan mode to hold it's own to 115% overclocking I must say this cooler is a decent buy. A "MUST HAVE' if your in the market for a decent DIY AIO Cooler at a good price.
[sc:must_have_award ]