Article Pages:
« Page 2
|
Page 4 »
FEATURES and SPECIFICATIONS
Extruded cold-plate block
Luminated LED LOGO showing power on
Shunt-Channel-Technology (SCT)
Enlarged cold plate with micro-channel cooling surface
All-In-One maintenance free closed loop design
High-Pressure ELC-LM120S-HP fan with Adjustable Peak Speed control with 3 rpm options
LED model ELC-LM120S-TAA fan with circular brilliant sparkle mode effect
FEP tubing eliminates permeability adding to reliability and life
EASY to DIY assembly with smart brackets and CPU contact
Additional screws for a 2nd fan if push-pull install is desired
"ENERMAX's new line of liquid CPU cooler LIQMAX 120S (ELC-LM120S-HP/ELC-LM120S-TAA) offers users a one piece solution for a quiet and efficient way to cool their computer systems. The new LIQMAX 120S series features a patented Shunt-Channel-Technology (SCT) (Figure 1) to improve thermal conductivity, a unique 3D extruded cold-plate structure designed for better stability and rapid heat conductivity. The HP variant has a high-pressure airflow fan while the TAA variant comes with patented blue circular LED lights. Both fans feature a Smart APS (Adjustable Peak Speed) Control provides 3 peak RPM options." ~ ENERMAX
fig. 1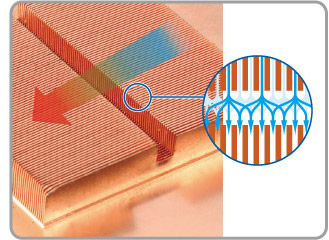 Cooling performance is largely determined by the heat dissipation from CPU to cooling block. LIQMAX 120S uses ENERMAX's new Shunt Channel Technology (SCT) cold plate, a unique 3D Extruded cold-plate structure (Figure 2)designed for stability, rapid heat conductivity, redistribute the coolant and maximize the flow rate.
fig. 2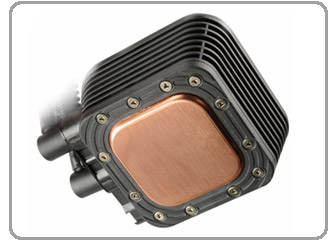 Combine the ENERMAX Twister Bearing High-Pressure Airflow Fan with APS Control (patented), 3 cooling PWM variable modes, Fan settings allow you to select Silent Mode at 600~1300 RPM, Performance Mode at 600~2000 RPM and Overclock Mode at 600~2500 RPM (Figure 3).
fig. 3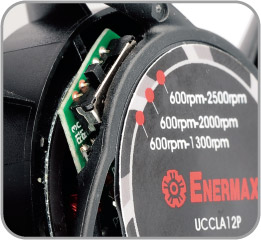 SPECIFICATIONS
Model
ELC-LM120S-HP
ELC-LM120S-TAA
Cold Plate
Material
Copper
Pump
Bearing
Ceramic Bearing
MTBF
50,000 hours
Motor Speed
2300 rpm
Rated Voltage
12 V
Rated Current
0.3 A
Radiator
Dimension
156 x 120 x 32 mm
Material
Aluminum
Tube
Material
FEP
Length
310 mm
Weight (w/o fan)
505 g
Bracket
Compatibility
Intel® LGA 775/1150/1155/1156/1366/2011,                                     AMD® AM2/AM2+/AM3/AM3+/FM1/FM2/FM2+
Fan
Dimension
120 x 120 x 25 mm
Bearing
Twister Bearing
MTBF
≧160,000 hours
Speed
600 – 1300/2000/2500 rpm
Rated Voltage
12V
Rated Current
0.13A/0.27A/0.45A
0.13A/0.27A/0.45A
Air Flow
28.6 ~ 60.3/88.9/111.0 CFM                                     48.5 ~ 102.4/150.9/188.7 m3/h
24.5 ~ 51.6/84.6/105.7 CFM                                     41.6 ~ 87.7/143.7/179.7 m3/h
Static Pressure
0.8 ~ 1.7/4.7/7.4 mm-H2O
0.8 ~ 1.5/2.4/3.7 mm-H2O
Noise Level
15 ~ 21.5/27/30 dBA
14 ~ 20/27/30 dBA
LED
N/A
12x Blue LED
Connector
4 pin PWM
Warranty
2 years
| | |
| --- | --- |
| | |
| Note: | The Circular LED of the CPU fan may be dimmer when the motherboard's energy saving function is enabled. Please connect the 4 pin adaptor included to the power supply in order to keep the brightness, however the PWM function will be disabled at this time. |
DIMENSIONS