Enermax Triathlor FC 550W Power Supply Overview
Article Index: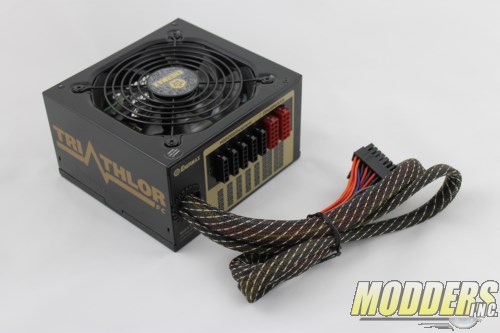 Our power supply reviews are intended to only cover the features of the power supplies, thus we call them a Power Supply Overview. This is due to the fact of not having the appropriate equipment to test them to our and your standards. Because of this you will not see any load or performance testing sections, but we will give you our best thoughts about the unit. Thank you~ Modders-Inc
The Triathlor FC  has some really intriguing features:
ENERMAX THIATHLOR 550W Power Supply Features
ATX12V v2.31 ready! 

Compliant with the newest standard for desktop power supplies.

82PLUS ready!

82-88% efficiency @ 20-100% load. Compliant with 80PLUS BRONZE efficiency requirements.

DC to DC converter design lowers energy loss for higher efficiency and better dynamic response and cross regulation. 12V Synchronous Rectifier design for higher efficiency and greater power density.

Zero Load Design 

Stable voltage output even at 0W load, that supports the energy-saving functions of modern CPU and graphics cards (C6 State/Hybrid Mode) and prevents compatibility issues.

T.B. Silence fan inside! 

Integrated T.B. Silence 12cm fan with patented Twister Bearing to reduce the noise and prolong lifetime.

ErP Lot 6 2013 ready! 

Help system to meet ErP Lot 6 2013 (<0.5W at standby mode) with high efficiency +5Vsb circuitry*. 
*With ErP Lot 6 2013 enabled motherboard.

Future ready!

12P modular design for possible upcoming new CPU and GPU 10P and/or 12 connectors.

WORLD ready!

100-240VAC in with automatic adjustment and active PFC for global usage.

24/7 @ 40°C ready!

Non-Stop industrial class performance at 40°C/104°F ambient.

AirGuard

Unique air-inlet with optimal aero-dynamical design reducing noisy air turbulences.

SafeGuard 

Industry-leading protection circuitry of OCP, OVP, DC UVP, OPP, OTP, SCP & SIP.

SpeedGuard 

The best rail design for this PSU class for maximum safety and compatibility.

Multiple 12V rails!

Multiple high current +12V rails design for maximum safety and compatibility.

Power Up ready!

>98% 12V output to support high performance CPU & graphics card requirement.

100% Japanese Electrolytic Capacitors 

Highest components standards for maximum durability and stability.

DXXI ready!

100% 6+2P (8P) PCI-E connector to support new generation DXXI graphics cards.
Article Index: