Page 2 »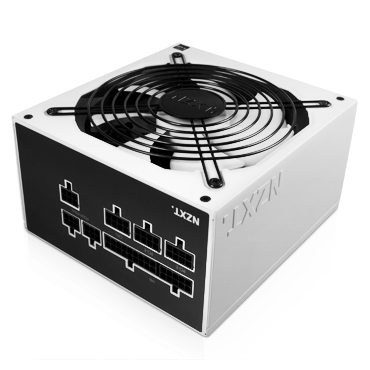 Finding the right power supply can be either and easy task or a hard one. If you don not care about the color or options then you can go down the easy road, but NZXT knows that if you want a nice looking power supply, has the options you need you have a hard task ahead of you. That is why NXZT has the done it's homework and presents the HALE82 V2 Modular Power Supply to us.
[sc:sponsor sponsor="NZXT" product_link="http://www.nzxt.com/product/detail/132-hale-82-v2-power-supplies" product_name="HALE82 v2 700W" ]
[sc:power_supply_testing_disclaimer ]
First Look at the NZXT HALE82 V2 Power Supply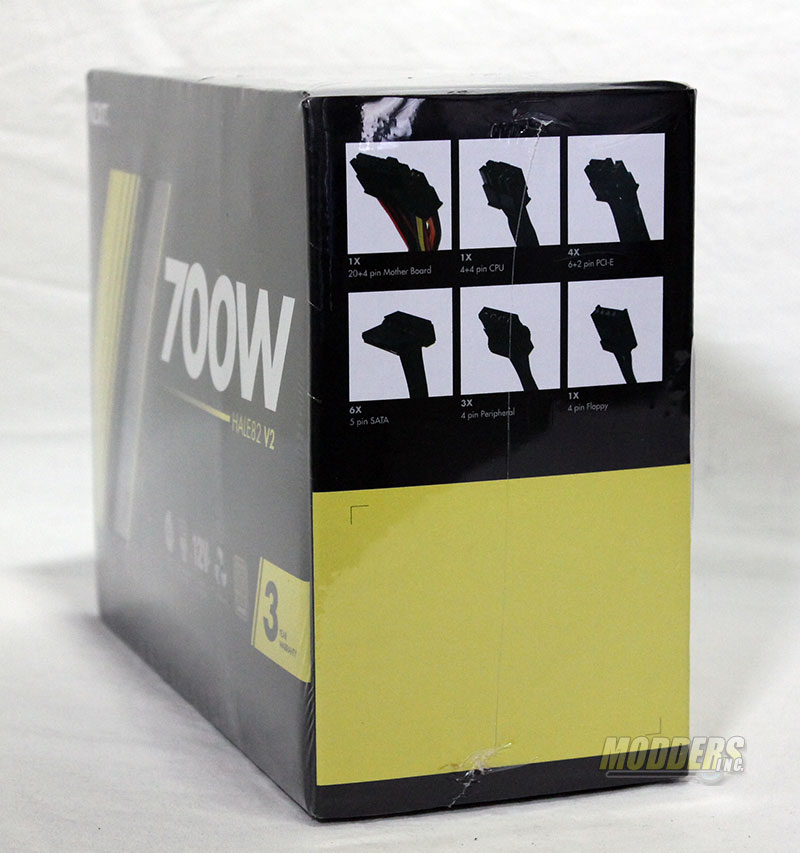 There is plenty of information on the box to help you decide if this is the right power supply for you. A cut out in the box gives you glimpse at the NZXT power supply so you can see the color of the case and the cooling fan.
HALE82 V2 Features
80 Plus Bronze Certification (HALE82 V2 only) ensures efficiency levels up to 85%
Completely modular design with labeled back plate for easy installation and clean look
NZXT design element infused on the exterior/interior power supply with world's first Innovative white and black PCB design for better isolation and identification
IFCT: The intelligent fan control technology is designed for better thermal solution
Strong single +12V rail that provides stability and ease of use with the ability to deliver clean currents under a heavy load
SLI and CrossFire Ready
135mm silent fan for smooth, silent rotation, and optimal air intake
Wide Input Range (HALE82 V2S only): AC main is from 160V to 280V for emergency countries.
Active PFCFull protections for over voltage, current, power, under voltage, and short circuit protection
Safety Approvals for: CE / FCC / CB / TUV / cTUVus / CCC
Backed by a 3 Year Manufacturer's Warranty
Standard: Comply ATX 12V V2.31 and EPS 12V V2.92
Tech Spec.
| | |
| --- | --- |
| Dimensions | 160mm x 150mm x 86mm |
| Intel Standard | ATX12V / EPS12V |
| Input Voltage Range | 100Vac ~ 253Vac |
| Input Frequency Range | 47Hz ~ 63Hz |
| PF Correction | Active@0.99(Typically) |
| Fan Type | 135mm silent fan |
| Efficiency | 80 Plus Bronze Certificated |
| Rated Output Power | 700 watts @ 40°C |
| Hazardous Materials | WEEE/RoHS |
| Energy Saving | Energy Star 5.0 / ErP 2013 |
| Operation Temperature | 0°C ~ 40°C |
| EMC | CE/FCC |
| Safety | CB/TUV/cTUVus/CCC |
| Protection | OVP/UVP/OPP/SCP |
| Cables | Fully modular |
| MB Connector (20+4 pins) | 1 |
| CPU connector (4+4 pins) | 1 |
| PCI-e Connector (6+2 pins) | 4 |
| SATA (15 pins) | 6 |
| Floppy (4 pins) | 1 |
| Peripheral (4 pins) | 3 |
| MTBF | > 50,000 hours |
| Warranty | 3 Years |