« Introduction and Specifications
|
Installation and Clearance Issues »
Closer Look at Celsius+ S36 Prisma AIO
The dimensions of Celsius+ S36 radiator are 403x30x123mm. The radiator housing is made from aluminum and also its fins. There are no drain plugs on Celsius+ radiator nor any way to service the device if needed. The fittings which are connected to the hoses are not removable. So do not try to unscrew them.
Celsius+ S36 Prisma comes with an ARGB fan hub that is mounted right on the radiator. This comes in handy when trying to attach the ARGB to the motherboard. To hide wiring which goes from the controller hub to the CPU pump Fractal is using sleeves around rubber tubes.
The CPU block is copper-based with pre-applied thermal paste so you do not need to apply any thermal paste. CPU top clamp is made of steel and is very similar to some of the AIO cooling solutions he has seen in the past. ARGB connector is removable from the CPU pump however you will still need to connect the power to the pump. Without supplying power to the pump you will burn your CPU.
Copper CPU block is not reflective and if you take a closer look you can see small machining grooves. Fittings attached to the CPU pump are elbow type and also none removable. It is fairly easy to adjust them to achieve the desired angle.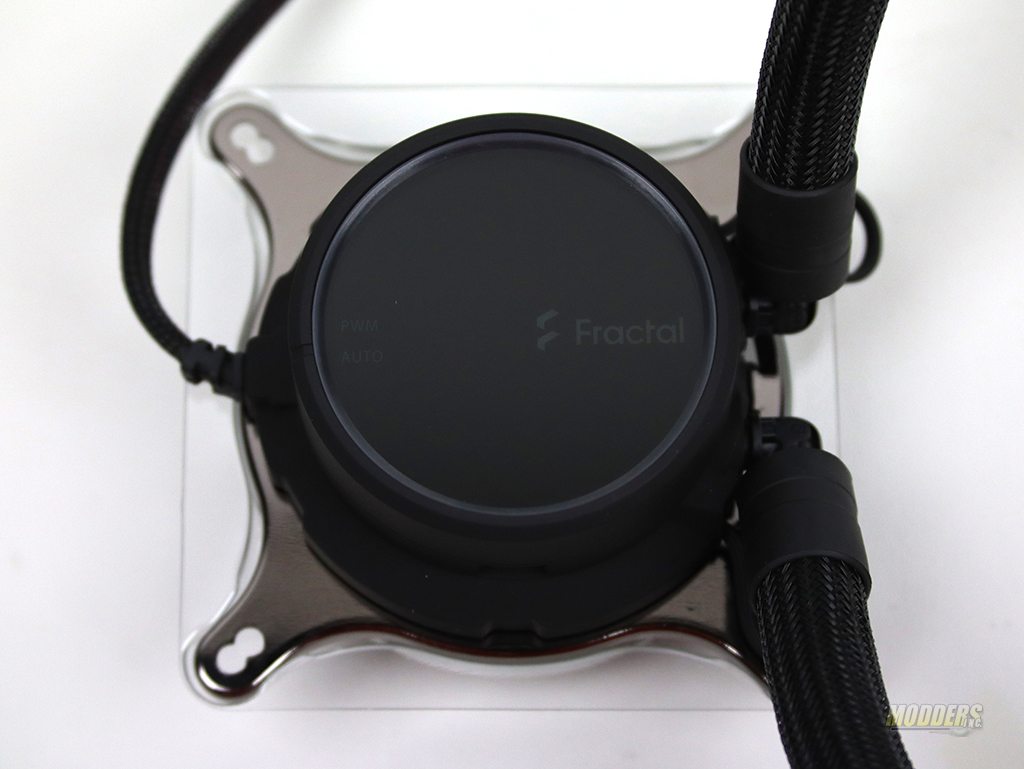 On the top of the CPU pump is a glass faceplate which allows some ARGB light trough. The pump is also equipped with a rotary switch where you can select a full AUTO or PWM operation. Once the pump is on you should be able to see the mode denomination and Fractal logo.
The Celsius+ S36 Prisma comes with three Prisma AL12 PWM fans. These fans have a variable speed between 500 and 2000RPM and the LED operating current is between 0.18A and 0.13A.
Prisma blade design appears to be standard however the blades do have a curve to them with a short flat side on the top of the blade. Max airflow of these fans is 85.71CFM and max static pressure is 2.78mm H2O. To reduce case vibration Prisma fans have small rubber cushions on the corners of the fans.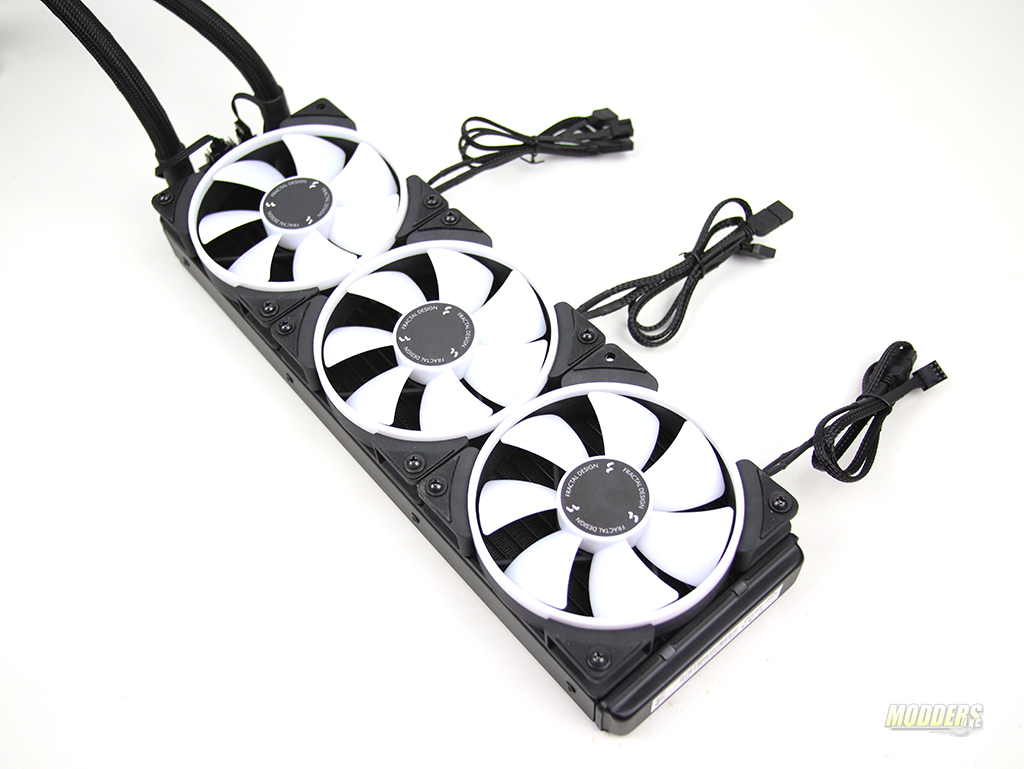 Installation of the fans to the radiator is simple as all of the mounting screws and washers are included. Each fan has two cables coming out of it, one for the ARGB and the other one is for power.