« Page 4
>
Conclusion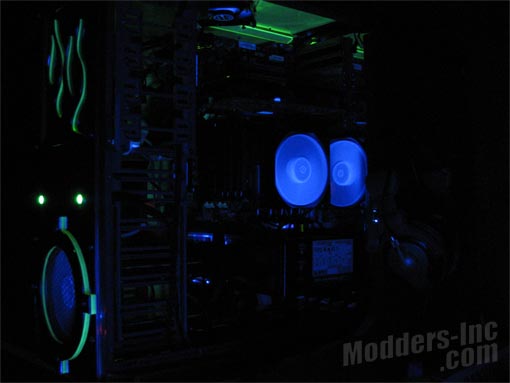 The GELID Wing9 and Wing12 fans combine a classy black frame with a vibrant UV reactive impeller. The Wing Series fans can be purchased in either UV Blue or UV Green colors. The down side when it comes to their appearance is, they are not supplied with UV LEDs installed. You will have to have some other form of UV lighting in your case, or you can mod some UV LEDs in them. They will easily be able to blend in with just about any case utilizing UV lighting.
On the performance side, the GELID Wing9 and Wing12 fans offered adequate cooling, even though they had the disadvantage from the start with an average of 13.4% less air flow than the ACRyan Blackfire4 fans. However, they produce an average of 12.4% less noise when spun up, which pulls them right back in the mix. There is always a price to pay when it comes to cooling. Builders will always find themselves leaning one way or the other when it comes to cooling or noise.
The GELID Wing Series fans are also rated at a MTTF of 100,000 hours and carry a 5 year warranty, which is more than most others on the market. With the unique Nanoflux bearing design, GELID made it possible to easily remove and clean the impeller. I think the GELID Wing series fans are innovative and should be a viable option for consumers when selecting their fans. As I stated, they are based out of Hong Kong, which means that not a lot of places here state side offer them yet. You can find them at NCIXUS.com for around 16.77 (Wing9) and 19.23 (Wing12).
Pros

---

Cons

---

+ Innovative
+ Great Looks
+ Performs Well
+ Less Noise
+ Included Fan Controller
– No UV LEDs
– Only 2 Color Options