« A Closer Look at the Gaming X 1660 ti
|
Test System and Testing Procedures »
RGB Lighting and Software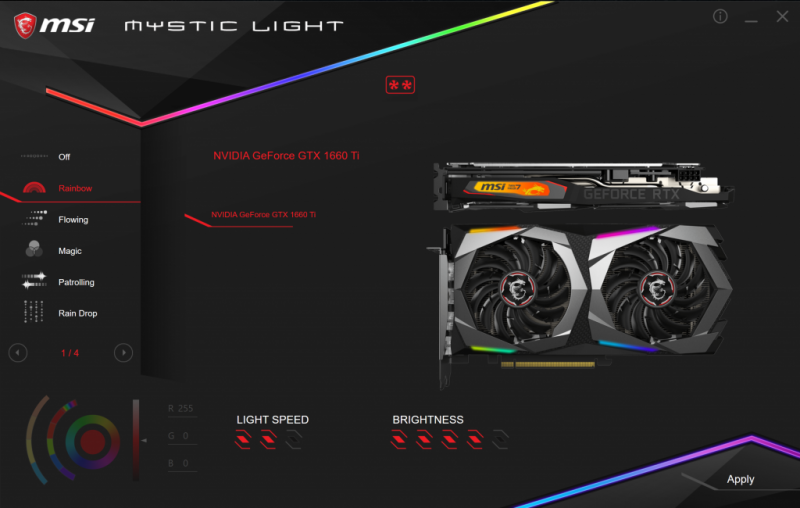 Like most components in your system these days, the Gaming X 1660 ti has RGB lighting with customization options through the RGB Mystic Light app. There is RGB lighting on the side of the card, with the MSI Twin Frozr 7 logo is placed. There is also RGB lighting on the top and bottom of each of the Torx Fans. The Mystic Light app has a total of 19 different setting you can set your card to. These settings are listed below.
Rainbow
Flowing
Magic
Patrolling
Rain Drop
Lightning
Marquee
Meteor
Stack
Dance
Rhythm
Whirling
Twisting
Fade-In
Crossing
Steady
Breathing
Flashing
Double Flashing
One quick side note on the Mystic Light app. I'm not sure if this was an addition, or excluding to the Gaming X Trio 2080 ti. However, when I checked the Mystic Light app with the Gaming X Trio 2080 ti installed, there was a 20th setting for the lighting on the card. This being Laminating which was similar to the Patrolling effect.
Dragon Center
The MSI Dragon  Center is a desktop application with several functions. It has a function to monitor CPU temperature to the far left of the main screen. There is a Gaming Mode that will optimize your system, monitor, overclock, and Zero Frozr mode with one click.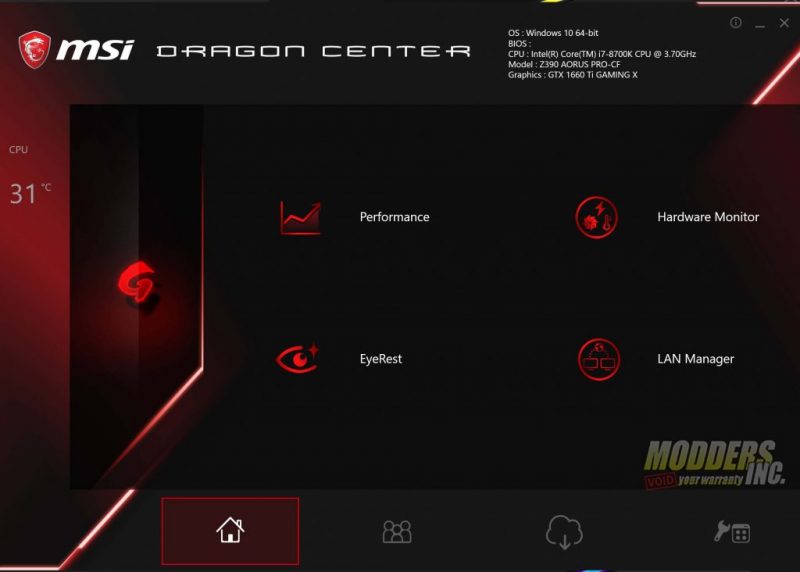 The performance section has two different preset, and two profiles you can customize. The preset profiles are Silent and OC. These presets, as well as the custom profiles that set the performance of your system.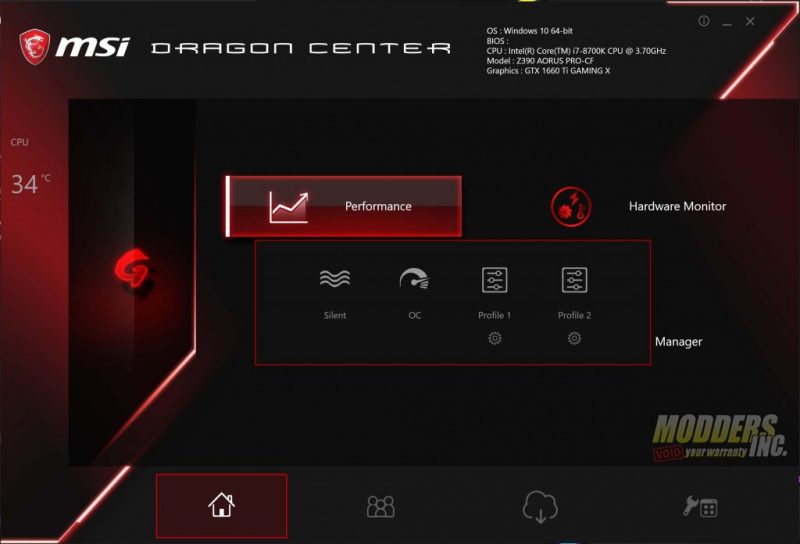 There is a hardware monitoring section that allows you to monitor several different aspects of your system. You can monitor the following:
GPU Frequency
GPU Memory Frequency
GPU Usage
GPU Temperature
GPU Fan Speed (%)
GPU Fan Speed (RPM)
You can even monitor fan speed by both percentage and RPM per fan.
The Eye Rest section allows you to customize different setting on your monitor. There are five presets in the Eye Rest Section. They are Default, EyeRest, Game, Movie and Customize. They each have different presets for Gama, Level, Brightness, and Contrast. Each of these can be adjusted for the Reds, Greens, and Blues on the monitor.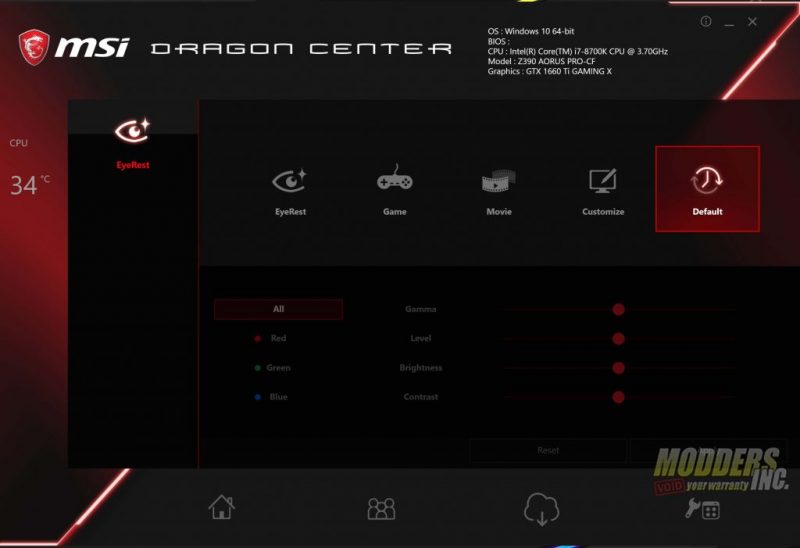 The Dragon Center also has a LAN Manager that allows you to set the priority of your internet usage for different applications such as media streaming, file sharing, web browsing or gaming. The Lan Manager has a chart that tells you what applications use the most bandwidth on your system. For me, its Chrome. It even has its own Network Test. The Dragon Center is also where you can enable and disable Zero Frozr Mode.