« Gaming Benchmarks Continued
|
Final Thoughts and Conclusion »
Overclocking, Noise, and Temperatures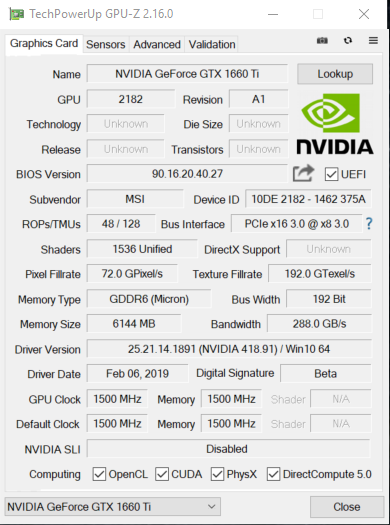 For overclocking, we used MSI Afterburner. Like Firestorm from Zotac used in the 2060 AMP review, MSI Afterburner has an OC Scanner feature. However, unlike Firestorm, I was able to get the OC Scanner in MSI Afterburner working. To validate the overclock, we used the GPU Stress Test in FurMark.
Being a non-reference card, The Gaming X 1660 ti is already a factory overclocked card with a boost clock of 1875 MHz out of the box. Afterburner has the base clock speed as 1215 MHz. MSI Afterburners OC Scanner was able to get the base clock to 1335 MHz and it boosted to 2040 MHz. With manual overclocking, I increased that to +125 on the core with the card boosting to 2070 MHz. The 2070 MHz was the best boost clock speed the Gaming X 1660 ti achieved.  As for the memory, I was nearly able to max out the slider in MSI Afterburner with the Gaming X 1660 ti. I added an additional +1200 on to the memory. Anything past that and the benchmark would crash. During the gaming benchmarks, the MSI Gaming X 1660 ti maxed out 61°c. However, even while running FurMark to validate the GPU overclock, the card never saw 70°c, maxing out at 69°c.
For noise testing, I used the Sound Meter Android app by ABC Apps found in the Google Play app store. Noise testing wasn't done with an actual decibel meter. It may not be the best solution, but it works either way. The app gives you a min, max, and average for the noise level in decibels. The noise levels were tested with the fans at 25%, 50%, and 100%.  At 100%, the max decibel level was 51.3 and the average was 46.6/ At 50%, the max was 38.1 and the average was 32.5. Finally, at 25%, the max decibel level was 36.5 and the average was 30.9.